By Darien Davies
What makes Flybird different? Quality, attention to detail, and certainly owner Michael Salmon.
If not for his passion and desire to simply provide good, seasonal and creative food, the one-year-old fast-casual restaurant might have fallen prey to the COVID coop. Luckily for us, it's soaring to new heights.
The 18-seat Delray Beach eatery saw great success the first year, but COVID-19 brought about a quick change, which Salmon described as "someone flipped a switch and lunch went away." One factor that helped Flybird—and many other restaurants in the area—was The Socially Distanced Supper Club.
The Club is a Facebook-based group of roughly 15,000 locals who are "looking to flash mob restaurants to keep them afloat in this turbulent time." Considering that his lunch business called for a reduction in staff, this Club could not have been created at a better time to support the remainder of his team.
"The Club was incredibly helpful. It was a platform that dreams are made of, at least for me," Salmon said. "So to be able to say 'we're here and this is what we do' was tremendously helpful. A whole audience found me who I had not reached before, and our business was doing as well as before with a third less staff and a third less operating hours. Other than the human tragedy of [the pandemic], which I won't undercut, it was the perfect scenario for us to survive."
Through the Club, he and his team offered their ready-to-bake Chicken Pot Pie, a delicious blend of tender chicken, carrots and peas in a rich pot pie filling with a flaky crust. They were up to about 200 weekly orders at the height of the "season," and often selling out. This created a loyal following and sparked an idea for Salmon.
In addition to his regular menu, he is now also going to begin offering Blue Plate Specials every day he's open, which is Monday through Saturday. He realized that it made sense to add items that he's made before that people enjoy, and serve them on a more regular basis.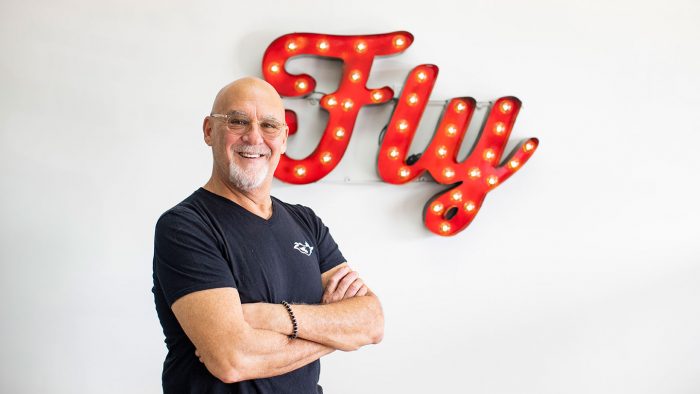 One customer even told him that she hadn't left her house in four months, but had to finally leave and only wanted to go one place: Flybird, to pick up a pot pie. So expect to enjoy fried chicken and waffles, jerk chicken or chicken-fried rice as part of its new lineup of weekly specials.
But at the core of it all, one of the main ingredients for his recipe for success is the quality of his chicken. He only uses all-natural, free-roaming chicken that never touched antibiotics, hormones or steroids; he calls it the purest product available.
"It's integrity. People like us because I'm small and I turn over the product," Salmon said. "We only have one walk-in fridge, and we get product six days a week. Nothing goes bad here. You can't play around with these things."
While the future might be unknown for Salmon and his birds, he is optimistic. He sees the "new normal" as being exactly what we've been facing and what we're currently facing, saying that we have not yet evolved and escaped that reality.
While his business was mostly take-out before the pandemic (due to only 18 chairs), he does say that it's even that much more gratifying to be able to sit back at this point in time, have people pull up, and watch his awesome team bring out their food.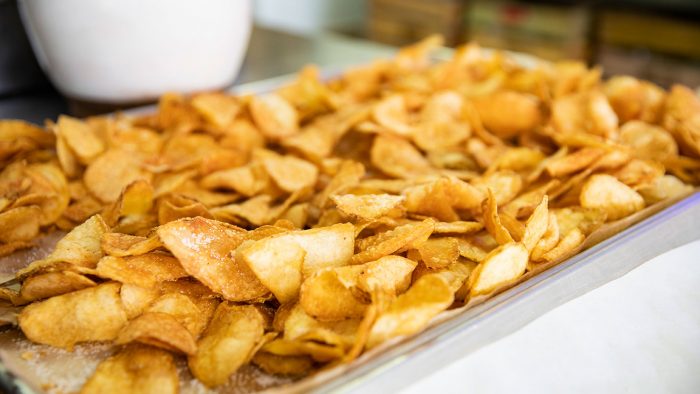 "Believe me, like many people in their own right and in their business, we're all trying to figure out what's coming and what's happening. I think about this every day, and was thinking about it too much," Salmon said. "Then it dawned on me. My daughter suggested, 'just cook your good food, that always works.' So now I'm dialing back to what I know intuitively. [Our customers] trust me, and they like what we're doing. I have people who care, and that comes through. I share what I have, I learn from others, and I check my ego at the door whenever possible."
This mentality gave him his own two sayings that he lives by and hopes become famous: "You can't make something taste good if you have a bad taste in your mouth," and "If you find that your glass is half empty, I suggest getting a glass half the size." If that doesn't scream positive thinking and a proactive attitude, then nothing will.
"I wake up in the morning – and this is no bull – I open my eyes and say 'thank you.' I treat everyone with kindness and respect, and take nothing for granted. The loyalty and friendship and camaraderie and good vibes I get from people comes back 100 fold," Salmon said. "I donate food to Caring Kitchen every week, and bought food for Trinity Church, so there's a lot of give back. I'm a firm believer in all that good stuff. At the end of the day, at the end of the night, I kiss my wife, text my daughters to say 'I love you,' and say 'thank you, ma'am, may I please have another.' It's not always easy, but it's the best way."
Which is the same with his cooking. It might not be easy to provide all-natural chicken, homemade sides, and a team culture that cares about pleasing the customer over all else, but it's the Flybird way, and it's the most delicious.
Flybird, 335 E. Linton Blvd. Ste. B-13, Delray Beach; 561-243-1111, flybirdfood.com, @flybirdfood