Not Your Mama's Sandwich Shop
by Savannah Sheehan
A fairytale story, two love birds dreaming of a place to call their own in which he cooks and she bakes, all for the friendly faces of Deerfield Beach. Years later, that dream became a reality, but not without hard work and long hours.
The Sticky Bun, located in The Cove Plaza in Deerfield Beach, opened its doors on April 1st of 2015. The actual day- April Fools, a once humorous omen that it all may end up a joke. Fortunately, quite the opposite transpired. Owners Mike and Pauline Hrabosky put in many years in the restaurant industry. Mike was the Executive Chef at JB's on the Beach for over a decade. Pauline resumed a position at the same restaurant after attending culinary school for baking. They worked together for some time until Pauline finally tossed the dice and embarked on their dream endeavor. "We never thought it would happen," Pauline states with emphatic surprise.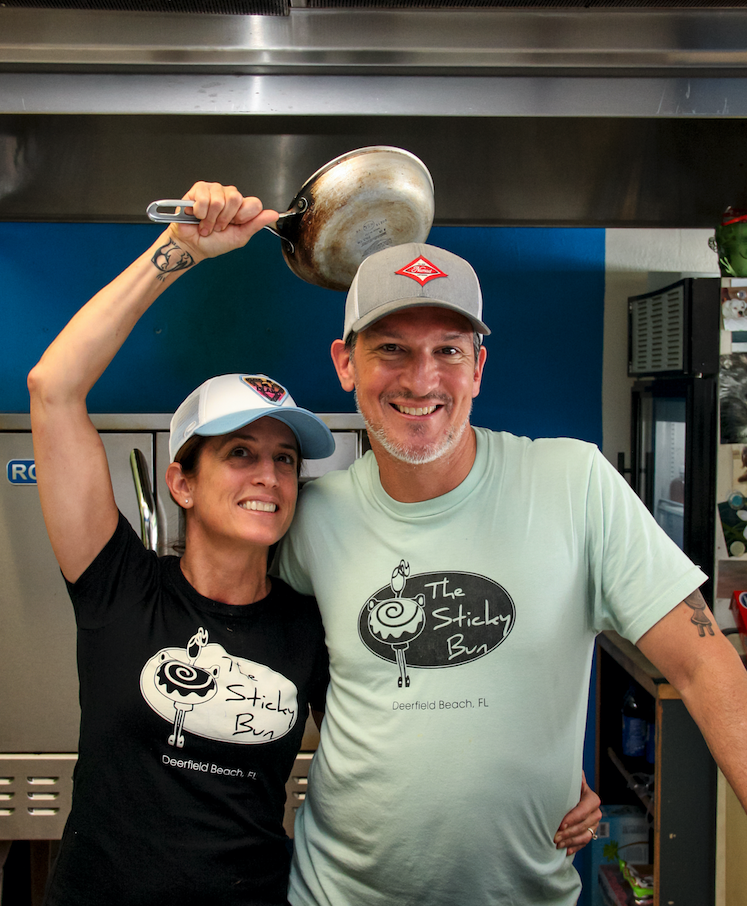 Soon after the openening, business grew faster than anticipated and it was time for Mike to saddle up next to his partner and complete the vision. The namesake is attributed to Pauline's favorite pastry from her home state of New Jersey and her love of baking them. Pauline bakes all the English muffins, biscuits, pastries, and various desserts on the spot and all day long. The English muffins, which are far more substantial and delicious than the common conception, are a key player in one of the noted dishes dubbed 'The Jersey.' What to expect? Two English muffins stacked high with cheesy eggs and smoked pork roll. An extraordinary, seemingly simple meal, however, simple is the desired adage. "People like simple, clean food," Pauline shared. Following through with utilizing clean ingredients and methods, nothing goes to waste at the Bun. All the sticky buns that do not sell are given a new purpose as sticky bun french toast or bread pudding.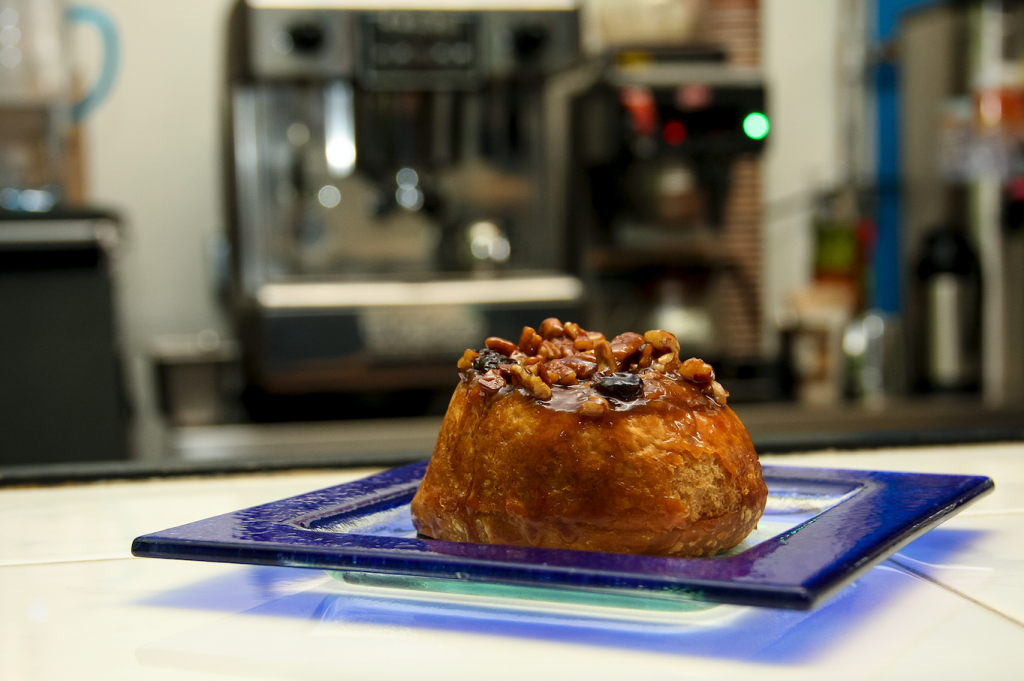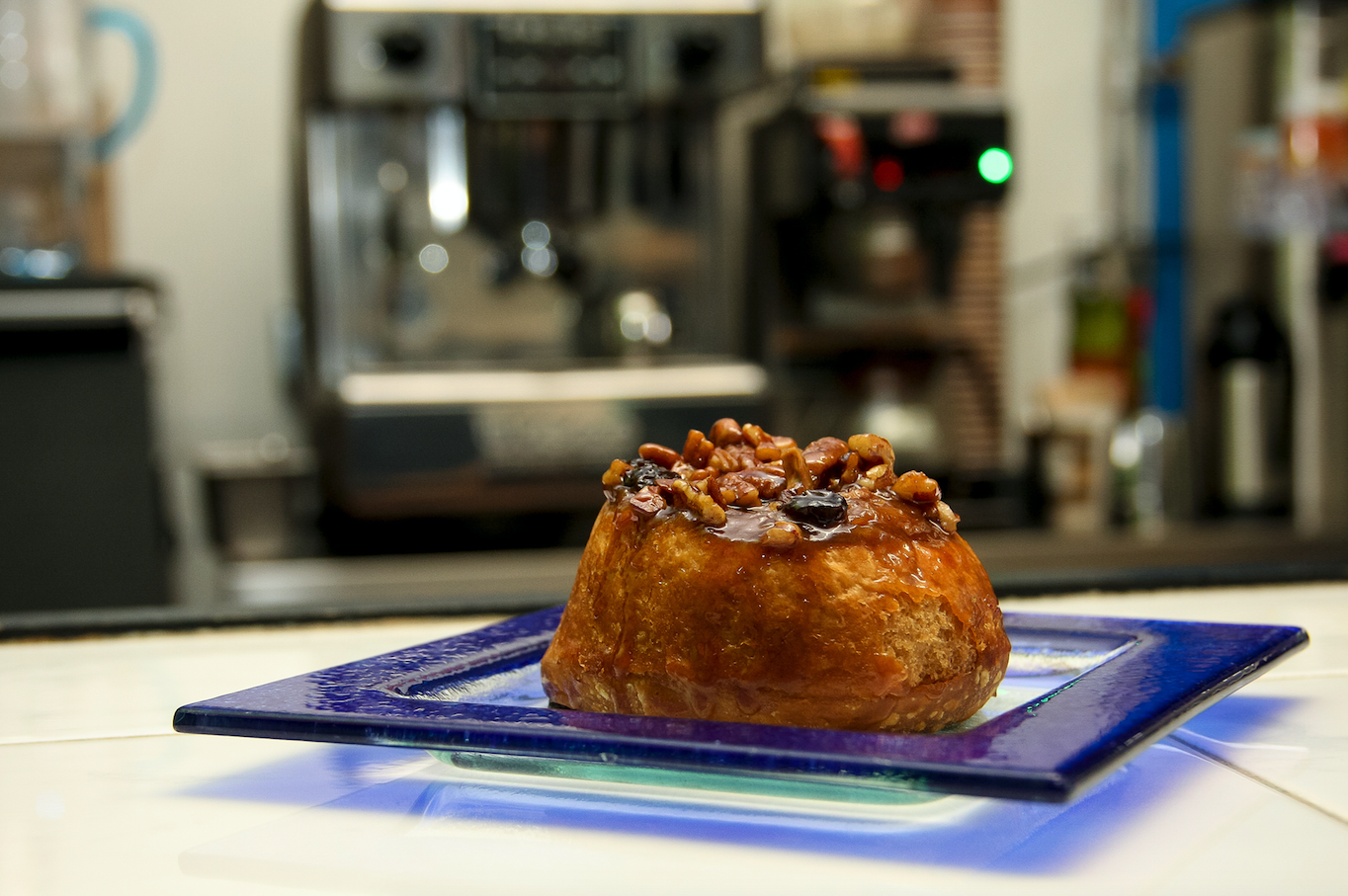 A Jersey sandwich is not complete without the salty sought after taste of pork roll. Chef Mike takes the reign in the meat department of this dangerous duo. Mike smokes all the meat on site including but not limited to turkey, pork, and bacon. The latter has become so popular that The Sticky Bun goes through 120 pounds of bacon a week. The 'Six Slicer' is definitely not your mama's BLT. This bad boy has 6 slices (naturally) of thick, juicy, meaty bacon dressed with lettuce, tomato and avocado. With only four hands on deck during most hours, these two produce a large supply of amply portioned home-style dishes that the average person simply cannot recreate.
The Sticky Bun has offered a unique lounge, restaurant, and dog haven for the Deerfield locals and passersby alike. "I'm a local. I would only do this here in The Cove." The sentiment of localism is always growing within the community and we have Mike and Pauline to thank for upholding something contradistinctive to the area and providing the city with a truly special experience.
Visit The Sticky Bun at 1619 SE 3rd Court, Deerfield Beach, FL 33441 (The Cove Shopping Center)
Follow them on Instagram HERE
Like them on Facebook HERE