Six Restaurants To Get To By Boat
by Darien Davies
Why dine inside when you live on a peninsula? Thankfully, my good matey's, you don't have to. The Intracoastal is our eastern version of I-95, where you trade the traf c for a little wake action. If you're new to the boat life, or just want to nd some new hot spots to dock and dine, there are plenty of eateries within a few nautical miles where you can tie up and get down.
Location: 840 E. Atlantic Avenue, Delray Beach
Vibe: There is no shortage of live music, cool cocktails and plenty of people watching at Deck. The best part is that there are dock hands who will do all the heavy lifting for you so you don't have to make your sea legs work off the vessel. You can dine on the patio, deck or inside, but, if you want to get fancy, you can also order the full menu from your boat. I repeat: you can have everything you want delivered to you on your boat. You can order some delicious food and beverage, and maybe enjoy your dessert and some port on your port side, with a swift, stern finish on the stern. Enjoy everything from champagne bottles, piña coladas, a build-you-own bloody Mary bar during brunch, and, oh, food. Life is better on a boat, and thankfully the Deck crew has it covered for us.
Menu: The prime-catch menu offers American favorites with a fresh seafood twist. You can expect to enjoy house-smoked sh dip, flatbreads, conch chowder, burgers, salads, sh tacos and an assortment of delicious entrees.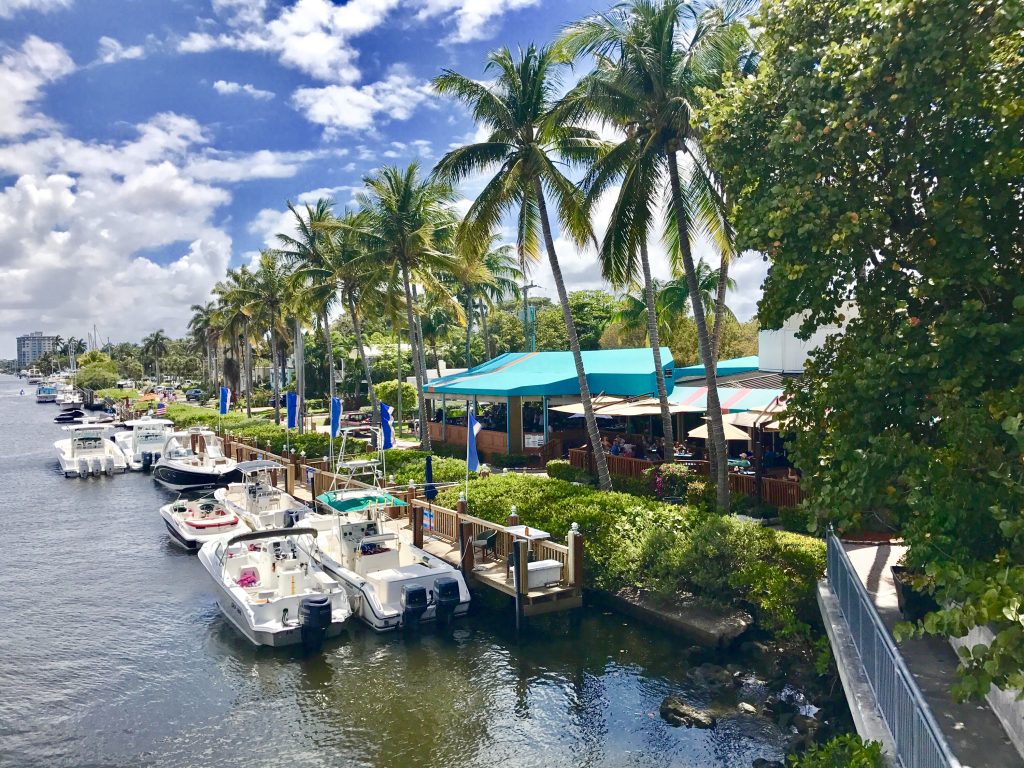 Location: 300 E. Ocean Avenue, Lantana
Vibe: A forever laid-back, all-are-welcome, beers-are-cold-but- the-personalities-aren't type of tiki bar. In fact, Old Key Lime House states that it is the oldest waterfront bar in Florida and the largest tiki bar in South Florida. As if you need more reason to visit, it's also the greatest Florida Gator's bar from here to Gainesville, and you can watch the Gator games on a jumbo projector screen. Pull up on your boat, dock that sucker and head to the outside bar, inside bar, or any table in between, and enjoy not only live music Wednesday through Sunday, but also the sunset and some friendly convo. It's a laid back bar/ restaurant that welcomes you to join their vibe and stay a while.
Menu: Exactly what you'd think: fresh-caught fish, Old Key Lime House chicken wings, Cordero's Maryland crab cake, smoked mahi and wahoo sh dip, steamed mussels, salads and seafood entrees. Now all that's left is for you to kick back with a homemade rum runner or piña colada, and finish with their world's greatest key lime pie.
Location: 960 N. Highway A1A, Jupiter
Vibe: It's basically a paradise getaway that happens to be in your backyard – no passport required. The lush landscaping, dockside seating and paddleboard rentals (courtesy of Blueline Paddle) are all available upon arrival. Guanabanas is a 100 percent open-air restaurant with palm trees, woven tiki huts and stone pathways that invite you to get lost in island time. They host local, regional and national artists on their tiki stage that overlooks waterfalls (how's that for background music?), which you can enjoy listening to as you indulge in their diverse menu that includes only fresh-caught Florida seafood.
Menu: It basically screams Sunday Funday. Adult beverages include A1A Lemonade, The Perfect Day, and Mango Beach Break (use your imagination, it all tastes like heaven), and you can enjoy these with their tropical menu items. Start with the Floridian fritters or the smoked sh dip, continue with the shrimp and grits, macadamia coconut fresh catch or the blackened fresh catch sandwich, and finish with the local specialties for dessert…or the aforementioned cocktails.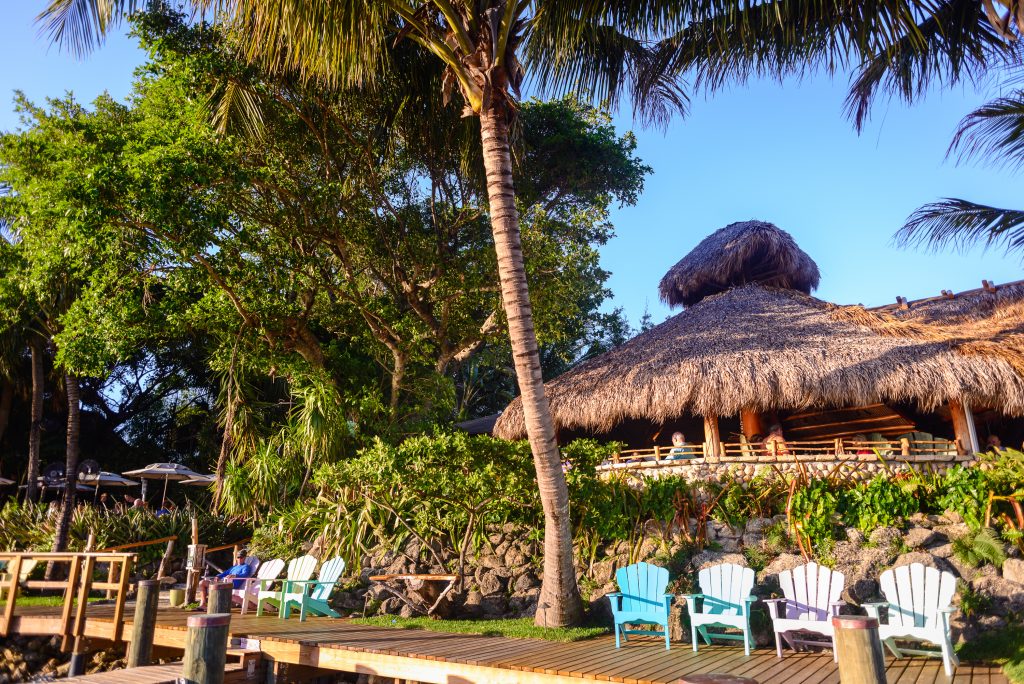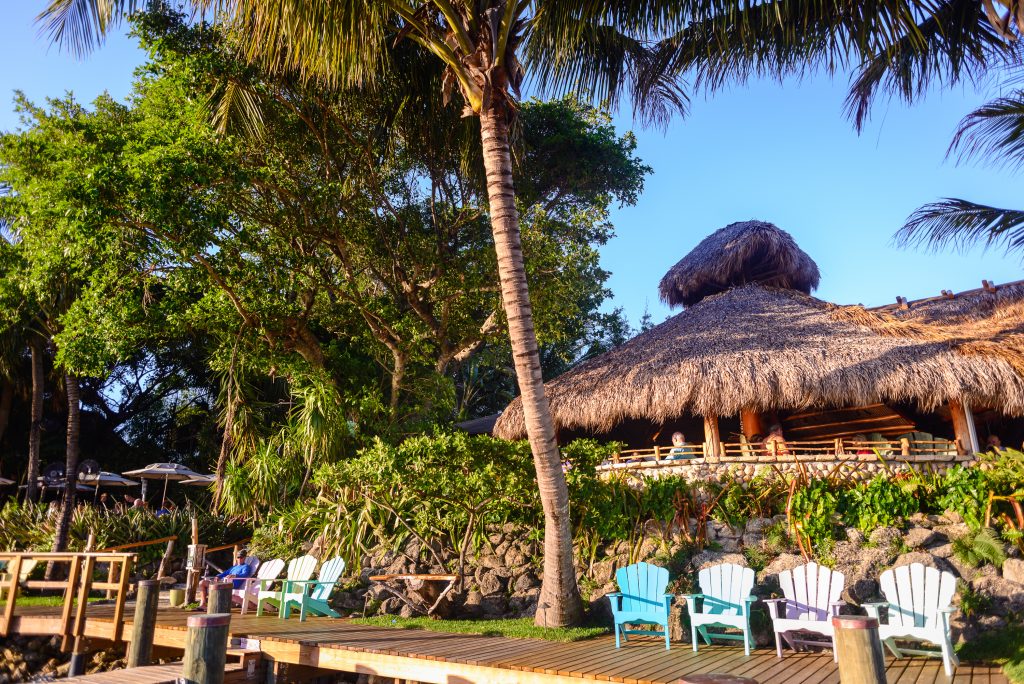 Location: 739 E. Ocean Ave, Boynton Beach
Vibe: If you want some low-key, waterfront, laid-back action, the Banana Boat is your spot. It's been in business since 1978 so its had plenty of years to fine tune its offerings, which include tasty drinks, a prime Intracoastal-front location, a diverse menu, and somewhere where you can get lost for several hours. They offer 250 feet of boat dockage real estate so chances are good you'll find a spot to dock, dine and unwind (and uncork). It might be a good idea to bring your first mate to be your designated captain so you can relax, enjoy the breeze, the boat, and possibly contemplate how good you have it as you embark on your coastal coast.
Menu: There's definitely enough to ll your gullet. They serve everything from tuna poke nachos to steamed clams, lobster, shrimp and avocado salad, seafood crepe, burgers, seafood entrees and more. Don't forget the Sunday brunch that includes bloody Mary's with jumbo shrimp.
Location: 3033 N.E. 32nd Ave., Fort Lauderdale
Vibe: You're clearly invited to drink, dock and dine at Shooters. It is a little bit more "yacht" than "canoe," but still welcoming, pleasant and delicious. This dock and dine location has three outside bars (serving their own beer, nonetheless), 340 feet of available dock space with complimentary dockage every day, special events including full moon yoga, and the always-exciting Sunday brunch. You'll need more than your GTL tank-top to dine, but that only bene ts you as you will get the best bang for your boat-worthy buck.
Menu: You can get down on everything from crab cake Benedict, lobster salad, shrimp po' boy, Shooters crispy calamari, fresh oysters, sushi rolls, sandwiches, flatbreads and everything in between. The menu is large and in charge, and is certain to give your boating guests a full belly buoy.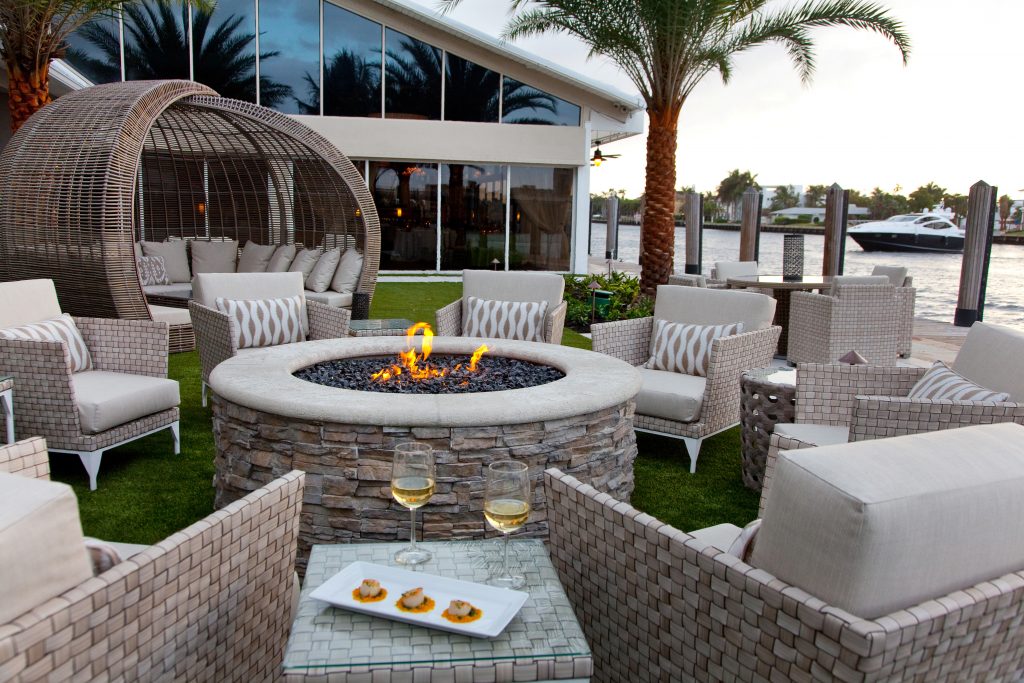 Location: 1754 S.E. 3rd Court, Deerfield Beach
Vibe: Two Georges at the Cove is located in the best area of Deer eld Beach. Feel free to head out on the boat for the day and return for happy hour, or start for lunch and happen to never leave (oops). There's more than 300 feet of boat dockage so there should be no problem finding a spot. From there you can head to the massive outside bar for some dock-tails and appetizers. It's important to mention that they offer overnight boat dockage so you can party and "park" without worry. Now that's what I call some serious sailing snoozing.
Menu: Other than the Two Georges' Famous Rum Runner, you can tip back the Dirty Banana, Key Lime Colada or Monkey Punch, which will more than certainly get you in the nautical mood. The food menu offers classic favorites like Mary's conch fritters, fresh dolphin sandwich, and bang bang shrimp. If you need more sustenance, take a stab at the piña colada mahi, stuffed lobster tail or broiled sea scallops, which are best enjoyed with a cool breeze and a relaxing lounge on your nautical vessel.