There's no better place to cure your taco cravings than South Florida.
By Kayla Ziadie
Two words, 11 letters, say it and you will make someone's week: Taco Tuesday.
Yes, we're in complete agreement that tacos are worthy any day of the week, not just Tuesday. But there's just something about meat in a tortilla that gets any party started. Every taco is valid, from traditional corn tortillas with carne asada to Doritos Locos Tacos on a late-night Taco Bell run (listen, we've all been there).
If a prime local taco experience is what you seek, keep reading. We've got you covered with our picks for the best tacos in Deerfield Beach.
El Jefe Luchador
For the best Mexican street food you can find outside of Mexico itself, El Jefe Luchador takes the crown. The quirky Lucha libre-themed restaurant's taco plates with endless protein offerings are otherworldly—try the spit-roasted pork with pineapple, braised beef and wild-caught Royal Red Shrimp. 
But the gold medal goes to the El Jefe Luchador's far-from-average specialty tacos. Variations range from Korean Fried Chicken with a Gochujang honey glaze, sesame aioli and kimchee slaw, to Lamb Barbacoa with cashew-chili Arbol salsa, pickled onion, cotija and cilantro. And you better save room for dessert, because no visit is complete without the churros dipped in a spicy Mexican chocolate sauce. See you there in five.
El Jefe Luchador, 27 S. Federal Highway, Deerfield Beach; 954-246-5333; jefetaco.com; @eljefeluchadortaco
JB's on the Beach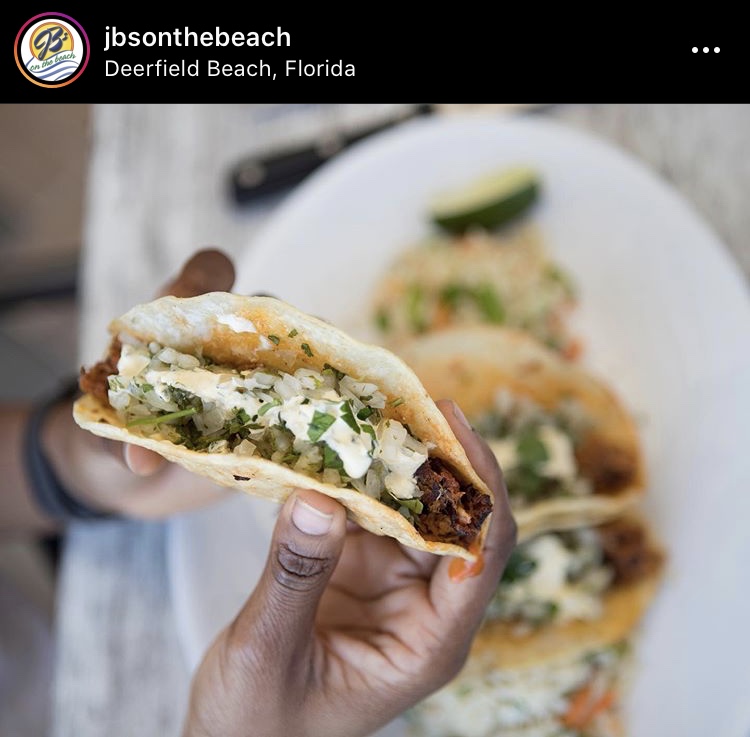 Extra boozy beach drinks? Check. Stunning beach views? Double-check. Pork tacos that would bring any man to his knees? Double-check. For the most stellar pulled pork tacos in the 954 one can ask for, head to JB's on the Beach.
The star of JB's Pulled Pork Tacos is its slow-roasted pork and juicy chorizo sausage. Wrapped in corn tortillas, it's topped with all the makings of an A1 taco, such as onions, lime, cilantro, queso fresco, aji Amarillo crema and served with island rice. In the words of JB's, "What could be better than this?"
JB's on the Beach, 300 NE 21st Ave., Deerfield Beach; 954-571-5220; jbsonthebeach.com; @jbsonthebeach
Casa Maya Grill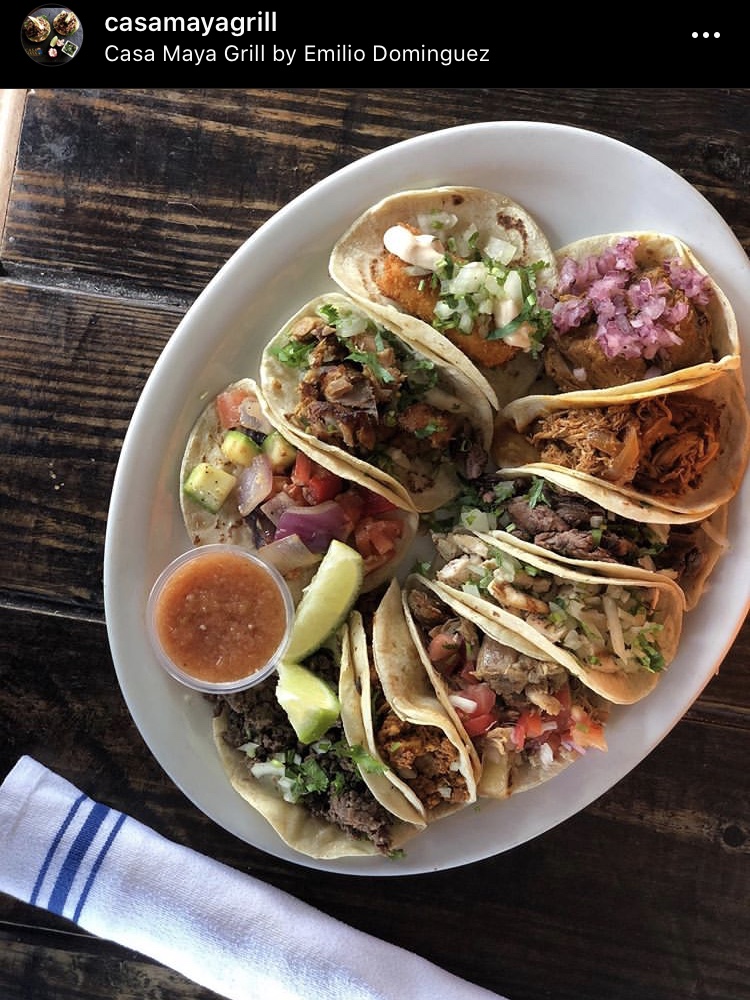 Sure, tacos can be hard to mess up. But there's one spot that promises and delivers both flavor and authenticity: Casa Maya Grill. For the past 12 years, Casa Maya has brought true Mexican fare to Deerfield Beach, but tasting is believing. Pace yourself early on, because there are 10 tacos to choose from. 
For a tangy, citrusy marriage of flavor, try the Poc Chuc tacos, pork loin marinated with sour orange and garlic, topped with pickled onions and black beans on corn tortillas. Seafood lovers worry not, because the Crunchy Mahi Tacos can't be missed, with wild Mahi seasoned with Casa Maya's Mexican spices and coated with Panko, then served with a side of Chipotle coleslaw. No matter which route you take, don't you dare leave without pairing your meal with a drink (read: the Spicy Grilled Pineapple) from Casa Maya's Tequila Lounge.
Casa Maya Grill, 301 SE 15th Terrace, Deerfield Beach; 954-570-6101; casamayagrill.com; @casamayagrill
Rattlesnake Jake's
Kickin' Tex-Mex cuisine awaits you at Rattlesnake Jake's. Less than a block from Deerfield Beach itself, this ocean-themed casual eatery is the perfect place to cool off post-beach day with a taco (and an ice-cold beer) in each hand.
Veggie lovers can indulge in the aptly named Veggie Taco, stuffed with creamy guac, lettuce, tomatoes, sprouts, cheese and mushrooms. The normal tacos are a hit, too, But the magic maker is Rattlesnake Jake's Fish Tacos featuring blackened Mahi, served with lettuce, cabbage, cheese, and pico de gallo on a soft corn tortilla. When you end up ordering it twice and leaving Mahi'd out, don't say we didn't tell you.
Rattlesnake Jake's, 2060 NE Second St., Deerfield Beach; 954-421-4481
Baja Cafe
Baja Cafe has served fresh Mexican fare since 1999 in what is definitely the most colorful establishment in Broward County. If its decor, exuberant vibes or selection of 300-plus different types of tequila don't fully entice you, the food will turn you into a regular. Thirteen burrito variations, eight enchiladas and chimichangas, six tacos and fajitas, four asadas—oh my.
There's a Mexican dish for even the pickiest eater, so there's no excuse to not expand your palate. Start off with the mountainous Macho Nachos, loaded with refried beans, cheese, scallions, tomatoes, Baja salsa and your protein choice. Spice fanatics should order the Snake Bite Chili Burrito, a large flour tortilla stuffed with ground or shredded beef, lettuce, diced tomatoes and scallions, topped with Pepe's Chile con carne and melted cheeses. But don't sleep on the inexplicably juicy Shrimp Fajitas, sauteed with lime juice and red wine, and served with Spanish onions, green and red peppers, Baja salsa presented on a piping hot skillet.
Baja Cafe, 1310 S. Federal Highway, Deerfield Beach; 954-596-1304; bajacafefl.com; @bajacafedos