After Their First Rebuilding Season Under Coach Partridge
by Steven Gonzalez
Photos: JC Ridley
The Florida Atlantic Owls enter Head Coach Charlie Partridge's second season following a tumultuous, and somewhat unexpected 3-9 initial campaign. What looked to be a promising season and a squad ripe for bowl eligibility turned into a mess of mismanaged play-calling and a youth movement on the field. 2014 showed that hiring a recruiting ace to become a head coach comes with risk and the Owl faithful  were relentless in their criticism towards Partridge and his band of Owls. Thankfully, the offseason brings new recruits and coach Partridge and his staff were able to reel in the best recruiting class in school history. Among the notable freshmen are Trey Rodriguez, a scat back with moves to kill from Daytona Beach, and Daniel Parr, a strong-armed quarterback from local powerhouse Dwyer High School. Parr is undoubtedly the quarterback of the future for FAU and the coaches appear to have no reservations letting him sit and watch his fellow teammates as he learns the system.
One of those teammates Parr will learn from is senior quarterback Jaquez Johnson. While Johnson's first year in Boca Raton brought about some positional controversy, his performance last season settled any questions about who the starting QB should be. The Starkville, Mississippi native however is coming off a year that saw him teeter between profound efficiency and erratic play. Although he did throw for more touchdowns (17) and less interceptions (5) last year, his completion percentage went down, as did his yards per carry.
In offensive coordinator Brian Wright's system, the quarterback is expected to be efficient through the air, as well as a productive component of the running game. When Quez wasn't connecting with his big-time receivers, he would fall back on tucking the ball and crashing into an expecting defense. 2015 is the year that Johnson will have to put it all together on the field if the Owls want to be successful. A return to the composure and poise that saw Johnson win C-USA Newcomer of the Year in 2013 will be essential to FAU's hopes of a bowl game.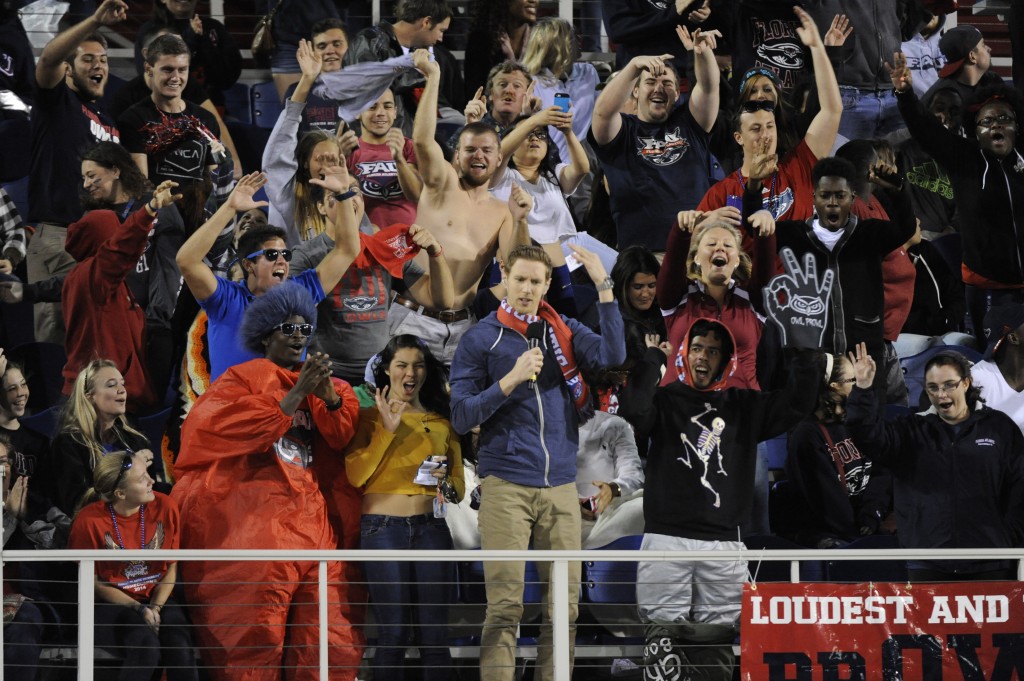 One of the receivers that Quez has formed a solid rapport with is fellow senior Jenson Stoshak. The former walk-on is the primary pass-catching threat this season and was the best possession receiver the Owls had a year ago. Behind Stoshak in the pecking order comes a slew of unproven, albeit athletic speedsters looking to carve out a role early on. Whoever replicates the chemistry that Stoshak and Johnson possess could find themselves in the starting lineup by season's end.
Moving the Owls on the ground this season will be Greg "Buddy" Howell. The sophomore running back excelled in his first year at FAU until an injury derailed that momentum and drove the FAU running game into disarray. Howell only received this opportunity at playing time because of Jay Warren's fumbling issues. Florida Atlantic put the ball on the ground quite a bit last season, but no one turned it over in more inopportune moments than Warren. Fumbling on the one-yard line against rival FIU in last season's Shula Bowl is undoubtedly a low point of Warren's short career, but all signs are pointing to coach Partridge giving the junior running back another shot at earning back his starting role.
Leading the way for the running game will be one of the more experienced offensive lines in Florida Atlantic history. Coach Partridge went out on a limb last season and started two freshmen, center Joe Gold and left tackle Reginald Bain. He was pleasantly rewarded with solid performances from both underclassmen and a year full of meaningful reps. Expected to start on the offensive line is impact transfer Kelly Parfitt. The Boca Raton native returns home from UCF and will be a large cog in the "Atlantic Wall" for the Owls.
When the FAU defense takes the field in 2015, there will most likely be a mix of unproven veterans and fresh-faced newcomers. Last season's star performers, D'Joun Smith, Damian Parms and Andrae Kirk, have all moved on to the NFL and vacancies abound at multiple positions. While the secondary looks to throw a slew of freshmen at the problem to see what sticks, linebacker will be a little tougher to pin down. Freedom Whitfield and Robert Relf are two upperclassmen that will anchor both outside linebacker positions. Outside of them, there is a clear experience gap with the remaining players. Jerrad Ward and Nate Ozdemir will see plenty of snaps in the middle of the defense, but replicating Andrae Kirk's 103 tackle performance from last season will be an extremely tall task.
Fortunately, the defensive line remains intact and returns Brandin Bryant from injury for the redshirt senior's final season. Alongside Bryant, the Owls have senior Trevon Coley to help anchor a 4-3 defense that will lean heavily on the experience of the down linemen. Coley nearly doubled his career tackle and sack totals last season and with almost the entire unit returning for 2015, his numbers should continue to rise. While the defensive line was rather quiet in a few games early on last season, they really rounded into form when they were needed. Crucial plays at home against Western Kentucky by Coley and defensive end Trey Hendrickson led to one of the best victories in FAU history. The true playmaking is there, but it will now be up to this veteran line to push their own performances to the highest level.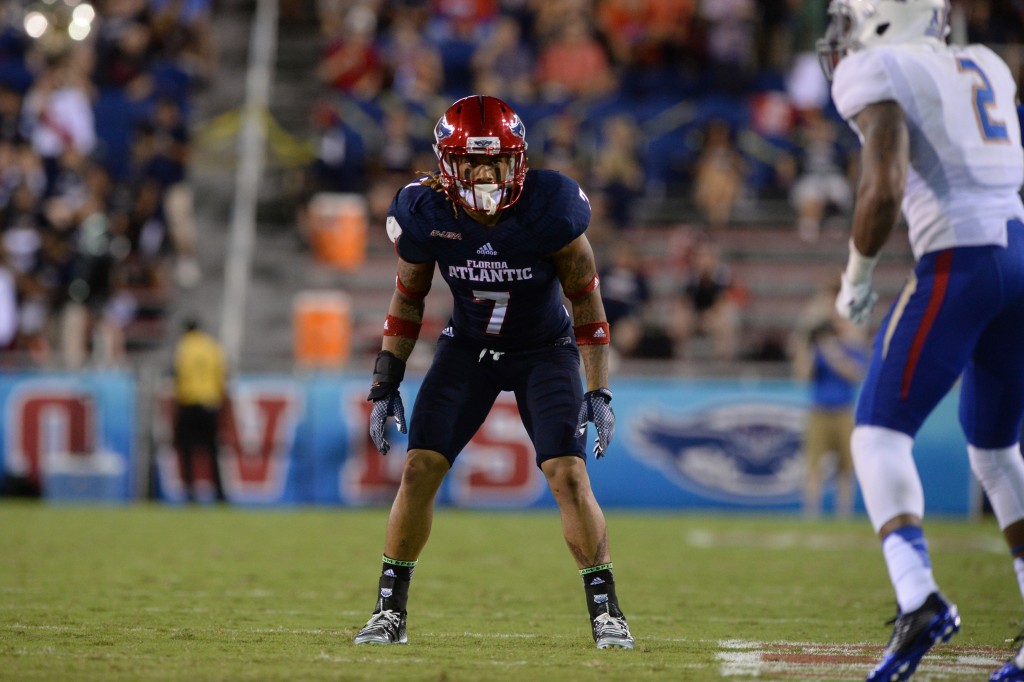 One position that has been a model of consistency over the years for Florida Atlantic is cornerback. The Owls may have retooled for the future with this latest recruiting class, but the present calls for Cre'von LeBlanc to step up from the shadows of former Owls Keith Reaser and D'Joun Smith. Both are now in the NFL and a solid season could see LeBlanc follow in their footsteps. He was targeted last season as teams shied away from Smith, but now it is time for the senior to stand out and continue the trend of great play on the outside.
The Owls will take on six opponents in Boca Raton this year for the first time in school history. Past seasons have seen Florida Atlantic travel to play games more times than not, so a balanced schedule was long overdue. Easily the highlight of the upcoming season will be the first home game against local rival University of Miami on September 12th. With the Hurricanes coming off a very tough season of their own, this could prove to be an early bounce back game for either team. Other important games for the Owls include conference champion Marshall and Shula Bowl rival FIU at home and a late season trip to the University of Florida.
Besides the matchup with Miami in the first month of the season, the Owls are staring down some relatively easy competition. Tulsa, Buffalo and Charlotte are all winnable games with two of the three teams welcoming new head coaches to campus. A string of tough conference contests leads FAU to a bitter showdown with the team down south on Halloween. If the Owls can win at least fives games before the start of November, they should be in great shape to reclaim bowl eligibility and give Charlie Partridge is his first winning season as Head Coach.
Get your season or single game tickets now at fauspsorts.com/tickets/football or call the ticket office at 1-866-FAU-OWLS