The Staycation Potential is Bright
By Darien Davies
Feeling like you need an escape? Ditto that, my friend. While it might only be July, it's been a long year. It's time for a break. If you don't have the funds or finances for a full-blown Euro trip, don't think that all hope is lost. There is a fun little hotel right around the corner that is just screaming your name. Actually, it's saying, "Pack the bathing suit, forget the rest."
Even as a local, you might not know about the Sun Dek Beach House, which if that's the case, then here's your big, fat, alert to Google and book it. It's practically one of the most hidden gems in the area, and perfect for the staycation of your dreams.
Built in 1964 by the Dekker family and opened as a hotel in 2014, this 17-room oasis is comfortably nestled on historic A1A between the Intracoastal and the Atlantic Ocean, halfway between Palm Beach and Delray Beach. So, literally, you get the best of both aquatic worlds. You can opt for a high-end dinner just North at Oceano Kitchen with world class shopping on Worth Avenue to follow, or an austere dining experience at The Butcher and The Bar that will still knock your swim fins off.
They offer studios, one-bedroom and two-bedroom suites to serve as a short-term vacation rental or an extended-stay rental — depending on how long you're planning on milking the staycation. They even consider their hotel as a "spare bedroom" for locals whose families want to visit but don't have space in their home (wink).
Dream-worthy amenities include a heated saltwater pool, outdoor gazebo perfect for dining or happy hour, beach chairs and towels, outdoor barbecues, and fully stocked kitchens that include a blender and citrus juicer so you can make the perfect margarita.
One of the most unique parts about Sun Dek is that the beach is a stone's throw away through a tree-lined path. It's zen, it's fun, it's quick, and it's safe for families. If you feel like being more productive than lying horizontal on the beach, you can also get SCUBA certified in the pool with Force-E Scuba.
Regardless if you need some solo time, some sexy time, or some family time, Sun Dek has it all. The rates fluctuate daily but they offer their lowest rates in the summer knowing that it's the best time for locals to enjoy the beaches without the crowds.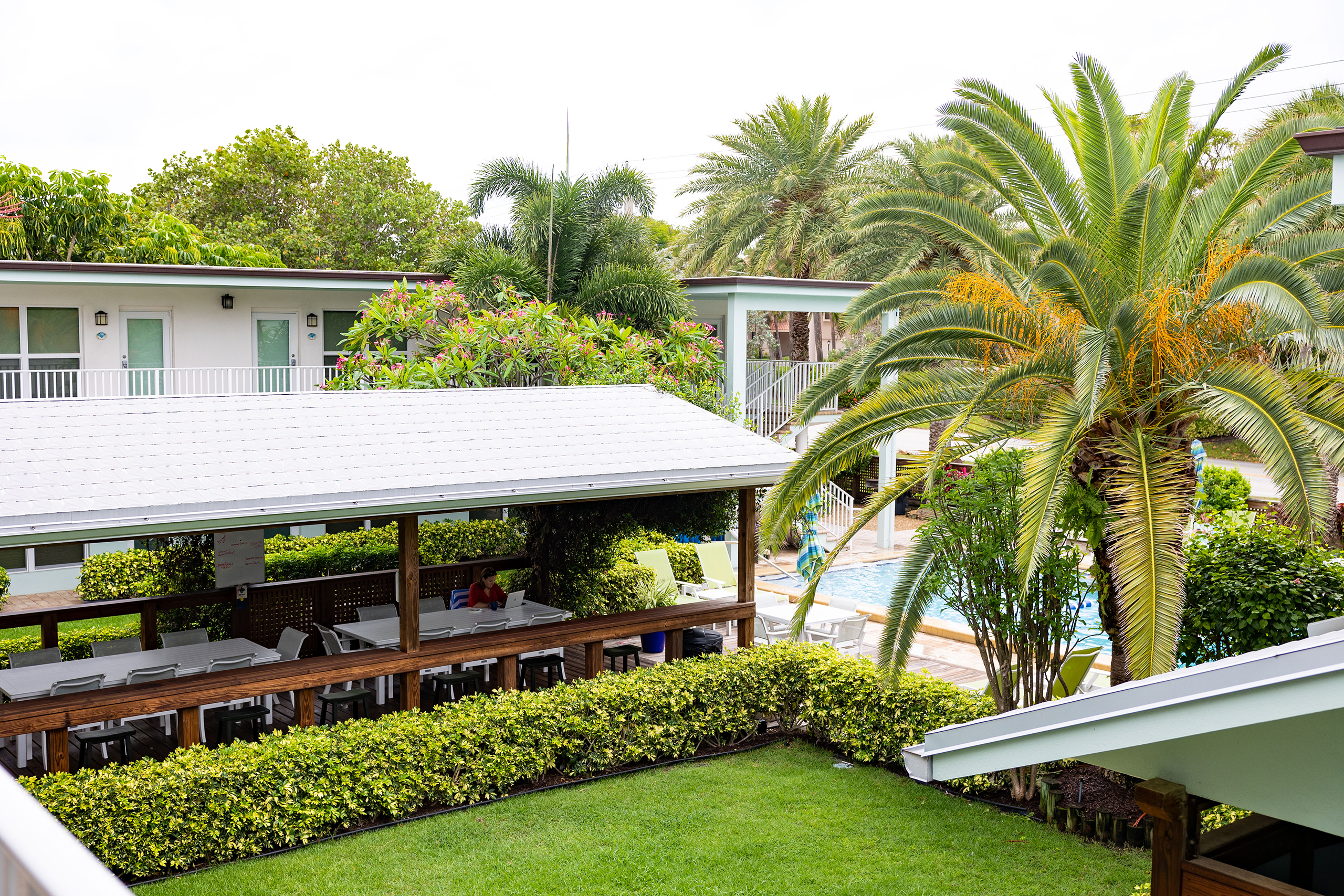 "We host many kinds of guests from winter visitors looking to escape the cold, digital nomads who enjoy our full kitchens and short walk to the beach, to locals needing a staycation," said Eileen Kahn, hotel manager, who notes that Sun Dek is known for its personalized service, clean rooms, and a team that goes above and beyond for their guests. "Families with children love our pool and outdoor shower. Large families book multiple rooms so they can get together in the courtyard, grill and dine in the pavilion, and be able to have their own space in their rooms."
So yes, about now you're picturing yourself in a bathing suit, holding your perfectly chilled marg, beach bag in hand with a book and reef-safe suntan lotion, heading out the door of your nicely chilled suite, ready to enjoy some fun in the sun. Life is good, people. Life. Is. Good.
Need more staycation boarding options?
Crane's Beach House
Two pools, cozy rooms, steps from Delray's Atlantic Avenue and the beach. It's the paradise you've always wanted.
The Pointe Hotel
A private beach, an amazing on-site restaurant and bar, and all the wa- tersports you can dream of, right in Jupiter. Visit once, visit often.
The Colony Palm Beach
Palm Beach's pinkest hotel has, since 1947, boasted some of Palm Beach's best cocktails and people watching. Be the scene and enjoy the scene.
Casa Grandview
Historic vacation rentals that offer casual and elegant accommodations that can cater to all needs, whether that be a wedding, lifetime party, getaway, or more.