By Natalya Jones
Imagine this scenario: You and your friends are about spent and ready to call it a night after a crazy time out. Some members of the group are carrying their shoes, everyone is drenched from the South Florida humidity, and your one friend keeps incoherently belting Taylor Swift lyrics way too loud. You, or someone else more responsible, are trying to hail a cab, but to no avail (blame it on your Taylor Swift loving friend). Uber is the next option, but let's face it – it's way too expensive for your "out of college but still on a college budget." So what's a fun loving individual to do?
Look no further for a DD – thanks to the app and service Downtowner, users can catch a ride wherever they want within a three mile radius for the mere price of $0.00. Yes, you read that right: this heavenly service is free, with the exception of tips for drivers (of course).
Like most good ideas, the Downtowner started after a frustrating experience in the pursuit of alcoholic beverages. "It all started four years ago when I moved back home after college. We were at a friend's house, probably 10 blocks from Atlantic Avenue, and were going out for dinner and drinks," reminisced Stephen Murray, one of the co-owners. "We called a cab which took forever to find us, the driver was pretty impersonal, and the car was certainly not fun to ride in. I thought to myself, 'There must be a better way'."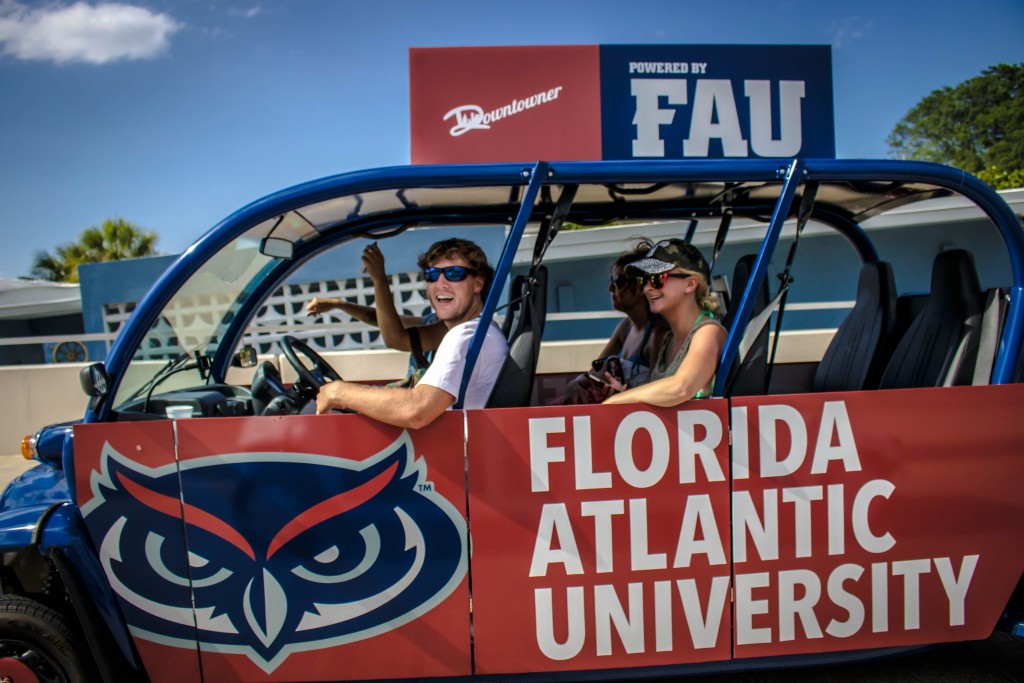 Hence, the Downtowner was born. "I thought a company specializing solely in downtown transportation, maybe a square two miles, would be the ticket to fast, courteous, and community minded transport," Murray continued. "My business partners Ryan and Travis graduated college just after we had been formulating the specifics together, and we decided to take a risk and start the business."
The risk was worth it – after servicing solely in Delray, the transportation service is expanding its business to Boca. Be on the lookout for more cities: although Murray states they are a surprise, he says there are a few more openings in other locations coming soon that will be communicated on the company's website and social media.
"We love South Florida," added Murray. "We are so proud to have grown up here, and returned to establish a fun business that helps cities move around every day." And if that isn't enough to convince you to choose the Downtowner over a taxi or Uber, we don't know what is.
The Downtowner is available 12 hours a day, 11am – 11pm, all 7 days a week. To utilize this service, download "Downtowner" in the app store. It is available on iPhone and Android. Visit ridedowntowner.com.