Which local company packs the best?
Grrrr. No, that is not a bear behind you, that's your stomach signaling for sustenance. But, before you start to choose between healthy and quick options for food, finish reading this article. It's 2019, damn it, and you don't need to compromise anymore!
With three great options to choose from, it can be tough deciding at which one to stop. At first glance, Bolay, Fresh Kitchen, and Beehive are nearly identical. All three have a build-your-own bowl model with bases, veggies, proteins and sauces, with a health-conscience vibe on the side. But! Each fast-casual spot brings their own unique flavor to the table.
Prepared as fast as you can point out your desired ingredients, these Chipotle-inspired, fast-casual, brightly-colored restaurants are only growing in popularity, so you might as well find your favorite now. We've laid out the differences here, so it's time to see which option entices your taste buds more.
BOLAY
Plopping down their pineapple logo all around South Florida, this Wellington-based casual dining spot is probably the most well-known on this list. With an almost cult-following, you won't be surprised to find avid diners getting their Bolay fix nearly every day, and maybe even all day. They are certified gluten-free, which is a sigh of relief to those with food sensitivities because this means there is no chance for cross-contamination.
Although diners are confident that their food won't contain gluten, and vegan options are also labeled, those with other dietary restrictions such as nut, shellfish, and soy allergies will have to ask. Additionally, Bolay offers glass bowls and regular silverware to those who dine in, which avoids a ton of plastic waste. Kudos!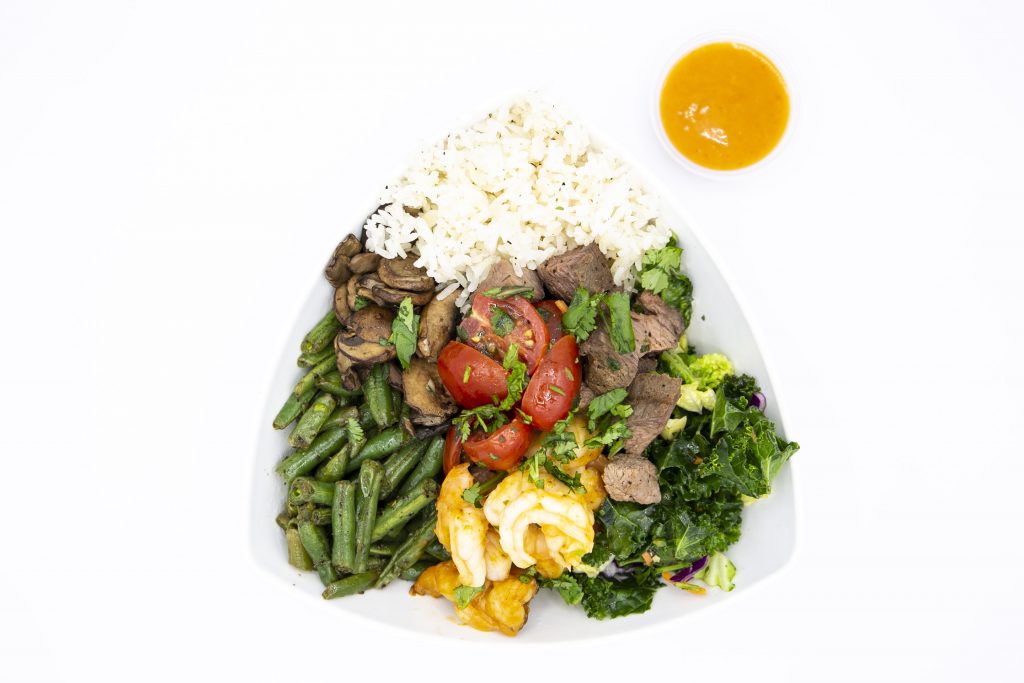 Base Your first duty as a customer is picking your base. If you opt for a small "bol" you get one base, for a large you get two bases, and a kid's meal gets one base or one veggie. Bases can be hot Asian sweet potato noodles, kale salad, orange basil quinoa, forbidden black rice, and baby spinach, or Bolay-exclusive cilantro noodles and jasmine rice. Unique to Bolay, the noodles are served hot and pack some serious flavor. They also offer a spinach without dressing for those looking for a more light option. Once you've made your choice or two, on to the next!
Veggies Balsamic mushrooms, ginger broccoli, herb roasted potatoes, garden green beans, and power beans are the star of the veggie show. Both small and large "bol" eaters get to pick two from this list. Since they are all vegan, the non-animal eaters can pick in peace. You'll be able to find green beans, broccoli, and mushrooms at the other two restaurants, but the potatoes are exclusive to Bolay.
Protein You have the option to choose from either lemon chicken, BBQ chicken, pork tenderloin or miso-glazed tofu as your protein. Or if you'd like to be a little extra, they also have steak au jus, spicy Thai shrimp, or ahi tuna for an upcharge. If you chose a small, you get one protein, and two if you chose a large.
Sauces Sauce. It. Up. At Bolay, you have three sauces to choose from, including spicy Thai, carrot ginger, and cilantro pesto. Pro tip: if you ask nicely, they'll toss your bowl with the sauce of your choice. To be honest, most meals at Bolay don't require a sauce. For instance, if you go for the noodles, mushrooms, and either chicken — there's plenty of flavor to go around sans sauce. But they don't charge extra for sauce, so you may as well explore the flavor combos that they can provide.
Add Ons Finishing it off, small and large "bol"-ers both get one final scoop of either freshly-chopped cilantro, minted tomatoes, parmesan cheese, or, for an extra charge, avocado. For some, being able to add tomatoes free of charge is big perk of Bolay.
FRESH KITCHEN
With their original location in Tampa, Fresh Kitchen brought some green goodies to Boca Raton in March of last year and have brought in a big crowd ever since. Don't be surprised to find lines usually out the door during typical hungry hours. Even though each of their menu items has a bright "GF" next to it, they don't claim to be completely gluten-free, just friendly. On top of the GF labeling, they also label their foods non-dairy friendly, vegan-friendly, and no-processed-sugar-added, on top of highlighting other common sensitivities like nuts.
No matter what you scoop, your bowl will most likely turn out delicious. Each section has their unique flavor without conflicting with each other. So feel free to impulsively point at the first thing that sounds tasty and be confident that it'll come out delicious at the end of the bowl making process. All bowls tend to let the ingredients do the talking and are not over seasoned. So if you find other bowl spots are a little heavy, then FK is probably the move.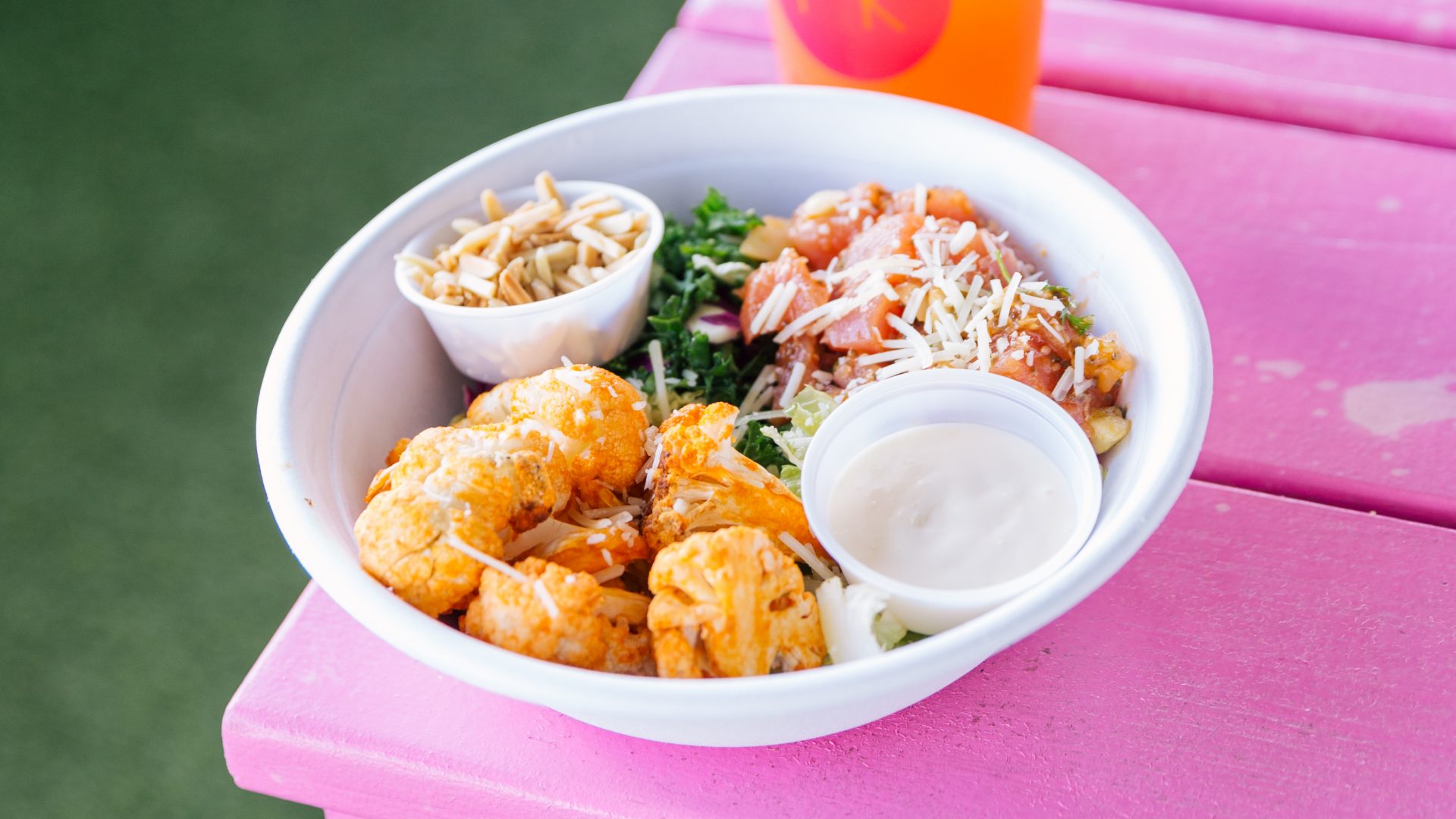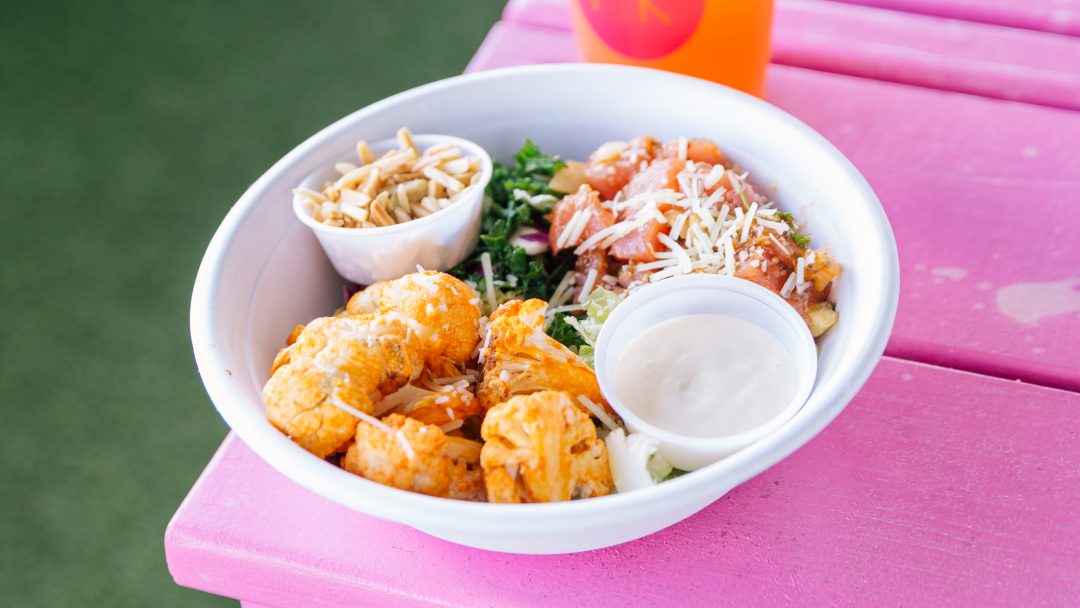 Base Take a deep breath, because FK offers eight bases including brown rice, spinach salad, kale slaw, vegetable quinoa, perfect spice rice, and sweet potato noodles, as well as clean green rice and cauliflower potato mash, which are their two signature bases. Both their "four" and "six" bowls allot you two bases, unlike Bolay that only gives one to the smaller bowl. Both the spinach salad and kale slaw are tossed in a light dressing, which is a bonus for those who feel the competition's undressed greens are too plain.
Veggies Choose from parmesan broccoli, roasted sweet potatoes, roasted mushrooms, or sesame green beans, or their FK-exclusive golden spice chickpeas. For the four bowl, you get to choose one veggie, and for the six bowl you get two.
Protein Dig into grilled citrus chicken, baked almond chicken, BBQ chicken, chilled caprese tofu, and buffalo chicken, or enjoy herb grilled steak and chia seed tuna poke for an extra charge. These proteins are filled with their own unique flavor that could hold their own or be enhanced with the sauce of your choice. Plus, they're cut to slightly larger pieces than Bolay or Beehive, making it a little easier to snag that next piece of protein.
Sauces Finally, finish off your bowl with your choice of creamy white ginger, herb balsamic vinaigrette, holy kale, coconut Sriracha or cucumber jalapeno. There's a sauce for every mood, but the creamy white ginger is probably the most unique and highly demanded.
Add Ons Extra sauce, bean and corn salsa, feta cheese, kale pesto tomatoes, and citrus avocado are all Fresh Kitchen exclusives. These are all "a little extra" but sometimes you just need those tomatoes or parmesan. But it should be noted that Bolay doesn't charge extra for the two aforementioned items. So if those add ons are a must, it's possible it may sway your choice of where to go.
BEEHIVE KITCHEN
Calling South Florida their home base, Beehive Kitchen is working their way up from Broward. They promise four things: hormone-free, antibiotic-free and gluten-friendly (not free) food, and fresh cold press juices. Similar to Fresh Kitchen, they disclose common allergies next to each item, including soybeans, shellfish, fish and eggs.
Beehive's individual items are pretty seasoned and sauced, so you may find yourself opting out of a sauce at the end. Instead of randomly picking items like a child at a soda machine, try to think of a theme while making your bowl. It'll come out way better, trust me.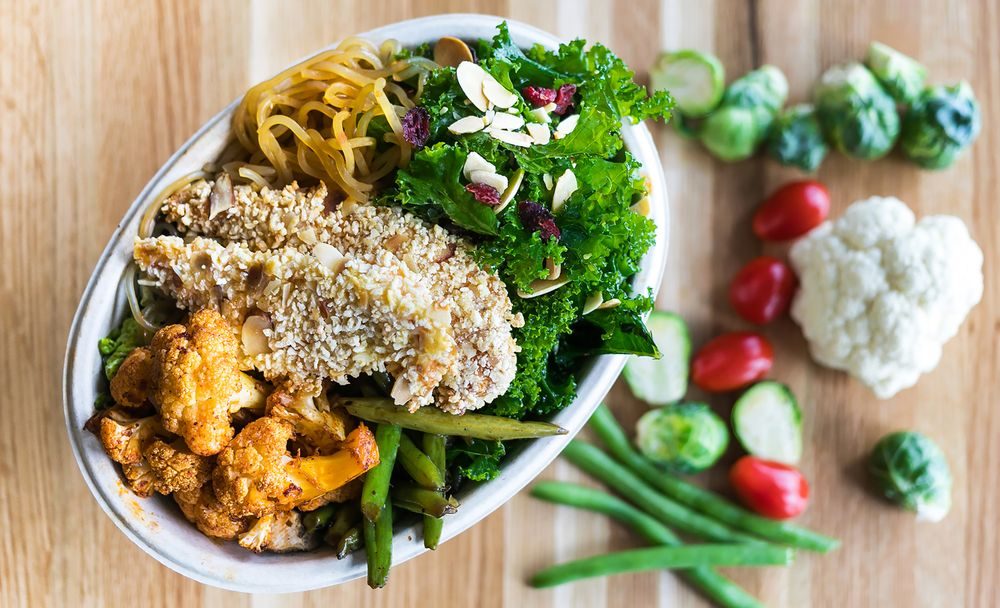 Base Smoky white beans, cranberry almond kale salad, and artisan mixed greens set Beehive apart, but they also carry baby spinach, lemon basil quinoa, sweet potato noodles, and whole grain brown rice. Note that Beehive also offers a couple of greens dressing free, if that's what you're into. Whether you opt for a small or large bowl, you get two bases.
Veggies Putting their own flavor into similar bases, Beehive offers garlic roasted broccoli, roasted sweet potatoes, wok seared mushrooms, and Szechuan green beans, with smoked paprika cauliflower and roasted Brussels sprouts being unique to them. Large bowls get two choices of veggies, while small bowls get one.
Protein Choices include sesame citrus tofu, baked almond crusted chicken, Beehive BBQ pork, and rustic herb grilled chicken, or you can get marinated steak or ahi tuna poke for a couple dollars more. The only protein, in my opinion, that doesn't have a distinct flavor is the rustic herb chicken, which has a slightly smoky taste, but not overpowering flavor. This could be good or bad thing depending on preference, but it is nice to have a protein that's seasoned but generally flavor neutral.
Sauces Their delicious sauce options include fresh herb dressing, roasted pepper sauce, Thai coconut curry, and Argentinian chimichurri. The roasted red pepper is quite popular, but the thai coconut curry is another great option. They come in smaller to go containers compared to the other spots, so why not throw a few in and get to testing.
Add Ons Shaved parmesan cheese and queso fresco come at no charge, while the guacamole and herb-marinated tomatoes come at an extra cost. No matter what theme you go with, each of these toppings will most likely taste great.
Now, after all of that, which healthy bowl spot is the best? Well, that's up to you. One sauce, protein, or extra charge for an add on may be enough to sway you to one spot over another. It's all about your preference and how you build your bowl. It's quite possible the hot sweet potato noodles at Bolay are just too good for you to pass up. Maybe the almond chicken dipped in creamy white ginger at Fresh Kitchen gives your taste buds an emphatic high five. Or perhaps a fork full of spinach, rustic herb chicken and roasted red pepper sauce at Beehive gives you exactly the amount of flavor your healthy heart desires. The only way to truly find out is to try all three. Now go crazy and ball out with your bowl out!