Enjoy a Scary Good Time
By Darien Davies
If you're looking for an escape from the same ol' bars and restaurants on the Avenue, in search of something spooky and scary, the good people at Death of Glory have you covered. From now until Halloween, they've turned their 100-year-old home into a Death or Gory haunted house, with scary surprises around every corner. Visit… if you dare.
"I love Halloween! Halloween is a fun and stress-free season: no gifts, no family parties, no expectations," said Annie Blake, Death or Glory partner. "It's a time to escape from real life and embrace whatever alter-ego seems fun for the day. Sometimes cocktail bars can be a little stuffy. We make seriously good drinks, but there's no reason to be so serious."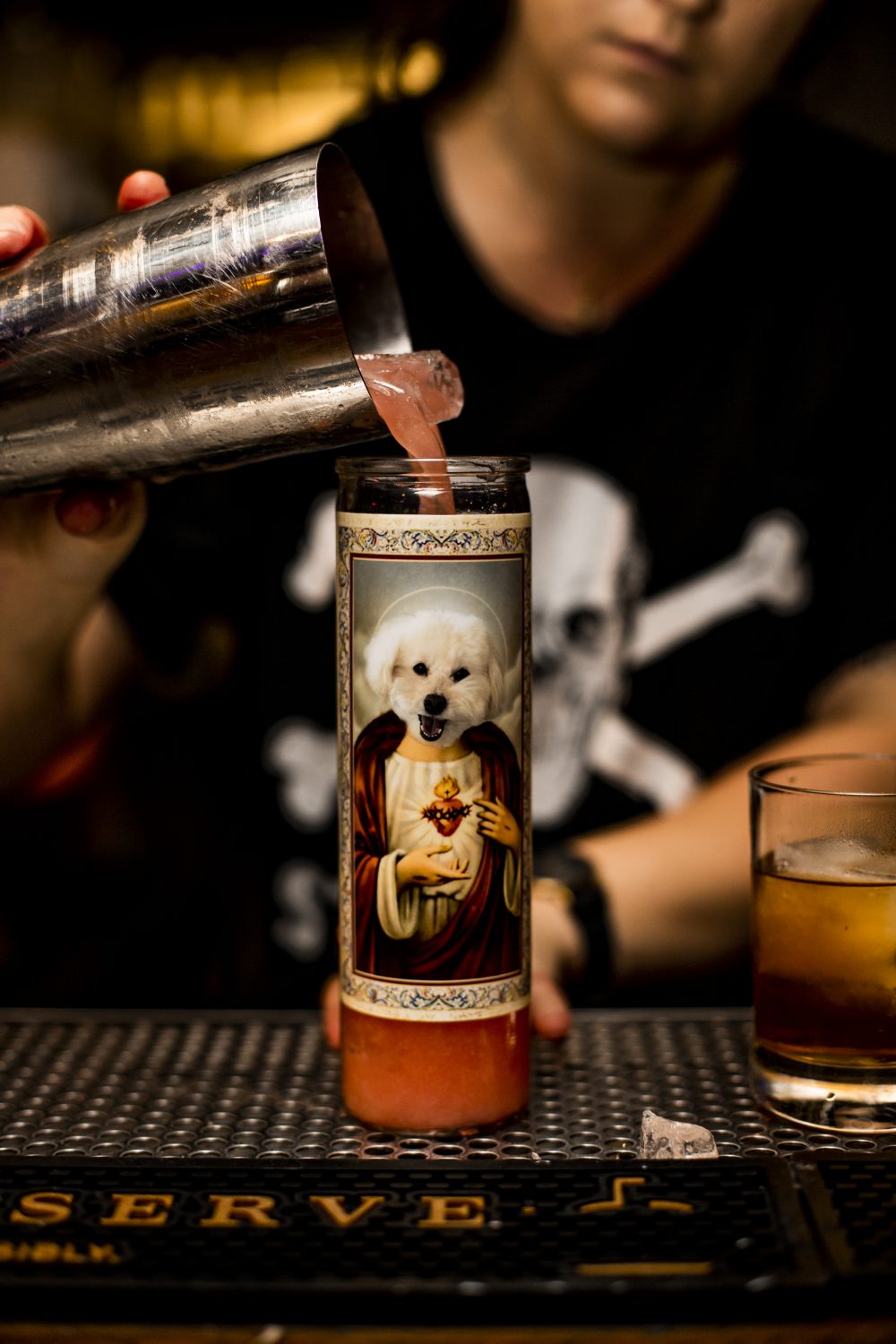 The only thing they're serious about is making seriously fun and creative cocktails and food items in a scary fun environment. Some of their special cocktails include the Lizzy Borden, served with an "eyeball" and a "cleaver," and their Buddy of Christ, which is Ilegal mezcal, Riazul tequila, cinnamon, pineapple and lime served in a religious-looking candle glass with Blake's dog, Buddy, front and center. The Till Death Do Us Part potion comes out smoking to the table, and the Dead on Arrival cauldron is served in a "blood bag." If you're into it, order the Witch, Please, made with plantation rum, strawberry and lime, because $1 from each cocktail ordered will be donated to the Achievement Center for Children and Families via the Witches of Delray.
As far as the food menu goes, it's equally as spooky. Some options include the It's Alive, which is octopus okonomiyaki, black garlic Sriracha aioli, "moving" bonito flakes and scallion, and the Dead Man's Party, which is an empanada with mojo pork, ham, Swiss cheese, dijonaisse and pickle relish. Or, take a stab at the Swamp Monster, which is a braised short rib with a pumpkin farro risotto. Food and drinks so good you'll feel like you've died and gone to Halloween Heaven.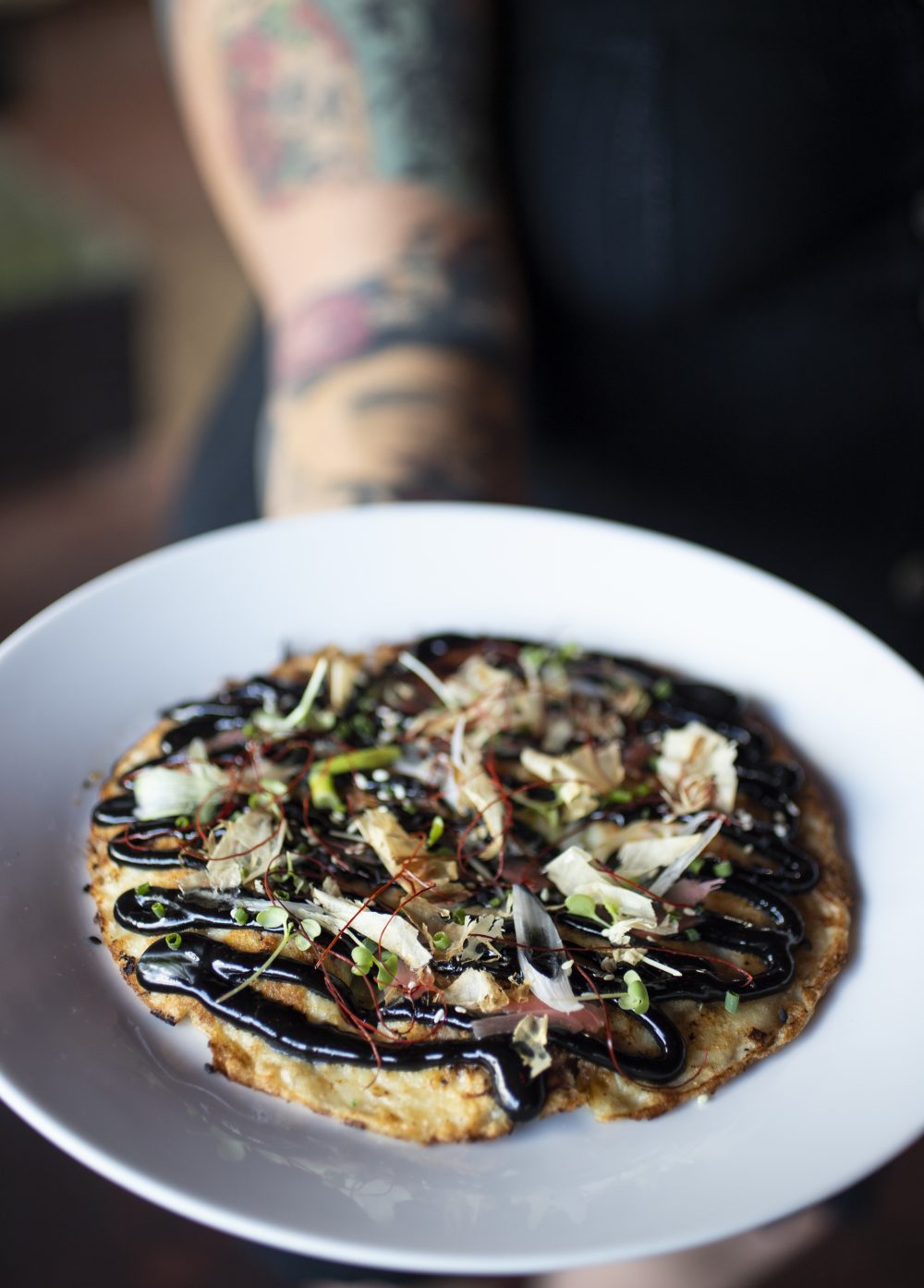 "Not many restaurants 'dress up' for [Halloween], so I imagine it's fun [for guests]. Everyone loves it! Our staff dresses up so even if the guests aren't dressed up the atmosphere is fun and the cocktails are hilarious," Blake said. "We have a lot of people taking photos under our Hellray Beach sign, and with my favorite zombie in the lounge who is still dying for a date. As with Death or Glory, come as you are! Dress up, or not. Have fun with it. It's all the fun of trick or treating…but with cocktails."
The popup will be available for all the interested ghouls and goblins until Thursday, October 31. In addition to the daily freights, they also offer free tarot readings every Friday until Halloween from 7:30 to 11 p.m., and a different spooky sideshow act each Saturday. Spider Cherry will also be on deck to ring in Halloween right on Halloween night at 8 p.m.
Come as you are, look cute, or dress like you've risen from the dead. All are accepted and encouraged. Cheers for fears!
116 NE 6th Ave, Delray Beach, FL, 33483