A South Florida Artist That Knows No Boundaries
By Nicole Danna
"All Things Creative"
Not only is it Craig McInnis' own personal commandment – it's also the way he approaches both life and work. Leave no canvas unturned, no blank wall unpainted. And as a freelance artist in South Florida, it means McInnis covers a lot of ground – both literally and figuratively – from taking jobs for commissioned fine art pieces, set design, illustrations and murals to tackling special effects makeup, album graphics and even songwriting.
Such a wealth of talent has been long-honed. As he puts it, "I knew I was an artist before I even knew what being an artist meant". His earliest memories of putting pen to paper occurred while sketching in his grandmother's kitchen as a toddler. As soon as he could form the thought, McInnis knew he wanted to do it for the rest of his life. There was no back-up plan, no dreams of a flashy career. For him, art was it. If he wasn't creating, he wasn't living.
"Art isn't something I want to do," said McInnis. "It's something I have to do. If I'm not creating, I'm not right."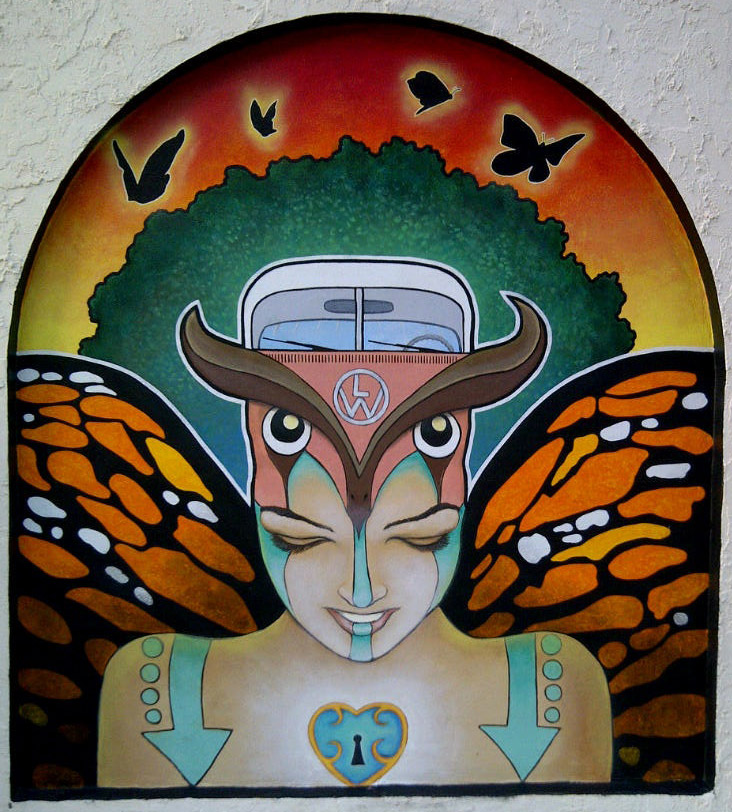 McInnis grew up in Connecticut where he recalls sports and academics forging the path most youngsters would follow into adulthood. While McInnis knew he would never be the star quarterback or making a speech as valedictorian, he was lucky enough to know what his true talents were.
"I just went for it, and was lucky enough to be surrounded by people that supported and encouraged me," recalls McInnis, who went on to study advertising and graphic design at the Art Institute in Fort Lauderdale. "I never deviated. Even when people told me 'you're gonna starve' I knew there was nothing else I wanted to do."
Today, the freedom that comes from knowing who you are – in truly owning your passion in life – is not only the key to McInnis' journey as an artist, but also his success. When McInnis graduated with his degree he didn't attack the local South Florida art scene in the traditional manner. Instead, he went another route completely, touring as the lead singer for a heavy metal band, GoneMad. When chasing dreams of a record deal fell short, McInnis returned to art in a pragmatic way, painting house interiors and eventually murals. In the first few years he recalls saying "yes" to anything that came his way. Could he design a set? Sure. Make a piano out of foam board? Of course. Do an illustration for an album cover? You got it.
"Even if I didn't know how to do it, I'd research it and figure it out," said McInnis. "In the freelance world, you say yes to a whole lot in the beginning. It shaped me to become the artist I am today."
Today, McInnis' art exists in two realms – the work he produces for his clients, and the work he does for himself. Unbridled, inspiration comes by way of the dark, the fantastical, the freaky. In a colorful, contemporary manner his illustrations, paintings and murals are replete with painted faces and sordid scenes that often exude a touch of macabre. Like fleeting memories – most recently series of women's faces and a line of primate portraits – each piece is brought to life through a dark humor that almost anyone can appreciate. They are stories of love gone bad, political statements, or tales of turmoil and insanity.
Look around Boynton Beach, Lake Worth or West Palm Beach and you'll find McInnis' art, murals and commissioned pieces that make up a majority of his day-to-day work. His online portfolio shows a different side, mainly fine art and commissioned pieces, or personal projects that reflect his favorite medium, acrylics. An illustrator first, McInnis begins every piece with a pencil, sketching his ideas before putting paint to canvas or wall.
However, if you've been to South Florida Fright Nights, you've seen his creative vision another way – and possibly McInnis in the flesh, although you'd never know it. As the creative director for the area's annual haunted house spectacular, McInnis is personally responsible for all the Fright Night graphics and design work related to the month-long event, as well the set design and creativity behind an entire themed house, perhaps the best example of McInnis' ability to fuse multi-media concepts with ease. It's enough work that for close to six months McInnis is obsessed, designing costumes, creating makeup, managing social media and advertising campaigns – even building an all-around fright-house that will blow your mind and prepping as an actor for his own creation.
While it would seem enough to call yourself a busy freelance artist, still-performing musician and creative genius behind a successful seasonal event, for McInnis it's just a beginning. Right now, his focus is on a new journey: unifying the Palm Beach County arts scene with Art Synergy, an organization that serves to support and unify Palm Beach County artists.
To help bring his vision to life, McInnis partnered with the 17th annual ArtPalmBeach, taking place this January, which means Art Synergy will be celebrating its inaugural event with six satellite showcases, the first countywide gallery walk weekend covering each of the county's historic art districts.
Considering all of this, it's hard to explain why McInnis hasn't changed his personal motto from "everything creative" to "anything imaginable."
For more information about Craig McInnis, visit his website at www.craigmcinnis.com, or like him on Facebook
For more information about Art Synergy visit the ArtPalmBeach website at artpalmbeachweek.com/art-synergy or like Art Synergy on Facebook.