The owners of Palm Beach County's booziest spots deep dive into how they've stayed afloat amid the madness.
By Kayla Ziadie
Featured in the Digital Edition
There's no shortage of bars and breweries in South Florida. Both locals and SoFlo transplants can quench their thirst with craft beers and artisanal cocktails at the turn of every downtown corner.
But like most businesses, bars and breweries took a financial blow when the COVID-19 pandemic swept the nation. Whether it was finding ways to offer to-go alcohol or keep their staff on board, local taverns and pubs had no choice but to think outside of the keg.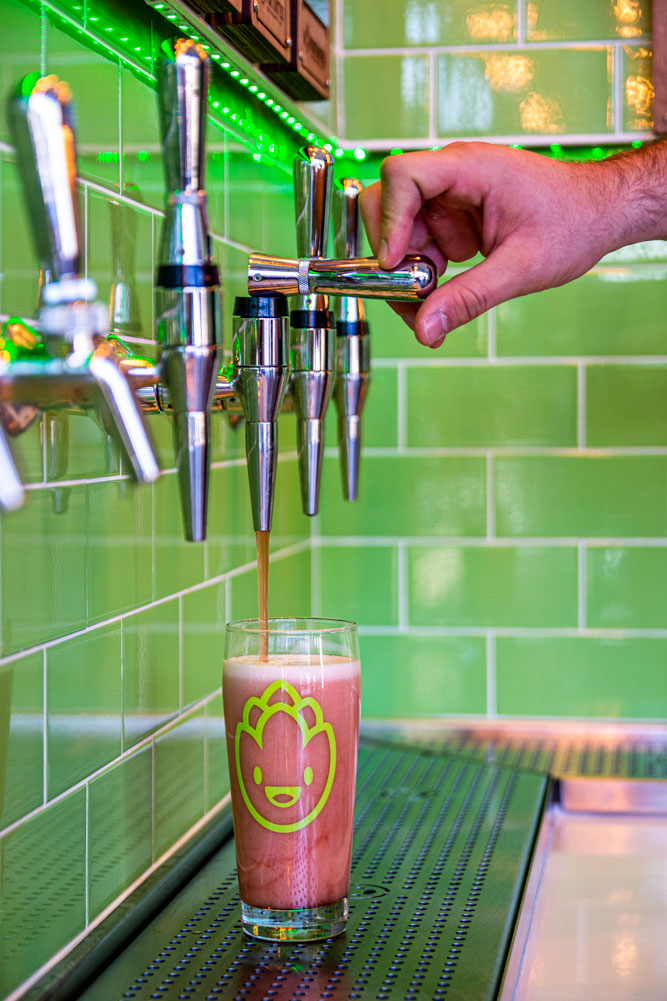 Tapped Out
Fran Andrewlevich owns Palm Beach County sister breweries Tequesta Brewing Company, Twisted Trunk and Steam Horse Brewing Co. As one can imagine, triple the business closures meant triple the pressure.
Andrewlevich kept his salaried employees on and split the shifts between other staff. His No. 1 priority was retaining his workers, as well as making sure they knew he had their backs. So if someone's rent got tough, they wouldn't have to worry as long as he could help.
"We worked really hard to get to where our staff was at all three places, so figuring out how to maintain them was important, and then if they had to take another job elsewhere…I totally understand," Andrewlevich said. "And my salaried guys got paid full salary the whole time."
In South County, Sweetwater features the largest whiskey and spirit selection in the Southeastern U.S. and, since 2011, has made its mark on Palm Beach County as the first true craft cocktail-driven bar. Its consistent flow of both drinks and business had bartender and co-owner Sean Iglehart working 80-hour weeks before the pandemic.
"It was definitely a drastic halt for me personally," Iglehart said. "We needed to pivot quickly, but we've always been extremely flexible at Sweetwater."
His first plan of action post-shutdown was creating a GoFundMe to help his staff. His second was figuring out what to do with the thousands of dollars worth of alcohol and food bought in anticipation for peak season in March. Always the best month for business, March signifies St. Patrick's Day soirées and spring breakers galore, but shutdowns made it physically impossible.
"We ordered accordingly, and we had an excess of product," Iglehart said. "Then I think it became real when the Delray St. Patty's Day parade got canceled. We were sitting on a ton of product… just gearing up for this parade."
Pre-COVID, beer fiends could witness brews in action at Mathews Brewing Company in Lake Worth. Since its 2016 debut, Mathews has notoriously been a "playground for the beer lover" with its extensive range of quality beer and wine, open brewing facility, outdoor beer garden, live music stage and air-conditioned taproom.
But having to shut down meant losing sales in unprecedented ways during March's peak season, including a loss of tips for the taproom staff.
"Basically, we lost money in taproom sales and distribution sales that can never really be made back up," says owner David Mathews. "Also, we get a lot of new customers that visit the brewery during the peak season, so we lost out on new customers visiting."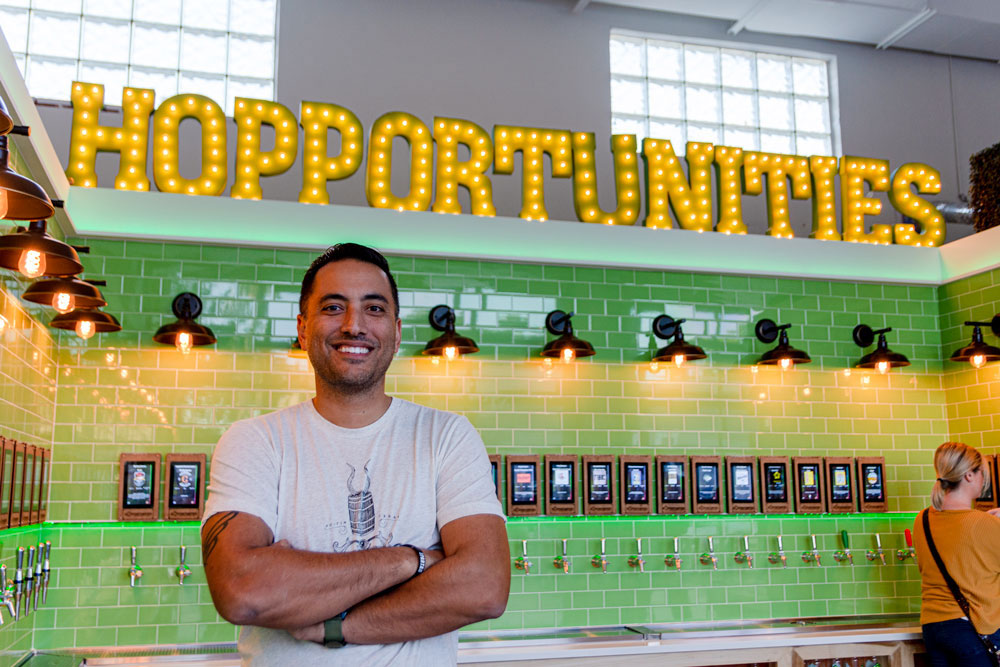 Twenty minutes south of Mathews Brewing is South Florida's first self-serve modern craft beer and wine bar, Hopportunities, where customers are encouraged to "find your hoppy place." In exchange for IDs and credit cards, patrons receive a wristband to scan at 55 different taps that pour both locally and nationally sourced brewskis.
Owner John Macatangay had been in business just shy of four months when COVID-19 forced him to close up shop in mid-March. After a successful soft opening in November, things slowed down around the holidays but picked up for its grand opening in February.
"We shut down our bar two days prior to when the governor required it of all bars, just because we weren't sure what was going on and cautioned on the side of safety," Macatangay said. "[But] business was starting to boom."
To-Go, Yo
Packaged to-go drinks kicked off quarantine, then Andrewlevich implemented delivery for all three businesses in April. But if he's taken any lessons from the shutdowns, it's that pubs are here to stay.
"One of the great things was how generous our [customers] were," Andrewlevich said. "Many bartenders on a four-hour shift were making twice what they would make on a ten-hour shift. If anything came out of this, it really symbolized that the local pub is alive and well."
Creating an online menu for Sweetwater's to-go drinks didn't take long for Iglehart to implement, thanks to his degree in design. Within a couple of days, he created the pick-up menu on a Square site, created every new to-go label and found bottles for packaging.
And even though they won't taste exactly like a fresh pour, Iglehart and his team strive to give customers the same experience with its pre-packaged cocktails and flights.
"I'll give recipes on anything that I create, but I always tell people it's like a massage," Iglehart said. "It always tastes better when somebody else makes it, when somebody else does it."
On the plus side, alcohol won't go bad, so the excess bought from St. Patty's planning meant Iglehart could sell it online. Food, however, was another story.
"Fortunately, we've had the ability to use a lot of that product throughout the carryout/take-out program," Iglehart said. "As far as food goes, the first thing we did was cook a lot of our food that we couldn't preserve. We just donated that to staff, friends and family, and other workers in the industry."
To streamline business, Mathews Brewing marketed to-go sales more than it ever did before. Before Phase One, getting creative was crucial with the closed taproom.
Alongside to-go brews straight out of the taproom and special bottle releases, customers could pre-order beers, then pick them up when available. Weekly three-for-$30 crowler specials were also a consistently successful venture.
"We got a lot of support from locals and regular customers," Mathews said. "We also brewed beers that take longer to condition, such as Lagers and Pilsners; this helped us stay busy in the brewery area [and] also helped keep equipment in operation."
The moment the shutdown transpired, Macatangay immediately bought a canning machine to can all of the keg beers and draft wines. He also transformed one of the beer lines into a CO2 line to keep every can as fresh as possible. If he was going to offer to-go brews as a new business, he was going to do it the right way.
Soon after, he started partnering with semi-local breweries in the same boat to show support—ones that were also struggling to find their market. He avoided breweries in Palm Beach County as to not pull business from them.
"We hosted virtual beer schools," he said. "We'd buy four kegs from a brewery to help them out, can those beers, do a Zoom meeting with the brewery, then we'd do a virtual tasting."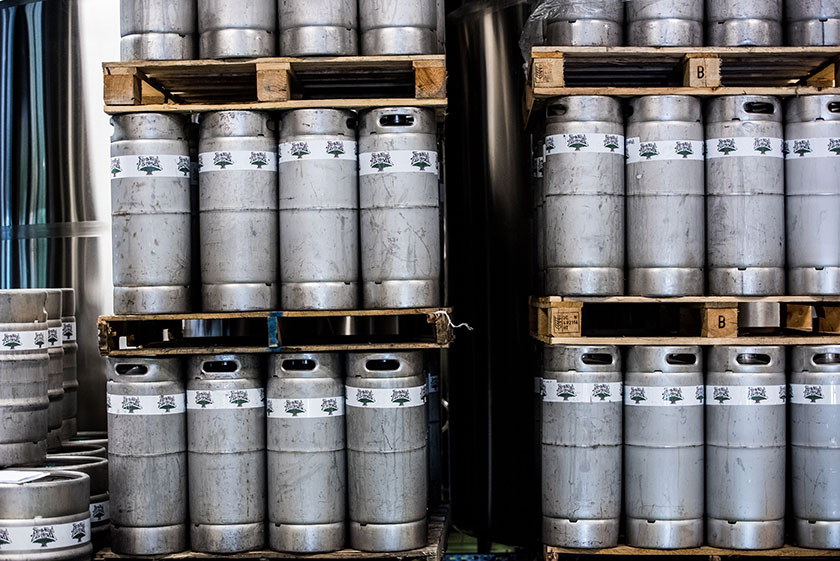 More Drinky, More Thinky
Shutdowns happening smack in the middle of peak season was brutal, Andrewlevich says. Had it occurred during slower months, like late summer, it would've been half the problem it was.
"If this happened in August, it would have been just fine," he said. "Because in August you're doing half the business you're doing in March. My costs don't really change that much, so if sales are 40% less—which it happens every year—you know, it is what it is. So if this happened in August, I won't say it wouldn't be a big deal, but it would be half the problem that it was."
Andrewlevich knows a thing (or three) about keeping business afloat during trying times. For him, it's all about honing in on what matters most.
"Pick your focus, which for ours was keeping our staff," Andrewlevich said. "It's one big family between all three breweries. And with that, support your local people. I made sure to be in every place and fist bump every person that's supporting us. Because I knew coming out of this it was going to be uber local."
Although the concept of normalcy is redefined weekly, locals have poured into Sweetwater since its Phase One reopening. Even with a limited menu, loyal patrons have assimilated the trendy bar into their new quarantine routines.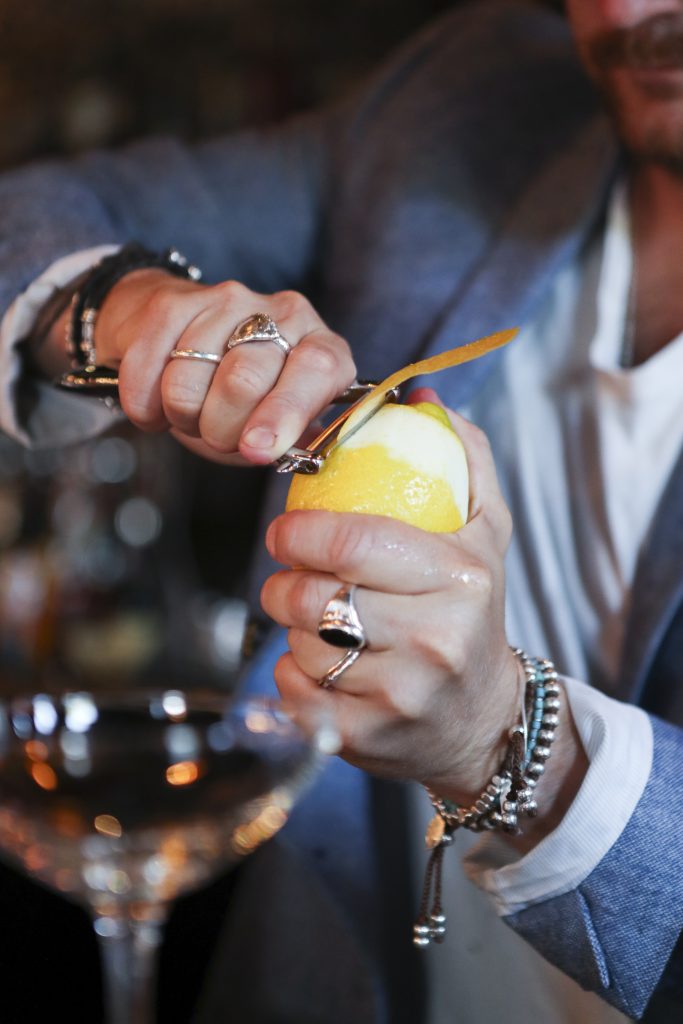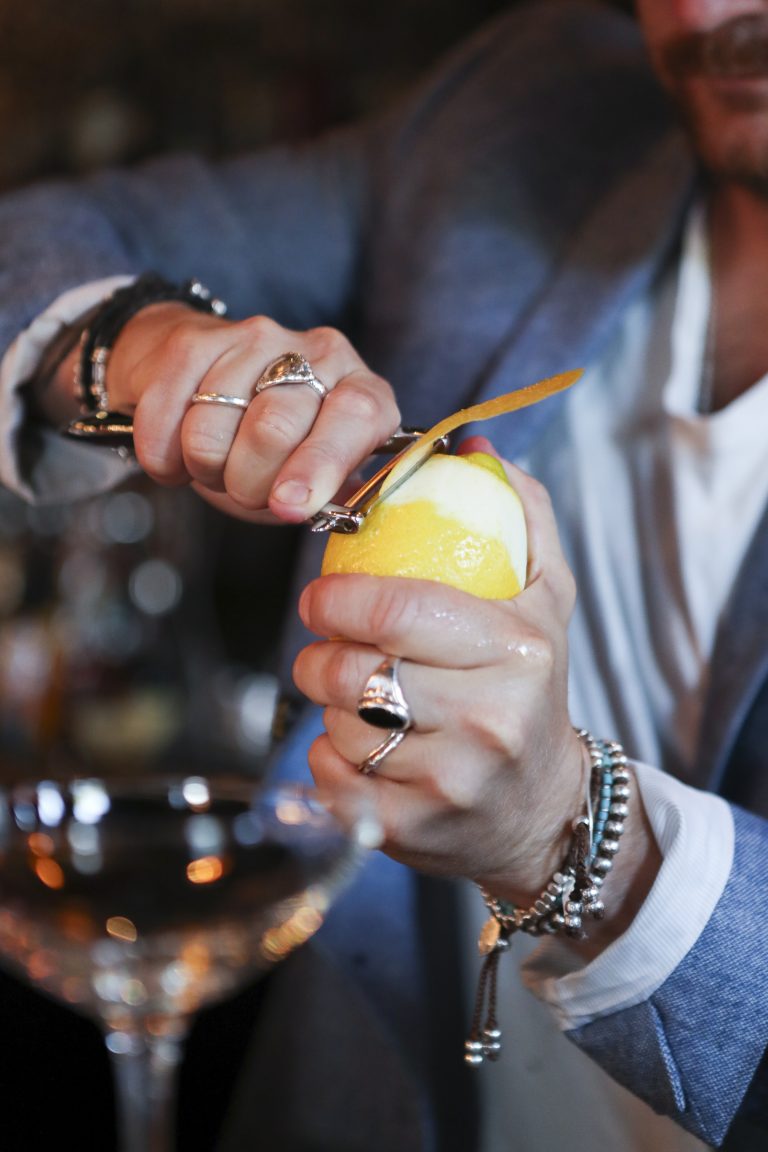 "Right now, we're very close to normalization to our revenue from last year," Iglehart said. "And I don't know if it's because a lot of places are closed down, or if it's just people wanting to get out since they've been quarantined for months."
As for new health regulations with dining establishments, Iglehart believes there's going to be stricter measures taken in the future. "I think the health departments are really going to come down on restaurants with new CDC regulations," he said. "They're pretty strict now, so I'm really curious as to what that landscape looks like in the future."
It may come as no surprise, especially as cases continue to rise in South Florida. Despite this, prior to masks being required, some customers even ask his staff to take their masks off since it's hard to hear what they're saying.
"I see a lot of cases of recklessness, like abandonment, of the regulations…people don't really care," Iglehart said. "We're just trying to do everything we can to protect ourselves."
Down the road at Mathews Brewing, the taproom was wildly popular and kickin' until life came to a screeching halt. So for the future, Mathews doesn't feel the pandemic has created a need for a refreshed business approach, aside from abiding by new health regulations.
"We don't see this as an opportunity in our taproom because we were very busy before the COVID-19 crisis, but we do see a lot more local support from local restaurants to be serving more local craft beer and not national beer brands that are not brewed locally here in South Florida," Mathews said. "Our adjustments are basically following the state of Florida and Palm Beach County guidelines for being open [during the pandemic]. Each time a new order is issued, we make the required adjustment to be in compliance."
Despite facing pressure being a new business owner, giving up hope wasn't an option for Macatangay, even with closures.
"I just really wanted to keep our business alive," Macatangay said. "I don't know if 'alive' is the right word, but keep us engaged with the [local beer community] and try and find ways for us to continue to generate revenue, to keep staff on board as much as possible."
And despite Hopportunities being so new to the area, Macatangay refuses to let the business suffer from the consequences and uncertainty of quarantine. But staying positive can be challenging while witnessing fellow new businesses close permanently, with no end to COVID-19 in sight.
"There are a lot of [new bars] that are already shutting their doors," Macatangay said. "For us, it's just really [about] staying alive…I'm not that weak on our outlook, but it'd be a lot easier if someone gave us an idea of when we'd be able to open."
The Comeback
For Andrewlevich, customers awaiting full reopenings is synonymous with watching a movie trailer. With limited hours, various restrictions, and necessary masks, people have been given a taste of reality again. So the moment restrictions cease to exist months down the road, "people are going to go nuts."
"I think people are going to be jonesing to come out," Andrewlevich said. "They're going to take full advantage of it, and I think it's going to be great. It's kind of a tease."
For the time being, he's ultra-focused on continuing to bring bangin' brews to North County with his three businesses. And with such supportive customers, he's not concerned about creating extensions in other cities whenever the new normal rolls around.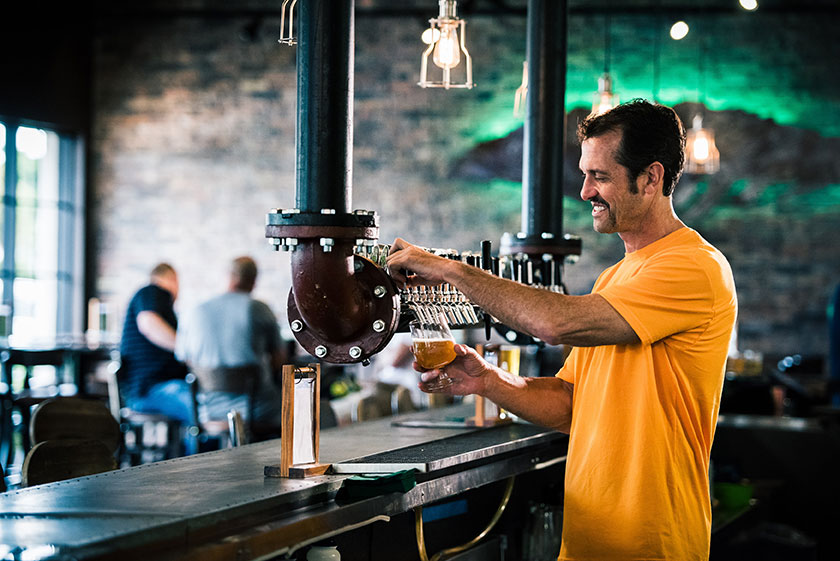 "I'm pretty enthusiastic about [the future] based on what I've seen," Andrewlevich says. "Just the way that [customers] came back and the way they supported us; it's going to go even more and more local… my focus isn't getting beer in Miami or in Fort Lauderdale, my focus is North County — and that's always what my focus has been. But it's ultra-focused now."
Down at Sweetwater, the bar's longstanding presence meant it had a leg up thanks to its supportive customers and self-marketing strategies in the community.
However, other businesses that opened more recently may not have had the same luck, so Iglehart says it's important to shop local and support nearby businesses.
"Buy [local businesses'] hats, shirts, cocktails to-go, gift certificates," Iglehart said. "At least try to go out at least twice a week; be safe and wear your mask. Support your favorite local spot, [and] maybe cook to save money for the other days."
At the moment, Mathews Brewing has 50% capacity in its taproom, with hourly bathroom cleanings and hand sanitizing stations. But its 5,000-square-foot outside beer garden is customers' preferred sipping station. Although it doesn't have a capacity limit, social distancing guidelines are mandatory.
"The outside beer garden area is where most of our business is now," Mathews said. "We are doing a lot more outside order taking by our taproom staff and trying to limit customers having to come inside to the taproom to order a drink."
As for moving forward, Mathews says the best way to do so is for everyone to continue supporting local businesses.
"People can support Mathews Brewing by either visiting the brewery, ordering to-go beer or going to restaurants that carry our brand and ordering our beer," Mathews said. "We also have merchandise for sale along with gift cards."
Being one of Palm Beach County's newest establishments meant there was less time for Hopportunities to have established a solid customer base that would offer support during the shutdown.
"The support was there, it was amazing," Macatangay says. "But we've noticed that post-Phase One… we've noticed a significant decline. The first week after Phase One, our COVID sales were down 80%. They've slowly creeped back up, but nowhere near what we were doing during quarantine, and obviously when we were open."
When it comes to the future, Macatangay is ready to reopen when he gets the green light. SOPs are in place, seating capacity has been cut in half, hand sanitizing stations have been installed, gloves are at the ready, and touchless options on the tap wall mean pouring beer with zero physical contact with any taps.
"I feel comfortable enough that we can operate safely at a lower capacity," Macatangay said. "Those operations with our to-go sales could kind of bring us back to where we need to be. I feel like I've mapped everything out for the COVID future…we're just waiting for our shot."