Crazy Uncle Mike's: Brewing a Good Time
By Darien Davies
In a land of breweries without good food, restaurants without good beer, and music venues without either, we finally have a spot with it all, and it makes total (and damn tasty) sense. Crazy Uncle Mike's is a brewery, restaurant and music venue located on Federal Highway in Boca Raton. The goal for founder Mike Goodwin was to create a relaxed place for people to hang out and have fun, all while enjoying delicious food and drink, and great music. After about a year of renovations, doors opened and taps started pouring in October 2018."We slaughtered the pig that [past restaurateurs] kept putting makeup on, and exercised the ghost," Goodwin said. "It's designed as a restaurant and brewery in an art space. The space is art, the food is art, and the beer is art."
It is just that, too. There are reclaimed wood accent walls from local fences that were damaged during Hurricane Irma, a huge bar and high-top table area that can accommodate parties of any size, TVs on every wall and a huge projector and screen behind the expertly built stage, handmade light barrels with famous rock stars painted as monkeys, and garage shop-style windows that turn the bar into an indoor/outdoor space. It screams creativity from top to bottom, including the full bar and food menu.
"Our concept is fine dining but in a casual environment. It's eclectic and elevated," Goodwin said. "We call it fun dining and aren't interested in being a corporate place. The worst thing on the menu is the flatbreads and they're really, really good."
The goal was to create a full dining, drinking and partying experience, which is exactly what you'll get. Everything on the menu is created here (from a chef who used to work at 32 East, to boot) and exactly like what you would expect from a brewpub – on steroids. Not only is the menu elevated, but they also have a full bar with "some of the best bourbon on the shelf" and a not-your-average wine list.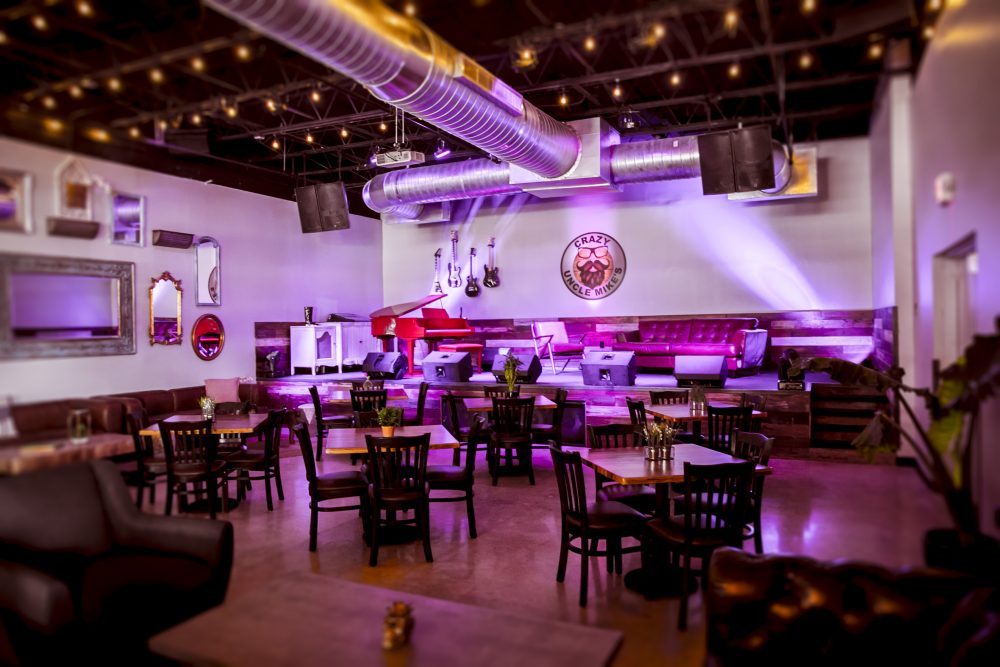 The menu features a rock shrimp and manchego cheese flatbread ($12), grilled squid steak ($20), bacon croquettes with a maple aioli ($10), and pork belly tacos ($14), just to name a few. Wash that down with their O.D.B. English-style Oatmeal Porter ($6), Take the Sour Back Sour New England IPA ($7) or the Get the Red Out American Amber Ale ($6) while listening to some live jams from local and traveling artists, and you've got yourself a good time on your hands.
But that's what to be expected from Goodwin. He knows the recipe for success because he's been in the restaurant and entertainment business for 35 years, with a resume that spans from Las Vegas to Bahamas to Punta Cana, and includes Wolfgang Puck and Kanye West. His mission is to "have everyone who enters to leave with a smile," and more than likely a full belly and some beer burps. So come in, kick back and stay awhile. The brews, bites and beats will definitely impress, it's just up to you how often. ($10 says at least a few times a week.)