By Cash W. Lambert
Photography by Ben Hicks
There's a 20-acre plot in Boca Raton where nature's happenings aren't stopped by man. And because of that, its name and its creatures are guaranteed to bring you back to your childhood.
Experience is quickly reminding me that you only have two options when you smell a skunk in the wild. Either pull a white flag out of a backpack, which should consist of hydrogen peroxide, soap and baking soda and be prepared to scrub, or run the other direction with the agility of a fireman.
Because the latter fits best now, I take two steps in the opposite direction, expecting safety, and that's when I see at least 15 people striding towards me on the Boardwalk Trail so I swivel my head the other direction to search for the skunk and the smell hits me again. Thick trees and weeds surround the Boardwalk Trail, like a fence. I'm boxed in. Trapped. While wearing my favorite Hawaiian shirt.
Then rings out the sentence that saves my Hawaiian shirt, spoken by the man leading the group. "Should you smell a skunk, which is highly likely, it's not a skunk. It's actually called a Stopper tree," he says. His words echo into the forest. Suddenly I'm calm and collected, but twitching with adrenaline. Like a river gushing around a stubborn rock, the tour group flows around me, stops, peers over the side of the wooden walkway and begin sniffing. I peek over too and there is a sign to commemorate the smelly wood, reading 'White Stopper'. The group continues along the nature trail, and I turn back towards the Gumbo Limbo Nature Center. Just in case.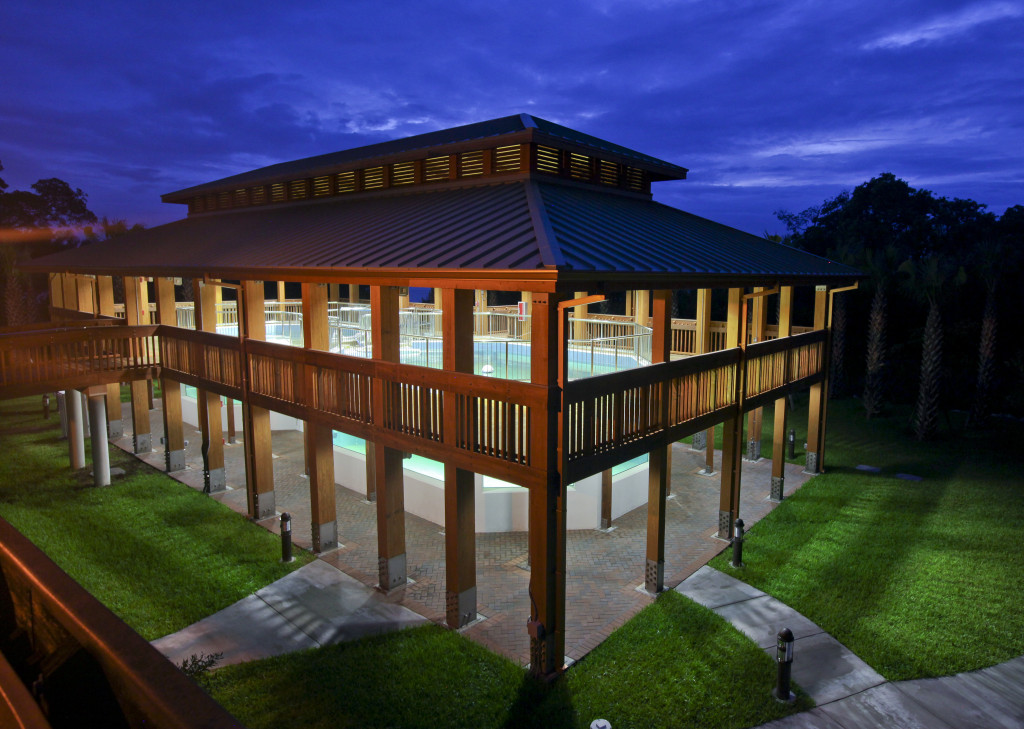 "Wow its moving!" exclams a little girl, no older than 7 or 8 years old. "Let me see, let me see!" yells another, pushing glasses into her eyes and elbowing her way into view. "I want to see it!" says a boy, barely peeking over both little ones. Now the mom's involved. "You don't have to touch everything!" she huffs, evidently overmatched with 3 children who don't seem to be all hers. The group of 4 walks away, and I look at what they were examining. A plant. A green, leafy plant. I'm pretty sure plants don't move on their own accord. Today's sky is dark and warns of rain with high wind gusts but the plants are blocked by brown, wooden buildings. Plants don't move.
Arms folded, a bit calmer and not smelling like skunk, I step closer to the attraction of the day. It's just a plant. The sign underneath it reads "Sensitive Plant, gently stroke". From the base, the plant has several branches, each with tiny and thin leaves stretching the same direction. The only company near me seems to be children, so I lightly touch one of the branches and suddenly the plant has a heartbeat as it closes its tiny leaves onto one another. How exciting! I touch another branch and it happens again, leaf after leaf folding closer to one another.
According to the brochure handed to me by an elderly woman greeting all visitors, I'm standing just outside the Gumbo Limbo Nature Center, which moved onto this 20-acre Boca Raton refuge in 1984. Plants just as unique as the Sensitive Plant are placed to my left and right.  There's Lemongrass (used as an antidepressant) and Milkweed (toxic to humans) over there, and here's Papaya (aids digestive problems) and Dill (helps treat jaundice). I look again at the brochure and my eyes stick on the map of the Nature Center.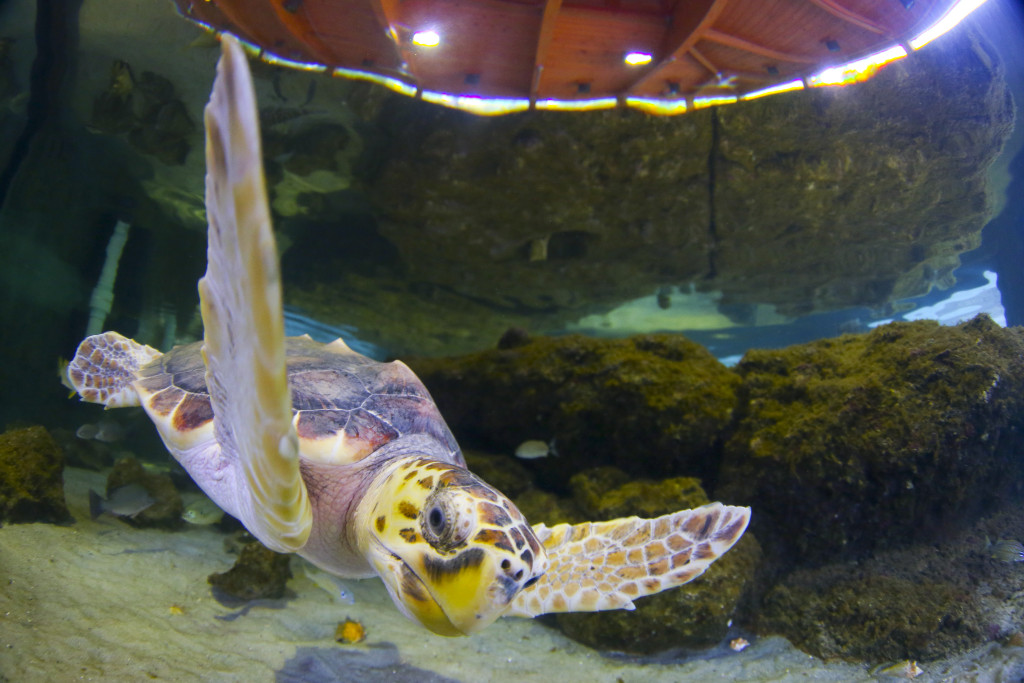 The Boardwalk Trail and its skunk-like smell are North, so I have 3 less smelly directions to choose from. In order to see the main attraction at Gumbo Limbo, which is the sea life, you have to "Follow the Blue Fish to the Sea tanks." I fold the brochure, put it in my shirt's front pocket and follow the blue fish painted on the concrete past classroom after classroom presumably with Florida Atlantic University students and faculty inside until I spy two expansive tanks.
Before I get close, I hear a little boy belt out what everyone else is thinking: "Oooo, look! Wow!
I couldn't agree more. Tens or perhaps hundreds of fish fill each tank, zipping around the reefs inside. I hear more childlike gasps.
The flow of traffic is substantial on this Saturday but not crowded, so I continue toward two other tanks snuggled under an awning. In the first tank a stingray dances underneath the surface as a pufferfish speeds the other direction and a turtle effortlessly glides behind the stingray.
After a second look, the turtle isn't actually effortlessly gliding. It keeps bobbing to the surface after attempting to dive down, floating up with its back legs first. It happens once, twice…and then I see the scar. Half an inch, perhaps an entire inch of the shell is sliced, sliced in a way that seems like the work of a propeller.
"Bubble butt syndrome," says a college-aged girl, walking towards me with a volunteer name tag. "Her name is Morgan, and Morgan was hit by a boat. Her back legs are paralyzed. After we found her we had to put weights on her to help with balance."
Morgan tries to dive a third time, her two legs scurrying downwards and she gets roughly halfway then bobbs right back up. As Morgan dives again, the volunteer explains that sea turtle rehabilitation is a specialty here at Gumbo Limbo and the researchers, some affiliated with FAU, nurture them back to health. They monitor about 600 turtle nests on the beach per year, she says.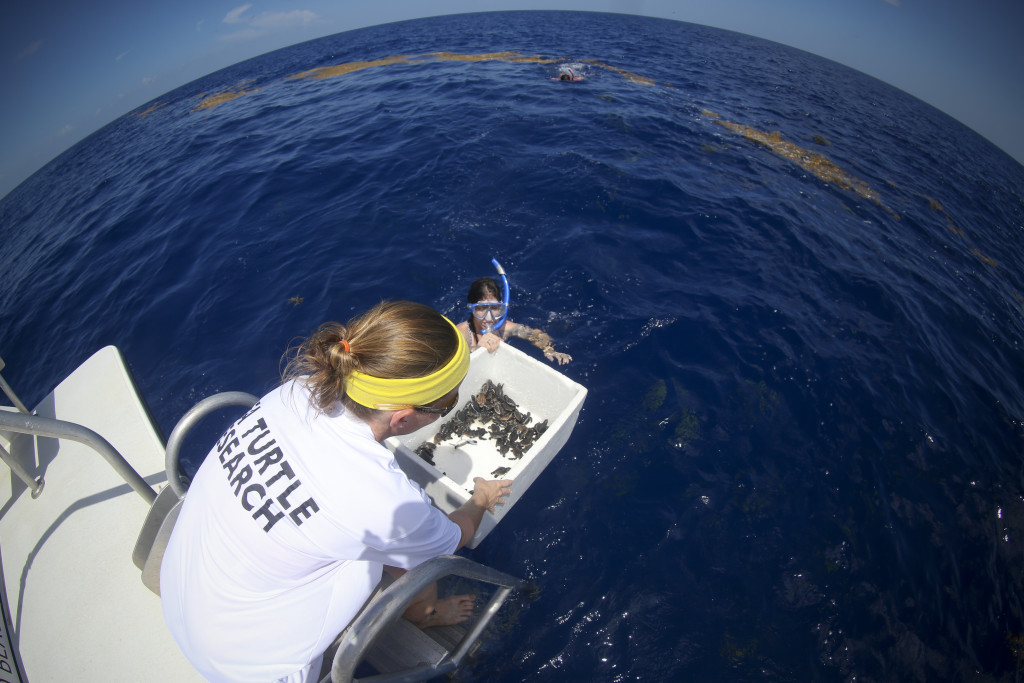 And if you plan your visit right, she continues, the Center has openings for sandy Turtle walks (June-July) and hatchling releases (July-September), with the latter only available at 2 other nature centers around the state. It's a chance to see babies scurrying across the sand in their right of passage, fighting to reach the Atlantic and doing so with only you taking in one of nature's most precious moments.
A bigger crowd fills in the nature arena, and the last I see of Morgan is her diving and bobbing, diving and bobbing.  I follow the flow of traffic to another open air room with individual turtle tanks where most turtles are resting behind a barrier that you need a PhD to cross.
Some are being fed, some are sleeping, all are enormous. The turtle closest is named Betty White, and Betty White weighs in at 92.6 pounds. More children gasp.
The path everyone is following leads to a zig zagging incline that will take you back to the Nature Center and the Plant Pharmacy, according to the brochure. There's a "Marine Debris Timeline" here on the incline as I walk up, with the first sign saying that it takes 2-6 weeks for newspaper to degrade in the saltwater. Cigarette butts are next (1-5 years) and plastic bags (10-20 years) and beer cans (80-200 years) and fishing line (600 years). Two children walk by without noticing, but the parents are staring. The wind picks up, giving the silence a sound, and I want to make it to the Seminole Chiki tiki hut before the rain hits.
Now walking dead south, I follow the nature trail only stopping to play chicken with a meaty crab standing in the way. The rain comes and the crab seems to be more interested in staying dry than fighting, so we part and just around the bend sits the tiki hut the size of a classroom. The clouds hold nothing back, and I'm trapped again but this time I'm reflecting.
There are no drawings or paintings at the Gumbo Limbo Nature Center, but it still reminds me of what Pablo Picasso once said. A teacher back in elementary school drilled it into my mind like a jackhammer: "Every child is an artist, but the problem is how to remain an artist once you grow up." The main demographic here today is certainly children. There aren't many adults. We see these wonderful nature centers at a young age and it seems we rarely return when they are one of the few experiences that can return us to our childlike minds. Minds that can elude momentary stress and deadlines and can dream and believe and imagine and help and preserve…
There's a break in the rain and because it may be my only chance to escape, I dash out of the tiki hut, up the path where the crab is still in its hole, to the Nature Center and I make a quick last round, walking by the Plant Pharmacy and the classrooms and stopping at the second story overlook to see the tanks teeming with fish in the distance.
Suddenly I hear a soft voice below, almost like a mother speaking to her child: "it's ok…it's ok." She's standing in an area roped off to the rest of us and she has the tips of her fingers resting in a tank with a baby turtle bolting to the opposite side.
"It's ok", she keeps saying as she slowly reaches for the turtle, picking it up. Suddenly in air, the baby freezes. She carries it with both hands to a dry tank for cleaning. There's no rush in her step. Only childlike gentleness. She smiles, examining it. She looks like she's in love, as I now am with the nature center.