How Peter and Kepa Mendia Have Become World-Renowned Surfing Talents While Calling South Florida Home
By Cash Lambert
At 9:30 p.m., the Mendia house was buzzing. As Peter Mendia packed for an upcoming surf trip to Costa Rica that his youngest son, Kepa, would join him on, his wife, Ali, and his oldest son, Egan, kept me busy in conversation. When Peter reached a stopping point, he told Kepa to give me a tour of his quiver.
That's why I had come to the Mendia's South Florida home on a weeknight in 2015 — to write about this budding surf grom for Atlantic Current.
Kepa shyly showed me his surfboards — an arsenal of 4'4s and 4'7s shaped by Todd Proctor that matched his 9-year-old frame. After Kepa said that he was using these boards in surf competitions, Peter reiterated the importance of keeping surfing fun.
It's hard to believe my visit to the Mendia's house was seven years ago. As I re-read the article, entitled "Grom Life with Kepa Mendia," I was thankful for print outlets like Atlantic Current in our digital-heavy world, because the article not only seeks to entertain, but it shows just how far Peter and Kepa have come in their surfing careers.
I realized the ultimate paradox: It seems that so much has changed with Peter and Kepa since then. But at the same time, it doesn't seem like much has changed at all.
If you visit beaches in Palm Beach County during a swell, you're likely to see a surfer sending saltwater in every direction, hacking, carving and destroying the walls of each wave he surfs. That's what Peter Mendia's been doing for decades. The South Florida native began surfing at 10 years old, traveled around the world on the competition circuit, and found his niche as a freesurfer.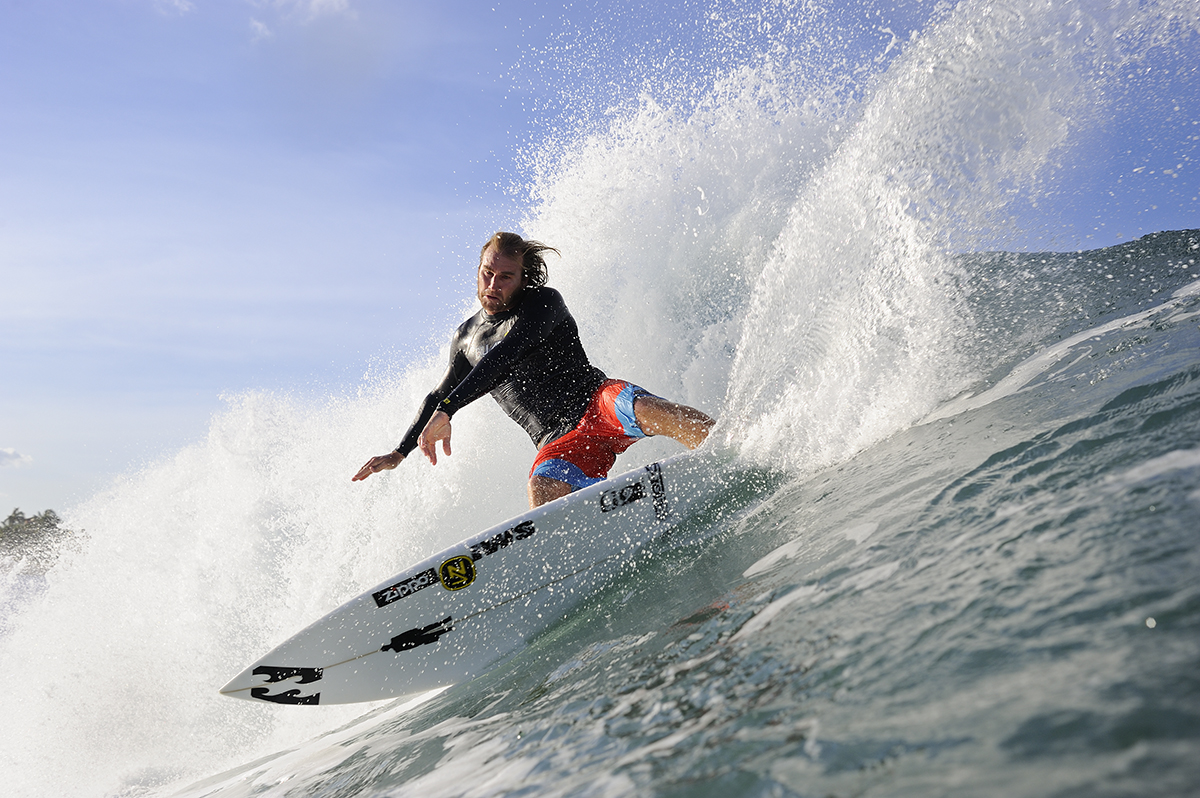 Peter Mendia's staple, from his grom days to now, is his patented power surfing. He's also known for charging the biggest and gnarliest waves, resulting in jaw-dropping barrels. Mexico, Hawaii, Indonesia, the Bahamas…the location doesn't matter. Peter's surfing brilliance is on display wherever he goes.
If you see Peter in the water, you'll probably see Kepa sitting next to him and showcasing his surfing repertoire: throwing buckets, hunting for barrels and launching sky-high airs.
When he was old enough, Kepa started going on strike missions with his dad, like the Costa Rica trip they were packing for when I ventured to their house in 2015.
As Kepa grew, so did his boards — 4'4s became 5'7s and 4'7s became 5'8s. He's added hardware to his name, including a handful of National Scholastic Surfing Association (NSSA) titles.
Plus, he's been at the epicenter of surfing as it migrates from contest to contest, coast to coast. In 2019, just minutes before the start of the Billabong Pipe Masters on Oahu's North Shore, young Kepa was freesurfing with contestants. He stood up on a massive Backdoor wave, disappeared behind a blue curtain, and exploded out of it. The world's best surfers saw the wave from the beach, and, after the clip went viral in the global surfing community, those who didn't know the grom were introduced to his talents. Either way, the sentiment was in agreement: the wave was a perfect 10.
"It's pretty incredible to see him evolve and just get better and better…and actually like it," Peter told me. I asked him if he was pushing Kepa in surfing, because sometimes a parent pushing a child too hard in a sport can lead to stress and burnout. "I don't tell him anything," Peter said. "I want him to enjoy it for himself. Surfing is supposed to be fun."
"Fun comes first," Kepa told me, echoing Peter's sentiment. "He's not trying to get in my head. He wants it to come easy and for me to have fun."
In a sport that is now seeing a rapid growth of coaching — the majority of junior surfers as well as professionals have surf coaches — Kepa decided that in order to keep things fun, he didn't want a coach. "He is the only kid near his level that doesn't have a coach," Peter told me. Kepa's excellent contest results to date speak for themselves.
There's no doubt that we are all products of our environment. While South Florida may not get the credit it deserves for being a training ground for surfers, it has shaped Peter and Kepa's world-class surfing resume.
"You don't take surfing for granted living here," Peter said. "If there's a wave, you have to go."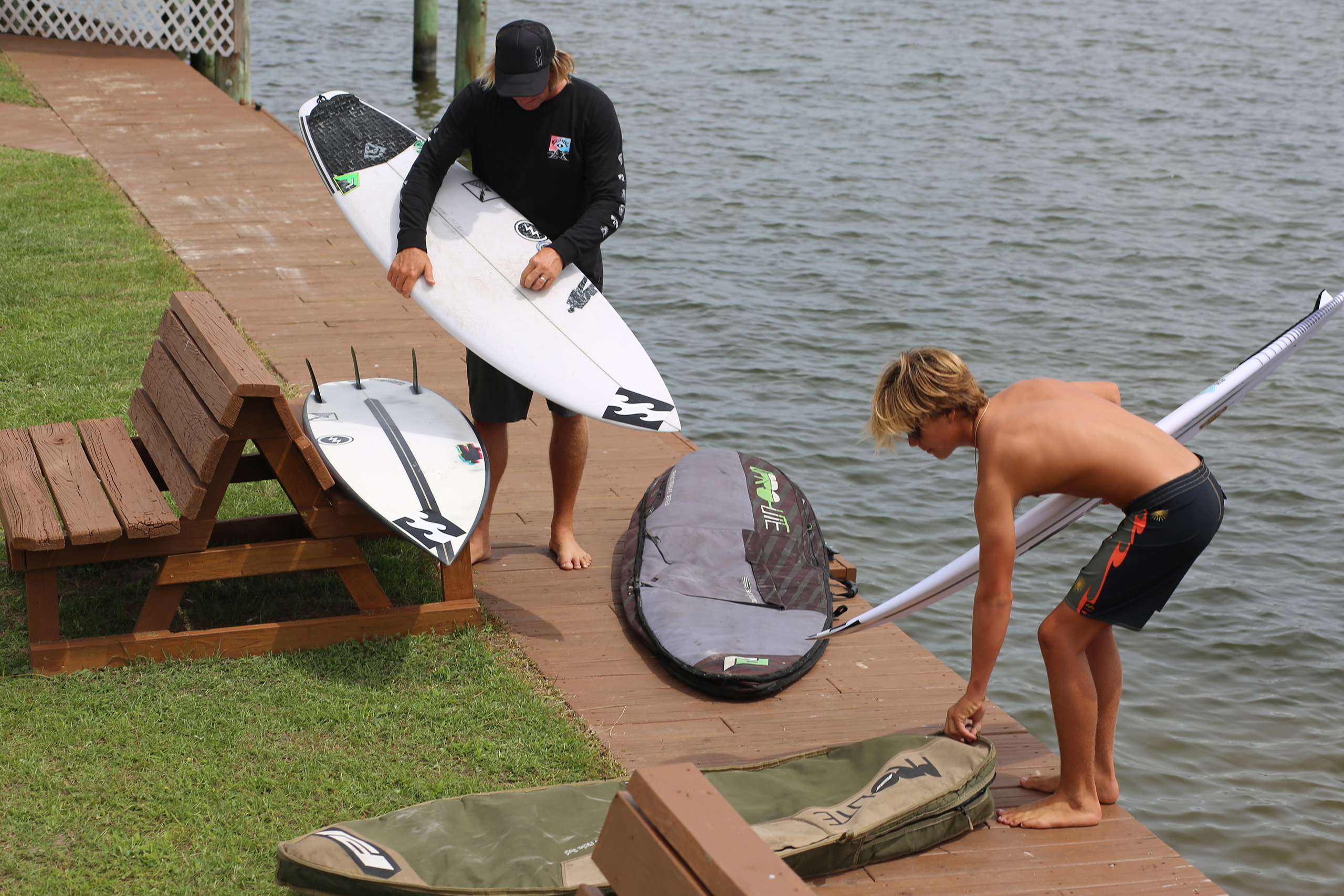 "Whenever there's waves at home, I'm trying to surf as much as possible," Kepa said. "I've met kids from other places who don't care to surf as much. I'm frothing to surf anything."
What excites the Mendia household today is their own version of giving back to the local surf community: Mendia Boarding School. The surf camp has run every summer for nearly a decade, and is a source of stoke and pride for the family. A combination of soft tops, small summer waves, and the Lake Worth Pier set the scene for what Peter calls "the pureness" of surfing. For someone who surfs some of the gnarliest waves in the most exotic locations, Peter gets just as psyched watching kids learn how to surf in the same waves that he once learned in.
So much has changed since Atlantic Current's last feature on the Mendias, but at the same time, it doesn't seem like much has changed at all.
Catching up with Peter and Kepa for this 10th Anniversary issue, the most obvious change was Kepa's surfing skill. It's clear that he is one of the top junior surfers today. When I catch up with them again for the 20th Anniversary issue, I have a sneaking suspicion of what I'll be writing about, based on Kepa's current goal: "My dream is go on World Tour, and I'm going to compete until I do that."
Check out a throwback to Kepa: here