By Dustin Wright
So much has changed about photography since we started the magazine nearly 10 years ago. We're not just talking about gear and the tech that came with it, but the feeling of it. Instagram was just catching its stride, and it was becoming clearer we were entering a new phase of the art form. Around the same time, we met Tony Arruza, one of the more renowned photographers in the area. Ever since then, he's been one of the definitions of what photography meant to us. He started honing his craft in a totally different time. A time that was certainly changing, but critically important.
We can say without a doubt that Tony thinks 0% about Instagram when he takes a photo, and that's why we love his work. In some ways, maybe jealous of him. Wouldn't it be nice to take a photo without thinking about the 4:5 crop ratio? Or thinking about the likes it will get? Or maybe the fact that it won't be judged for less than one second on a 6" screen? It's a world few photographers live in these days.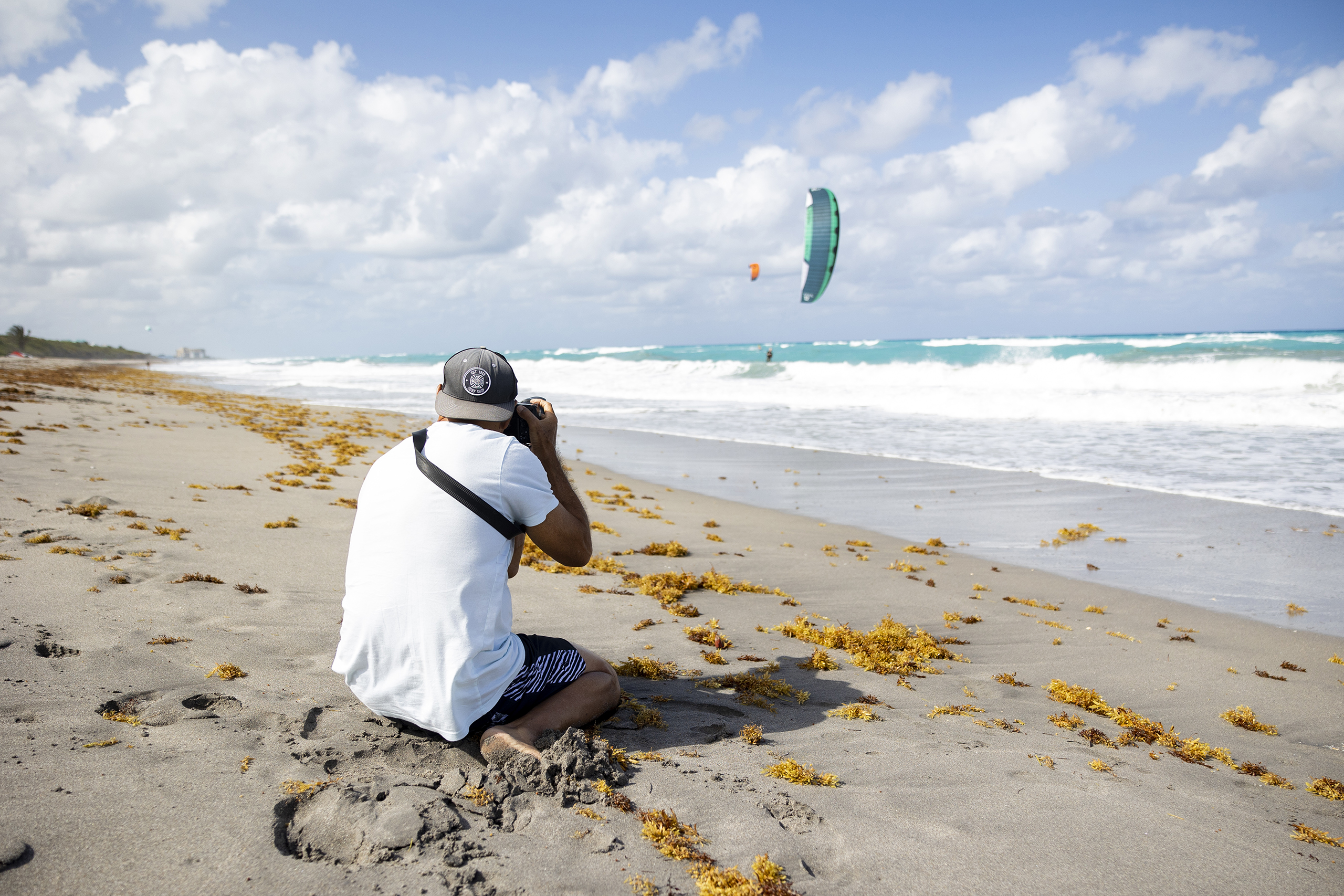 Born in Cuba and raised in West Palm Beach, Tony was always close to the water. In the mid-1970s, his father gifted him his first camera during college. It was a Nikonos I, an amphibious camera that could also be shot on land. "I was into surfing and scuba diving and had plans to study marine biology so my father thought that a waterproof, underwater camera would be a good gift." Tony recalls. "After my second year of community college at Palm Beach Junior College, as it was called at the time I attended there, I enrolled at the Mayagüez Campus of the University of Puerto Rico to pursue the marine biology dream. Some of the best waves in the Atlantic Ocean are found in Puerto Rico and I began swimming out into the surf with my camera for the fun of it and to make friends with the local Puerto Rican surfers. It was those photographs that drew the attention of friends, and with their encouragement to submit to surfing publications, the editors at those magazines. It was soon after my first submission that I was published in Surfing Magazine, which kick-started a career in surf photography and later in photography in general."
Tony's surf photography, to no surprise, is what originally put him on our radar. He went on to have the lead feature story on Peru in Surfing Magazine, which he both wrote and photographed. A few years after that, he scored what at the time was the largest photo spread ever in Surfing Magazine. "It covered either 12 or 14 pages. I can't quite remember. The photos were shot in Bali," he said. After getting bit by the photo publishing bug, his accolades only continued. "Besides Surfing Magazine, for whom I worked the longest, I've been in more than 100 magazines, with probably 40 book publishers and with lots of advertising clients. It's hard to pinpoint a few favorites but a few that come to mind are GEO, National Geographic Traveler, Men's Journal, Insight Guides books (I actually did six complete books for them), Communication Arts Annual Photography Competition, Smithsonian, Audubon, Florida Tourism Board, The Surfer's Journal, Islands Magazine and Compass American Guides. Unfortunately many of these publications no longer exist as they've been swallowed up by digital media."
Of course, digital media has made it easier to share work with the masses — but with that it created a completely different industry for photography. In many ways, we reminisce of the era in photography Tony got to come up in. Surely it was much harder to find success in photography, but that's what makes his accomplishments that much more impressive. Even the term "success" has changed quite a bit since then. But more on that later.
Rather than a traditional profile, I approached Tony with the idea of tagging along with him on a shoot. Fortunately, he was more than happy to oblige. When we started talking ideas, he quickly landed on getting to the beach and into the water. Conditions were less than ideal at the time, boasting 20-knot winds. But like many shoots, you don't always get to choose the conditions. In addition, Tony didn't shy away from the challenge.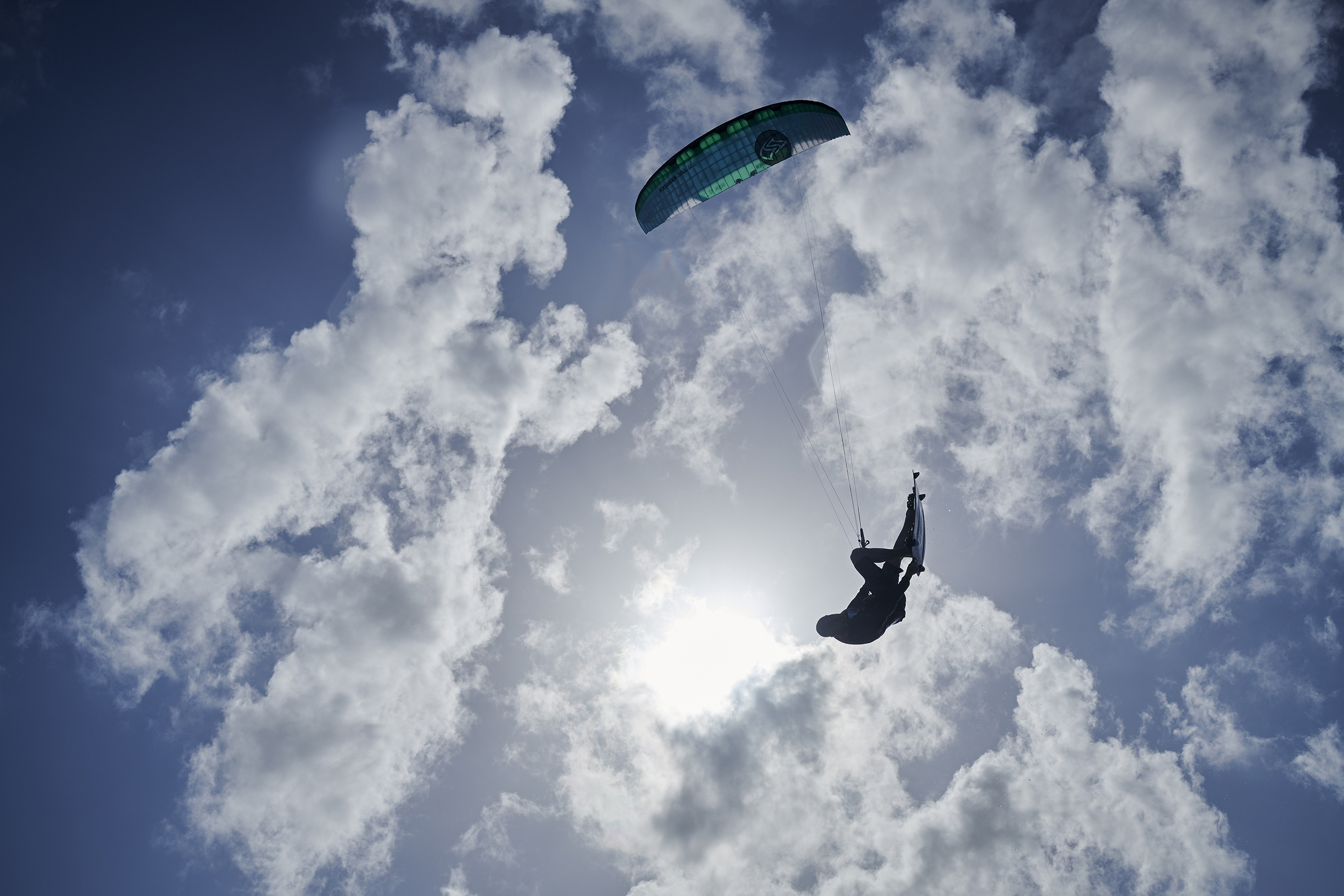 Given the day's conditions, Tony landed on the idea of photographing kite surfers in Juno Beach, something that would allow him to shoot on land, but more importantly, get in the water. When asked how this type of shoot would apply to a real-life situation, Tony quickly responded that this is how he would warm up for a trip. "To re-familiarize myself with the water equipment, the technical aspects of shooting from the water and to overcome unforeseen obstacles, technicalities or problems with the camera or housing. Unless you're in the water everyday re-acquainting oneself with the equipment, swimming into position, focusing, properly exposing, or even trying out new ideas is important before heading out on a trip where solving problems may not be easy. And besides, you don't want to blow opportunities when it really counts."
When we arrived at an access about a half mile north of the Juno Beach Pier, Tony met me with a camera in hand. His Nikon was ready to roll with a 70-200mm lens, just to scope everything out. We walked to the top of the walkway to get a feel for the scene. "It's important to get a feel for the location and the people where you'll be working. The longer you can spend time observing, the better your shots will come out. Also, lighting is important to observe as it is a key element to any good photograph. I also like to make mental notes of subjects that I hadn't thought of beforehand and look for interesting compositions and angles," he said.
He fired off a few frames with the telephoto lens, and then decided it was time to head back to the truck to prep his gear for the ocean. "It's my first love. Believe me, as a photographer I love shooting mountains, desserts, forests, glaciers, rivers, anything having to do with nature, as well as non-nature subjects, e.g., street photography, architecture, cultures, people, etc., but if I had to choose one, it'd be the ocean," he said.
Back at the truck, he prepped his underwater housing, threw on a rash guard and grabbed his fins. After taking a few test shots, we ventured back down to the water. While sitting on the beach to put on his fins, you can see him start to plan out some shots in his head. The drift was pulling pretty hard to the south, so Tony was going to have to work for it. Once out in the water, he positioned himself in the right spot for passing kite surfers. He linked up with one guy named Austin Wadsworth, who had just arrived in town that day from Virginia Beach. After plenty of passes and airs directly over Tony, he made it back to the beach. "I asked him to get close, but he got a little too close a couple times," he said with a smile.
During a quick break, we got to talking on our mutual passion for photography. One of my favorite aspects of Tony's work is how he stays true to it. The conversation moves from gear to how the art form has changed. More specifically, how it has changed with social media.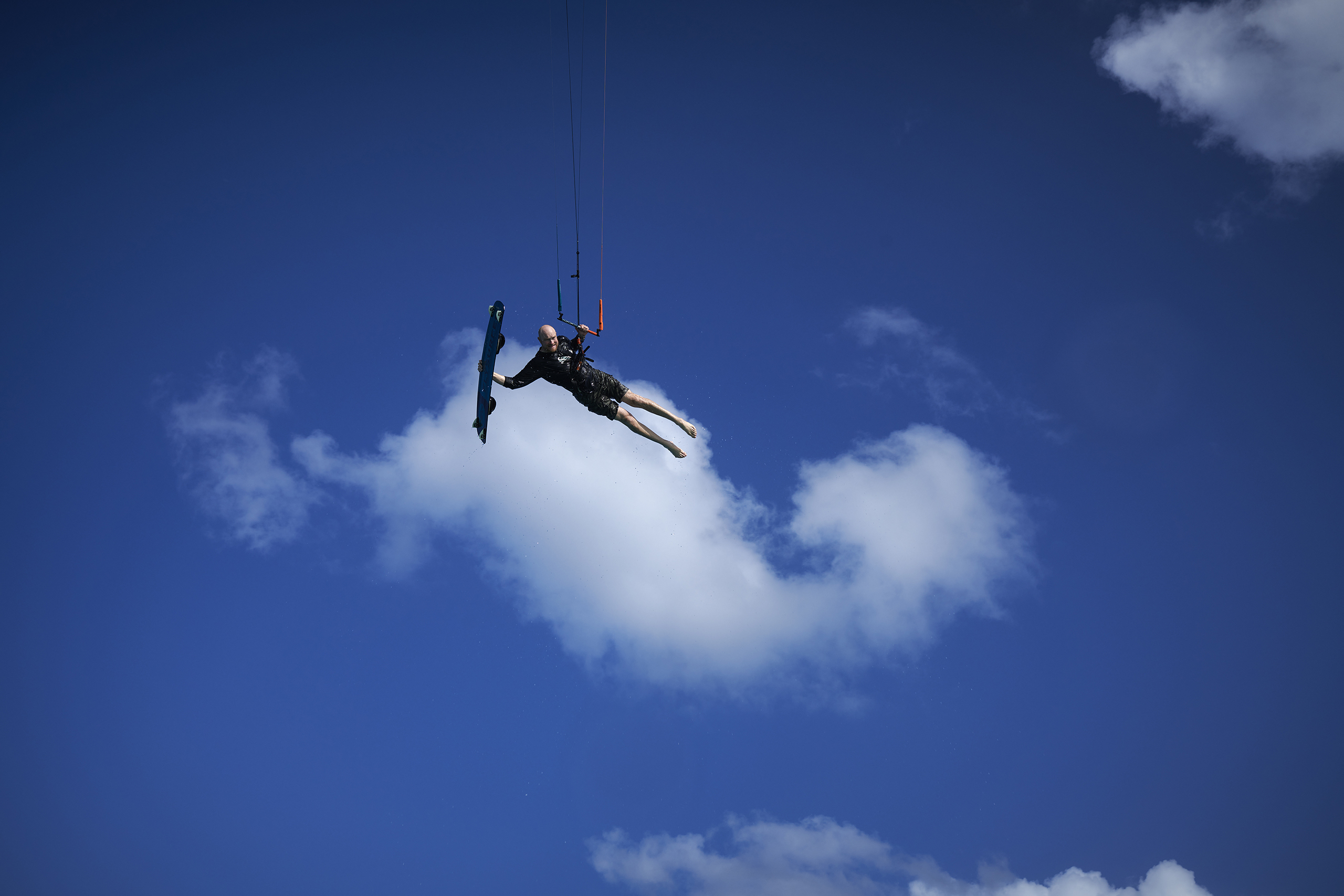 "Honestly, in my opinion, Instagram has taken away from the true art and mastery of photography, as have phone cameras, or at least the appreciation of it. It's also made photography a commodity that's used for influential and 'like' purposes," Tony said. "Of course, Instagram has given a platform to a lot of really good artists and photographers in which to showcase their work, which, with the demise of print publication, there are much fewer of these days. But unfortunately, the way Instagram or any social media works is that the viewer spends but a few seconds, if that, on an image before scrolling to the next one. Also, images with subtle details, natural colors and precise cropping don't show well on Instagram. Rather bold, highly filtered and tight photos are what look good. The point is that camera phones take perfectly exposed photographs and Instagram embellishes them, basically eliminating the eye and creativity of the photographer, or I should say, makes it less appreciated."
We briefly touch on trending editing styles, oversaturation and some more of the aspects that have changed with digital media. You can tell the modern trends aren't for him, but he's not salty about it. He just keeps on doing what he loves in the style he's created for himself over the decades.
As everything was being packed up on our end, Tony was getting into dry clothes to go back down to the beach to shoot even more. It's clear how much he loves it, even after all this time. An unintended result of this article concept was showing the quality he could capture on the spot. It's impressive for Tony to have been given a short time in one location with tough conditions and see him produce plenty of print-worthy images — one of which is on the cover.