A Winning Recipe
By Darien Davies
 Your alarm goes off, you rub your eyes, stretch your toes, and acknowledge that you're starting your day. First step is breakfast. Your fridge might hold all the contents for the most important meal of the day, but who the heck wants to go through the effort.
In our current days of restrictions, uncertainty and focusing on positivity — or my personal favorite, "fake it 'til you make it" — cooking for yourself and others isn't just about filling your belly, it's about filling your soul. And that's exactly what husband and wife duo, Mike and Pauline, do every single day at their small-but-mighty breakfast, brunch and lunch spot, The Sticky Bun.
"Everything is homemade. It makes a huge difference to us because it's our name," said Pauline, a kitchen girl at heart who bakes everything at the Bun. "It's a little joint; the 'little engine that could.'"
Could and did. Mike and Pauline worked in the restaurant industry for more than 20 years before they decided that if they were going to work mornings, nights, weekends and holidays, that they were going to do it themselves.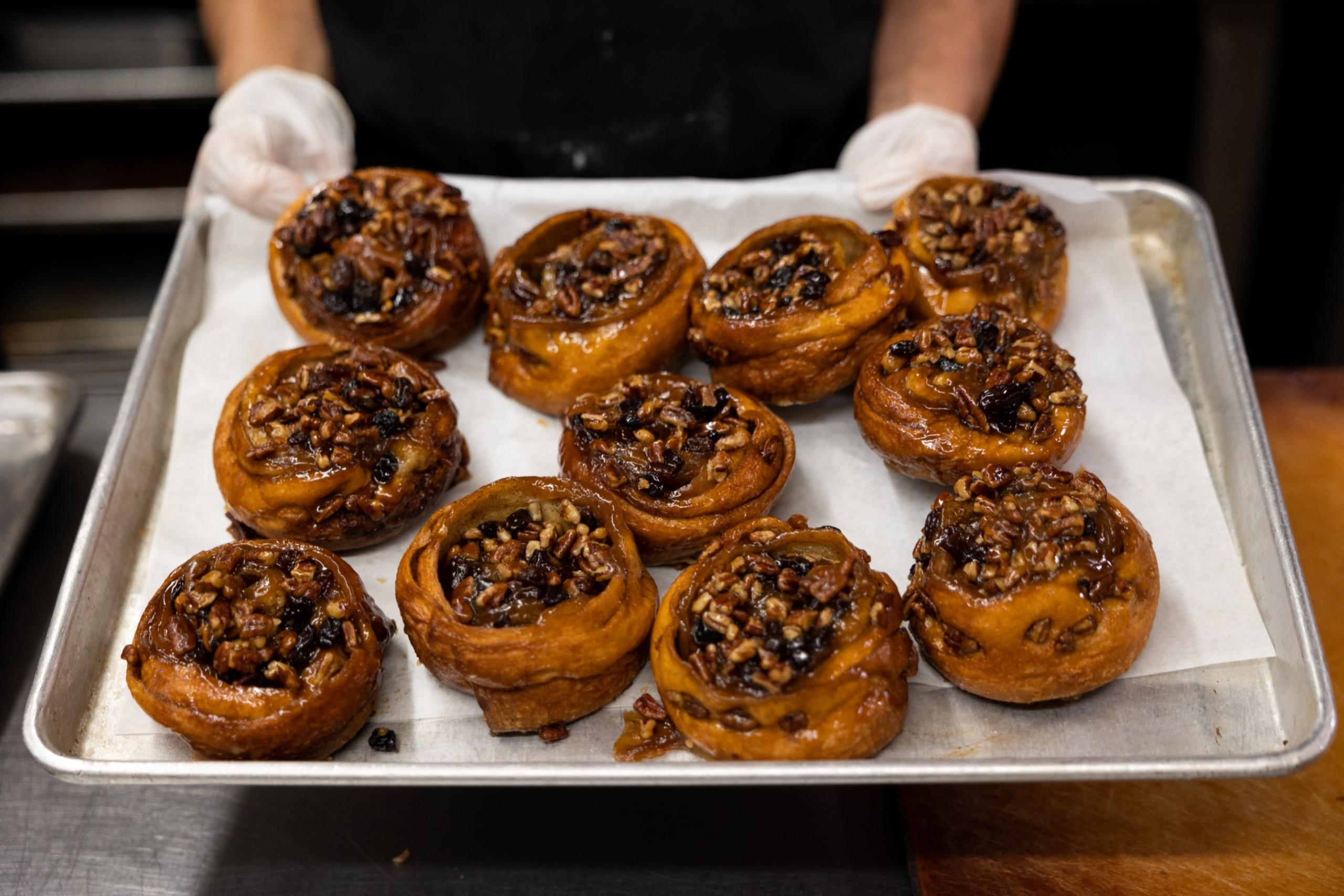 Pauline's idea was to open a little coffee shop where she'd bake out of the back and sell really good key lime pie, biscuits and the like, from a menu complete with only 10 items. But then the word spread, and the community grew hungrier. Mike decided to incorporate his love of smoking meats and expanded the menu to include pastrami, bacon and pork belly and the rest is hospitality history.
"It just kind of happened. People want the real deal," said Pauline, who still makes fresh biscuits, buns, muffins and more every morning. "Once you have our bacon, you know the difference. It just caught on. Our bread is good bread, too. We're kind of a savage in the kitchen. Sometimes you just can't help it."
As their menu and following grew, so did their restaurant, as it doubled in size from when they first opened their oven doors in April 2015 over the course of about seven years. Pauline said they just kept getting bigger and bigger and busier and busier. Now, there's something always going on, regardless of if it's the smoker, the catering business or the wait to get in the door on the weekends.
The secret to their success? Effort and zero refrigerator space. "We hate old food," Pauline said. This is what makes the seemingly simple menu so arguably delicious.
It might sound like a BLT, but it's not. It's the 6 Slicer BLT made with housemade bacon, lettuce, tomato, avocado and mayo. Or the anti-standard House Biscuit with sausage, egg and cheese. And the House Smoked Brisket? So much yes with the cherry chipotle BBQ, pickled jalapeños and slaw on a toasted challah bun. Don't blink past the House Smoked Turkey or you'll miss a perfect combo of greens, tomato, and cranberry aioli on multigrain bread. If you're busting at the seams, you're ready for dessert, which includes Pauline's famous sticky bun, paleo muffin, granola bar, key lime pie or slice, or dessert of the day. Order one for eating now and two to go, like a local.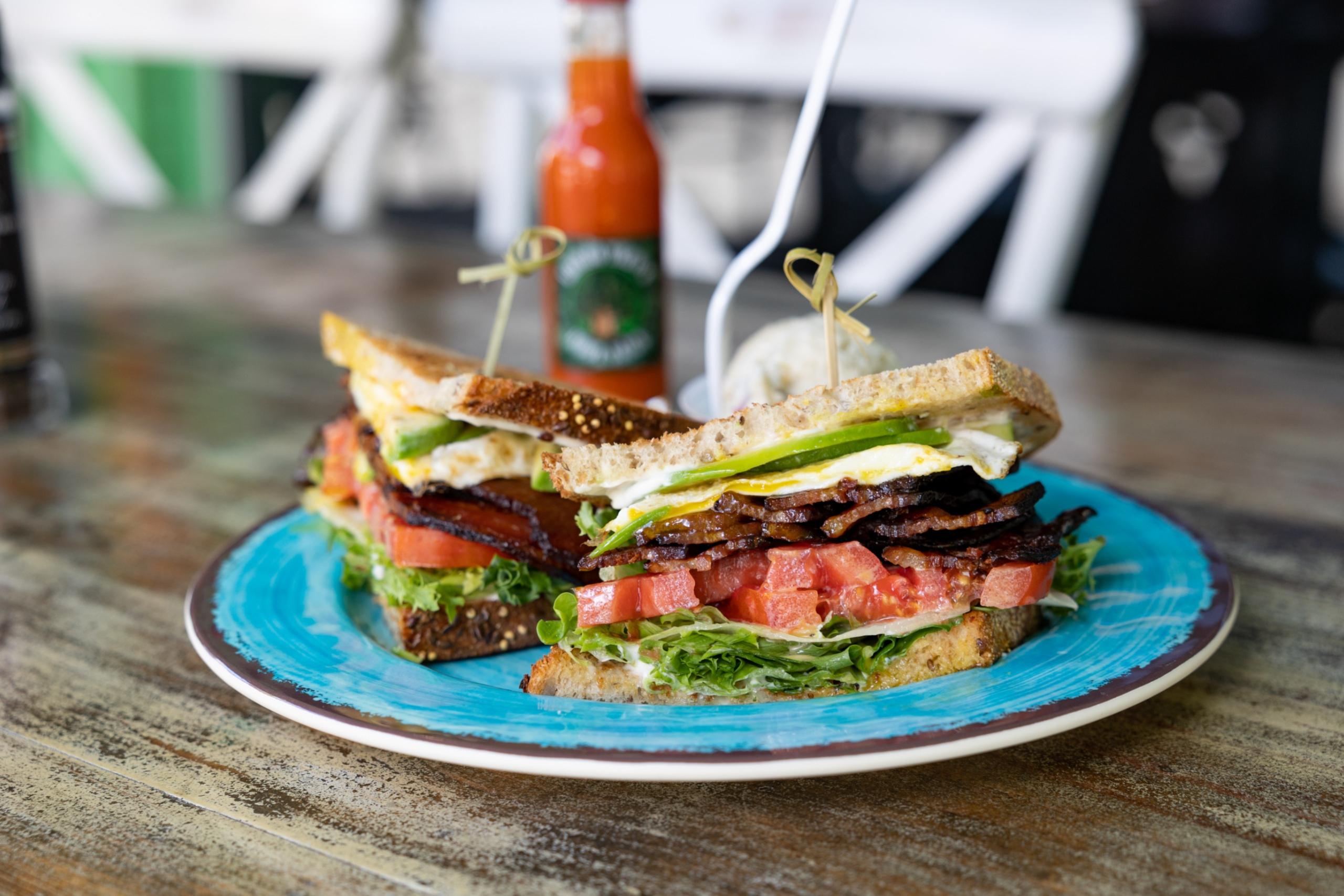 "This is laid-back, non-fine dining. We're not going to get to you at all times to refill your coffee. But it's quick and friendly service and a fun vibe," said Pauline, who has a love-hate relationship with being her own boss. "Our logo is 'Warm Buns, Cold Heart,' which is me, not Mike. I'm a kitchen girl learning how to deal with the front of the house. But our locals are freakin' awesome and where else can you laugh, curse and joke around while you're busting your ass all day with a bunch of fun young people!"
There's live music on Sundays, four-legged family members are always welcome and there's indoor and outdoor seating for those who prefer either option. Or, grab your order and walk to Sullivan Park on the Intracoastal where you can spread out and let the kiddos run around. Everyone's welcome, so come hungry and leave happy, which is how Pauline and Mike prefer it.
Even after decades in the cutthroat restaurant world, it's a higher calling (and a tiny bit of insanity) to go into business for yourself and with your spouse, to boot. It's personal and it's never taken for granted, even on the earliest of mornings and the latest of afternoons.
"At least we made it, right? That's a blessing," said Pauline.
Check out a throwback to The Sticky Bun: here