Island Indie rock coming to you from Jupiter
By Ashley Zimmerman
Photos: Jack Bates
Named after their high school's old mascot, The Helmsmen, a group of twentysomething guys from Jupiter are bringing their own brand of what they refer to as Island Indie to the local music scene. Though the band's inspirations vary across the spectrum from folk all the way to hip-hop, the two genres they can all connect to are reggae and indie-rock. Another musical inspiration they can all agree on is Jack Johnson, something evident when listening to their music and appreciating their similar easy going vibe.
Although frontman Jesse Glendinning and guitarist/vocalist Derek Campbell have been friends since they were in diapers, the guys just put together their current full band last year. After playing covers at local joints for two years and booking gigs as a party band while they looked for the missing musicians to complete them, they finally found the right mix of guys to break away from the cover scene and start working on their own original music. Jacob Constantakos on Electric Guitar/Melodica, Micko Paparo on Bass and Samuel King on Drums/Vocals joined Glendinning and Campbell to form The Helmsmen.
The Homework EP, the band's first original work, is what Glendinning affectionately refers to as "a little homebrew". This is due to the fact that it was created and recorded at Campbell's house before being mastered at Legacy Sound Studios in Wellington. The first track, "Get Back To The Sea," is one that the two founders have been holding onto for some time now while the other two, "Coconut Shuffle" and "Can We Dance," followed naturally thanks to the newfound inspiration they've experienced as a well gelled group.
As melody driven artists, Glendinning explained their processes always begin with the music and lyrics are something that come last, after the right sound is settled upon.  The combination of ukulele, soulful vocals and lyrics about the ocean breeze and bonfires give the EP the kind of islander vibe you'd expect from a bunch of guys who live in a city well known for surfing, fishing and an ocean based lifestyle.
Following the trend of many local artists, The Helmsmen released their entire EP on sound cloud and they're giving it away for free. Right now the band is focused on getting it heard as opposed to worrying about bringing in money by selling their music. "I think it's really about sharing our music with as many people who are willing to listen," says Glendinning.
While they would certainly entertain the idea of being signed by a label, the guys are enjoying the creative process and freedom that goes along with being an independent band. "For now we're just trying to stay as independent as we can until we get to that level where the next step is having to be on a label," says Campbell who's in no rush to sign. But he admitted the band wouldn't pass up the opportunity if they stumbled upon a deal that would allow them to retain creative control and a certain amount of freedom as musicians.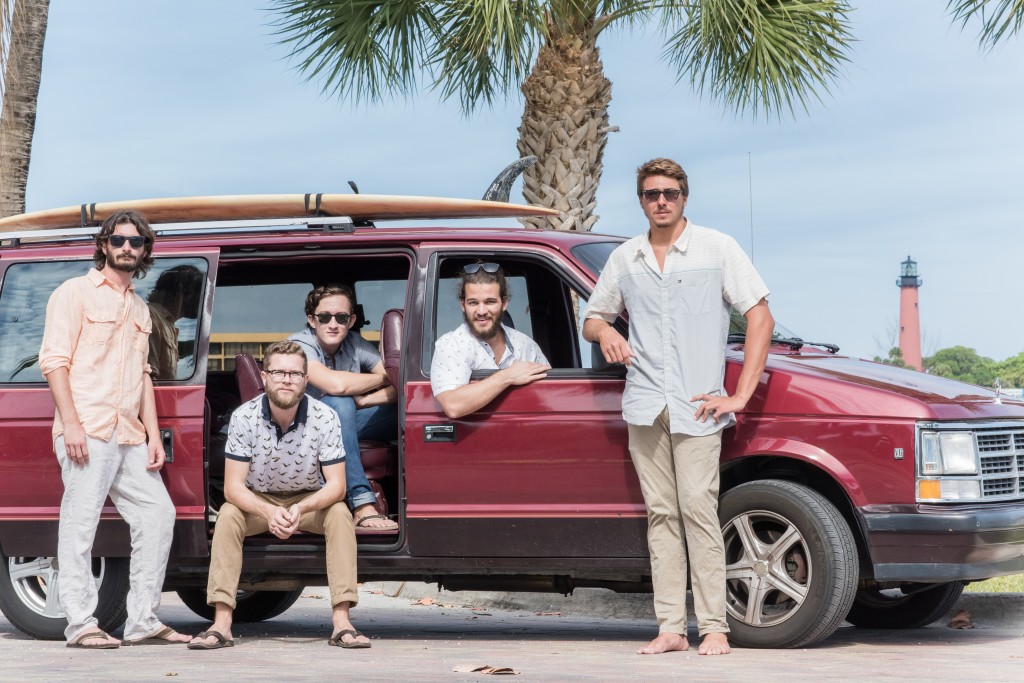 Even though the EP just dropped, more original music keeps flowing and new song ideas are coming up on a weekly basis according to the guys. "We're learning the music industry kind of from the bottom up. I think right now it's really encouraging to be independent and to know that it's all up to you whether you're a success or failure," says Glendinning.
Touring on the other hand is a different story and the guys are diving right in and reaching out to as many people as possible in hopes of lining up some out of town gigs. Recently they've been playing at some of their favorite local spots like Maxi's Lineup where the crew held their EP Release party. Easily their favorite event so far, the guys played to a packed room of friends and fans who showed up to support the guys, hear them jam and receive a copy of The Homework. "It was so much fun, just a bunch of crazy people packed into a tiny room and we were just playing as loud and crazy as possible. That was my favorite gig ever," Glendinning gushes while thinking back on that day.
The guys describe themselves as being similar to a junior varsity basketball team in the way their dynamic works. They're pretty much always messing with each other and playing pranks on one another but that's what keeps them so tight as a group and keeps egos and tensions in check. "I feel like that's how we gain each other's trust. Everybody can put up with the nonsense," says Glendinning who isn't willing to spill any specific pranks but admits to their regular occurrence.
During their downtime you might spot the guys fishing, boating, surfing, or just enjoying the local music scene in their hometown of Jupiter. One of their favorite spots other than Maxi's Lineup is Guanabanas because of the kind of local talent they bring in. "I find myself sitting at a concert every night whether I'm playing or not," Glendinning says with a laugh.  Being a local band themselves they understand the importance of supporting other artists even if that just means showing up to a gig and offering a listening ear and some love. The band also shows their support for their tight-knit music community by bragging on other local bands and posting videos on their Facebook page.
As far as future plans, this is a group of dedicated guys who are willing to "take it as far as it goes" according to Campbell. With one EP under their belt they're excited to play their music for as many people as possible and build a following, taking a sort of grassroots approach by doing it all themselves, from marketing to recording to booking. They're excited about their newfound potential and can't wait to see where their music and passion takes them.