A Look Underneath The Bun
By Savannah Sheehan
Photos: Nathan Hamler
The Hillsboro Square shopping plaza immerses you in a mouth-salivating aroma that quickly awakens your appetite. Following the smell to a small building puffing with smoke, you witness the flocks of people entering the deceptively limited area. Upon entering you see the line forming out towards the  front door and immediately wonder, "What am I missing out on?"
Now you're hooked, if not for the smell then for complete curiosity and bewilderment. You've entered a new world, filled with personified food and a local hot spot feel. A world a plethora of South Floridians and transients visit daily, dubbed Charm City Burger Co.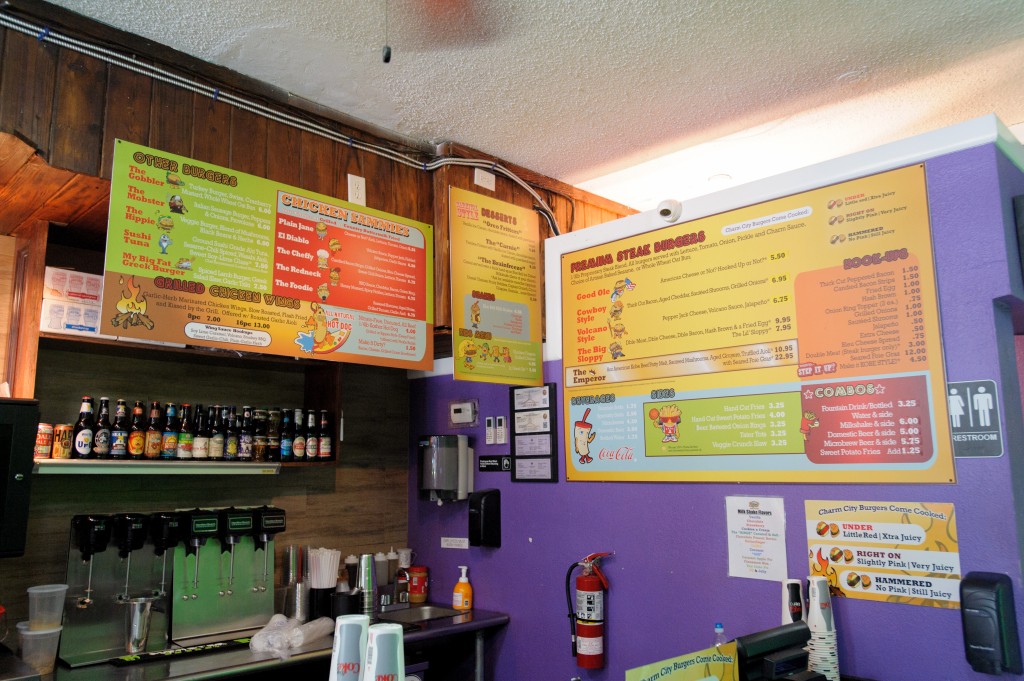 The classic burger joint– an American sentiment, but to owners Evan David and Mike Saperstein, Charm City was purposed to be much more. Centering their focus on being specialized to a contradistinctive caliber, the objective was to create and embody an authentic burger joint that could not be easily defined. One that embraces the local Deerfield Beach vibe integrated with pop culture trends, innovative food culture, as well as historical trends that have permeated through the years, offering an urban-style venue to the beach community. The E&M duo sought to offer an experience where all walks of life could resonate with the atmosphere in their own individual way. In other words, (Evan's words) "We wanted a look you couldn't put a time period on in order to mesh worlds together. We wanted to create a make believe world within itself. A world that is edgy without offending anyone." The foundation was solid—an epic proprietary blend created by Chef Mike Saperstein consisting of Chuck, short rib, and beef brisket. With an award winning burger heeding the dream, the development of Charm City's motif became a gradual and constant work in progress. Mike and Evan knew their vision could not be fabricated instantly or spoon fed through advertisements. "We wanted to do everything the grass roots way," Evan shared. "We didn't want who we were up for interpretation." In order to accomplish this ideal, everything in the store had to be quality, locally sourced, and made to order; the adage being "slow food fast." Seems paradoxical… quick service with made to order burgers that are each cooked to customer specifications in just five to eight minutes? All doubts aside, that is the operation, and it thrives.
Working with a scratch kitchen calls for an exuberant amount of prepping along with fresh ingredients delivered daily, including but not limited to, the unfrozen meat, produce, ice cream and dairy products, and of course, the local artisan buns. Fresh has an over-played feel to it. Everything is fresh, but what does that mean? For Charm City, it's the purest ingredients prepped, cooked, and presented to you with hard-working hands of familiar faces. Upon speaking with Evan, he stated "everything is made for us by us, nothing is a generic product," this being the attention to detail Charm has continuously consummated since it's opening in 2008.
A restaurant cannot adequately adopt a persona, or become a lifestyle without reaching the first line of customer– local South Floridians. One angle Evan and Mike approached was acquiring a staff that could relate to the customer. Such a character would know or reside in the community, be able to develop connections with customers, and represent the unique framework that is Charm City culture. In order to become "the community's restaurant we needed to embrace the community." Embracing the local community rendered Charm City the opportunity to unleash an entirely new way to dine in the area. Upon entering Charm City, you are rushed with a warming confusion of surrealism. There are murals on the walls, placing each food-related character in a world of their own. It takes a moment to digest ( no pun intended) all of the small details that bring this alternate world to life. The subtleties from the innuendos in the menu to the old school signage emanate a whimsical sensation, as if you were entering a restaurant that had never experienced the flux of time. The effort put forth into the setting translates into the food. Each item on the menu has an identity and a coinciding cartoon, for instance a fan favorite deemed the 'Cowboy Style' comes toppling with cheddar cheese, thick cut peppered bacon, grilled onions and mushrooms, and of course, charm sauce. The ingredients compliment the persona. The humble 'hippie' burger is house-made out of black beans, oatmeal, and mushrooms, a purest ideal matched with a hearty round-up of ingredients. With such emphasis on every other facet of the establishment, Evan and Mike did not want to limit the menu to solely burgers. They decided to create a little drama within this world by introducing chicken sandwiches that pack some heat. The 'Redneck' gives the 'Cowboy' a run for your money, by consisting of similar ingredients with a different twist. The 'Redneck' is accompanied with smokey BBQ sauce, honey mustard, thick cut peppered bacon, cheddar cheese, and an Onion ring topper– consisting of two onion rings stacked atop the sandwich. The options are vast, and can all be washed down with a lil' piece of heaven– a hand spun milkshake. The American dream has been liquefied and poured into a sixteen ounce cup ready for the taking.
Charm City is one of three concepts within the business group E&M Munchies Corporation. As Charm developed and became sustainable, Mike and Evan ventured out and subsequently opened El Jefe Luchador and later, The Rebel House. Charm City was their "low risk" endeavor. Given neither Mike nor Evan had previously owned a quick service restaurant; they were able to build Charm with creative freedom, affording them the opportunity to "think outside the box," and observe the course it took. Given the flexibility to experiment and grow with the restaurant, they later paved the way to other business conquests. Having studied at Johnson and Wales in Miami, Chef Saperstein has honed years of experience at a multitude of restaurants including, Café Maxx in Pompano Beach, FL. There he worked his way to head Chef. All burger creations have been actualized by Chef Saperstein, but the core formula to Charm's rate of success and continuous growth lies in the quality of the food and the speed in which it is delivered. Although there are some distinctions in each of their roles, both owners conduct their businesses as a full partnership.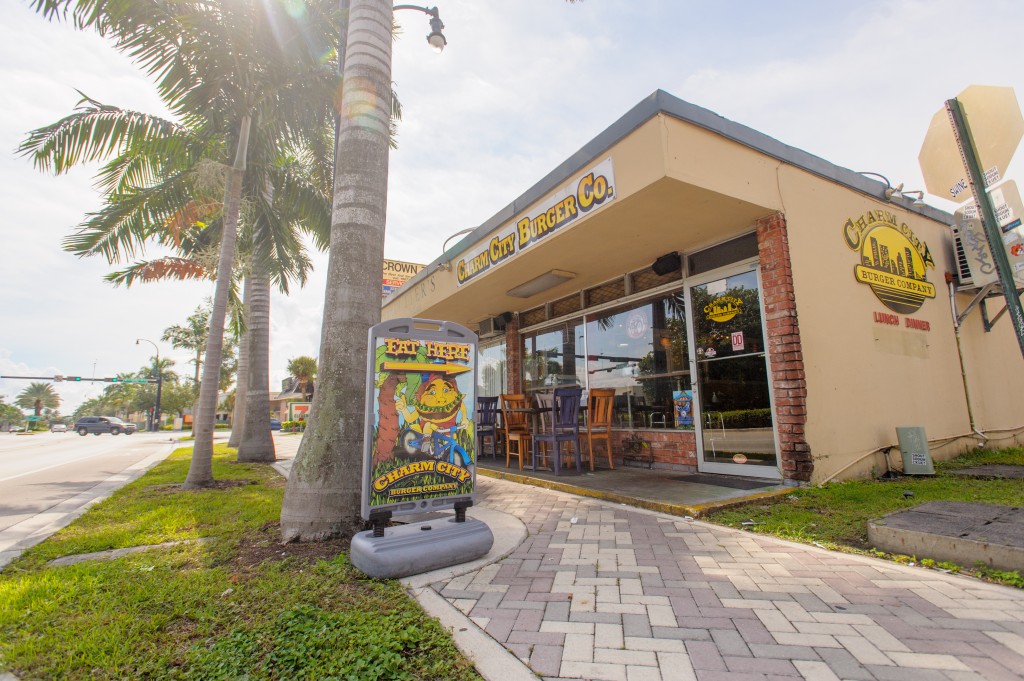 Nearing its seventh year in business, Charm City has accrued many accolades, a number of which have been awarded by The Burger Beast—a South Floridian food blog and founder of 'The Burger Battle.' Charm City has won Best Burger in the Burger Battle for years 2009, 2012, and 2014. In 2012 Charm City also gained the title of Best Burger in the River Walk Burger Battle III. One year later, Charm added Best Burger Joint to their award collection, which was received from the River Walk Burger Battle IV. The aforementioned awards only scratch the surface of the honors and praise Charm City has received. Although Charm City is the name everyone knows, these accomplishments are afforded to Evan, Mike, and the incredibly devout, hard working staff; who uphold the essence of any burger joint, the food.
Instagram: @charmcityburgerco