The Many Layers of Craft
By Doug Fairall
Photos by Ben Hicks
Boca Raton is known across the country as a retirement getaway, a place where Jerry Seinfeld's fictional parents move to during his iconic sitcom. But beyond the stereotypes of Hollywood lies a vibrant city full of diverse demographics, a wintry influx of transplants and seasonal residents, and fresh young professionals all vying for a slice of Boca pie.
Enter Tap 42, which opened the doors to its second location this past June in the 'City of All Seasons', taking over for the shuttered English Tap & Beer Garden at 5050 Town Center Circle in  Boca Raton.
The gastropub, though more aptly described as a bar-steraunt, sits across from Rocco's Tacos in the Shops at Boca Center, a decidedly 'Boca' shopping center complete with valet, an expensive steakhouse, and a towering hotel.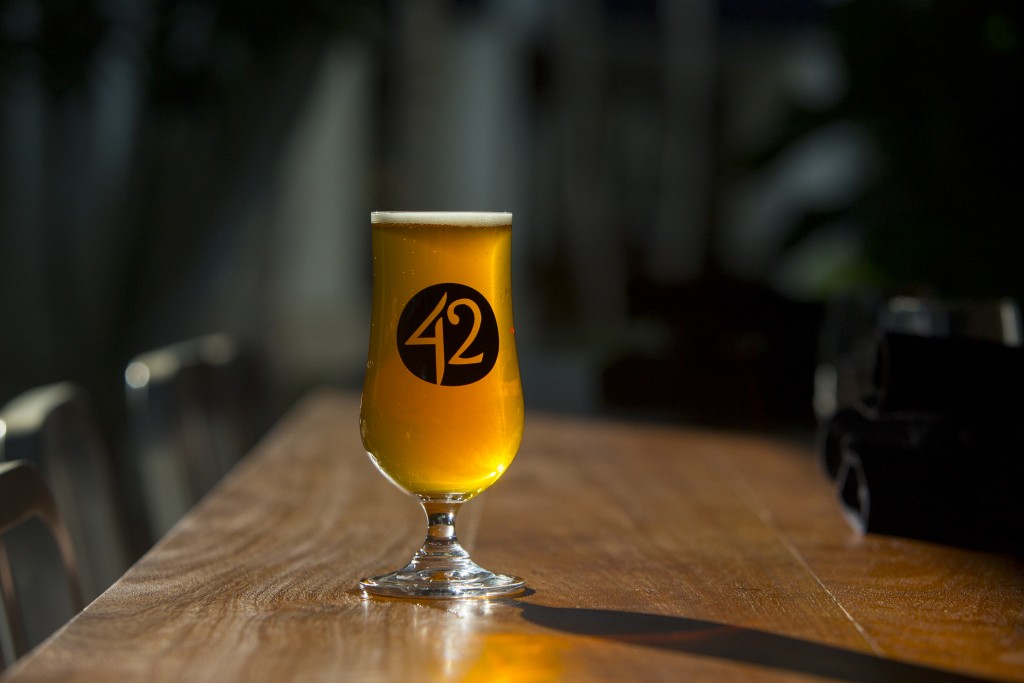 Tap 42 brings a more modern and trendy, in the best sense possible, feel to the space — one that occupies over six thousand square feet. Having grown out of the number of beer taps that originally occupied their first location in Fort Lauderdale, Tap 42 boasts a rotating array of just about 50 different craft beers served on draft, with a level of selection that can satisfy any taste or fussy beer drinker in the area. These run the gamut from mass distributed craft to the smallest of beer releases.
"There are some craft beers that you have to have, for example Sierra Nevada," Lee Hunter, Tap 42's Craft Beer Director says. "They're great."
"However, when we craft the beer menu, we look to work hand in hand with local brewers like Barrel of Monks and Due South Brewing… We are committed to building a relationship with breweries; we support each other."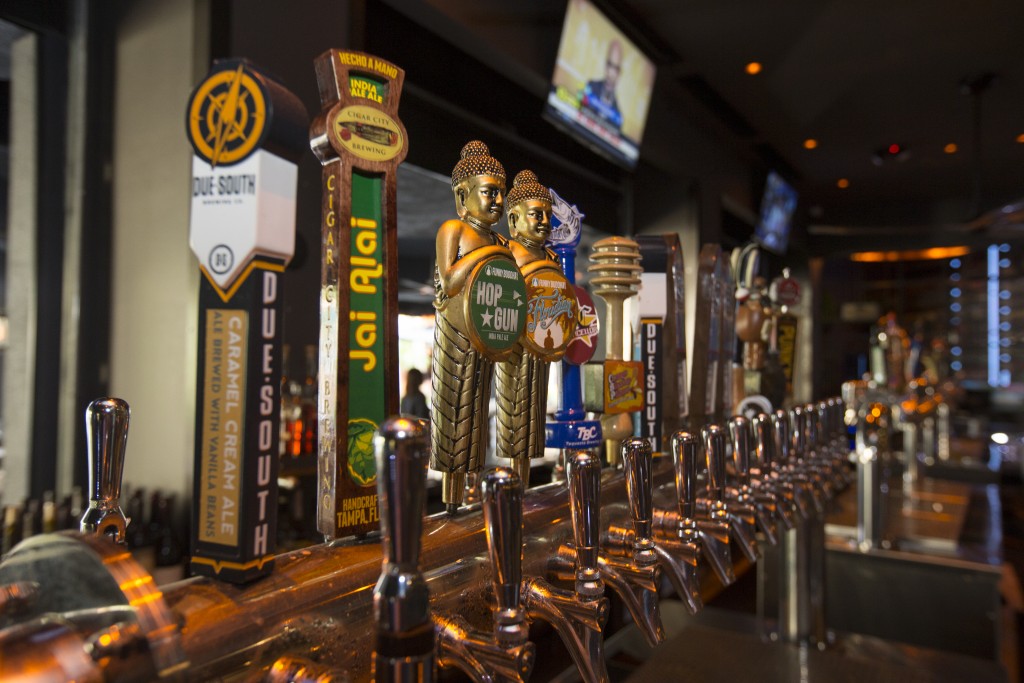 Hunter's goals when formulating what beers to put on the menu comes from a lot of factors. First, he aims to build up relationships with the breweries of the beers that he puts on tap. This allows him to sell the right beers for his market, which increases sales and overall customer satisfaction. That in turn gives Tap 42 some clout when it comes to purchasing one-off kegs that beer nerds clamor over.
This is what allows him to offer Harpoon's massive imperial Leviathan IPA alongside their UFO Pumpkin Ale, and Due South Brewing's Category 3 IPA alongside their decadent Barrel Aged Mexican Standoff. It's why this autumn they've had Cigar City Brewing's Good Gourd on nitro and Lagunitas Chicago Fusion XXX, a beer brewed with Muscat & Sauvignon Blanc grapes, fermented with a De Dolle Belgian yeast strain, then dry-hopped with Nelson Sauvin hops.
"There's a big difference between beer enthusiasts and beer snobs," he says, explaining that the enthusiasts will be interested in learning more of the nuances of the beers, and to treat coming to the restaurant as an experience, rather than simply chasing the latest and greatest.
"A big part of the brand is bringing people in to teach them what they like. Though these customers have to want to be educated, and we have to know what we're talking about."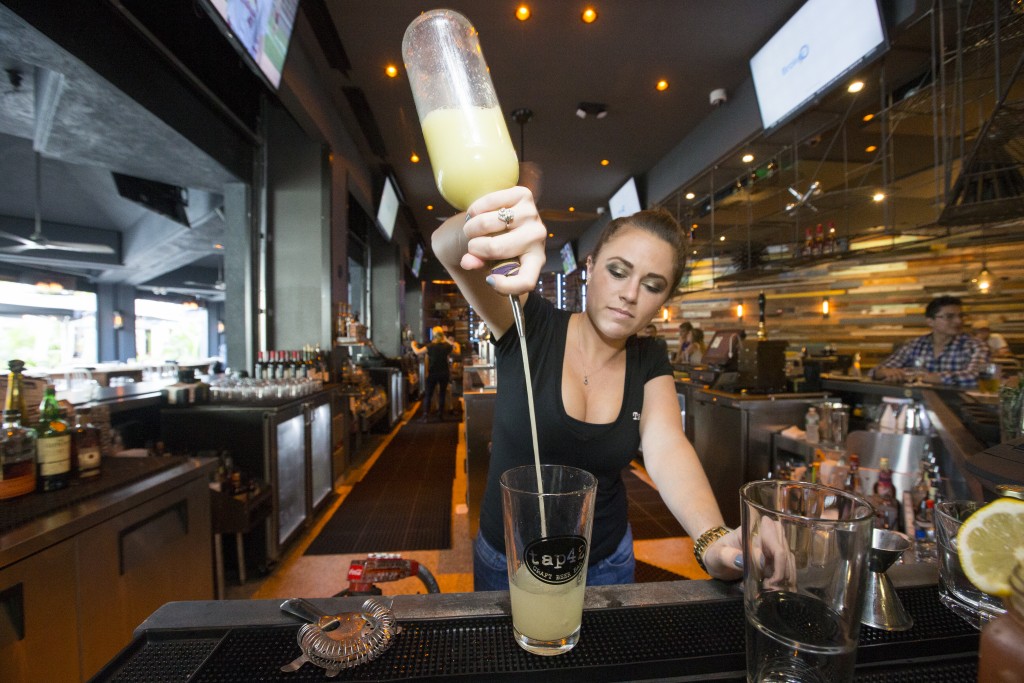 Education is such a pervasive theme from everyone at Tap 42, it's one of the first things that comes out of their mouths when conversing about any of the food or beverage programs.
While what's on tap creates a buzz, the cocktail program here is taken very seriously. Beverage Director and Mixologist Lea Marando takes the approach of an artisan by heading out into the world to conduct what the business world calls market research. "Before I craft cocktails, I go out to local bars and see what sells, look out for trending flavors. When I'm here, I'm listening to the guests."
For example, "Right now, lychee is trending… people here are big into organics, anything natural, anything that seems healthy. For our cocktails, so many different parts go into them, we have to educate." There's that word again. The education isn't limited to simply which brands of liquor are being poured, but on the way in which the bar utilizes ingredients that might take people by surprise.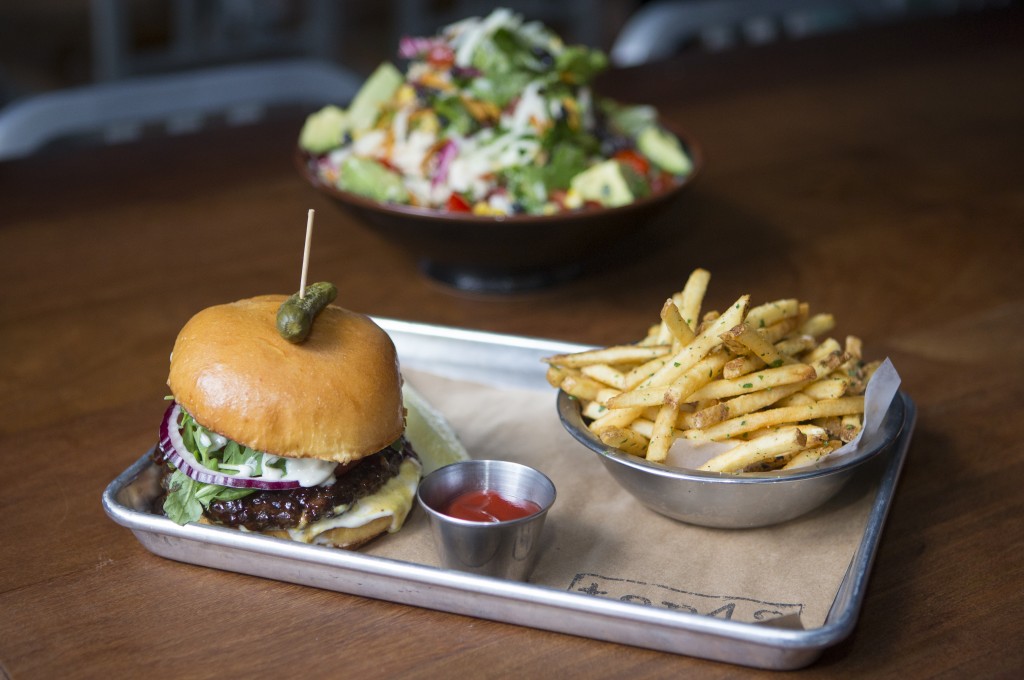 "I do a lot of prep work myself, so there's not as much premade [mixes] that goes on here. Right now, I make our own pumpkin puree for the cocktails, or for the Grasshopper, we use real mint and avocado for flavor and color. The avocado surprises people. As much as I can, I make it in house. You're paying for the quality of ingredients."
Those ingredients can be as innocuous as local farm-grown herbs in the Blazin' Cucumber, a drink of Bulldog Gin, fresh cucumber, organic basil syrup, and lime, to the edible gold flakes in the How To Marry A Millionaire cocktail, complete with Effen Vodka, Aperol, grapefruit, lime, and hopped grapefruit bitters.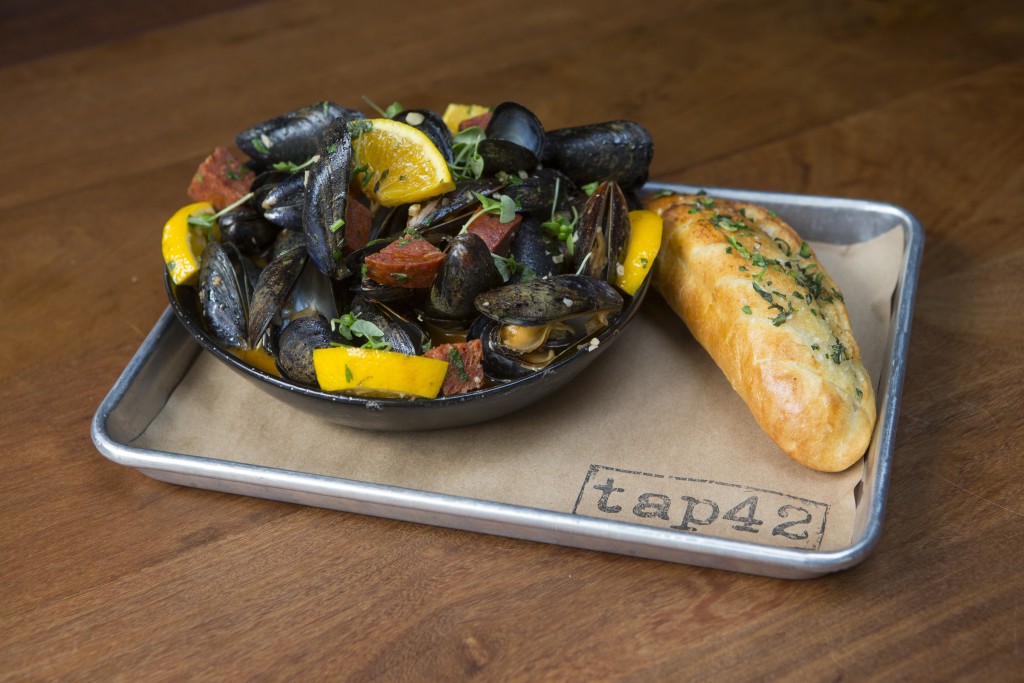 That same amount of refinement and craft goes into each layer of the Tap 42 experience, from the bar to the cocktail program, to the kitchen. "The same effort goes into the food as cocktails," Marando explains. "The process involves everyone trying it. A lot of thought and opinions go into making the menu. There's constant feedback from the chefs for cocktails and bartenders for food." This back and forth between the staff ensures that everyone knows what to expect from the different departments and that refinements can occur before items even reach customer's lips.
Culinary Director Andrew Balick puts it succinctly. "We are straightforward American fare," he says, where they "cook with beer as much as possible." That means mussels steamed with Funky Buddha Floridian, or New Belgium Fat Tire beer battered fish and chips.
"The things we choose to take on, we do it with quality… we're a 'from scratch' kitchen. There's nothing gimmicky."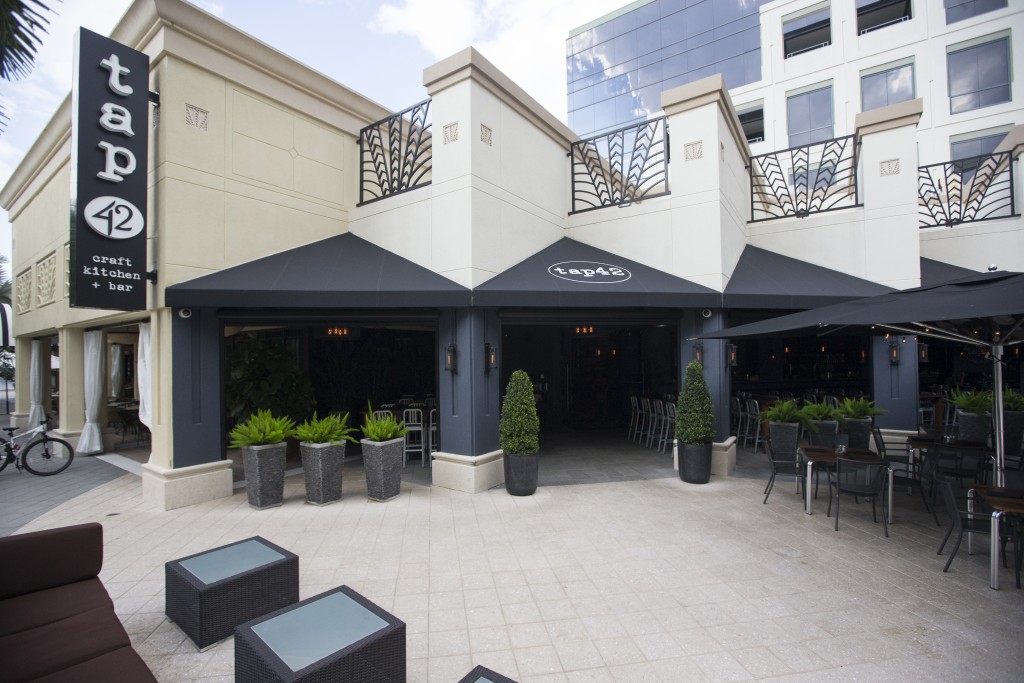 Without the gimmicks, it's simply straight up quality that brings the hipsters, the yuppies, and the power lunchers together under one roof to share in the universality of the well crafted. If there were only two words to sum up an experience at Tap 42, it would be 'layered complexity'. From the depth of the cocktail menu to the playful takes on gastropub food, the final result is almost certain to land on a level of being layered but well balanced. Every dish, across the board.