Feeling and Painting Electric
by Cash W. Lambert
Photos by Ben Hicks
You've seen Anthony Hernandez's paintings and you've seen his murals. Look close enough and you can even spot his Cuban roots. But what you can't see is that his motivation is tied to a certain gratefulness, and here's why that's reflected in every work.
It's 1pm on a Friday, and I'm not sure who is dressed better: Anthony Hernandez or Robert Plant. We're standing in Anthony's soon-to-be-studio in the outskirts of West Palm Beach, and there's a handful of construction workers laying down wood, machines and dust litter the floor, and he's casting me the vision: this is a "getaway" where he can "work for days on paintings without any interruption".
Anthony himself is dressed quite well: longsleeve red shirt covering arm length tattoos, ironed jeans, a pure white wrist watch and clean Converses. His full length beard is perfectly groomed, and his smile brightens the already sunlit room. His smell even emits a sense of…class.
When I first entered the house minutes ago, he apologized for the "mess", and then apologized for not having many paintings on display, because he had just "shipped off a batch of 16 to Los Angeles."
But he does have a few in the room. And towering in front of us is a canvas twice our size with Robert Plant — the famed lead singer for Led Zeppelin known for his rock-god status — crowing into the microphone during a live performance, mouth wide, electrified with bright, dripping colors. His long, curly hair is flowing down to his shoulders, where his unbuttoned shirt is hanging on his skinny frame.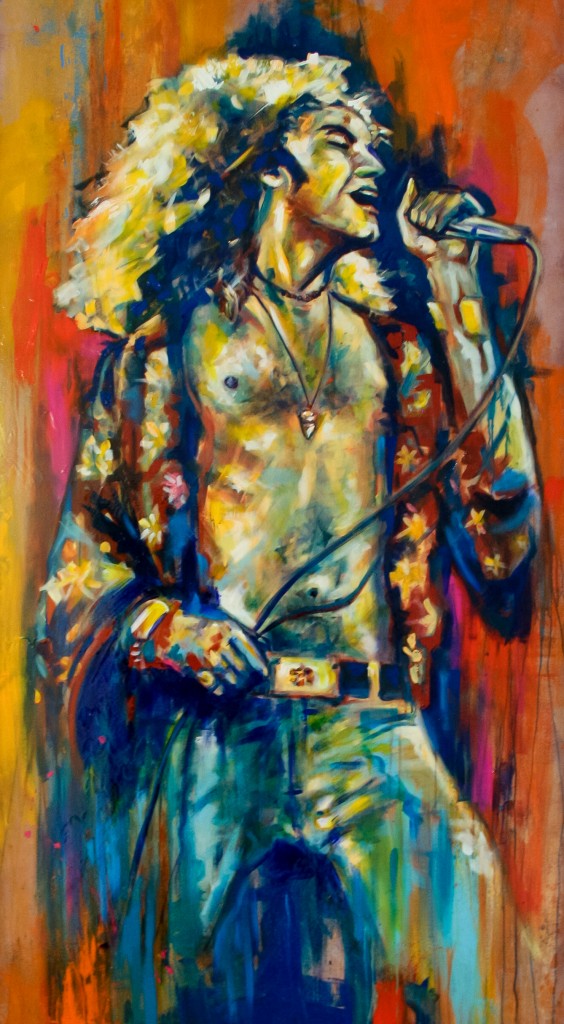 "This guy was a god-like figure, man," says Anthony, smiling. "In the 80s, you have to understand that this music was illegal to hear in Cuba. These guys came out in what the 60s? 70s? It came out underground that much later there…"
"So you're originally from Cuba?" I ask.
"I lived there until I was 12 years old," he responds. "I had family members become political prisoners, and my mom said 'hey we can no longer live here… no freedoms, no liberties'…I was 12 and if I turned 14 there I'd have to go into the military…so I left. Haven't been back since.
Yes, Anthony dresses as well as those you see in the pages of GQ and yes, he does have a Latin accent, but you'd never guess that he experienced oppression for any amount of time given his warm personality. And I certainly didn't guess the power of his connections. A few days earlier, when I first contacted Anthony about an interview, he sent me a video of a gorgeous mansion for sale in the prestigious neighborhood surrounding the famed 'Hollywood' sign in Los Angeles. The video pans from a blue lit pool to a green lit jacuzzi and through decorated bedrooms built for the 1 percent, and when it pans through one of the main dining areas, there on the wall are several of Anthony's paintings.
He's tight-lipped on who is interested in the house, but it sounds like someone who has celebrity status in multiple industries. And the real estate company showing the house too is watercooler discussion. The company is none other than the Altman Brothers, who in addition to being some of the most successful real-estate agents in the nation as well as West Los Angeles, the brothers also lay claim to their own television show: HGTV's hit 'Million Dollar Listing'.
Anthony says he is working on another batch of 24 – hence the rush to get his new art retreat prepared – but his work isn't isolated to Los Angeles; he's a frequent in our South Florida scene for oil and acrylic paintings on canvas, along with murals.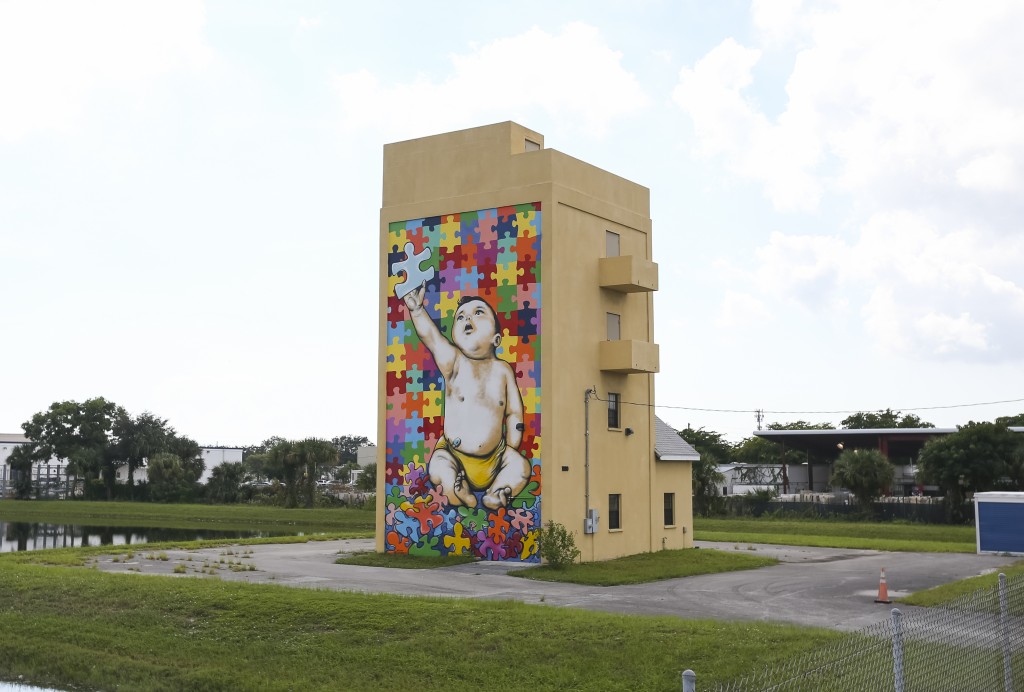 Like the one outside of Camelot in downtown West Palm Beach of John F. Kennedy's face, wearing sunglasses with the Palm Beach skyline colorfully reflecting out of his glasses. Or the expansive painting that you can't miss when exiting I-95 on Okeechobee Road: a baby holding a colorful puzzle piece, surrounded by multiple other puzzle pieces: his tribute to a family member with autism. Even the Wine scene on Fern Street in the same area, and a "giant" mural "coming soon" on Datura and Olive. And countless other showings and exhibitions of his electric works.
We're still standing in front of Robert Plant's live performance, and the construction crew is getting rowdier. He raises the sleeve on one arm, revealing a specific tattoo…
…"Is a picture my mom took of me. It was 1979. I was building a Cuban scooter made of wood. It was originally a photo she took of me, and then I painted it. She didn't want me to sell the painting… a 48 by 60, so I tattooed it on."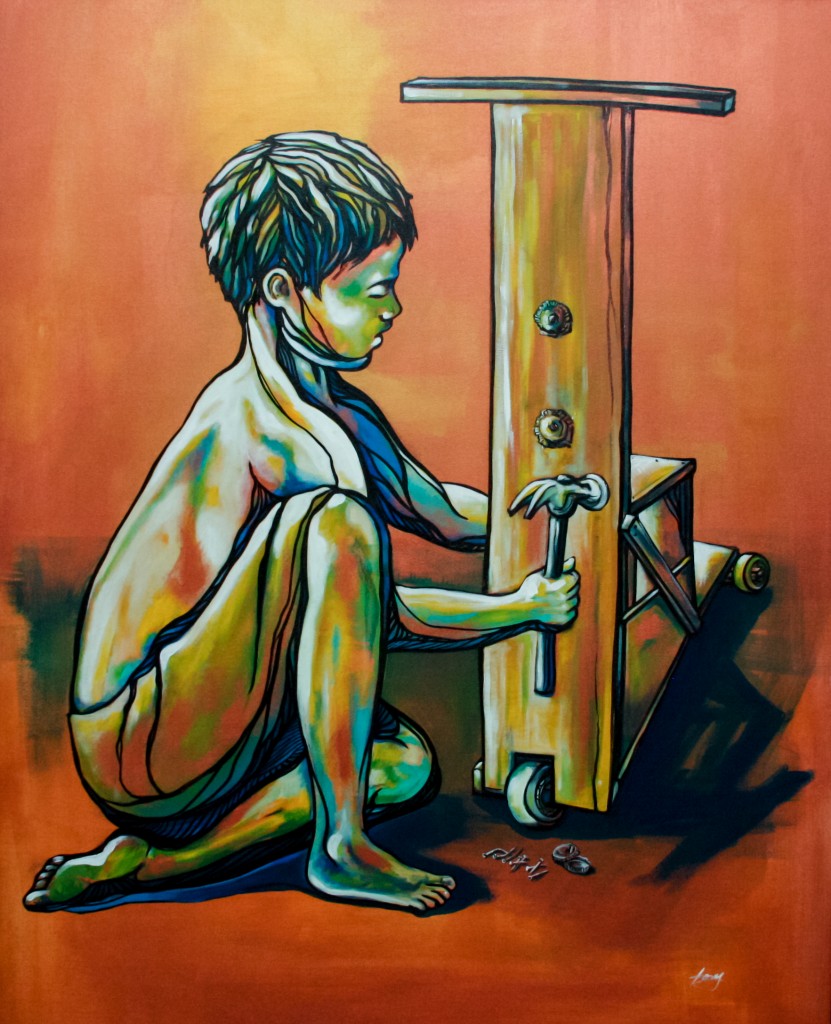 "That Cuban history…puts the painting into a completely different perspective," I say.
"I had older cousins who had tapes and snuck in videos of Robert Plant, Jimmy Page, Jimi Hendrix," he continues. "It was anti-communism. It was forbidden. A Canadian tourist one time gave me real cheap headphones and I never had any before…I was young, but at the time I could listen to something and nobody else could hear it. Crazy, man. These guys…these guys are inspiration."
I take a few steps closer to the canvas.
"The texture…" Anthony roars back to life. "I love the texture on this. You're not gonna damage it – touch it, touch it!"
I drag my hand across.
"See? It has body. It has texture…"
There's dried yellow and orange and blue and green water drops that drip down the entire canvas.
"I really like it," I say.
"Thank you, man. Thank you so much," he responds.
"How did you get it to streak like this?"
"Got a water bottle, and I mimicked the rain."
He pauses to wince at the sound of a construction machine coming to life for a few seconds.
"I just stand on a ladder. Sometimes I'll rush out into the rain if I don't have water on hand and leave it out there, then I get the drips where I want them."
"How do you decide which color to use?" I ask.
"The color…the color comes at the moment, you know? It's not planned. I love that tropical feel, I'm from Havana…it gives it life. One thing about my paintings like I said is that you can touch it, enjoy it. You can see all the drips…" he drags his hand across Robert Plant's stomach… "and here look it's a bug that got caught when it dried."
I look for myself, and he's right: a tiny bug is sitting in a coffin-like drip.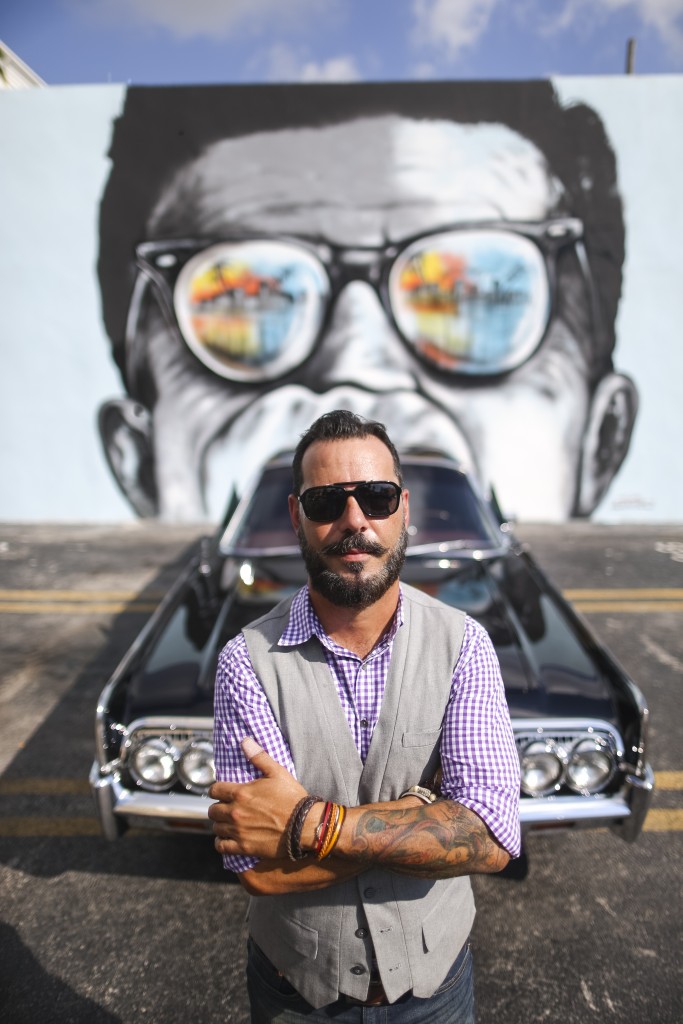 "When did you start drawing and painting? Or has it always been something you've enjoyed?"
"It's always been there," he responds. "When I was young, my mom says that I was wild, man and the only thing that helped was when she would lay down a couple of pencils and paper on the ground. I'd be there for hours drawing and painting."
He pauses, still staring at Robert Plant. Then continues: "I'm trying lately to stay away from black."
"Why?"
"In nature there is no black… it's a figure of us catching darkness. There is no true black in real life. I've been substituting the black for darker blues, trying to stay away from that and use colors to create the whole image I want."
He continues: "And I was not a big fan of blue for a long time. I'm constantly changing my style along with the way I do things and progress and grow as an artist. Some colors really calm me, you know? And some say 'hey you were wrong about me…'"
Anthony winces again as another machine kicks up a hideous noise, and after more talk about his next batch of paintings to be sent West and Canvas WPB (which he calls "a shot in the arm" for our art scene), I bid him farewell and step into the thundering South Florida afternoon.
The door behind me closes and humidity quickly fills the void where color, warmth, style and creativity used to be. And on my drive home, ebbing through I-95 traffic and then through downtown West Palm Beach, it's impossible to miss three of his aforementioned murals electrifying the buildings of the area. But now knowing the story of their creator, they each take on a magnified importance and I have to stop and survey each one again. Chances are you will too.