Passing the Paint
by Cash W Lambert
Photos: Ian Jacob
South Florida's Sarah LaPierre, whose seascapes have flooded the art scene in South Florida, attributes a portion of her rapid rise to something other than artistic creativity
While it's often the topic of study by academia and sociologists, there's still no definitive answer to the often discussed relationship between family lineage and talent. Can right brain intelligence be passed down from a grandmother or grandfather? Will the children of painting savants obtain such creativity from their parent's DNA? Though the interesting question is certainly difficult to answer, the art of South Florida's Sarah LaPierre offers a hint of explanation.
If you've moseyed through the West Palm Beach art scene before (or will be attending the Las Olas art show January 9-10), chances are that you've seen Sarah's work: beautiful palette knife landscapes and seascapes infused with the colors and warmth that make the South Florida area so popular. Like her re-creation of an orange-lit beach shack peacefully standing in between two palm trees. Or a palm tree ballooning with dreamy coconuts. And a picturesque wooden walkway, leading to an empty and still and silent beach on a perfect Caribbean day.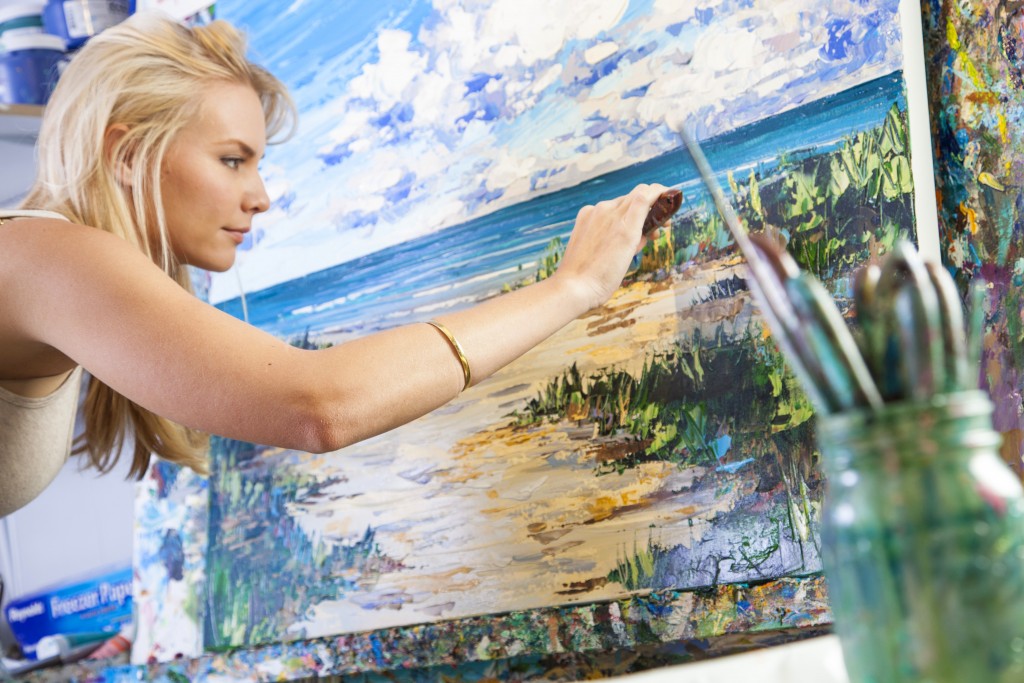 "My father, Joe LaPierre, was a professional artist for most of his life," says Sarah, her bright blonde hair reflecting the light in the room. "I grew up around him and his painting career for 20 years, so that's how I got into it. I was in that creative environment, going to art festivals from South Florida to Maine for events and shows."
Even with the army of work she's recently constructed, Sarah can still recall a few details in her first ever painting: at 3 years old. "I remember my dad worked from a home studio set up in our garage, and he would paint with the door open and the neighborhood would congregate and stop by to see what he was working on. One of my paintings was in there too, something of either dinosaurs or little furry animals. My first self created piece."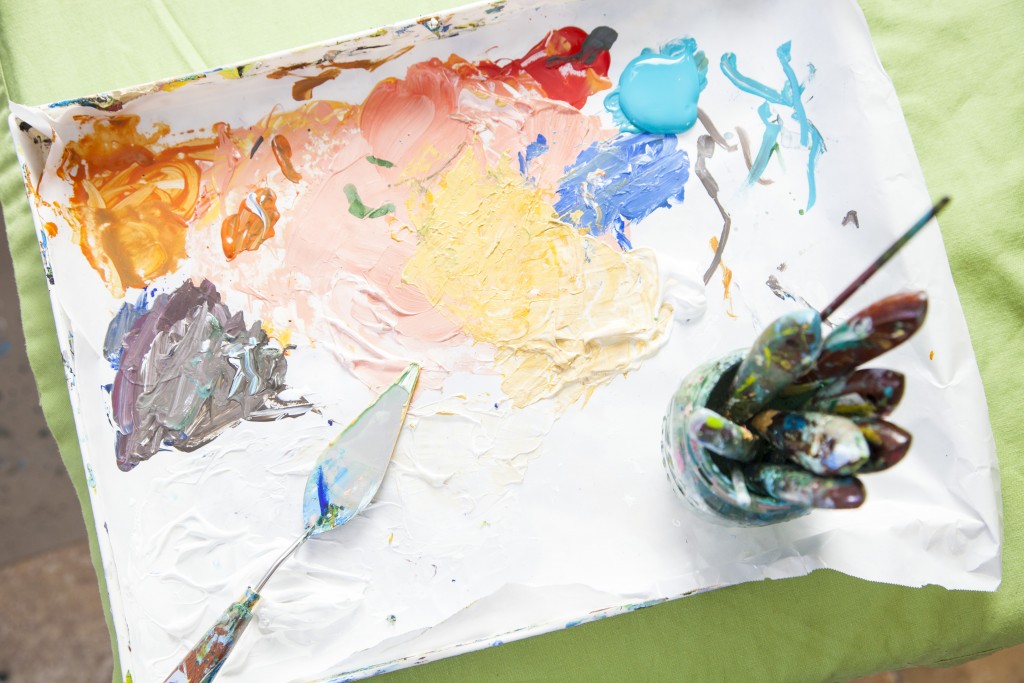 The now 24-year-old with a family lineage reaching far North into Canada (Quebec, specifically) now has combined her knowledge and skill with the lessons learned from her father – her inspiration, her mentor and her motivator – and has made art her own day job.
"I knew that I was going try and make it a profession," she says softly but confidently. "My father used to mention me to other artists and as a child that embarrasses you a little bit. Before I graduated college, it really became full time. I could finally paint and not feel guilty about not doing homework or focusing on other classes instead of painting. So about one year after graduating, it was a full time endeavor."
So was Sarah genetically gifted a portion of her artistry from her father? While she doesn't know if a DNA-like relationship exists, she does know that "I already knew the inside of this style of business. Doing events and festivals takes a lot of work, because you have to be the creative director, painting to keep yourself inspired. You also have to be your own marketing, social media and sales person. I'm still learning, but I picked up a lot from him."
Though you'd never guess that the Palm Beach State College alum is still doing so with such a humble attitude, because through conversation and professionalism, it feels as though she's been in this business for more years than her far older counterparts.
Especially when looking at her paintings. They are the antithesis of stress! Gaze at them for more than a moment and suddenly you'll be transported into how she views the beach. Serene. Calm. Quiet. Peaceful. A location where you can breathe, where your overstimulated and overstressed brain can take a break from deadlines and phone calls and appointments and expectations. Brightly lit beach shacks that feel to be on a deserted island in the Caribbean, and isolated and untouched sands that induce relaxation. A place where we all, including Sarah, want to be.
"My styles, my tastes are always changing from the artists that I follow," she says. "I grew up around fine artists, so it's embedded in my brain but I guess impressionistic is what I lean towards. I've tried other styles and mediums and ways but I landed on palette knife and that's where the work stays."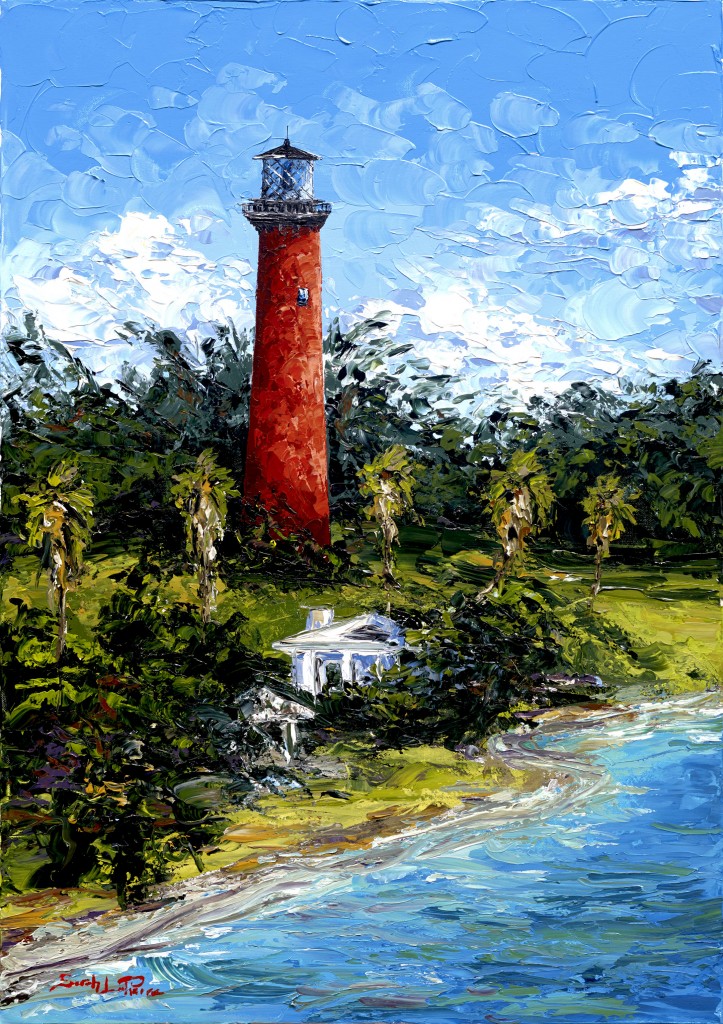 Talk to Sarah long enough, and you'll see the human irony embedded in her work. Although her paintings shatter the concrete blocks of stress weighing down your shoulders, producing such isn't exactly a stress free experience.
"It takes work," she continues. "It's not always something that appears out of nowhere. For myself as a full time working artist, I get heavy into my schedule and can get too organized. When I realize it, I take a step back and go for a walk, try and let things re-settle and get a breather of sorts. It's important occasionally to take a step back from the easel during season."
Other than the unique stress free factor of her work, Sarah's attention to detail is fantastic! From the perfect resemblance of the red and towering Jupiter lighthouse to the grooves in boardwalks and even the sky to sea ratio on her beachscapes, it appears as though every area of the canvas is given equal and detailed importance.
"I always paint in the studio, I don't do plain yard painting," she says. "Some days I'll go out and take a couple photos and come back and work directly from one of multiple photos. It's my own technique. Some places are actual locations while others are combinations of different spots. Most of the houses are my dream houses on the beach."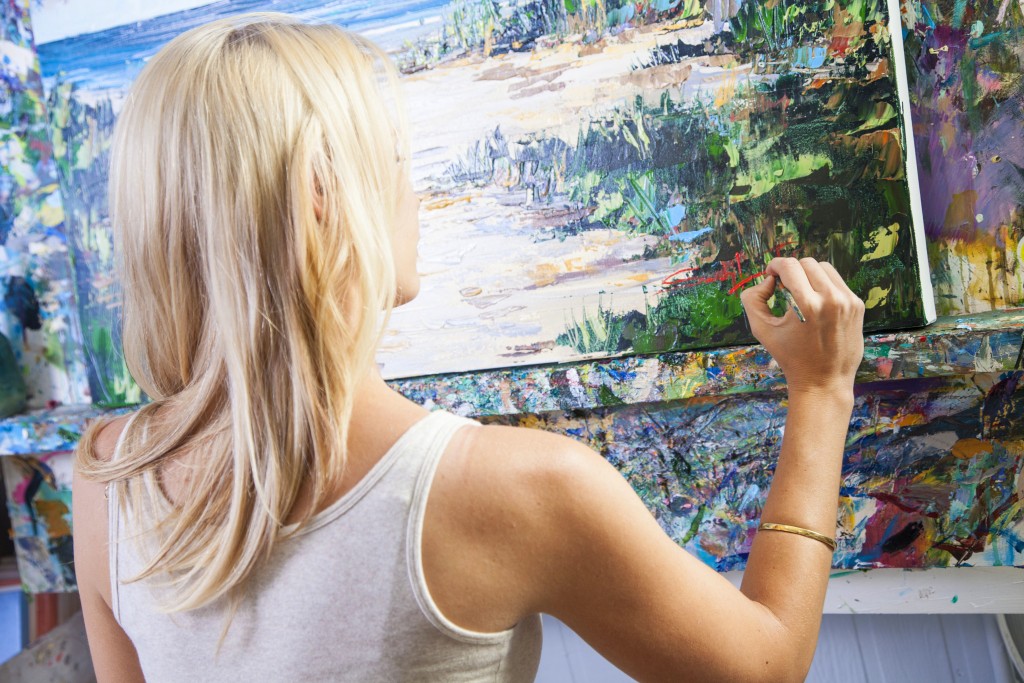 Which appears to be another foundation that leads to Sarah's mesmerizing works: she's a product of her own environment. Though this adage is easily proven, that which is difficult to prove – the relationship between her genetic makeup and the quality of her current work – remains an interesting question, but as the years pass it has become less of a question and more so an ocean packed with fond memories.
"Through genetics, my father's mother was an artist herself. I have always had my own desire to create and I remember wanting to be drawing something or finger painting. His parents were very welcoming and wanted him to do what he felt inspired to do. My father was so encouraging, and I've always had the materials, the supplies to use. There wasn't really a direct moment and instead it was always something that if I wanted it, then I always had the option." On behalf of South Florida art fans, we're glad Sarah opted as she did.