The Science Behind The Perfect Cup
By Nicole Danna
Photos: Anna Mucci
At Composition Coffee House in West Palm Beach, owner Joshua Korman wants you to appreciate the science of coffee.
Here, your cup of coffee will become an eye-opening experience — and not just thanks to the caffeine. It's thanks to Korman's focus and passion for his craft, one that is meant to deliver a high-end product created with care.
If that seems like a lot to be asking out of your morning cup of Joe, think again. Coffee, according to Korman, has gone the way of bitter, acidic, and burnt for too long. The Connecticut native's longtime goal since studying at nearby Palm Beach Atlantic University: bring South Florida a truly unmatched coffee experience.
"Being in specialty coffee for over 10 years, I'd yet to find a roaster that was able to offer quality, innovation, variety, and consistency all in one place," Korman tells The Atlantic Current. "I opened with the goal of becoming a master brewer, and a lifelong student of my craft."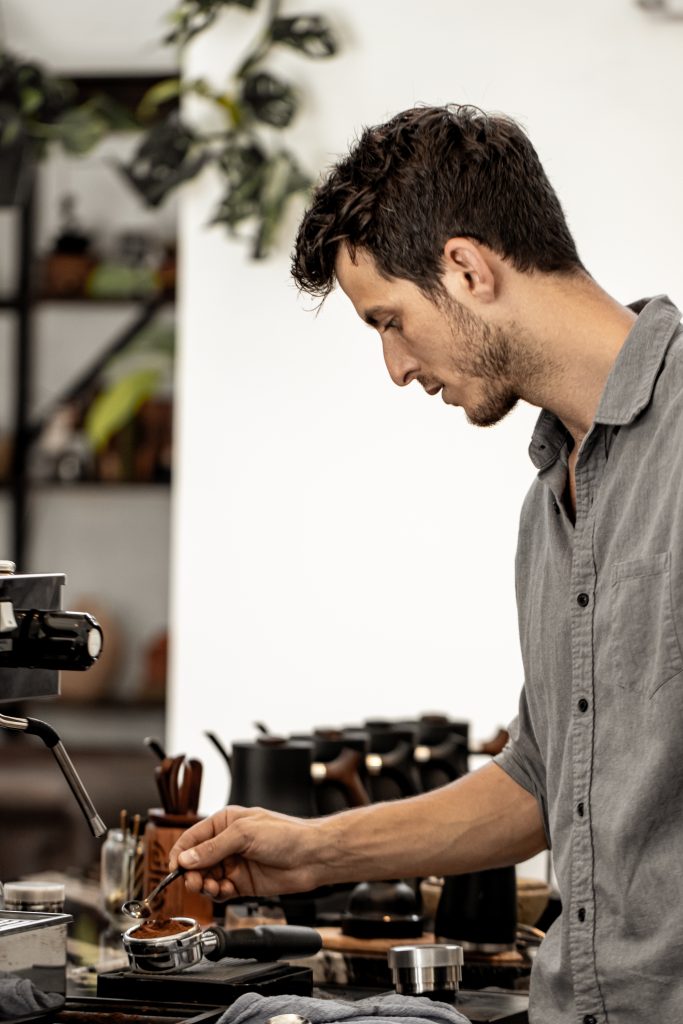 Composition Coffee opened on Florida Avenue in West Palm Beach in May 2021, offering a variety of single-origin beans and an espresso roasted by Pennsylvania-based Passenger Coffee.
After several local Florida-based roasters came on the scene in late 2016, only several remain operating as active coffee shops. Korman says their idea to offer a better cup of coffee was brewing, but the day-to-day execution of house-sourcing and roasting beans for daily guests can quickly become an exhausting process.
---
"A lot of people don't really understand how difficult it is to source high-quality beans and roast them properly," Korman said. "Were the beans picked at peak ripeness? Fermented properly? Roasted at the right temperature, for the right amount of time? Are they fresh when they arrive at your shop? Is the person cupping each batch to ensure the right flavor profile comes through? So much is involved from bean to cup."
---
To that end, Korman decided to work with some of the best beans in the business. Passenger is a company that values ethics over profit, he says, offering partnerships with farmers from some of the planet's most respected coffee-growing regions including Ethiopia, Burundi, El Salvador, Brazil, and Colombia. For him that means coffees that offer variety and exclusivity — but, first and foremost — quality over quantity.
Although guest roasters will rotate alongside Passenger, each one will be given the same care and attention to see what makes it shine. As such, the entire Composition team will go through a series of cuppings — weighing, grinding, and tasting beans at various stages with varying water temperatures — to uncover the perfect "recipe" to deliver the best flavors and aromas each roast has to offer.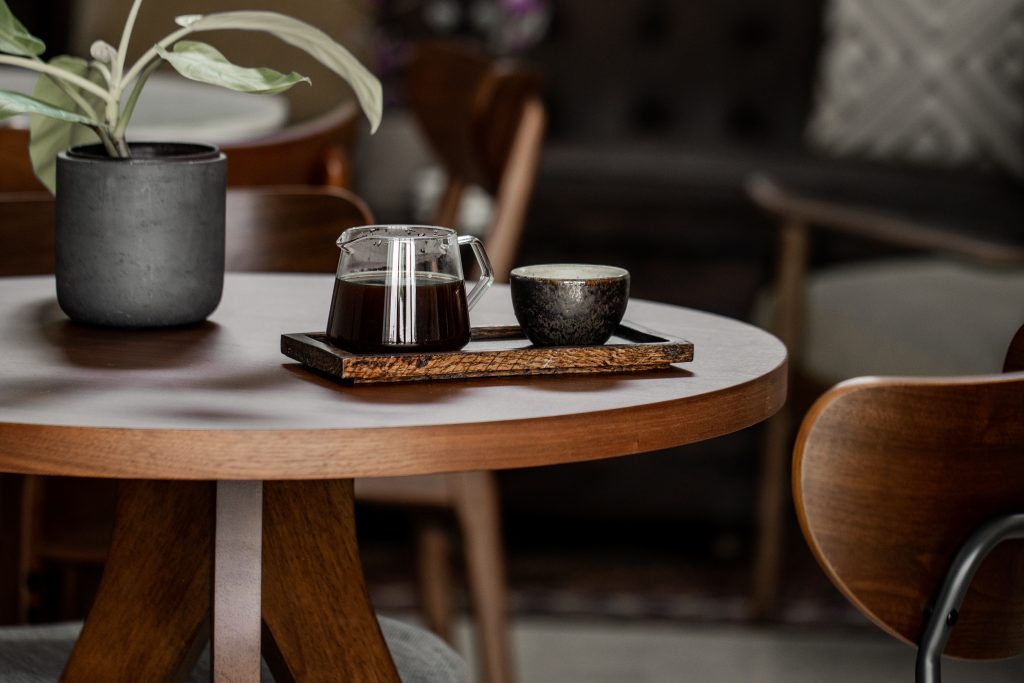 "Delivering a truly exceptional cup of coffee is made up of many parts," explains Korman. "The farmer, supplier, roaster, and brewer each play an important role, with hundreds of hands having played a part in the process. We see ourselves as the final handlers of some of the most exceptional coffee in the world."
Moving forward, expect to see an array of coffees, including small-lot farms producing incredible beans. How? Passenger is one of the first in the country to use cryogenic preservation methods, allowing them to deep-freeze green beans directly after harvest, enabling them to retain their unique characteristics and nuances indefinitely.
What does this mean for Composition? The ability to pick three-, four-, or even five-year-old beans any time of year, so that selection and variety is always top-notch, and no longer subject to each farm's harvest availability. That means choosing beans from micro-lots that may have only produced a few hundred pounds, be it a beautiful Geisha from Panama to a Tanzanian Peaberry from Africa, says Korman.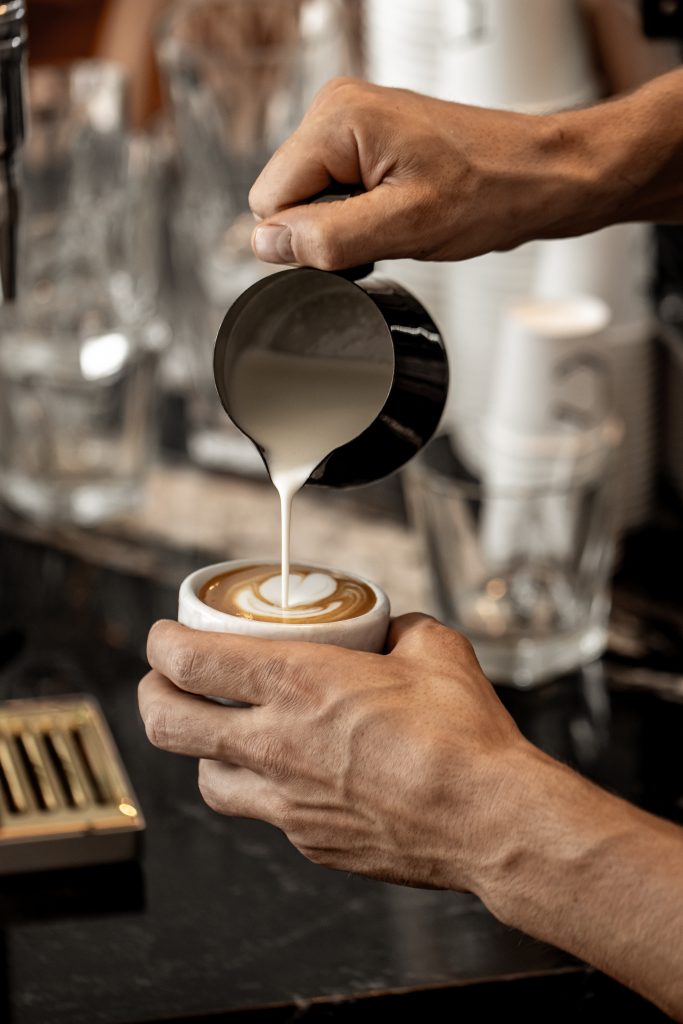 At Composition, those unique specialty roasts are available via AeroPress, pour-over, cold brew, and espresso. Drinks are prepared using a specialty reverse osmosis water profile that delivers the beans' best flavor notes, allowing you to experience each coffee to its fullest potential. Many roasts exhibit beautiful flavor profiles, from dessert-like beans that exhibit notes of chocolate and caramel, to fruit-forward beans that are sweet and jammy, and still more that are floral or citrus-like.
"I wanted to become a student of specialty coffee. To, as an owner, make sure each coffee was represented in the best way possible. To that end, we are scientists, not artists," Korman said. "Nothing makes me happier than seeing the surprise on someone's face when I show them coffee can be delicious on its own, served black. It can be sweet and smooth without milk or sugar. A good cup of coffee should never be bland and bitter."