PEACE, LOVE, AND SOUTH FLORIDA REGGAE
by Nicole Danna
Self-taught, multi-instrumentalist and producer, Joey Calderaio remembers the moment he fell in love with reggae. It was Guanabanas in 2012, where two bands — Iration and Ballyhoo! — were playing live. "Both were fairly new — I had only discovered them a few weeks prior — and that show was really inspirational to me and encouraged my love for that type of music," recalls Calderaio. These days, it's Calderaio who often takes the stage at Guanabanas, offering fans and locals a chance to hear his own unique mashup of rock, pop, and reggae sounds inspired by his hometown.
"Growing up in Jupiter by the beach, just by default, a lot of that music became part of my daily playlist after school surfing," says Calderaio, who played in several bands throughout high school and beyond before starting a solo career.Early inspiration began in high school, when Calderaio discovered the sounds of Sublime, 311, and Red Hot Chili Peppers. It was a passion that later morphed into a full blown love affair with reggae, from roots music like Bob Marley and Peter Tosh to more contemporary bands like Tribal Seeds, Rebelution, and Stick Figure.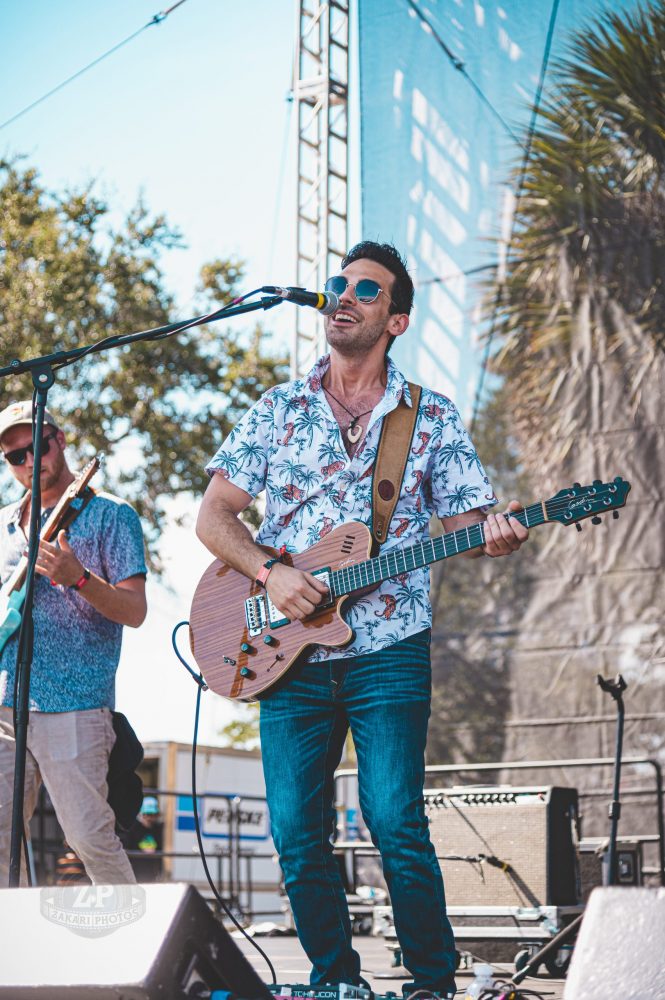 "I was obsessed with Sublime, and it really motivated me to sing and play guitar. They also greatly inspired my love for reggae rock music." says Calderaio. "But what I really fell in love with was the message behind the music — spreading positivity and love. I took that message and put my own musical spin on it, creating my own sound that's not just reggae but more rock with reggae influences."
Calderaio has spent close to a decade on his craft, writing original songs while also learning how to mix, master, and produce his own music. Today, the Palm Beach County-based artist performs weekly. By blending genres — namely reggae, rock, and pop — he performs multiple times each week, often as an acoustic solo act where he effortlessly juggles vocals and guitar while looping live guitar tracks and footing his own percussion to establish a big-band sound.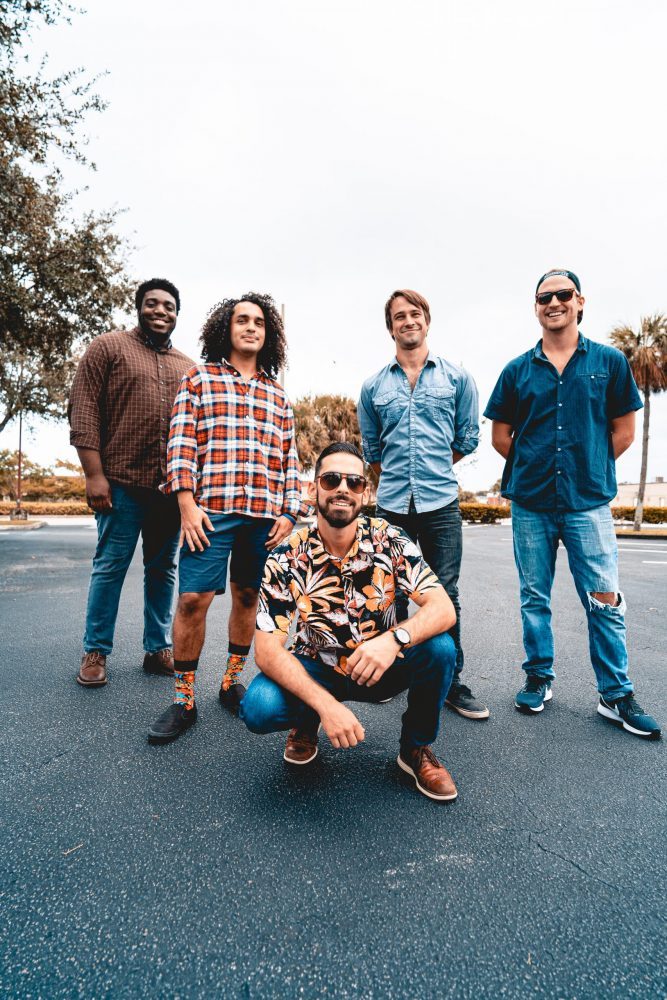 Several days a week you can also find him accompanied by local artists who join him on stage to create anywhere from a two-piece jam session to a four-piece band. Local shows often feature smaller groups, while national shows offer up the sounds of a full six-piece band with a trumpet and added percussion. Much of his original work can be found on "Moving Mountains," the first official project released under his solo name, Joey Calderaio." The collection of songs from early in his career were on his laptop for years before they were shared and released as an EP in early 2019, working alongside Georgia-based producer and musician Ted Bowne of Passafire. Later that year he released two singles – "Déjà Vu" (Acoustic) and "Right in Front of You." In March 2020, he teamed with Ted Bowne once again to release "Rise Up" (Remix), which features Bowne himself.
"'Moving Mountains' is all about creating something bigger than just ourselves," explains Calderaio. "It's about making positive change. It can be tough, but it's easier when you have a whole group behind you." Today, with two EPs, a handful of singles under his belt, and music that's been streamed more than 500,000 times on Spotify, Calderaio's positive message is being embraced by thousands — and he's beginning to see the fruits of his labor.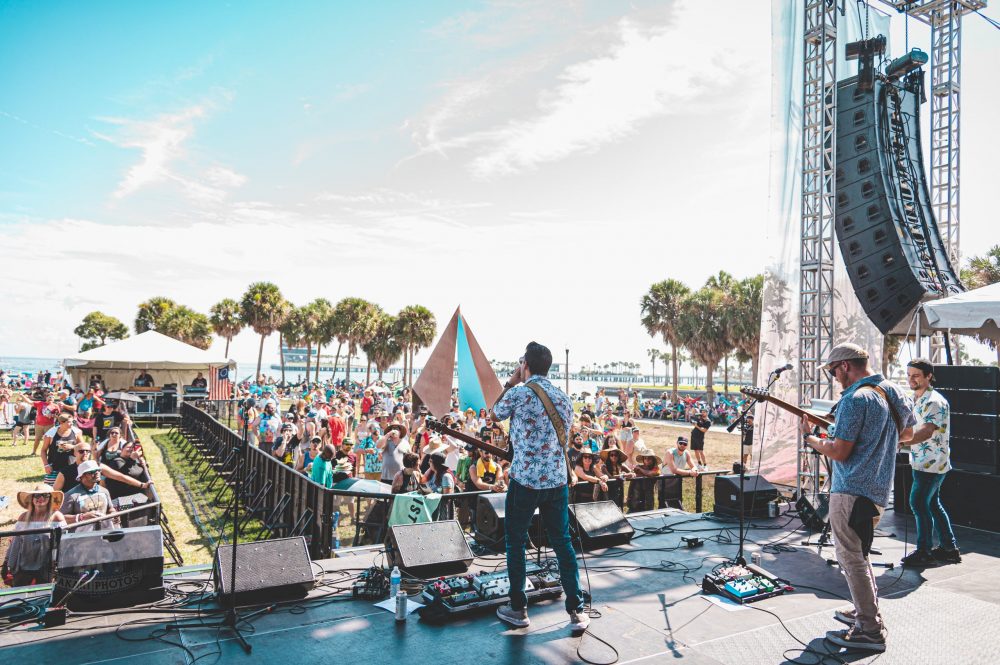 This past summer, the artist was invited to perform in Utah for the Mountain High Vibes Festival in July, followed by a two-week tour in September that brought his band to Savannah, Myrtle Beach, and Virginia Beach. Most recently, he enjoyed a spotlight at the Reggae Rise Up Florida Music Festival that took place this past October in Saint Petersburg, Florida.
But it wasn't without a lot of hard work. When the world shut down during the global pandemic, the artist refocused his efforts on growing his fan base, and building a national audience with his positive message and natural talent.
"During the first few weeks of the pandemic, my gigs were getting canceled left and right. With all that downtime, I decided to focus on growing my social media presence," says Calderaio, who launched an official Facebook fan page — Joey's Bag of Donuts — as a way to connect with followers on a more personal level.
The artist also used the free time to improve his craft. He began recording acoustic covers he mixed and mastered himself, creating one-man-band-style videos while playing multiple instruments and singing covers of fan-favorite jams. He released them via weekly YouTube videos, offering fans a way to stay connected — and inspired.
The result: Calderaio was able to cultivate a loyal following on Instagram, YouTube, and his Facebook fan page. This month, fans can enjoy Calderaio's latest single release, "Runaway Lover." The track was inspired by adream, and from that intense emotion he put pen to paper. Like most of his work, it starts with a simple tune he records at home with just guitar and vocals, slowly building the melody with drums, bass, and a horn line.
For this particular single, Calderaio added a real brass section with the help of artists Liam Robertson and Quinn Carson, and mastered by Big G Productions.
"The song is about loss, but I wrote it from a standpoint that it could be about anyone or anything, from a family member to a broken relationship," says Calderaio, who plans to release a string of singles over the next few years to create his first full-length album. "These days, a lot of my original music is how I express my thoughts and feelings — translating emotion into art."
Now — just as those early reggae songs did for him — his art is helping others to do the same.
"I've received so many messages from people telling me a song helped them through a rough time," says Calderaio. "That my songs are helping them get through their own emotional journey. What began as a personal growth process is evolving into music that is now helping others, and it's incredible to see that process come full circle."