(Interview With Tom Warnke
Palm Beach County Surfing History Project)
TAC:  Tom, how did the organization get started, and just as important, why was it started?
Tom:  In 2008 there were 2-3 of us in Palm Beach County taking pictures and collecting old stuff related to surfing —we all started surfing in the mid 60's and Fred Salmon, one of our Trustees had access to a photo archive and it was a real treasure, and we knew the archive existed and we hoped it would be saved; actually Fred had been in touch with the owner of the archive and the person who took the photos—everyone knew him as Mr. Gruber.  He was a postman, not a surfer but he liked to take pictures of surfers with his telephoto lens and high speed film, and of course there was no auto focus but he was an expert at follow focus and he had 5000 photo transparencies and his estate made Fred the archivist,  basically the title holder to that archive.  When Fred achieved that in 2008, or maybe 2007 we started reaching out to people letting them know we had this historic archive and we digitized and preserved the photos and starting thinking about starting a surfing history organization.  So when Fred and I, along with Corky Roche, another Trustee starting reaching out we got another component I always thought was necessary for a surfing museum;   an old Bob Simmons balsa wood board that Dave Aaron had; Dave was given the board in 1940 and it was about a $25,000 board, an original Bob Simmons who was the most famous early surfboard shaper in the world and it was made in California, went to Hawaii and then made its way to Palm Beach in  1940 and was a gift to Aaron when he as a young teenager.  He made that board available to us. So those 2 components are what started the project.  We actually showed that board in the Palm Beach County Fair in the 60's. It was a bit beat up; the nose was delaminated but it was an old vintage surfboard and about 25 years ago Dave had the surfboard renovated by Fox Surfboards in Lake Worth.
TAC: So you've got all of these unbelievable photos from the postman who could take great pictures, you've got a vintage surfboard and a few guys like yourself who made this happen—what's the objective of the museum?
Tom: It's preserving the history and educating people.  Palm Beach County has the richest surfing history on the whole east coast; we were there when surfing really started and Delray Beach was the epicenter of surfing in South Florida.  It was where surfboards were being made, where they were available for rent or purchase, so now having a museum in Delray is great.  Some time ago we had a reunion event at the community center in WPB and people from all over the state came, over 500 people and I announced that my dream was to have a surf history museum.  After that we set up about 15 temporary exhibits, some lasting 6 months but between exhibits everything went back in the warehouse, so our dream was to have something permanent.  So about 6 months ago we started putting out feelers up and down the coast for a permanent facility but we couldn't find one—-but we were getting a lot of interest from Delray and Jupiter but Delray asked us to do an exhibit at the Historical Society to generate interest in having a museum in Delray.  So we had the exhibit and could only show about 10% of what we had, as we had just acquired a 5000 square foot image collection from FAU and it includes 70 large scale panels on metal, so they're preserved and it's a 100 year history of surfing.  The earliest photo we have is from 1919 in front of the Breaker's Hotel.  So after we acquired the FAU exhibit we had a reception at the Historical Society in November of this past year and had 450 people there and the major of Delray spoke to the crowd and told everyone we were looking for a home, and one the people in the crowd was Matt Gracey and he had a vacant gallery on U.S. 1 and the Major, Matt, and our Chairman worked everything out—the gallery had 3500 of space and already had track lighting and everything else we needed so all we had to do was hang our stuff.  So now we're up and running in a permanent home and our opening reception had 550 people.  We're now open 3 days a week and have already had movie nights and people are asking about having special events there.  Now we're in fundraising mode to make sure our place is permanent.
TAC:  Why is it important to capture the history of surfing in Palm Beach County?
Tom:  It's unique, and there's no place like our area that played such a unique role.  We've narrowed it down to just a few dozen people who started surfing in Delray and one of our goals is to narrow it down even further and see who that first small group was and maybe even who the first surfer was in Delray.
TAC: What's the "state of the union" of surfing in South Florida now?
Tom:  It's part of the mainstream; a lot of advertising has surfing in it; rather than being the outcasts and communities trying to ban surfing like back in the 60's there's a lot of professionals that surf and enjoy the benefits they get from surfing and Delray's a big part of that, being "the village by the sea".  If you look at everyone on surfboards and other boards these days, stand up paddleboarding, kite boarding, all the other board sports that were spawned from surfing ——–skateboarding, snowboarding, all that came from surfing.  All the action sports come from surfing; some of the panels in the museum show that, how skateboarding evolved from surfing and the maneuvers done by surfers were emulated by skaters, and then skaters developed aerial maneuvers that are now done by surfers, and some of the skaters themselves were the first to do the aerial maneuvers in surfing.  Surfing in south Florida and Delray is really healthy.
For more information on the museum, tours, and special events visit www.surfhistoryproject.org or call 561-236-0155.  Located at 255 NE 6th Ave., Delray Beach (Northbound U.S. 1, 2 ½ blocks north of Atlantic Avenue.  Memberships available, see website for details.  Open 11am-5pm Thursday-Saturday-check Facebook for updates.  The Atlantic Current would like to congratulate Delray Beach Mayor Cary Glickstein, Matt Gracey, Tom Warnke, and all the Trustees of the Palm Beach County Surfing History Project for making this very important project become a reality.  Our feature article on the surfing history museum and gallery can be found in the May/June edition of The Atlantic Current Magazine—pick up your  free copy—see our website for distribution locations—theatlanticcurrent.com

Surfers at The Breakers Hotel, 1919

Surf Boards made in shop class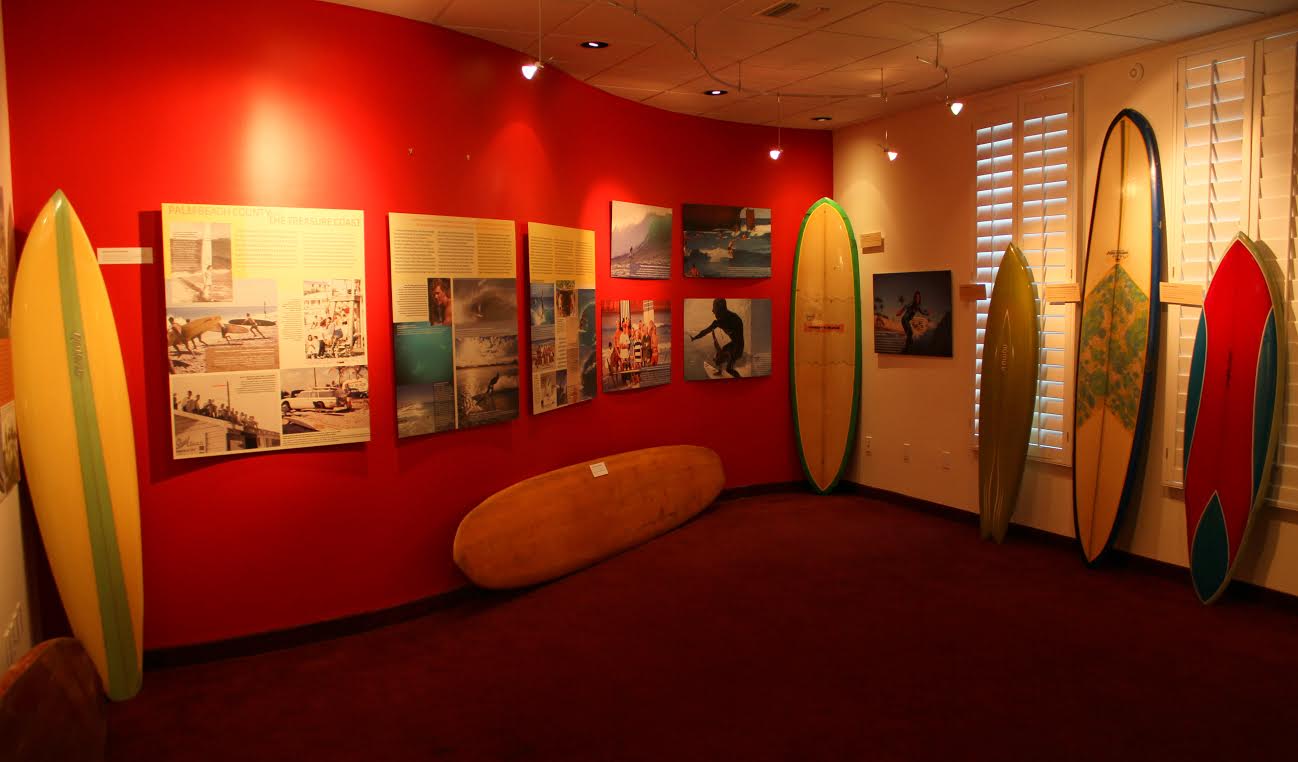 Surf History Museum