Tell us about the Salute to Service Initiative and the Dolphin's involvement.
Emily (Dolphins Cheerleading Director): Supporting the military is part of the fabric of the NFL. This support takes place both at home and abroad, with NFL players and coaches traveling overseas to salute the troops, as well as with team recognition of our servicemen and women through the Salute to Service campaign.
This year, Dolphins staff, sponsors and Season Ticket Members purchased over 5,200 tickets for service members and veterans to attend the game on November 13th against the Buffalo Bills.  Additionally, the Dolphins hosted a tailgate for 500 active and retired military to attend before the game with food, drinks, music and giveaways.
Prior to the game, the Dolphins sent 8 cheerleaders and one alumni player on an Armed Forces Entertainment tour to Afghanistan, Kuwait and Djibouti.  This was their second trip to Afghanistan this year.  Over the years, the organization has sent cheerleaders, players and alumni on over 25 tours to over 20 countries.
What are the cheerleader's responsibilities once they get to their destination?
Emily: Tours can be very demanding and rewarding at the same time.  The days consist of meet and greets throughout the bases, hospitals, and remote locations troops are stationed.  Then in the evenings, the Dolphins group will put on a 40 minute variety show, with dancing performances and player Q & A, which is followed by an autograph session. The biggest responsibility is just keeping smiles on their faces and meet as many people as possible.  They spend meals, walks, visits, etc. with the military at all times.
How can Dolphin fans contribute to the cause?
Emily: The Salute to Service campaign was extremely successful this year and there is a chance we will host it again next year.  Fans can contribute by purchasing tickets for the military, knowing that they go to good use and to the right people.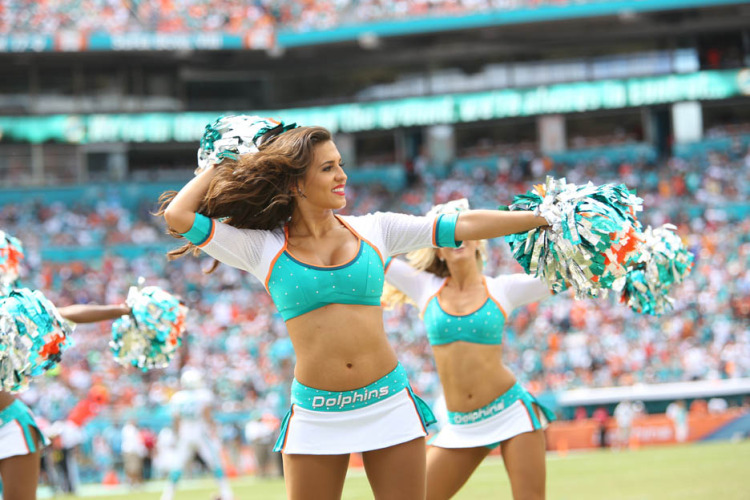 You have traveled to many countries—what makes these trips unique?
Chantal: These trips were definitely one of a kind. It's a rare opportunity unlike any other experience to be able to visit Military bases to meet and entertain our troops. Even the means of traveling was unique! I have never flown in a Military C17 plane to get to my destination, which is a huge aircraft with seats all along the sides of the plane. Our plane had two huge vehicles, which were called M-A TV's strapped down the middle right by us. This was definitely an experience that was very unique to your everyday traveling.
What is the main takeaway you bring back after you have visited our troops?
Chantal: Meeting and hearing the stories of all of our troops was the most rewarding takeaway from my trip. The connection I had with all of these wonderful people is something I will carry with me forever.
Since you are visiting our military in a foreign country, do you receive any type of special training?  What are your accommodations like?
Chantal:  We did not receive any special training ourselves, however individuals with lifelong training accompanied us, so we were in very good hands on our trip. The PSD (Protective Service Detachment) was with us in Kuwait and at our other destinations they would usually have the Military Police with us. We would always be briefed on everything we needed to know before starting our day. Also, just being on a base with the military had me feeling extremely safe.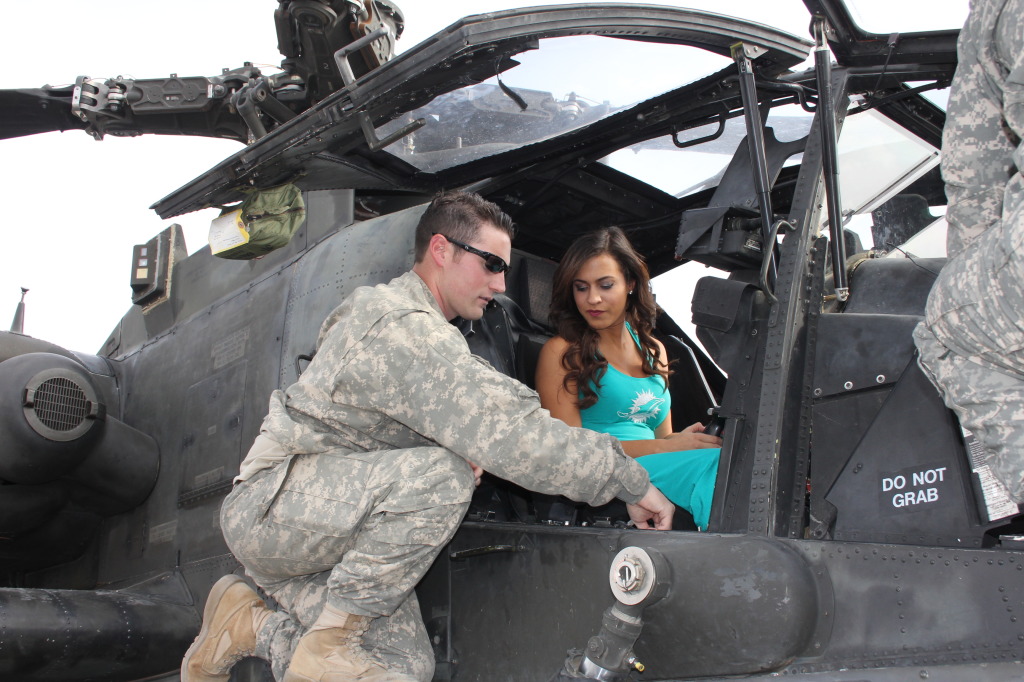 Do you have any unique stories to share regarding how your visit impacted our soldiers?  Any crazy stories to share?
Chantal: I tried to just be present in the moment while I was with the soldiers speaking with them and getting to know them. The soldiers I had the pleasure of getting to know were very grateful to have met us and that really resonated with me. At our last stop in Djibouti they had a karaoke night and I sang a couple of songs with the girls and soldiers there. I sang a very animated duet with a soldier to the song "I will survive." It was so fun! I can remember in that moment I felt like I was back at home with my friends, and it made me realize how important nights like these were to the soldiers. It helped to take their minds away from their current situation and just enjoy a fun night with new friends! It was moments like these that were our purpose for being there. To help them forget the negative aspects of where they were even for a second and that is why I loved this trip.
What are some memorable stories our soldiers have shared with you?
Chantal: One story that stuck with me was when an EOD we met opened up about how hard it is to stay strong. He is expected to be the leader for his unit so he has to struggle to keep it together even when it seems impossible. He shared with us that you just couldn't describe the feeling of having to send someone to disarm a bomb without knowing what the outcome will be. He shared that it is so difficult for him to send someone on a mission that could possibly be his or her death. This made my heart drop as I saw him holding back the tears as he spoke.
What are some of the activities you do with the soldiers on your trip?
Chantal: It was really fun to eat all of our meals with the soldiers in their dining facility! We also sang karaoke with them and played Ping-Pong! We got to watch a swim meet they had because they were having a competition throughout the base called the Captains Cup. The soldiers were also able to give us tours of the different units and educate us on what everyone's job was. We always had time to talk to the individual soldiers and get to know them and ask any questions we had as well as answer theirs.
Did you watch any NFL games with the troops while you are there?
Chantal: Unfortunately we did not, specifically because of the time change there and our busy itineraries for the day. Although, the NFL and the Miami Dolphins were the topic of many conversations while we were there.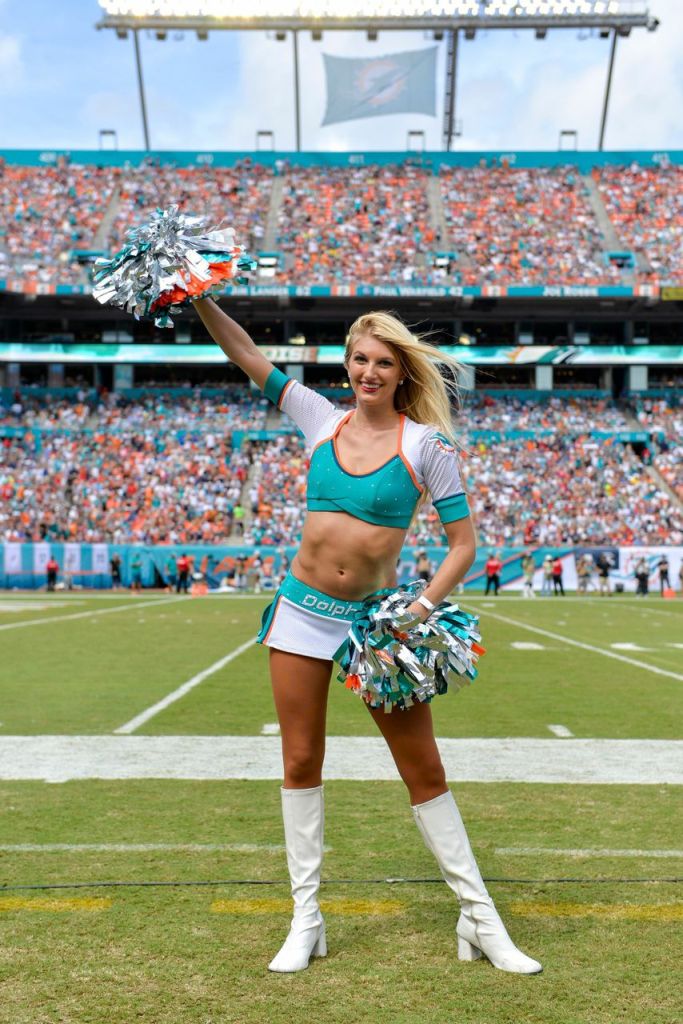 What has your experience been like traveling to visit the troops?
Allison: My experience as a Miami Dolphins Cheerleader has been absolutely amazing! We have the opportunity to be a part of so many incredible events in our community and within the Dolphins organization. It has allowed me to make lifelong friends as well as give back to others. I have the ability to do what I love every day… Dance!
What was one of the most memorable moments from the trip?
Allison: One of my most memorable moments from the trip was when I was able to sit down at breakfast with a young serviceman and help him plan out his proposal to his girlfriend that he would do when we returned home from Afghanistan. He was so thoughtful and had the sweetest ideas! Together we planned the perfect surprise for her. That was a moment that I will never forget! The look of joy on his face was incredibly heartwarming.
Any special training? What were your accommodations like?
Allison: Since we were traveling to a foreign country, we were briefed and instructed on how to handle emergency situations that could have occurred. We also received safety tips for traveling in the helicopters and on the C17 flights. We were so thankful to be given wonderful accommodations at every base that we stayed at! We were more than comfortable and always felt safe within the living quarters that we were assigned to.
Any other stories or surprises?
Allison: One of my favorite stories to share from the tour was when I ate dinner one night in Bagram with a big group of men in the air force. I randomly chose a seat and fortunately ended up sitting in front of a man named Keith. He was so excited that the cheerleaders were on base to visit the troops. He briefly mentioned to me that it was his birthday! I was so excited for him that I stood up in front of the entire dining facility and asked everyone to sing "Happy Birthday" with me! It was wonderful! Everyone joined in and sang at the top of their lungs. I will never forget Keith's red cheeks and the giant smile across his face as the applause roared through the cafeteria. After finishing our meal, Keith honored me with a coin from his battalion. I was so surprised and ecstatic! That was definitely one of my favorite moments from the tour! It was absolutely thrilling knowing that I made even a small impact on a soldier's day!
I was truly surprised at how beautiful the country of Afghanistan really is. We were even able to see snow on top of some of the mountains! The temperature was wonderful as it was usually in the 60's and 70's every day.
What were some of the activities with soldiers?
Allison: On tour we were able to participate in many fun experiences and activities with the troops! In Djibouti, we were able to take part in activities such as karaoke and corn-hole. We got up and sang multiple times that night with different groups of men and women. It was a blast! We also had friendly ping pong and pool competitions at the MWR in Kuwait while we waited to board our flight to Afghanistan!