Founder of Papa's Raw Bar on the rough seas and smooth sailing that made him who he is today
By Darien Davies
Photos by Ben Hicks
"I swore I would stay far away from the restaurant industry," said Troy Ganter, founder and visionary behind Papa's Raw Bar. Lucky for us, and for him, he didn't. The rise, fall and rise again of Troy and Papa's Raw Bar is a modern-day Cinderella Story, with a narrative that's riddled with addiction, bankruptcy, finding purpose and focusing on what's important.
After leaving Florida State University in 2001, Troy came home to help his father run his seafood commissary that supplied his icon restaurant, Papa Hughie's Seafood World. Together they took a $300,000 commissary and turned it into a $7 million wholesale/import/export distribution center. They sold to restaurants and markets from Key West to Jupiter and exported to hotels and resorts throughout the Caribbean. His home base was in Tortola, British Virgin Islands, he met the girl (now wife) of his dreams, Cassie, they owned multiple rental properties and were sitting on top of the world.
Then that dream boat sank.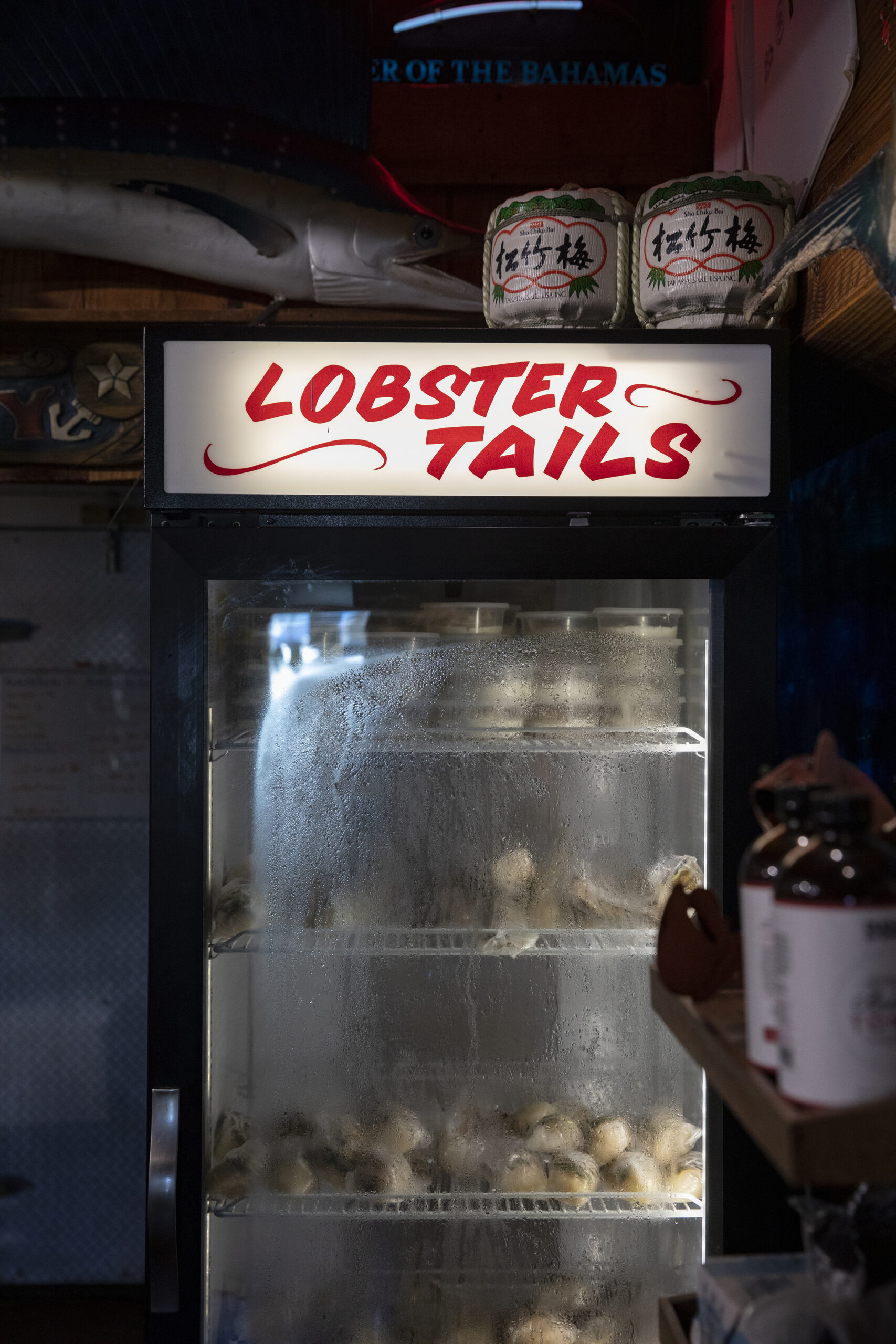 When the economy took a turn in 2009, their business and life suffered. Their main client in the Caribbean left them on the hook for close to $1 million and they were forced into bankruptcy. They had to forfeit their new distribution headquarters, all of their rental properties, Troy's house and his parents' house and most of their assets. He and Cassie even pawned their wedding rings. The bank took everything except for their landmark restaurant, seeing no value in an old restaurant that they didn't even own.
"I was never aware of my addiction(s) and character defects. This is when things got really bad for me, my new wife and my newborn boys," Troy said. "I crawled back to Papa and Seafood World. My wife and I served tables and hustled to raise our family."
Then, in 2014, the opportunity became available to take over the Thai restaurant adjacent to Seafood World. They jumped at the opportunity to expand their business, which became the beginning of Papa's Raw Bar and Eat Drink and Be Local®.
"Cassie and I were all in. We were officially restaurant owners."
Papa's took a couple years to get off the ground. Soon business started to boom, we were building relationships, serving our community and having the time of our lives. My addictions and demons were doing push-ups in the parking lot," Troy said. "Working in a restaurant fueled my addiction, I always wanted to cater to others and make sure everyone was having fun. I was surrounded by drugs, alcohol and people. I made it my job to entertain everyone."
In 2016, he hit rock bottom when he was arrested. However, always the optimist, he used the arrest to wake him up, accepting the fact that he was an addict and needed help.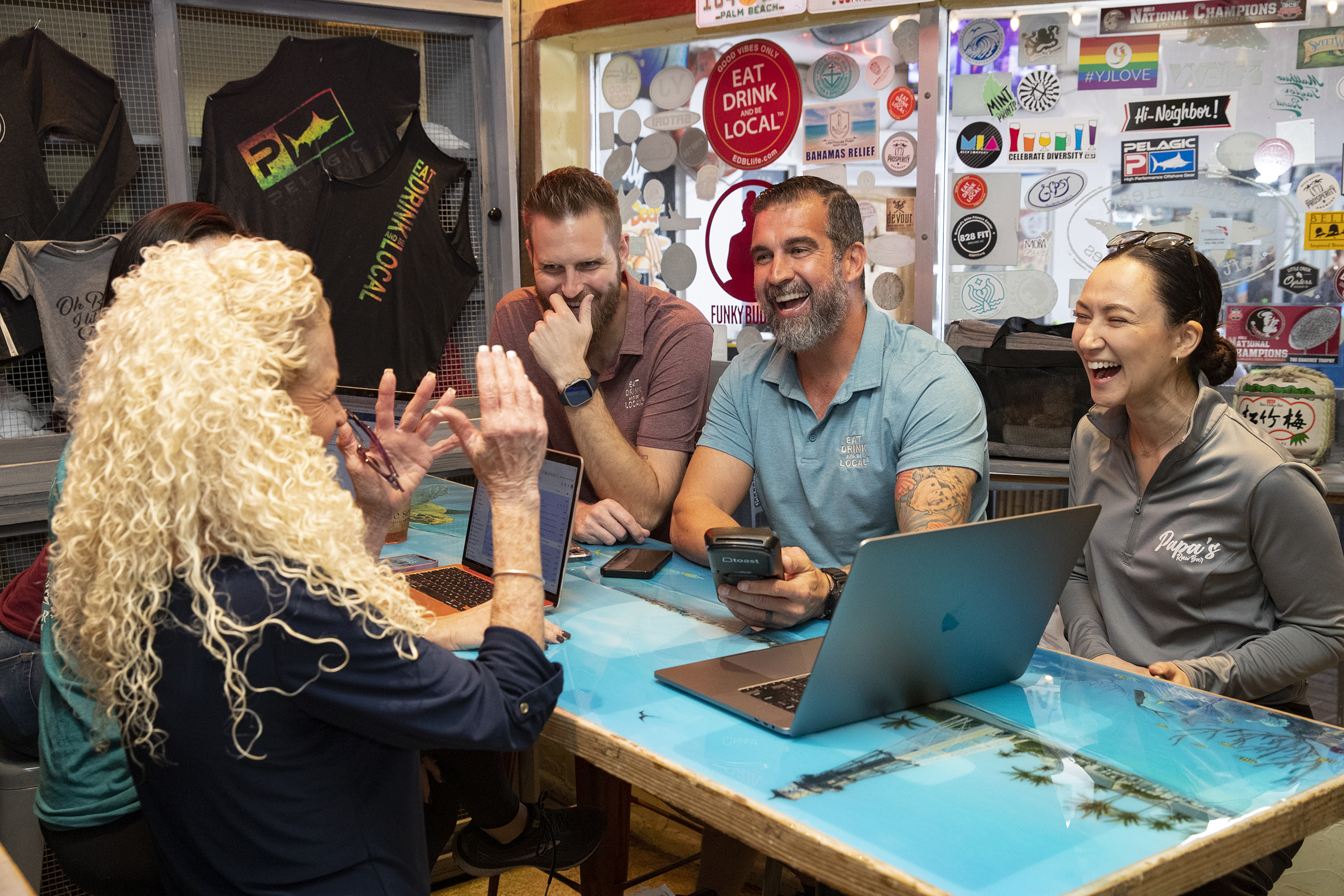 "My life had become unmanageable, and I was sick and tired of running the show. I knew I needed help, so I surrendered and sent myself to rehab. I had to borrow money from my friends for rehab. This was the turning point of my life," Troy said. "I started working a program, found a sponsor and a tight circle of sober brothers. I built a real relationship with God and found my purpose in life. My purpose was to help and serve others. In order to help others I needed to be the best version of myself. I knew I needed to continue to work a program, turn my will over to God and trust in His plans for me and take things one day at a time. Today I'm aware and grateful. I possess the tools to pause, communicate, listen, stay present and live with true purpose."
A purpose that helped not only him to be his best self, but for his entire restaurant family to grow as a team and as a business, even with other hurdles, like COVID-19, which forced them to once again pivot to survive.
"We slimmed down from 126 employees to our 14 All Stars. We had to close the Raw Bar and were able to keep the market open as an essential business. We scaled our menu, catered to locals, and started deliveries to local communities and neighborhoods, which became our lifeline," said Troy, who credits his team for staying pliable and adapting. "COVID showed me nothing can beat our team and family. Together we can survive anything. COVID was probably the best thing that happened to us."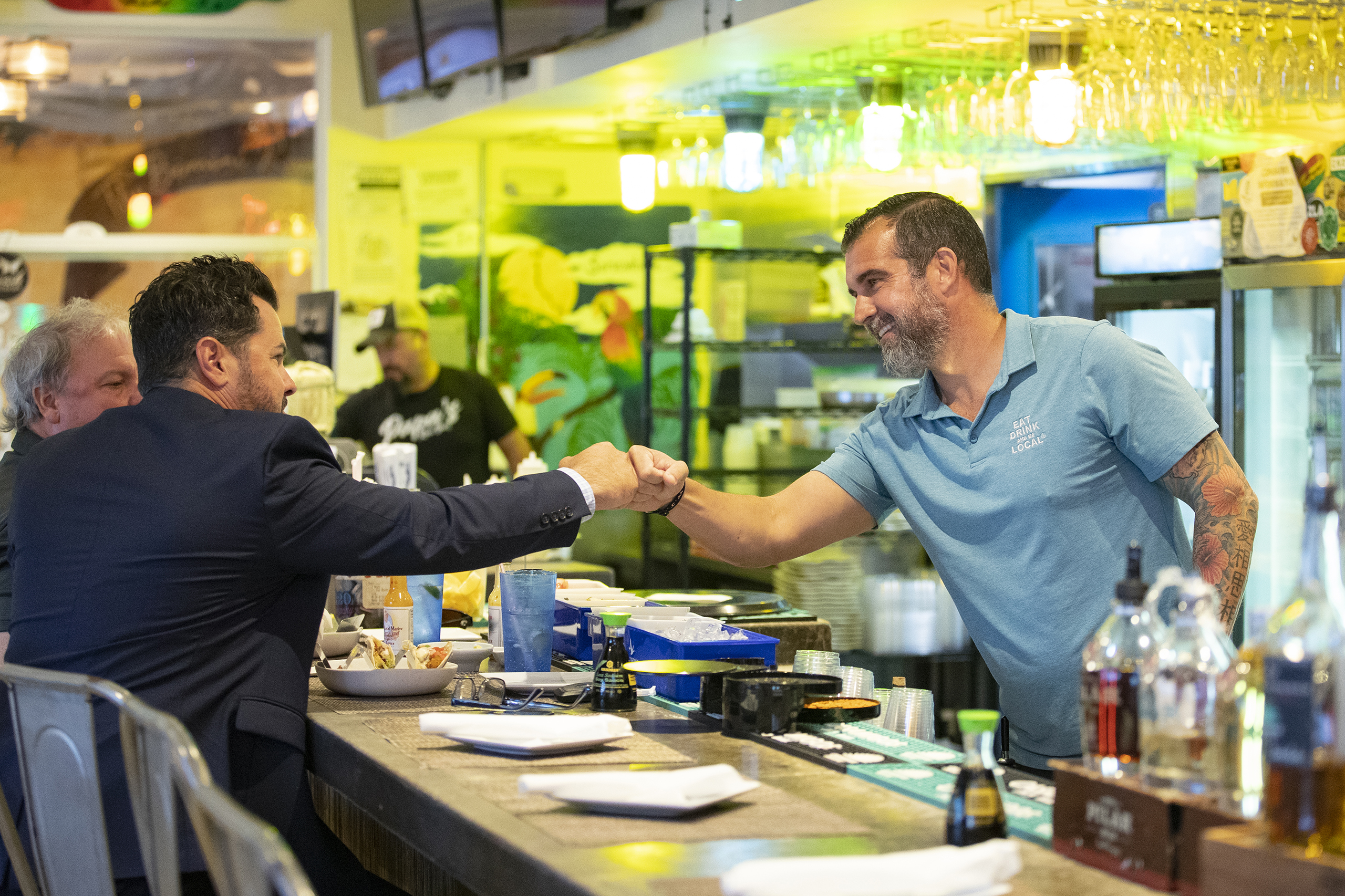 Now, the Papa's family includes Papa's Fresh Market & Carry-Out, their new speakeasy/private party room called The Barrel Room, and Papa's Raw Bar, which are all under the EDBL (Eat Drink and Be Local®) Family Brands where it's "Good Vibes Only." It wasn't always easy to get back on his feet, but with the help of his family and family of employees, it seems like there was no option but sobering success.
"Working in a family business has its ups and downs. Thank God for my family, they are everything to me. My father and mother taught me everything I know. My father was my best man, my mentor and still my best friend," said Troy. "We are still a thriving family business but we have made a huge pivot to incorporate team principles. We put our faith in our systems. We surround ourselves by great people and hold each other accountable. Always learning, always growing. Our purpose is to SERVE."
Ever growing, the EDBL is welcoming a new concept in April 2023, Won-Tom's. A craft kitchen on steroids, Won-Tom's will be located in the Cove Shopping Center in Deerfield Beach, right next to the Cove Brewery, and will feature a kitchen, pick-up window and — of course — Good Vibes Only.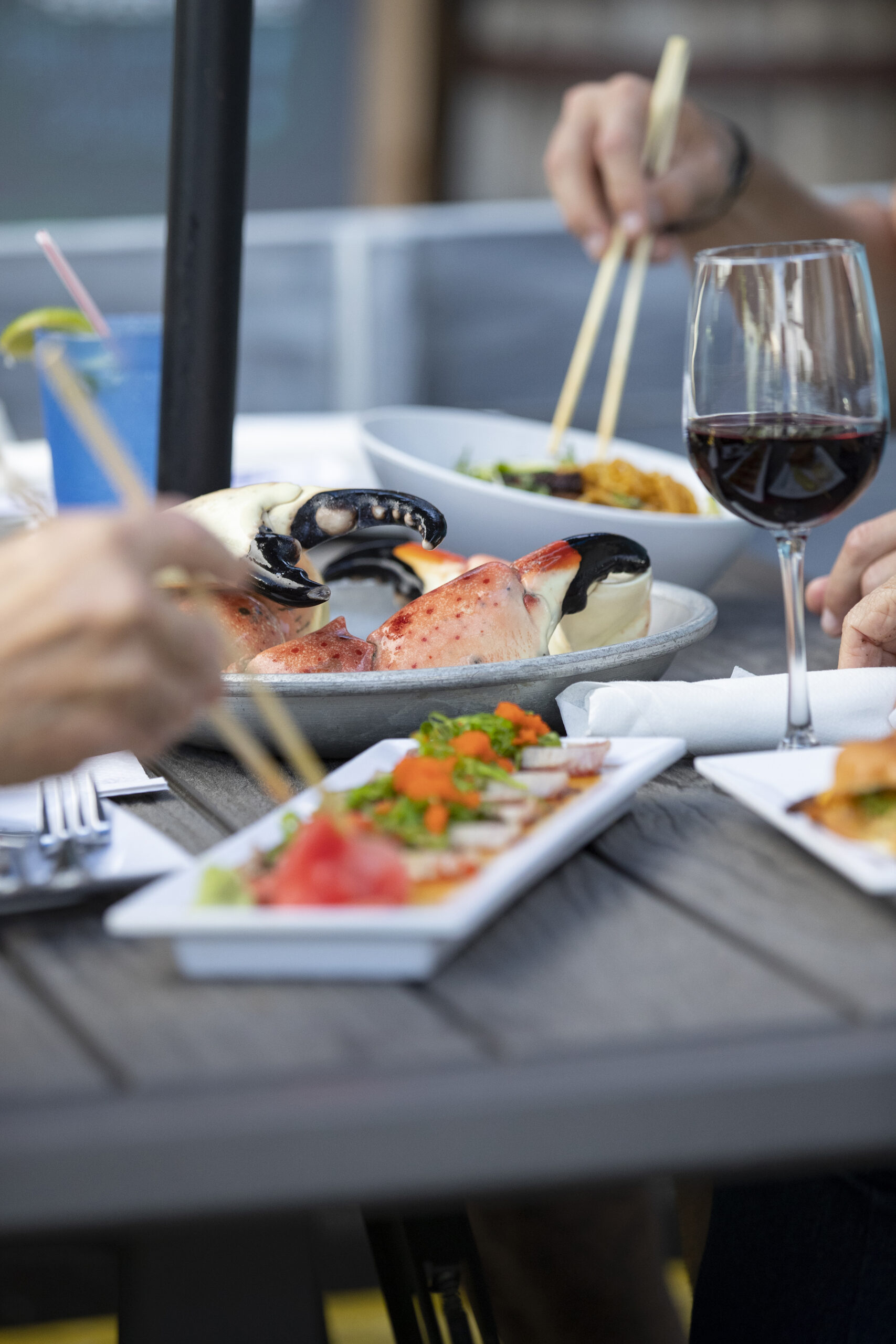 "It's not just a saying, it's our story,"
"We are all foodies at heart, with a passion to elevate your taste buds and make you feel at home…From dim sum to then sum, there's something for everyone."
It might take a village to raise a child, which is no different when you consider your children to be the restaurants that you grew and raised, amid, in this case, a roller coaster of addiction, bankruptcy, family challenges, COVID, highs and lows, extremes, and rock bottoms.
"It all happens for a reason and there's always an opportunity to learn and grow if you're positive, grateful and seeking opportunities. We don't have problems, we have challenges, and God has a plan for us all. All we have to do is Trust and keep our faith," Troy said. "I've always wanted one thing in life and that's to be happy. I'm happy today. I have everything I need. A family who loves me, and we respect and inspire each other. We have a Savior that is always there for us, and we have purpose. I love our story. We are so blessed and excited to see what God has in store for us."
4610 N Federal Hwy, Lighthouse Point
@troyganter
@papasrawbarlhp