Forecasting Hazy IPAs and a Chance of Burgers
By Nicole Danna
Summer in South Florida can be sweltering. The sun, the humidity, and those oven-like temperatures can make anyone want to seek shelter — especially at the bottom of a pint of beer.
For the dog days of summer, there's nothing like an ice-cold beer to help lower the temps. And, perhaps even better, a locally made brew.
Over the years, South Florida has seen a growth in the number of craft breweries, from micro-operations that offer creative small-batch brews to larger production facilities that distribute cans and bottles to supermarket shelves. And the taproom experience has quickly become a favorite for families and craft beer fans alike, each looking to throw back some suds at their favorite local watering hole.
For many, however, a visit to the closest taproom is just a quick stop before heading off to your favorite restaurant or bar where you can do more than just pound a few beers or slug some shots.
And while there are certainly plenty of options for both breweries and restaurants in Palm Beach County, there's nothing quite like Stormhouse Brewing, the family-owned-and-operated establishment that offers both food and drink in North Palm Beach.
Stormhouse Brewing was founded in 2019 by the Brinzo family, three generations who came together to create a new experience for craft beer lovers in Palm Beach County.
Today, the establishment is run by brothers Josh and Christian, who launched the business alongside their father Brian, grandfather John, and several other partners.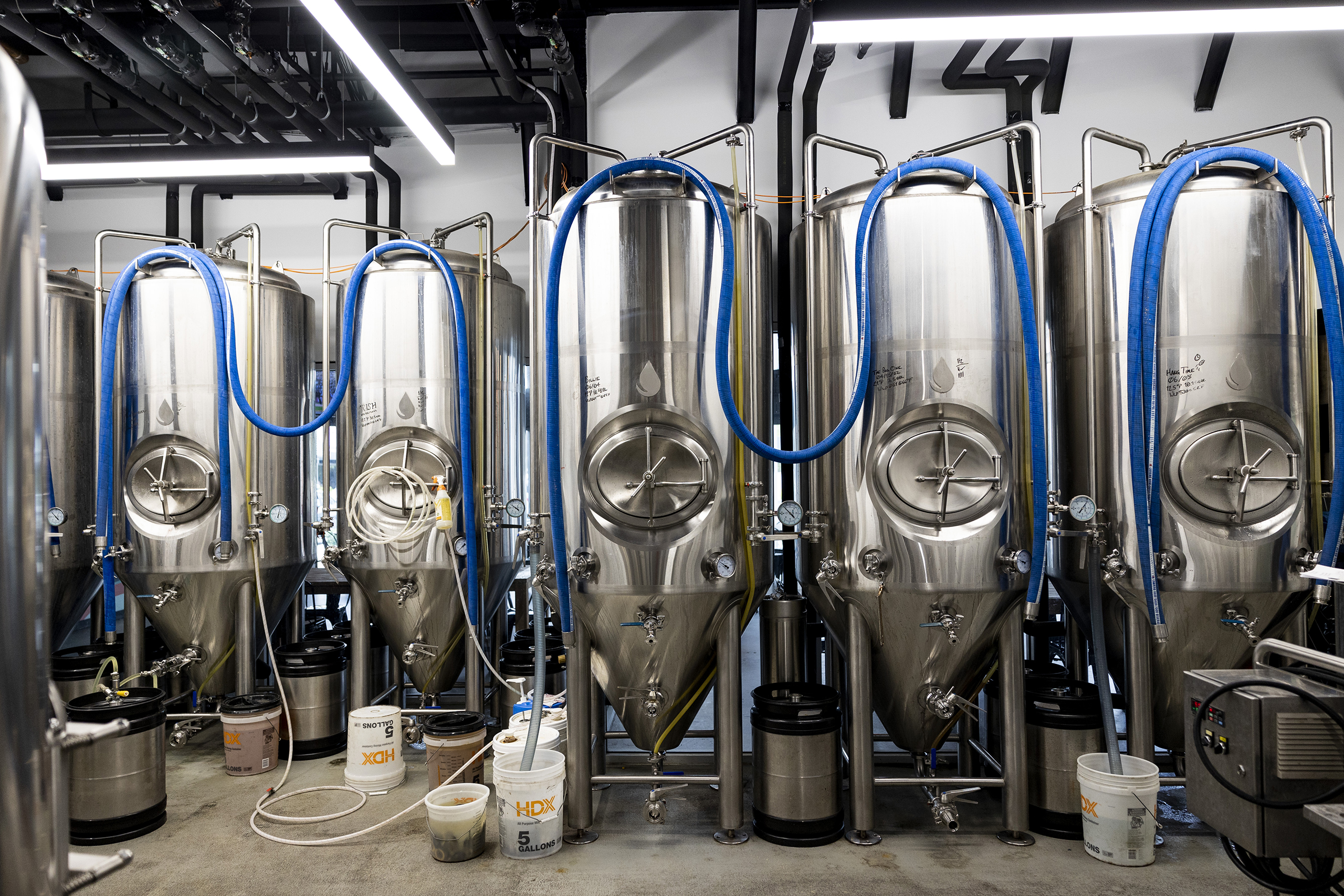 Equal parts brewery and restaurant, Stormhouse offers a unique dining experience compared to the county's largely taproom-only operations. A first restaurant venture for the Brinzos, it was inspired by their own desire to see a brewery that offered more than just — well — beer.
While the family initially hoped to open a small taproom with no plans for food on site, they changed their minds when they realized the lack of breweries serving high-quality food in the northern stretch of Palm Beach County.
Now, one year after opening in May 2021, Josh tells The Atlantic Current the business is thriving as both a local haunt for beer lovers and a full-service restaurant for those who are hungry for burgers, sandwiches, salads, and the kitchen's own critic-approved chicken wings.
The story of Stormhouse, however, begins further back: over the Brinzo family Thanksgiving table in 2010, where a not-yet 21-year-old Josh pitched the idea to open a distillery on his grandmother's farm in Ohio.
"I wasn't even old enough to drink, but it was just a dream I couldn't seem to shake. That never happened, but the seed was planted," says now 29-year-old Josh.
At the time, Christian — now Stormhouse's master brewer — was getting into home brewing. His beers were good, and the brothers knew it would become more than just a hobby.
Fast forward to 2018, when Josh relocated to South Florida from Connecticut. Alongside his father, who was living in North Palm Beach at the time, the two began piecing together a business plan for a brewery while beginning the hunt for the perfect location.
After months of searching, the family decided on a 5,200-square-foot space in the Crystal Cove Commons plaza off US-1 at the north end of North Palm Beach.
"At first, we weren't really looking to have a kitchen — but as time went on, it became really important to us to have a full food menu," says Josh. "The more we looked, the more we realized there just wasn't anything quite like that in the area."
Today, Stormhouse executive chef Ray Rivard has crafted a menu of gastropub-style fare that offers that "something for everyone" mantra.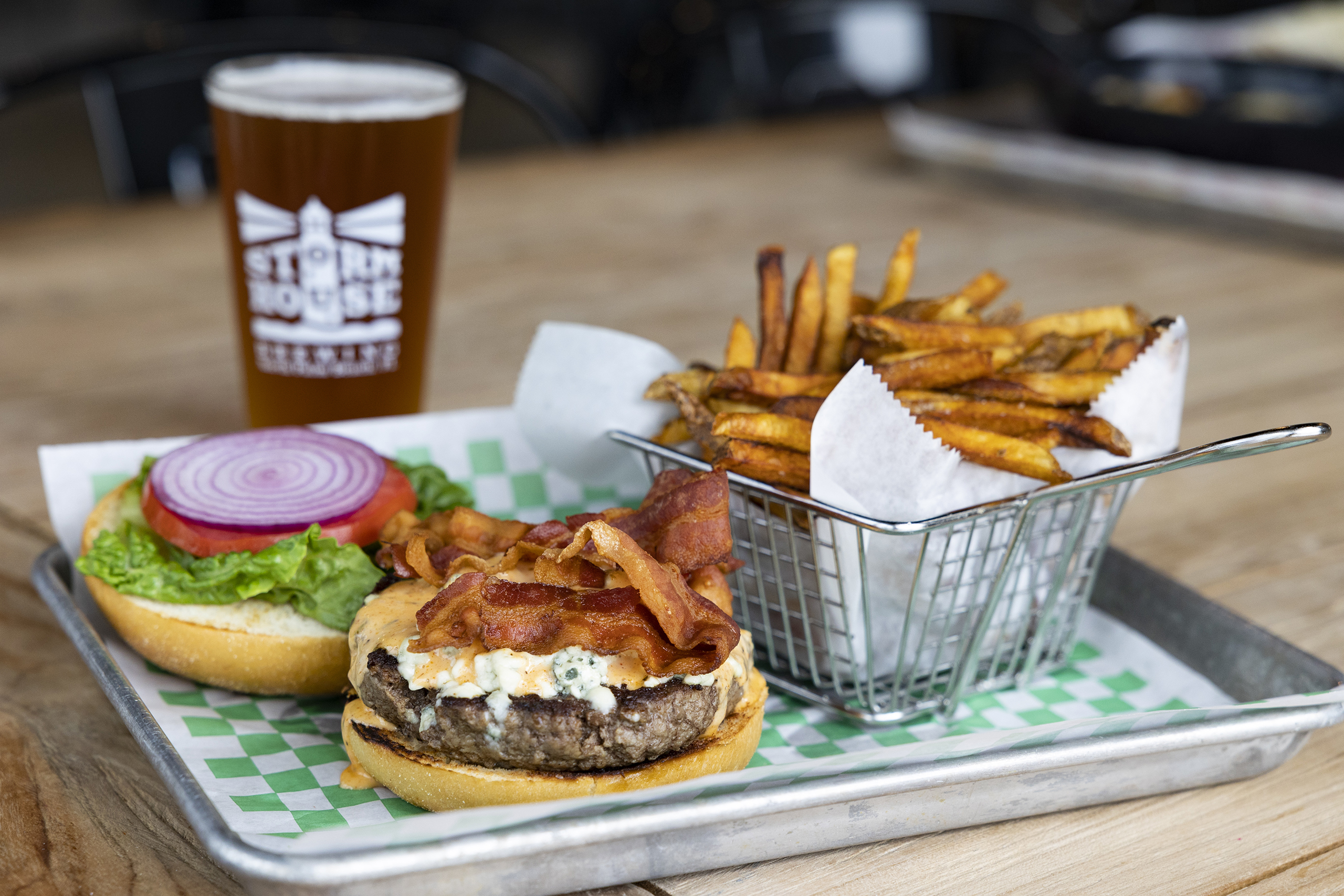 "We wanted to give the chef a chance to be creative, to really offer something unique," says Josh. "The goal was to not have the beer or the food outshine the other, but instead be the perfect complement to one another."
The menu opens with familiar favorites, appetizers like Bang Bang Shrimp, poutine, or pretzels with beer cheese alongside novel picks like house-made pierogies or portobello mushroom "fingers" — strips of portobello mushroom tossed in truffle oil, beer-battered, and deep-fried, served with a house bleu cheese dipping sauce.
You'd be remiss to skip over the chef's top-selling parmesan-crusted baked chicken wings, which even caught the attention of Palm Beach Post food critic Liz Balmaseda in her opening review.
The menu continues with soups, tacos, salads, sandwiches, and pizza — but it's the gourmet burgers that truly shine, says Josh.
Several signature options include the gorgonzola-topped, Cajun-spiced "Black and Blue" and "Shroom 'n Swiss." But, only the most hungry will try their hand at the in-house food challenge with the $24 "Burgatory" — three 8-ounce patties layered with ghost pepper cheese, ghost pepper purée, bacon, and a tangy house chipotle aioli. Finish it within 15 minutes — the time it takes the youngest Brinzo to take one down — and your entire table receives a round of beers on the house.
No matter what you choose, each dish is meant to pair perfectly with Stormhouse's ever-changing draft lineup, one that offers patrons a chance to sample and explore a number of experimental, seasonal and signature beers.
Christian, 28, studied brewing in both Chicago and Munich, earning the Siebel Institute of Technology's WBA Master Brewer certification. That knowledge shows up as well-crafted beer offered as part of Stormhouse's robust draft lineup that covers a wide array of styles.
The taproom serves as many as 15 beers on tap, eight of which are core beers available year-round. Another half-dozen rotate with the seasons or are one-off experiments that range from fruited sours to the brewery's one- year anniversary barleywine.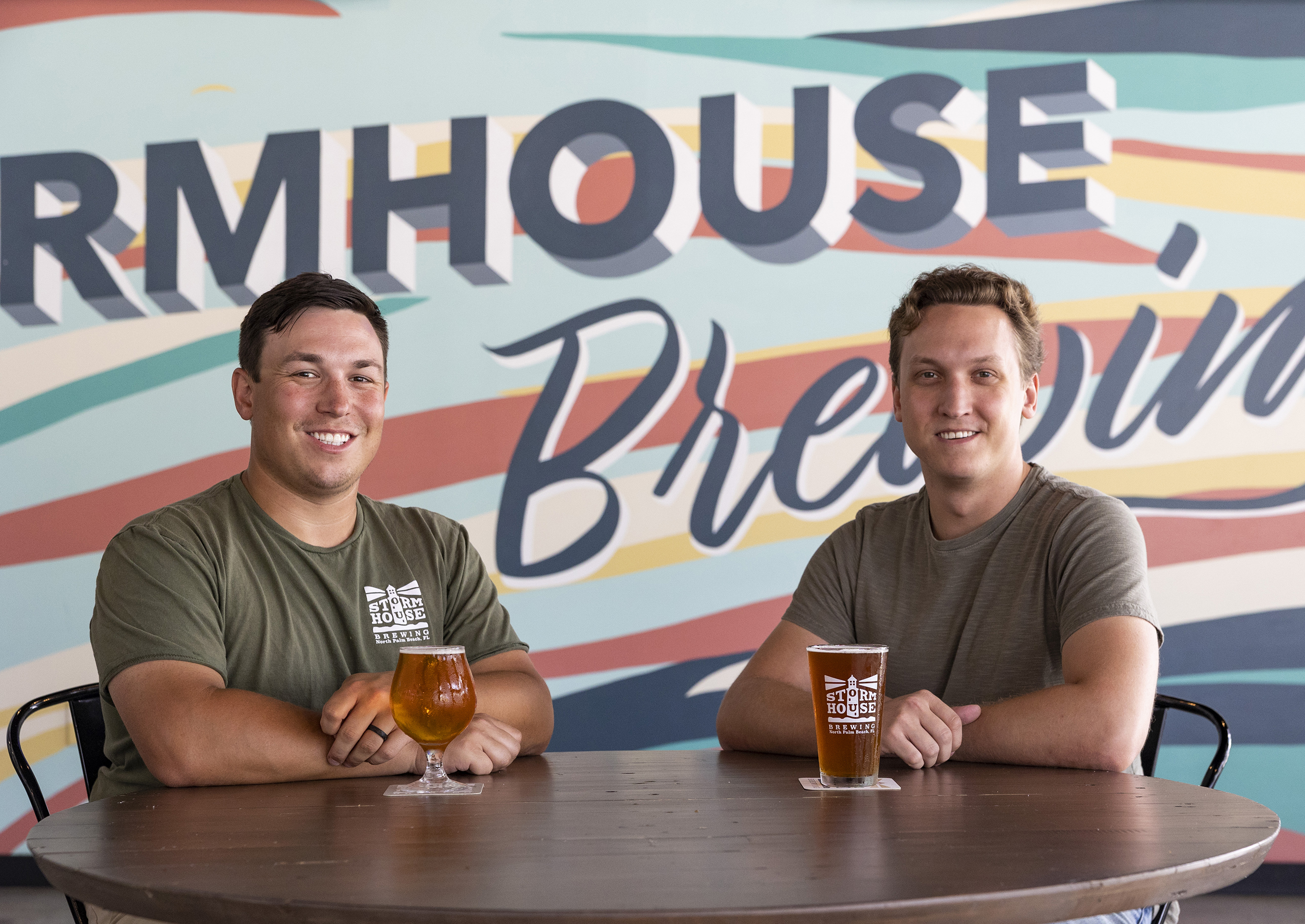 The beers follow the Stormhouse theme, many sporting nautically inspired names. Regular core brews include the "Nor'easter" New England-style IPA that gives a nod to the region's seasonal storms; the "Daymark" amber ale named after the navigational markings on the lighthouse that aid both pilots and sailors; and "Pressure Drop" hazy IPA, what is often a harbinger of bad weather, that has become a best-seller.
You can also try "Hang Time" a crispy pilsner flavored with New Zealand hops and brewed in collaboration with Brinzo family friend Green Bay Packers punter Pat O'Donnell.
For those looking to keep cool, the "Cool Vibes" Kölsch is an easy-drinking beer that's light and crisp, and "Billie Rose Blonde" — named after Josh's daughter — a blonde ale flavored with orange peel and honey. Available to-go in 32-ounce crowlers, they're the perfect summer beach beers, says Josh.
"It's also the perfect beer to help those new to the beer scene convert into the local craft lover," sums up Josh. "Today, that's my favorite part of the business — seeing people come together and just have a good time. Our goal was to open a brewery that could be a place to celebrate special occasions, enjoy a family meal or even host a party. Being a part of the community, that's really what Stormhouse is all about."
1201 US-1, Unit 15, North Palm Beach @stormhousebrewing