THEY ONLY SMOKE THE GOOD STUFF
By David Rolland
Barbecue is often considered the most American of cuisines. Slow-cooking meat over sticks and saplings was a common practice for Native Americans and Caribbeans. It has continued hundreds of years later with Texas, Kansas City and Memphis being known as true barbecue hot beds. But Palm Beach County has its own wide selection of spicy, tangy and sweet barbecue spots. So if you like barbecue — and acronyms — here's a look at where you can get BBQ in PBC.
Open Tuesdays through Sundays from 11:30 a. m. to 9 p. m., Tropical Smokehouse leans hard into Florida's barbecue identity, saying the Sunshine State has more than 500 years of barbecue history to draw upon — before Tennessee and Kansas were in the picture. Their website reminds people, "Our indigenous tribes pioneered the art of slow smoking. Hernando de Soto landed in what is St. Augustine, bringing with him the first pigs in the New World." Their menu includes prime brisket, Cajun gator sausage made from Everglades alligators, and smoked fish. The sides also have a Florida feel with sweet plantain and crispy yuca offered along with the more traditional collard greens and potato salad.
3815 S. Dixie Highway, West Palm Beach
@tropical_smokehouse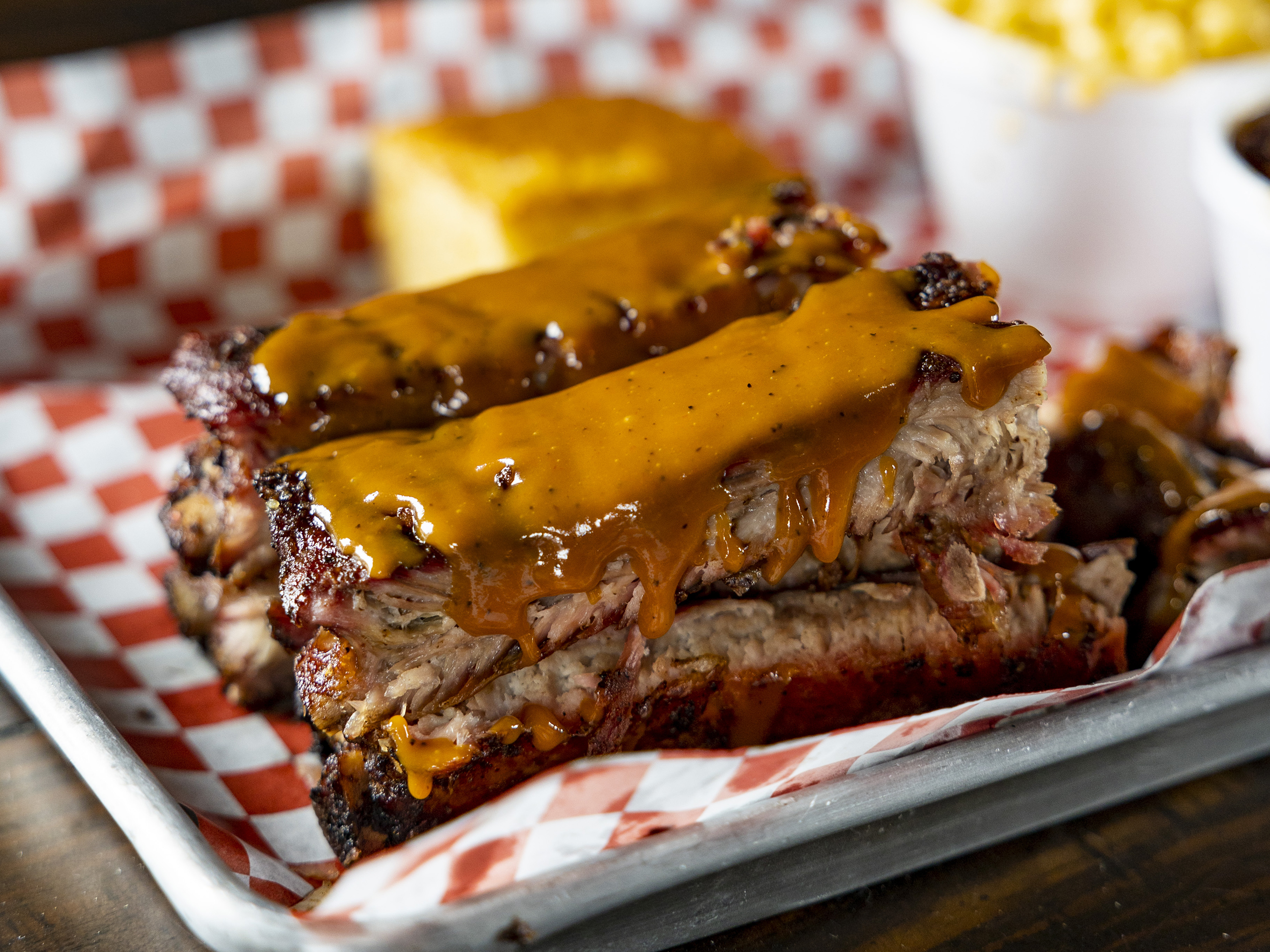 Open every day but Monday for lunch and dinner, Pig Beach began when owners Rob Shawger, Shane McBride and Matt Abdoo met on the traveling barbecue circuit. They opened two Pig Beaches in New York and this one in West Palm where they fuse Italian, French, Middle Eastern and Asian techniques and ingredients with American BBQ. You can expect to thoroughly enjoy their smoked cheddar and jalapeño sausage, smoked chicken wings, Chef Jeff's brisket, smoked fish dip, BBQ jackfruit sandwich and more.
2400 S. Dixie Highway, West Palm Beach
@pigbeachpalmbeach
Off Tha Bone
Open since 2014, this restaurant's website boasts, "Our BBQ is slow smoked in the way our owner/chef learned from his uncles and father. It's named Off Tha Bone for a reason." They offer breakfast, lunch and dinner six days a week. They are closed Mondays, but every other day are open bright and early at 7a.m. to serve their smoked turkey legs, rib sandwiches and plenty of corn bread. Off Tha Bone also offers a variety of barbecue sauces including a mild tomato-based sauce and a tangy mustard-based sauce. Thrill seekers can ask for spicy sauce if they dare.
1516 N. Tamarind Ave., West Palm Beach
@offthabone

Troy's Barbeque
Troy's has two locations: Boynton Beach and West Palm, and has been serving the community since 1996. It began as a lone endeavor with Troy Davis serving up seafood and barbecue. The restaurants are now run by Troy's son, Anthony, with their mission being to, "Serve the best food, provide the best experience, and never let the fire go out." They have a wide menu offering everything from brisket, ribs, pulled pork and conch fritters as main courses. They also advise to save room for their homemade pies and cakes for dessert.
1920 S. Federal Highway, Boynton Beach
3950 Georgia Ave., West Palm Beach
@troysbbq
NEVS Barbecue
Named after chef and owner Tommy Nevill, NEVS Barbecue is open every day, except Sunday, from 11 a.m. until they run out of meat. Their menu is pretty simple. First, you choose whether you want your barbecue served as a sandwich, platter or salad. Next you choose a meat: brisket, pork, sausage or chicken. Finally, you pick your sides, with options including coleslaw, potato salad, fries, corn bread, mac-n-cheese and baked beans. And then, after grabbing lots of extra napkins, you eat.
9910 FL A1A Alternate Unit 709, Palm Beach Gardens
@nevs_barbecue