Flying the Coop to Land Dreams
by Darien Davies
"I am not a florist by any means but I've ALWAYS loved pop-ups, flea markets and community type events. (Yes, I am that annoying friend in the group chat begging people to come with me to a local event every weekend – haha!) I would go to these all the time and for years I found myself saying 'one day I'm gonna do this' and 'one day I'm gonna do that.' A pop-up company/mobile business has always been one of those 'one day' things for me," said Cecelia Feathers, creator of Birdie Floral Truck. "Birdie wasn't created to be a remarkably profitable business or to chase the side hustle. It was simply something I wanted to do in my lifetime. What is life if I keep putting off the things I want to do in mine until 'one day?'"
If COVID brought her anything, it was the opportunity for her to rediscover who she was as a worker, and it didn't take long for her to fly the corporate coop. Her last six years were spent working in corporate America, and she realized that much of her identity was tied to her job, making her forget who she was as an individual. Although she was an economics major by degree and marketing manager by current work, she realized that she was an entrepreneur and lover of beautiful things by nature. So when she recognized the hassle in the purchasing of dried pampas stems online, she decided to solve the problem for herself and her fellow local pampas lovers.
Her "ah hah" moment came when she was purchasing dried pampas stems online for her own home, much like the hoards of millennials (including the Kardashians) who were enjoying the 2020 design trend. She decided that the hassle of paying pricey shipping charges and waiting months to receive your order, which more often than not didn't look like the picture, needed a redo.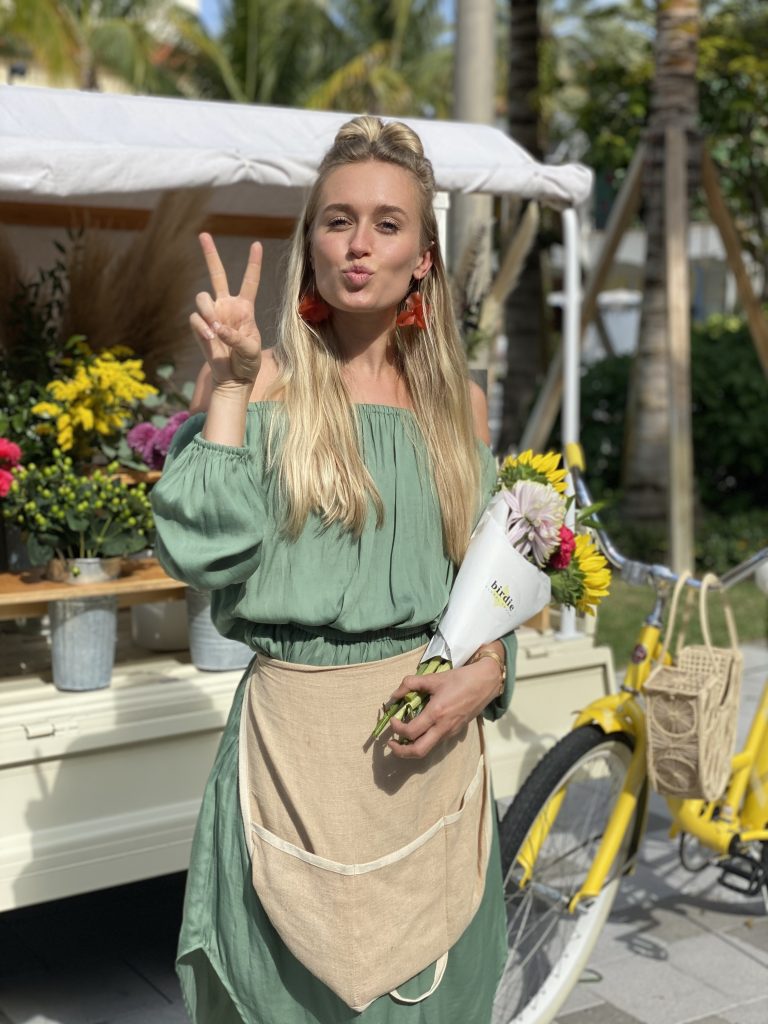 "On this path of individual rediscovery I thought, 'Wow, I could solve this problem for people in South Florida and not have them go through the headache I had to go through when making these purchases,'" said Feathers, who tries not to put so much pressure on herself to make everything perfect. "The goal was simple: make dried stems and beautiful pampas grass more accessible for people. I had seen other flower truck concepts, but unlike those that only carried fresh flowers, we would focus more on dried, ever-lasting items."
So she found the truck in Miami, completely renovated it, had the canopy made and shelves built, and three months later the pretty Birdie was flying. To get the word out and drum up some business, she reached out to local businesses to see if she could be a pop-up at their location. Rosemary Square in West Palm Beach gave them their first big break this past October and they have since popped up at different markets all over South Florida.
"The first event we ever landed was a month-long, weekend pop-up series at Rosemary Square in West Palm Beach for their Fall festival. It was my first event ever, first time setting everything up, first time purchasing fresh flowers, first time rolling a bouquet, first everything. And I committed to a month of it! Talk about jumping into the deep end," Feathers said. "It is probably the most memorable [event] be- cause it's truly where we got our start and began getting some trac- tion in the community. After the first weekend we received such great feedback, people loved the truck and were so happy they were able to see pampas grass in person and not from their computer screen. People started asking to do local pick-up, we got like 1,000 followers on Instagram, people were sending us photos of their creations in their home, and it really just reassured me that this was what I was supposed to be doing."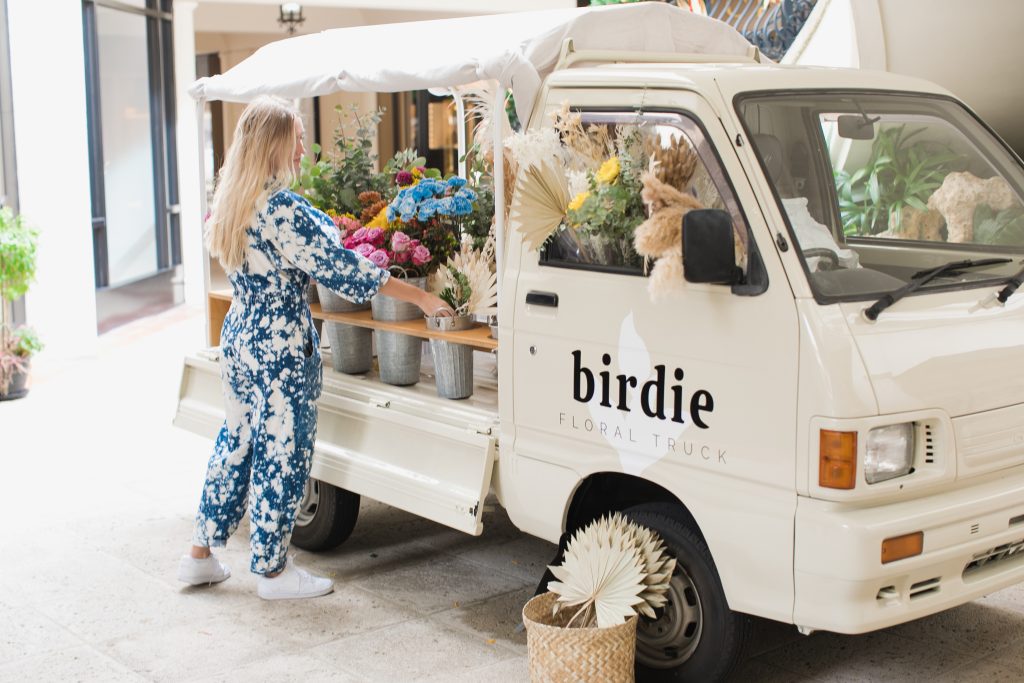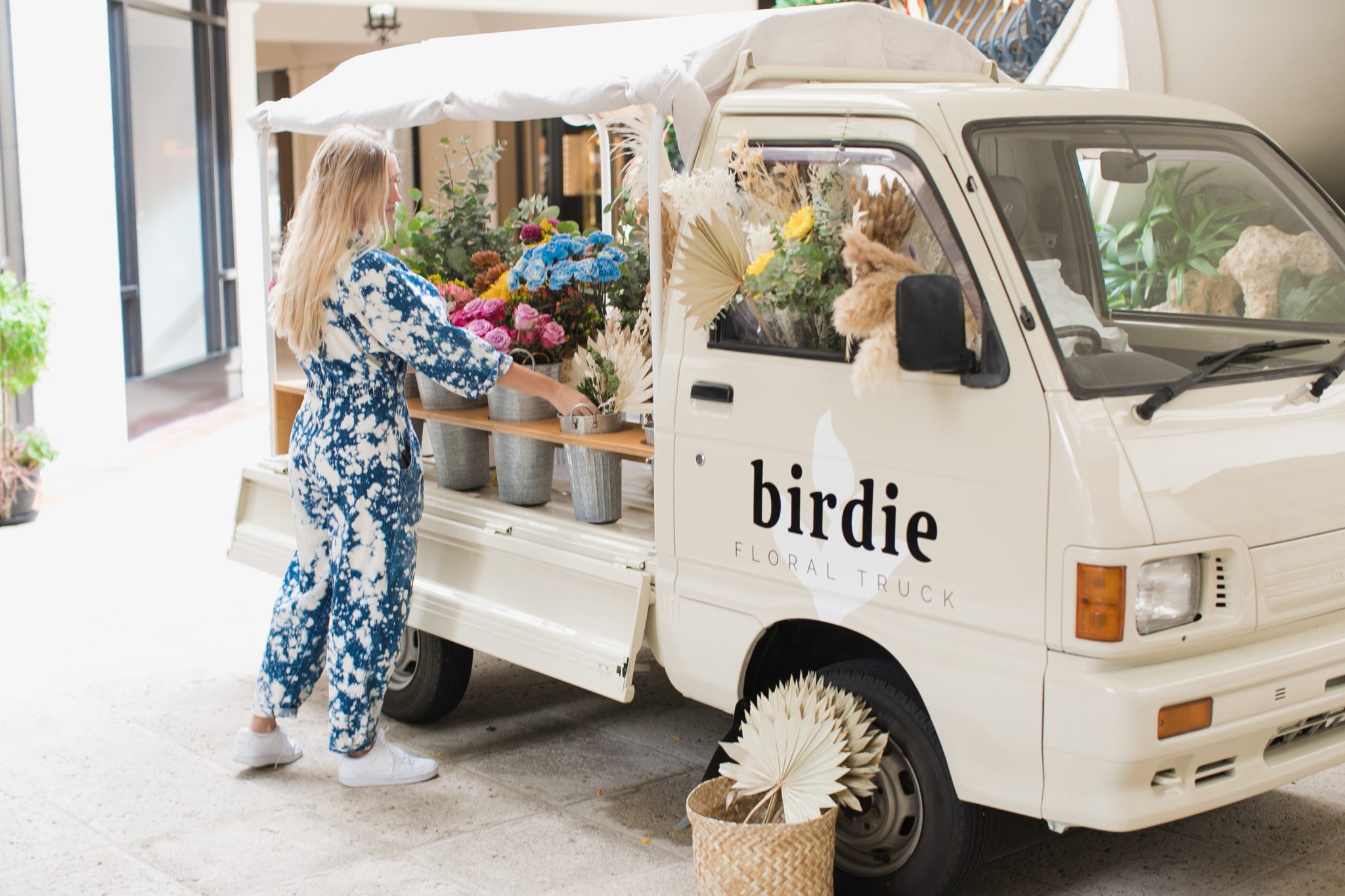 The Birdie clientele includes anyone who loves beautiful and unique florals, and Feathers is happy to serve them all. Since she specializes in dried florals, they're perfect for people who don't have a green thumb. No watering, no replanting, no whispering to the plants to keep them alive. Just purchase and enjoy!
She even makes it easy to order. You can purchase directly from the truck at one of their pop-up locations, or via Instagram DM, and they are available for local pick-up or delivery (for a small fee). What makes them so unique when compared to other floral shops is that they don't offer arrangements, allowing customers to purchase items to meet their specific arrangement needs. They also offer all of their items at $30 or less so they're accessible for everyone, and they're on wheels!
Since they're still learning how to fly this big bird, they're continuing to work out the nuances of starting a business. But, Feathers is hopeful and excitedly looking toward the future while she continues to master her craft and making plans to offer a second truck in 2021.
"I hope anyone who reads this is reminded that simply wanting to do something is ALWAYS a good enough reason to go after it. Your big ideas, your dreams, your 'one day' things, go after them," Feathers said.