"I was going back to fight for my life again."
After battling cancer twice, pro Skateboard Mike Rogers now fights for others' lives.
by Cash W. Lambert
As he speaks with Steve Caballero at Ramp 48 in Ft. Lauderdale, Mike Rogers is smiling. After pushing the patch on his right eye down until it stuck firmly to his skin, he grabs a board and drops into the bowl. I've never seen someone smile so much before, but I've also never seen someone who survived two battles with cancer.
If you know Rogers, you may think he's smiling because he knows that whatever he faces in the future won't be nearly as difficult as his past.
It won't be as cold as the doctor's waiting rooms that he visited, as frustrating as watching friends playfully skate while he had to sit the sidelines, or as terrifying as undergoing a 17 hour surgery.
Whatever he faces in the future, it won't be nearly as tough as his two battles with cancer. It simply can't be.
Young, and Facing Disease
"I was first diagnosed at 12 years old," Rogers said. I went to the doctor thinking that I needed eyeglasses when I had a tumor behind my right eye."
Facing sarcoma cancer at such a young age, Rogers said that he couldn't comprehend it. He just wanted to "get back to being a kid again." He underwent 18 chemotherapy treatments, along with 30 treatments of radiation. The treatments began killing the cancer, but this didn't touch his passion for skateboarding. No matter what happened, all he wanted to do was skate.
Remission and gratefulness ensued. Doctors told Rogers that if his cancer didn't come back within the next 7 years the likelihood of the disease coming back was a small percentage. He would possibly be cancer free for the rest of his life.
Seven years later the cancer hadn't returned, and he was free from its burden. "It was such a blessing not to worry about treatments," he said. "It was all behind me so I was able to move forward."
Rogers returned to the normality of being young. His schedule revolved around school, work, skateboarding and surfing. The only fragments the cancer left was in his right eye. He began losing sight because of a cataract, and by the time he was in his 20's he could only see light. But that didn't keep him from skating and competing.
"After you lose something on your body, your body is resilient and acclimates to the surroundings," he said. "For me, my sense of feel was more enhanced. I did a lot of skateboarding through feel. People can be too focused on the sight of things, but if you can focus on feeling and sight it makes skating and other things a lot easier."
For the next 25 years, Rogers pursued his passions. He was thankful and certain that cancer was a distant memory.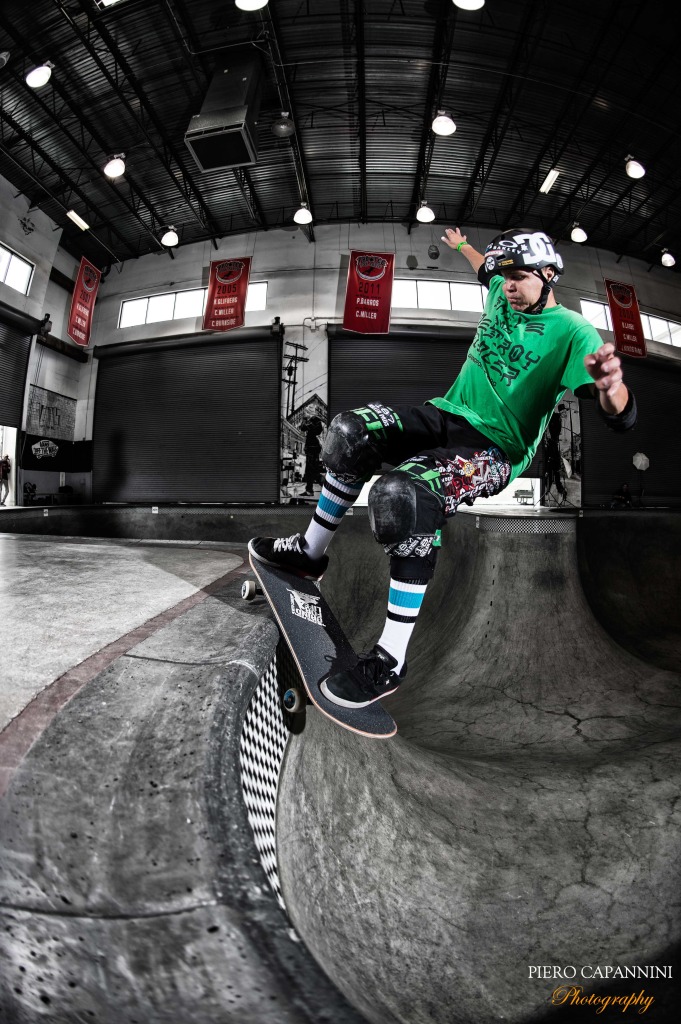 Déjà vu
In 2003, a runny nose that only worsened with treatment sent Rogers to a specialist. "The doctor looked inside my nose and said 'it looks like your tumor came back.' I said there's no way it can come back after 25 years, but they did a biopsy on the tumor and it came back as the same kind of cancer I had as a kid. It was the worst news you could ever get as a human being. You were going back to fight for your life again."
Rogers became his own biggest advocate for his recovery, knowing that the tumor needed to be removed. He didn't feel comfortable with doctors who were foreign to the procedure in Miami, so he found a New York doctor well versed in the surgery. "That's where I got my hope," he said. "I knew they had done the procedure, and I knew I was in good hands, so my odds of recovery were pretty good."
His surgery lasted 17 hours, but the physical therapy and recovery that would follow wasn't nearly as important as his girlfriend's opinion of him. "I woke up, and my girlfriend came in looked at me and said 'oh it doesn't look that bad.' I knew then I had made it through the hardest part," he said. "She was my rock throughout the entire process. To have someone who knew me and helped me get through it…she was the reason I'm here today; because of her."
Aftershock
"I've been asked this before, but the reason I was handed two bouts of cancer was to test my strength and for others to learn from it," said Rogers. "People can learn from bad things happening, because good things come out of it. Life's a journey with bumps in the road – you just have to navigate over them the best way you can. I did the best I could, and now I get to share my story with the world and tell people in these situations that there is hope."
Looking back, Rogers said that he received nothing but friendly and supportive treatment. The warmth rubbed off him in a profound way. "In this world that we live in, there are people who go to school to help people like me and save other people's lives," he said. "I can't take that stuff for granted. I have to do my part too."
His part began when he realized that he, along with many other cancer patients, couldn't receive appropriate treatment locally, which causes a need to travel to clinics in other states, adding to the already hefty bill that cancer treatment creates. "While I was traveling back and forth to Florida seeing how much it costs for people who need to travel for cancer care, there aren't lot of organizations that help those situations," he said.
That's when Grind for Life, spearheaded by Rogers, began its outreach. The organization aims to pay for travel for as many cancer patients as possible.
The organization has helped "hundreds" of people, and at a moments notice Rogers can give testimonials of people impacted just last week. "You just can't put words into it," he said. To be able to help people- that's what we're here for."
A Cancer-Free Future
If you've ever seen Rogers skate, your eyes will be magnetized to him, and if you've ever heard his story, your mind will be magnetized to him. Visiting skate parks all over the nation and for a cause, Rogers is a skating miracle, living proof that despite life's treacherous valleys, incredible good is just around the bend.
"We all have bumps in the road," Rogers said. "Each person is on his own journey, and we're all in this together."
The future for Grind for Life is simple: "helping more and more people each year."
For Rogers, his future is "to never give up, to keep skateboarding, to give yourself to others and to make good decisions."
Stepping out of the bowl at Ramp 48, Rogers takes a second to watch another skater drop in. He knows that if he has to face another cold doctor's waiting room, he'll be ok. If he's told that his life is in jeopardy again, he'll be all right because he's already endured his worst.  But someone, somewhere across the nation hasn't and is about to begin the battle. That person will soon look for help and call Grind for Life, and Mike Roger's organization will deliver and impact the person's life. Then another person will call, and another life will be impacted again and again.
That's why Mike Rogers won't stop smiling.