Conquering Cocktail Culture
by Doug Fairall
Photos by Ben Hicks
Tucked inside the south Boynton Beach cocktail venue Sweetwater Bar & Grill lies another bar, one that looks and feels like a mysterious cousin who's returned to the States after a years-long trek across central Europe.
There's no signage on the outside, and it's only evident when you arrive to it by the change in decor and a small sign made of wood and screws that says 'Saxon'.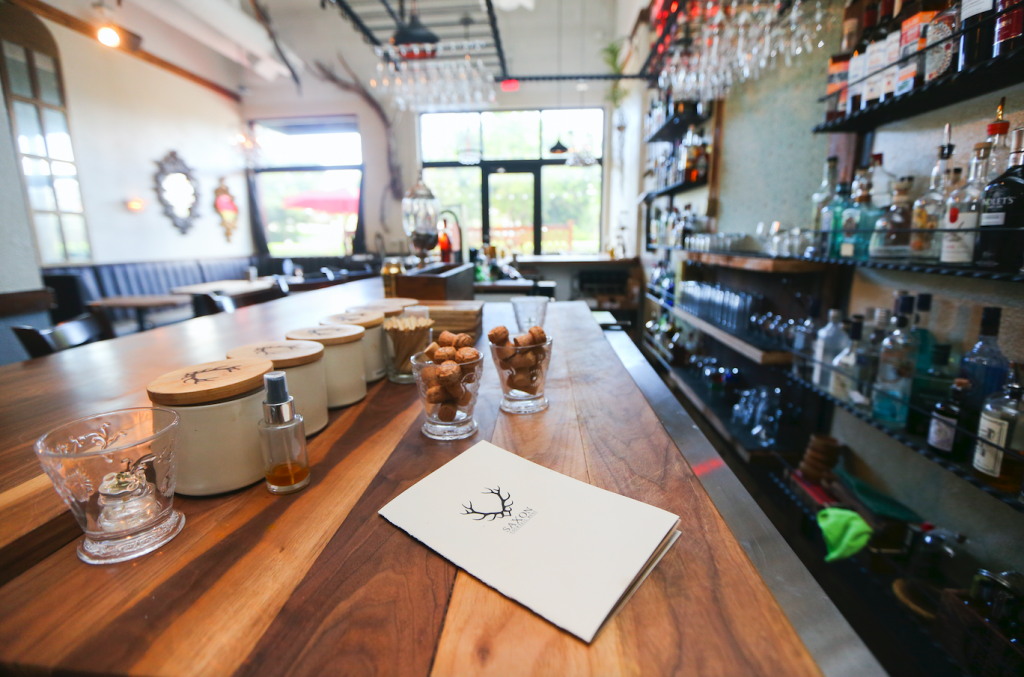 The separate bar and lounge section opened back in March of 2016, with accessibility through the Sweetwater mothership. "We had been playing around with the idea for a couple years now," said Saxon and Sweetwater founder Sean Iglehart. They hit their five year anniversary with the original space and decided it was time to expand out, to begin, like the Saxons of northern Europe, to increase their territory. "We did it out of necessity," he said. "We were working out of a shoebox for so many years. It wasn't a very big restaurant — maybe 1,000-1,200 square feet on the floor, with hour to two hour waits during season. People love us and we're a destination spot, and we wanted to address that with the opening of Saxon."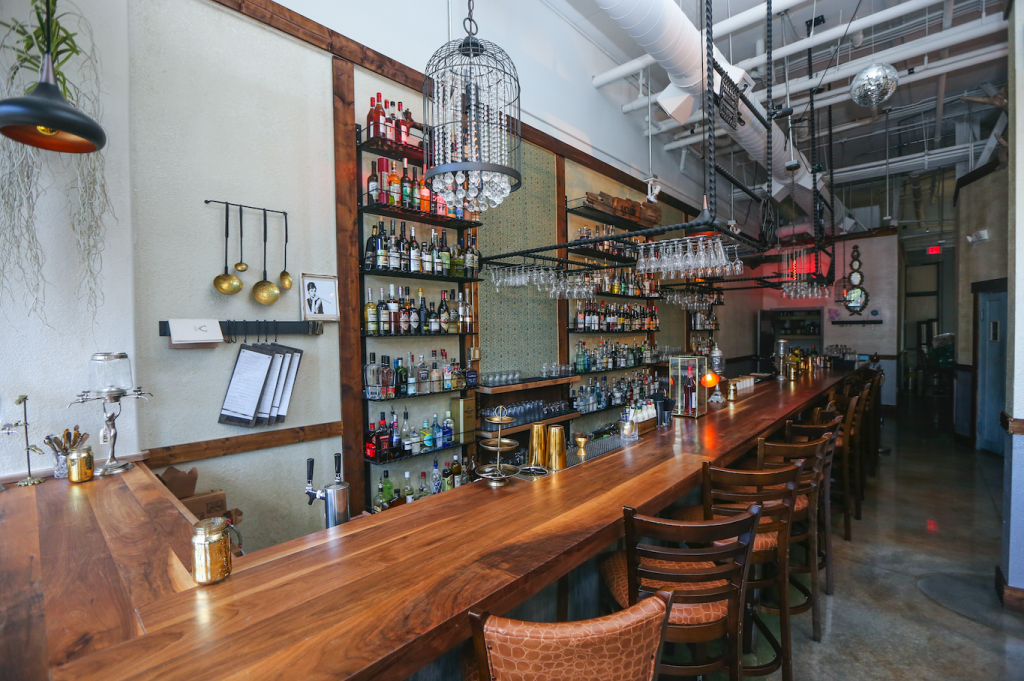 The name is sourced from the northern Germanic tribes of Jutland and Frisia, who famously settled and mingled with the Angles on a small island that came to be known as England. "We liked the name 'Saxon'," Iglehart explains of their choice. There were a lot of practical considerations that played a key role in its selection. "It had an 'X' in it, it's good phonetically, it's cool for logos and typography."
It's immediately evident that the extra space isn't more of the same. After entering through the main restaurant, full of its Americana charm and its exposed woods and brick, and passing through an incredible wrought iron gate, Saxon looks clean and light, with whites and greys dominating the color palette. There's an almost French Country feel to the place.
"I didn't just want to have another Sweetwater room," Iglehart explains, desiring to stay out of the whiskey driven cocktails of next door. "With Saxon I wanted to do the 'Good and Evil', Yin Yang focus on Old World spirits, brandy, cognac, gin, fortified wine, and amaro. We wanted to focus on aperitifs and digestifs. We really wanted to put an emphasis on great spirits. It's a cool experience, and showcases great history."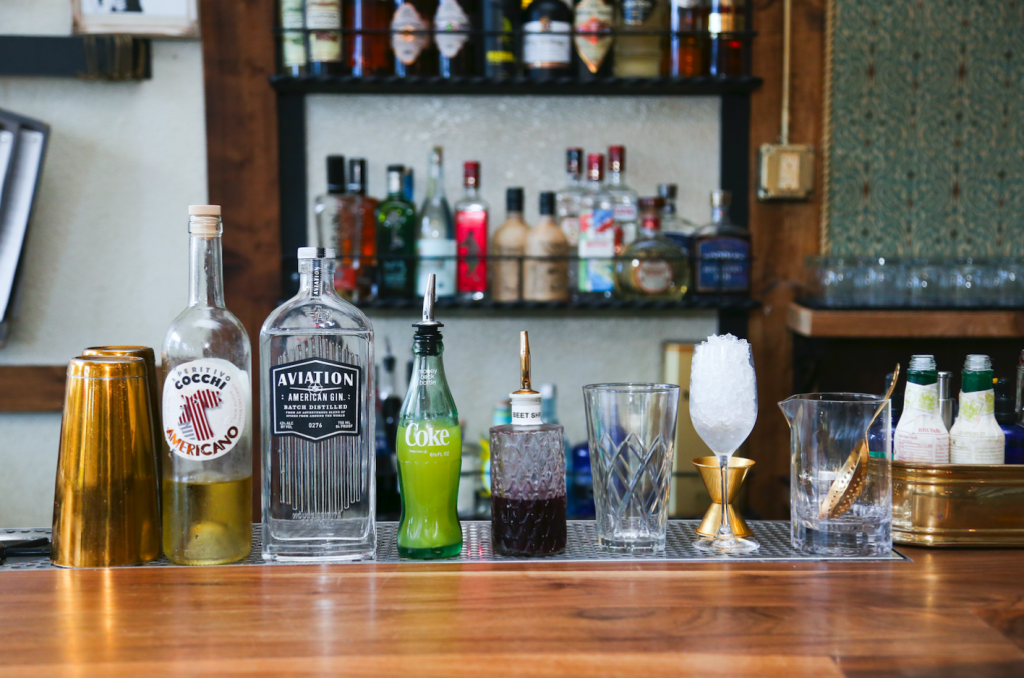 There's indeed a sense of historical exploration that goes on in Saxon, as many of these more traditional spirits are not usually found in modern bars serving mixed drinks. For example, Saxon shies away from vodka and instead puts a lot of focus on gin. "To really break through the market like we did before, we're more into a gin and tonic menu. People are getting away from the vodka thing."
To that end, Iglehart and the team at Saxon are creating a staple menu of cocktails that are outside the mainstream. "I wanted to create a menu that's smaller, but create modern classics," he said. For example, there's the 'War and Pisco', a drink with pisco (a brandy made in Peru and Chile), dry vermouth, grapefruit, elderflower liqueur, and green grapes — or the Philadelphia Squeaker, made with rosemary shrub, gin, Cocchi Americano (an Italian apertif wine), St-Germain (an elderflower liqueur), and lemon. "That's an awesome drink. It's like a Cosmo, a combo of sweet and sour. The idea is to create a balanced menu, and balanced cocktails."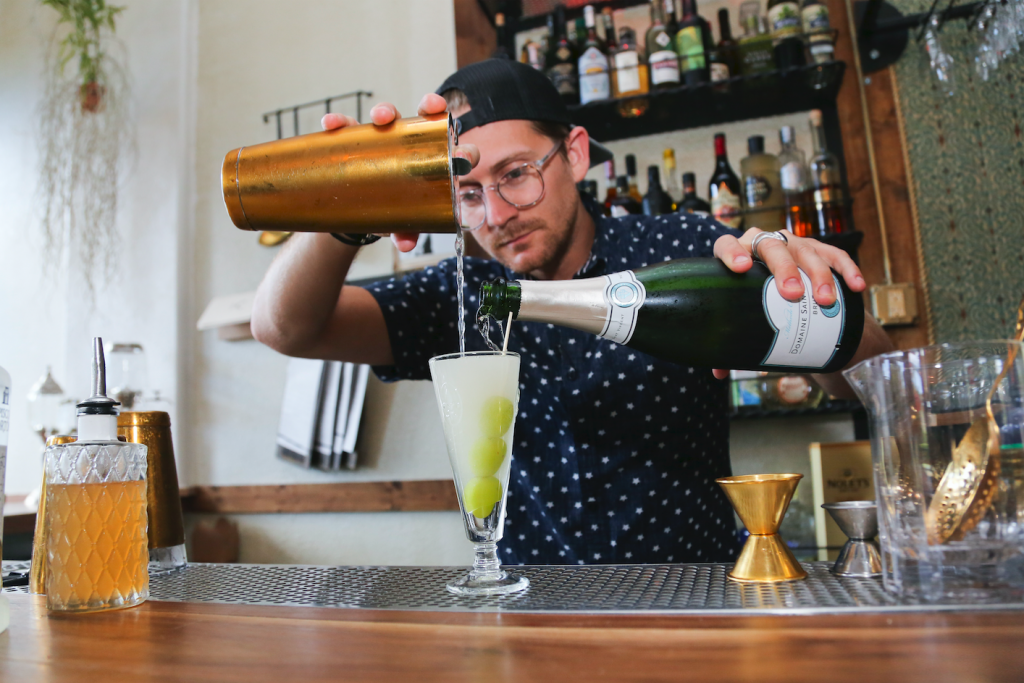 Though it might seem over-the-top, or a bit kitschy, Saxon has begun to offer themed concept menus throughout the year. "We take an event in history or a person or an era, and create a cocktail menu based around that concept. Our first one was Downtown Abbey. It was great to start off with that show — we could focus on brandy and gin." Then it was off to Studio 54, based off the iconic nightclub in New York City, featuring "off the wall" cocktails from the 70's. It's a concept that allows the bar staff to stretch their creative muscles.
Through the summer and into November, Saxon remains a very tight affair, only opening between 7 p.m. and 2 a.m. Friday and Saturday nights. Then, starting in season, the space opens up to include Wednesday and Thursday, while leaving the other days for special events and industry focused shindigs.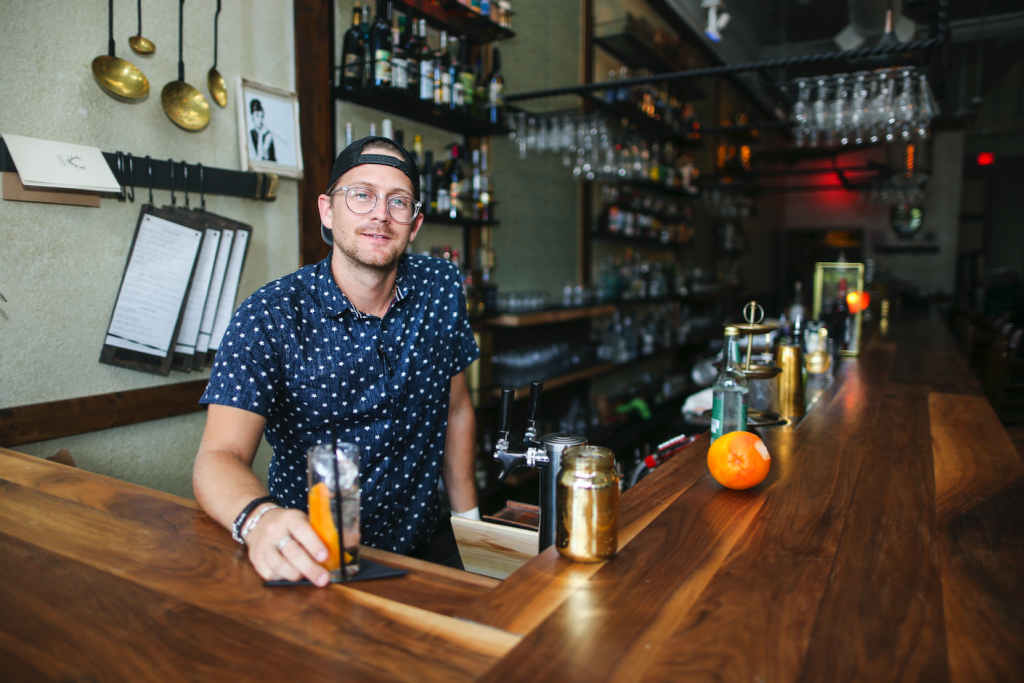 For Iglehart, Saxon will retain a special place in his arsenal. "[The space] is a little reminder that we want to conquer the cocktail culture."
Saxon is located right next door to Sweetwater Bar & Grill at 1507 S Federal Hwy, Boynton Beach, FL 33435
Follow em @sxn33