By Doug Fairall
Laser Wolf
Chris and Jordan Bellus have been slinging beers off Progresso Drive in Fort Lauderdale since 2011, where the brothers have managed to create something special.
Situated in an older off-white stuccoed building with a clay tile roof, from the outside the place looks straight out of Southern California. On the inside, a cozy angled space with prominent bar and glass blocks give rise to an atmosphere that's jerk-free and full of beer enthusiasts. Hipster? No, that word's retired now. These are regular folk looking for some damn good beer, and that's happening at Laser Wolf.
The owners are notorious for coming up with an appropriate spread of local and regional wares including Cigar City's Cubano Espresso Brown, Stone's Enjoy By, and Founders Devil Dancer.
While there is no kitchen on site, food trucks make it a frequent stop, so there's usually an excuse to just hang out into the wee hours.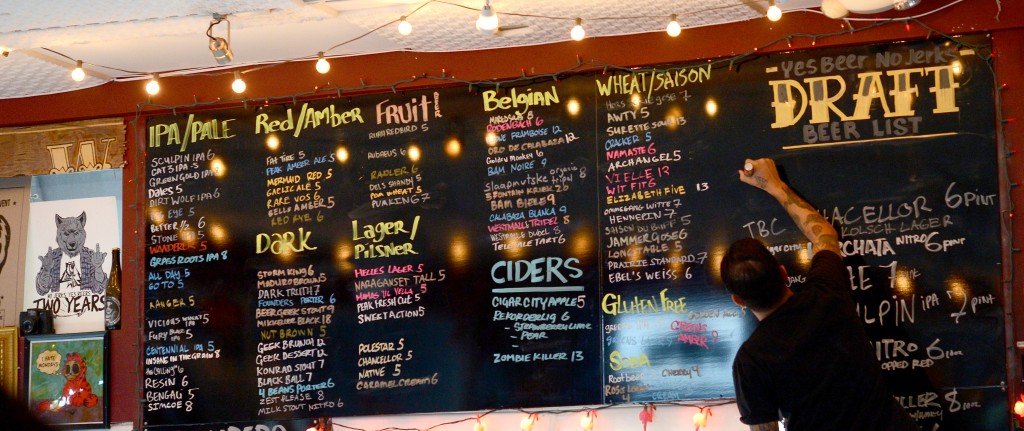 Over the years they've won numerous awards, including nabbing a highlight on Draft Magazine's list of America's 100 best beer bars for 2015, a feat that put them in the company of only one other Florida bar. Even all of that national attention won't change how things are done here, which is a good thing. Drink good beer, don't be a jerk, enough said.
The Brewhouse Gallery 
When it's time to relax and get slightly funky in Lake Park, there's no better place than Brewhouse Gallery. The art gallery-slash-live music venue holds its own as a source for incredible craft beer in central Palm Beach County.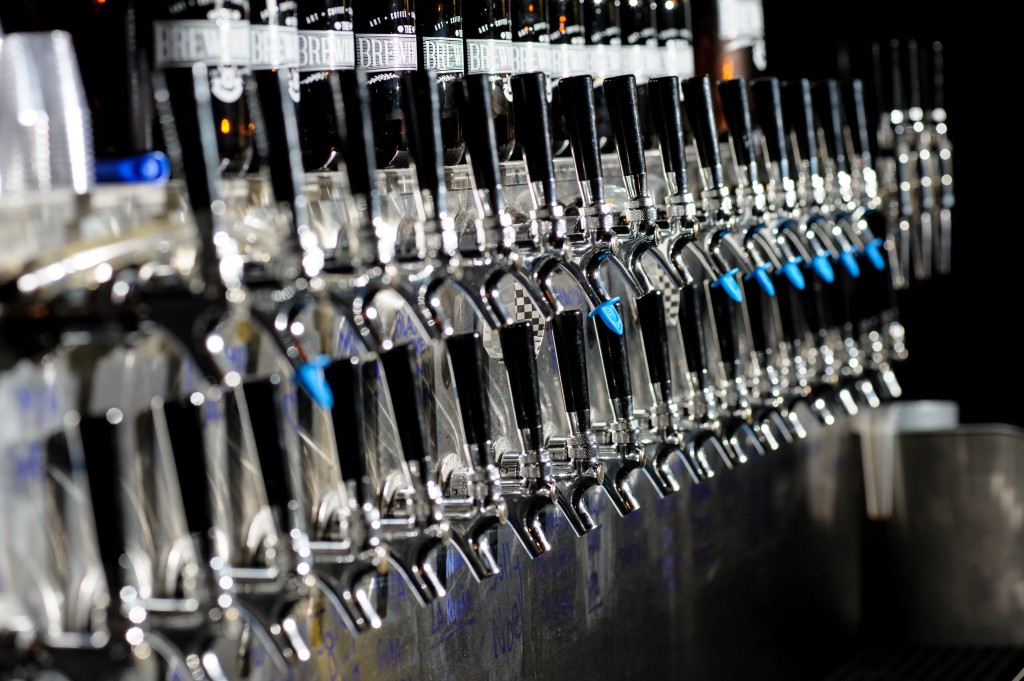 Described as "part eclectic hipster lounge, part modern New York art gallery," by owner and artist AJ Brockman, Brewhouse Gallery opened to acclaim in 2014, helping to transform the arts district of Lake Park into a destination for those seeking a bit of bohemian outside the regular drags of West Palm Beach. It's the place to have a great beer and soak in an artistic vibe without a wall of televisions, an atmosphere that is sorely lacking as of late.
The bar itself features dozens upon dozens of taps (52 at last count) for beers ranging from traditional wheat beers like Bell's Oberon and blonde ales like Wynwood Brewing's La Rubia, to sour winter warmers like Jolly Pumpkin's Noel de Calabaza and special releases from all over the world such as Italy's Brewfist Italian Ales. A vast majority is sourced in-state, with some impressive showings from both Miami and Tampa Bay area.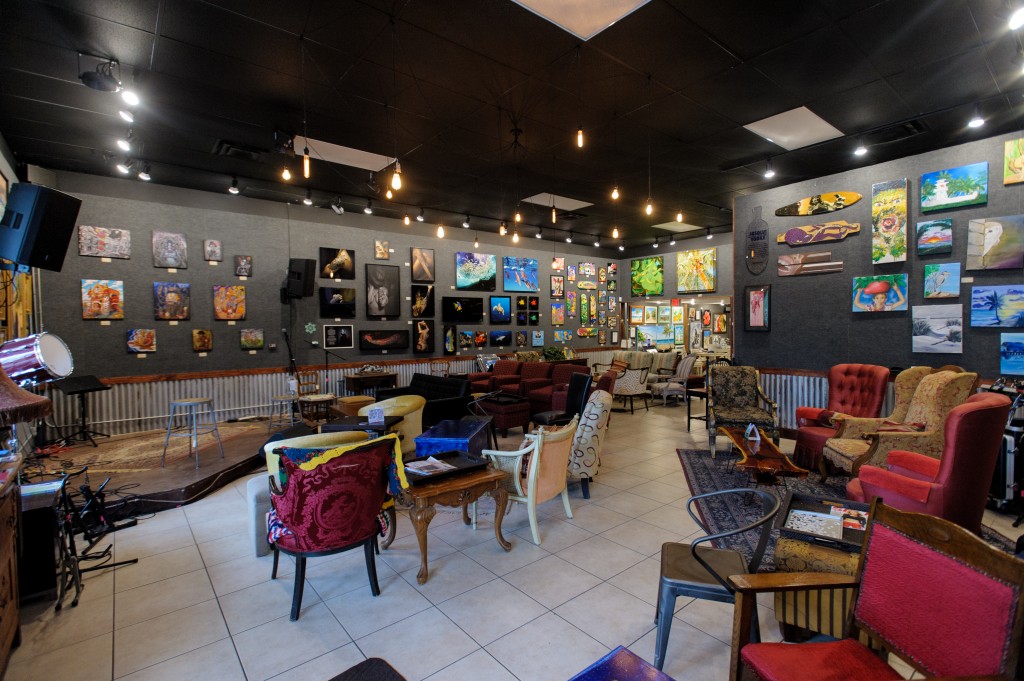 To complete the performance art piece, for those who want a preview of what kind of crowd to expect when you travel out there, the Brewhouse features a couple of live cameras scattered about the space where digital voyeurs can get their thrills.
Lion & Eagle Pub
The decor is decidedly British, the televisions are always showing a match of association football, and the beer is always flowing. That's the way things have been done at the Lion and Eagle Pub for years.
Nestled in one of east Boca's many strip malls just north of 20th Street, Lion and Eagle has slowly emerged as a craft beer haven after focusing on traditional pub beers for years. Now, Magners and Guinness sit side by side with Funky Buddha Nib Smuggler and Oskar Blues Pinner Throwback Session IPA.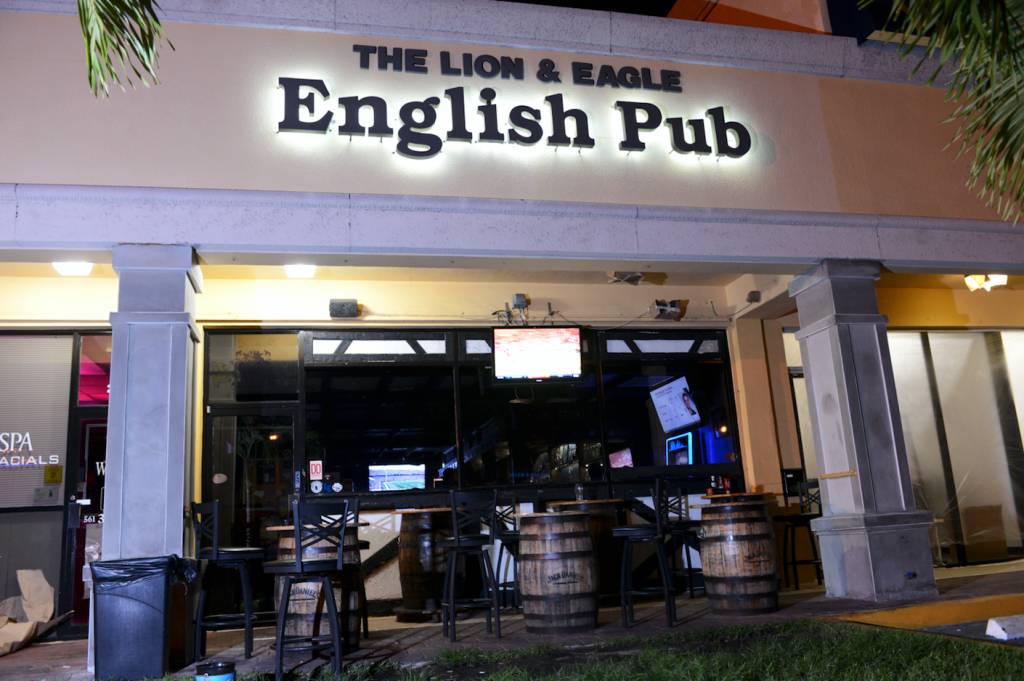 The change is welcomed by the local crowds who run the mix of European ex-pats to university students to local dog lovers. Yes, it's not such a rare occasion that you'll find patrons with their dogs enjoying a pint or two.
Lion and Eagle also seeks to supply one of the most robust can-centric lineups in the area, which, for fans of fresh beer, means that the good stuff will stay good for longer, and the risk of a light- struck bottle is out the window. Cans are cool.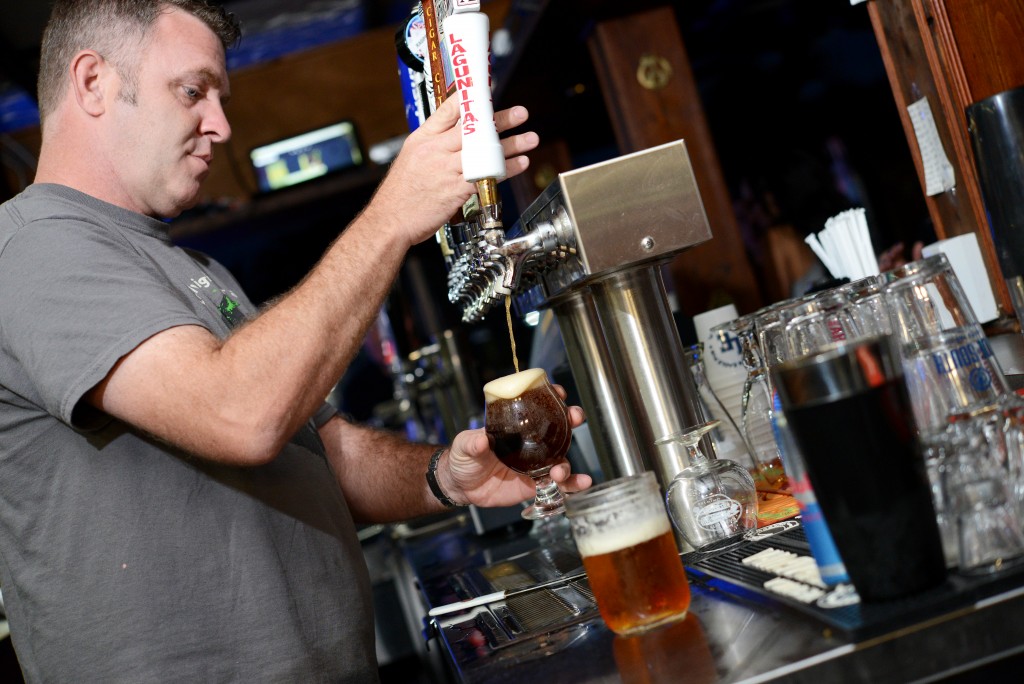 In addition to the plethora of alcoholic beverages, the kitchen works day and night to pump out traditional pub favorites, which are welcome when tackling the sometimes all-too-high alcohol beers that breweries are putting out these days. Fish and chips, scotch eggs, and the all important Full English Breakfast are a must-have when faced with the quandary of filling your stomach with something other than alcohol.
Riverside Market 
If you aren't looking for it, you'd never find it. What was once a run down convenience store in the middle of the Riverside neighborhood in Fort Lauderdale is now the epicenter of the craft beer enthusiasts world. Hundreds and hundreds of beers are stacked in over a dozen floor to ceiling refrigerators with every beer style imaginable in stock. From hefeweizen to gose to IPA to stout to barrel aged to fruited. It's all there. And if it's not, it's probably super rare, and owners Lisa and  Julian Siegel have it stashed away for a special release event.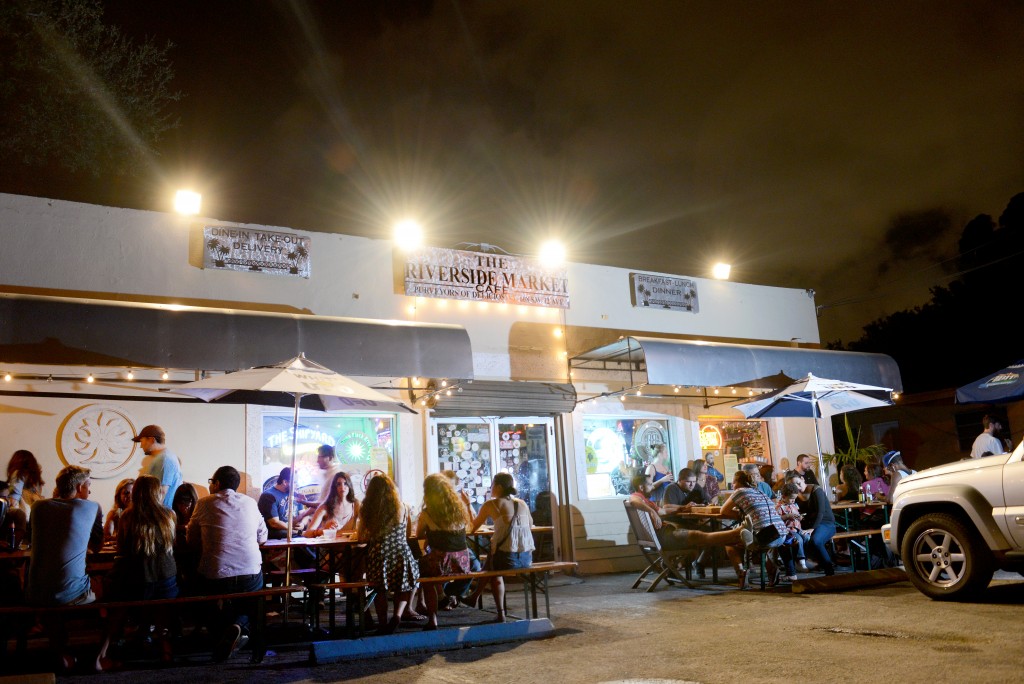 The open concept establishment, with tables and sofas taking up most of the space, is frequently jam packed with people making their way off the main streets of Las Olas and Broward to find a bit of comforting solace. Rich lawyers mingle with college-aged musicians who mingle with doctors who mingle with restaurant workers: it's a vibe where everyone's an equal under the umbrella of a good glass of well crafted beer.
Food is available as well, from a surprisingly well-stocked kitchen, and runs through the typical cafe-style menu items of sandwiches, tacos, and some pretty badass pizzas.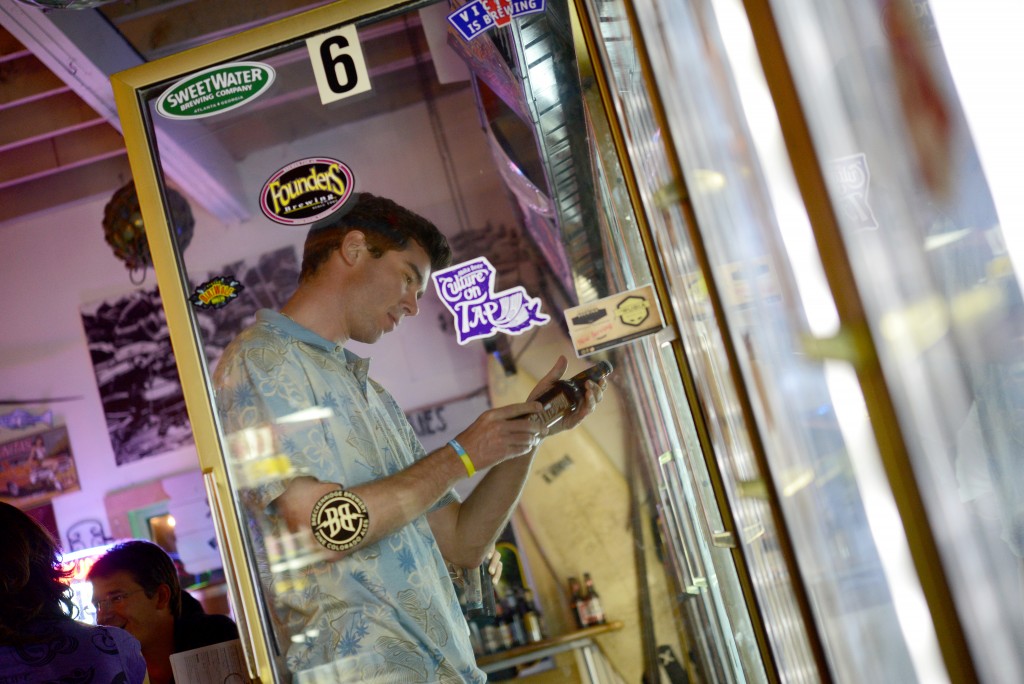 And the kicker to all of this? It's based on the honor system. You just grab your beer out of the cooler, pop it open from one of the many hanging bottle openers, and swig away. At the end of the night, collect your empties and cash out. It's almost like being at home.
Coffee District 
Just north of Atlantic Avenue in eastern Delray Beach is a small 1,600 square coffee shop that doubles as a craft beer bar. The coffee and tea make up the bulk of the daytime operations, and when the sun sets Coffee District pours forth out of 18 curated taps and dozens upon dozens of bottles ranging from the simple 12 ounce bottle to bombers to 750 milliliters.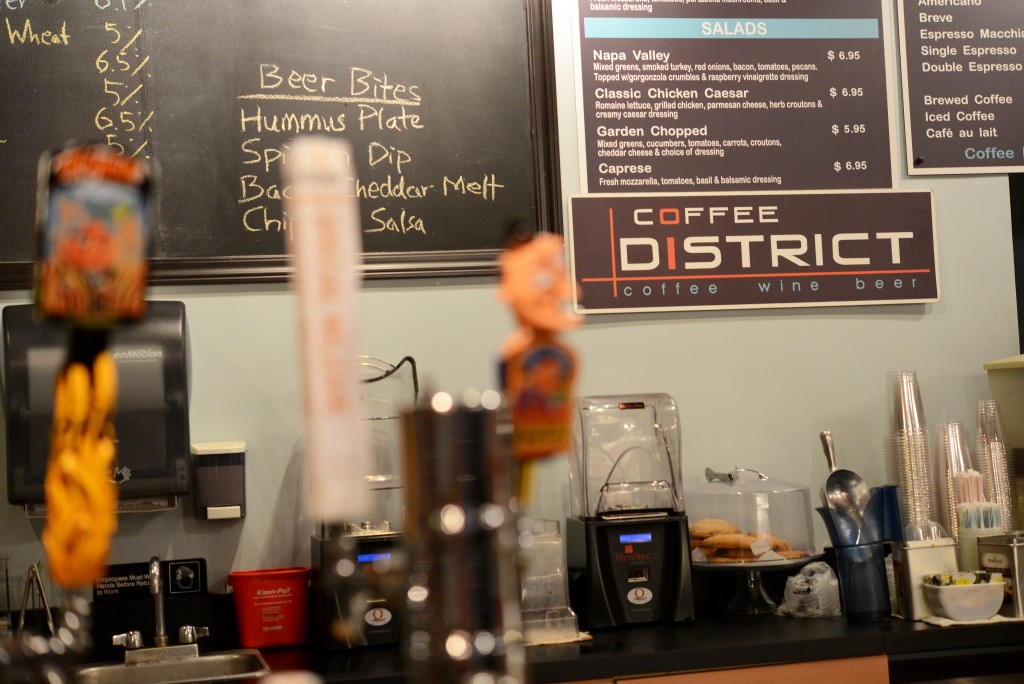 Run by the charismatic Chung, who loves to share his knowledge and educate those willing to sit down and enjoy a glass of beer, Coffee District is a worthy stop on the beer trail of Delray Beach.
For the longest time, Chung was one of the only establishments with a dedicated sour beer tap, rotating in and out of lambics, goses and other sour beers. He continues on that tradition in keeping an incredible array of uncommon kegs ready at a moment's notice to replace another that kicks. With beers like J Wakefield Symbiote Black IPA, Barrel of Monks S'Tart, Lost Coast Great White, and Great Divide Chocolate Oaked aged Yeti, they're bound to kick quick.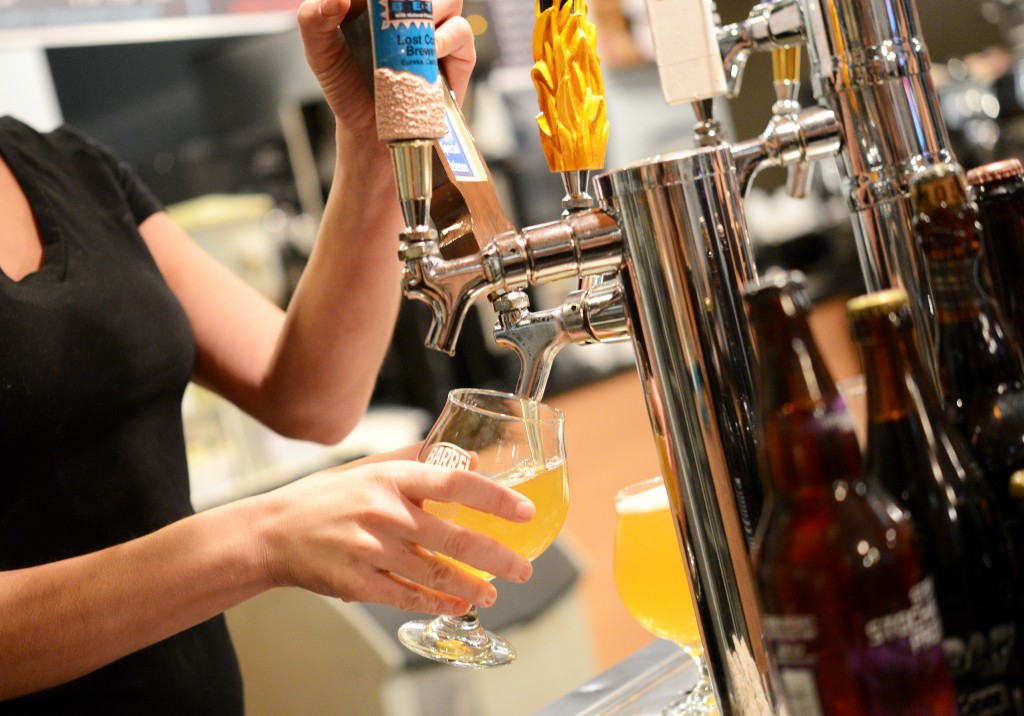 It's at Coffee District that locals seeking both kinds of buzz can easily transition from beer to coffee and not have to even leave their couch. It's this unique atmosphere that sets Coffee District apart from every other bar on the Ave.
Beer Trade Co. 
Half a block north of the main strip of 'The Ave' in Delray Beach, on NE 4th Avenue, lies an unassuming building that houses a hot gathering place for beer drinking locals in southern Palm Beach County. The Beer Trade Company, which opened in 2014, serves up grab-from-the-cooler beer following the honor system code perfected by southern neighbors The Riverside Market, alongside decadent pub grub like the beer-marinated chicken wings, house-made roasted and stuffed jalapeños, and pulled pork sliders with jalapeño red cabbage slaw. It's a mix to whet anyone's after work appetite.
Owners Gene Playter and Chris Sanchez are veterans in the food biz, having opened Gratify Gastropub in West Palm Beach, while having experience working for the Breakers in Palm Beach and Goose Island Brewing in Chicago. It's this mix of experience that has put them to work to create somewhere that seems to come straight out of Asheville, North Carolina.
There's as much seating inside as there is out, in true South Florida fashion, and ends up being a gathering spot for locals about town. The selection is always on point. Recently featured beers included Terrapin Maggie's Blackberry Cobbler and Points Unknown IPA from Stone Brewery, Ecliptic Brewing, and Wicked Weed Brewing.
It's a gathering spot in Delray Beach that won't break the bank, especially for the 20-somethings that seem to call it home. It's a perfect addition to the area that was much needed in Delray Beach.