About the Photographer:
Tony Arruza is blessed to have a passion for his work and with this comes a commitment to perfection. While perfection is never attained the challenge remains and it is in this challenge that Tony blends his visual sensitivity, his compassion for humanity and his love for nature into images that captivate, motivate and inspire. There is nothing false about his images; rather they are true to the rhythm of life.
Tony resides in West Palm Beach, Florida. He is a graduate of Florida Atlantic University and has spent close to thirty years working professionally as a photographer for editorial and commercial clients. His fine art work is collected by both private individuals and corporate companies and has had numerous one-man shows at galleries throughout the region. He controls the entire print process from precise image capture to print making and framing. Nothing is spared in quality. Besides his devotion to photography Tony loves surfing, adventure travel, a good bottle of wine and working on his golf game and yoga.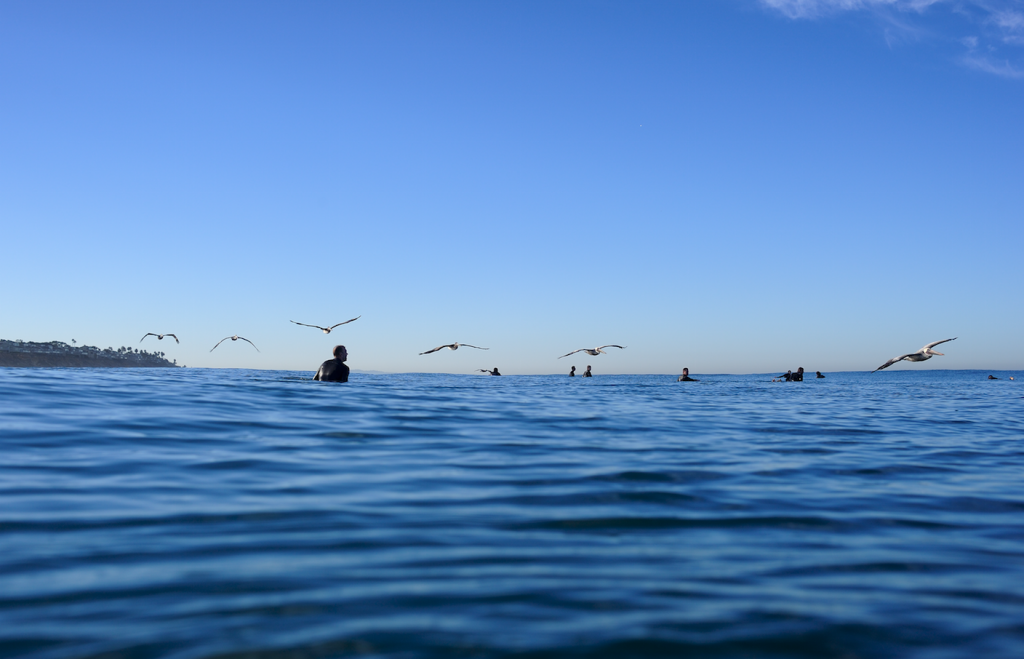 Recently, while in Southern California working on a couple of surfboards for my 15 Surfboards by 15 Shapers project, I kept noticing flocks of pelicans flying over the surf zone. Their graceful glide over the surface of the ocean using wind currents and pressure gradients has always mesmerized me and thought it would be beautiful to photograph them from a surfers perspective, that is, from the water. More challenging, however, would be to try and juxtapose them with surfers and waves. One clear morning with glassy head high waves at Carlsbad beach I swam out to the breaking zone. I carried with me a Nikon D3s camera body with a 35mm f/2.0 Nikkor lens encased in a custom made SPL water housing. It was hard seeing the flocks of pelicans fly in as only my head was above the surface of the water but come they did. It was then a matter of lining up the surfers and pelicans in one shot or, even more difficult, lining up a surfer on a wave with the pelicans. Eventually a few opportunities presented themselves and I was able to capture them. Technically I shot on aperture priority with the aperture set at f/6.3 and the ISO set at 200. Shutter speed, set by the camera, was 1/800 of a second. This is a beautiful image to me because it shows the three elements: surfer, wave and pelicans, demanding equal attention from the viewer though gladly letting the others bask in the moment. It's about beauty, fun and coexistence.