DO TRY THIS AT HOME
Hibiscus StrEATery is a seafood market, café and catering operation that doesn't pull punches when it comes to delivering some of the best seafood in town. After all, they operate alongside the famous Food Shack and Leftover's Cafe under the Little Moir's umbrella. The menu changes daily but always has the classics (read: tuna basil roll) on deck. And if you're worried about pulling off these dishes, you can always cruise to Hibiscus StrEATery and let the pros make it for you.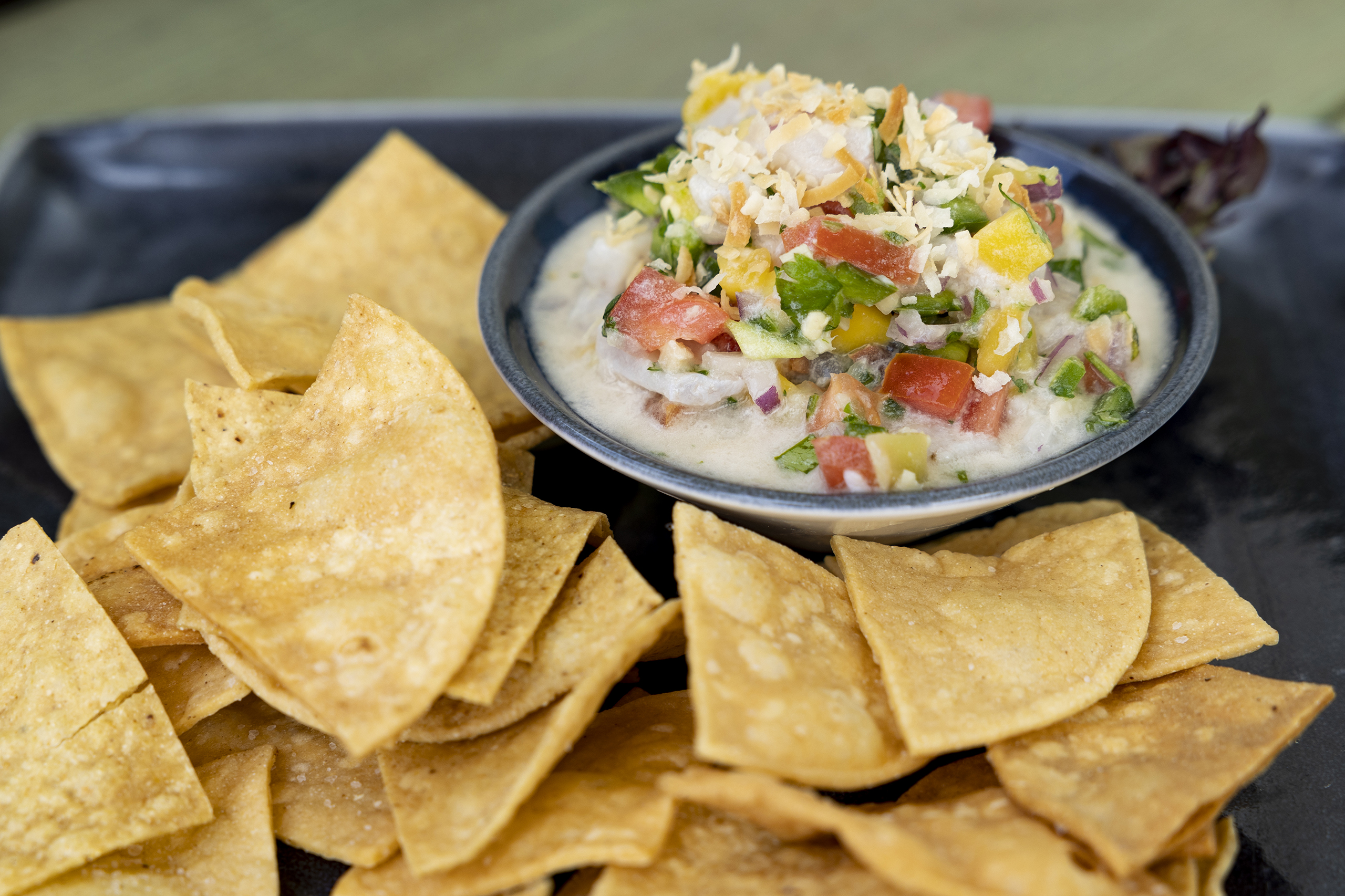 Coconut Milk Fish Ceviche
BY: CHEF MIKE MOIR
1 lb fish such as tuna, wahoo or corvina
1 lemon (roll ahead to loosen the juice)
1 lime (roll ahead to
loosen the juice)
1⁄2 medium red onion, diced 1 whole tomato, diced
2oz piece of ginger, peeled and grated
6 sprigs of cilantro, chopped (leaves and stems)
salt & pepper to taste
red chili
1 jalapeno or any hot sauce you like (adjust amount to control heat level)
1⁄2 a mango or apple (optional) 3oz coconut milk (shake can, make sure it is pure milk, do not use imitation)
1oz toasted shredded coconut for garnish
INSTRUCTIONS:
Evenly dice up fish into 1⁄2" cubes, place in a bowl and season with salt, let stand for 5 minutes. This will seal the outside of the fish, making it a little firmer in texture. Squeeze juice of 1 lemon and 1 lime onto the fish and mix. Add the onion, tomato, ginger, cilantro, peppers or hot sauce, mango or apple, if using, and coconut milk and lightly toss. Taste and adjust spice and salt to your liking. Serve immediately or refrigerate, consume within 2 days.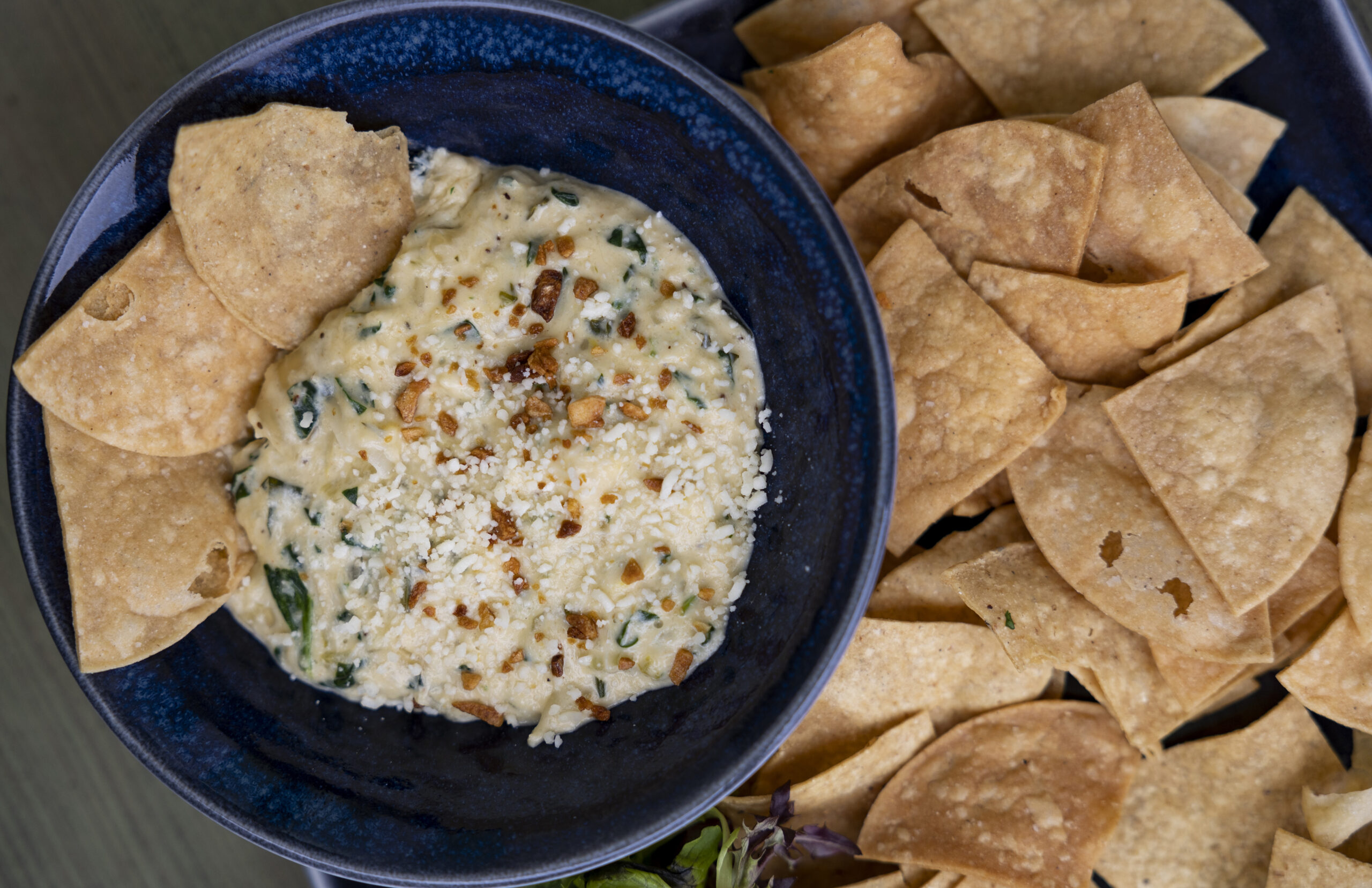 Little Moir's Hibiscus St. Crab Dip
BY: CHEF MIKE MURGIO
8-10oz of lump crab
(can substitute shrimp)
1 tablespoon garlic
2 stalks celery, finely diced
1 medium onion, finely diced 1/3 cup white wine
8oz cream cheese
1/3 cup parmesan cheese
3oz flat leaf Italian parsley
1 tablespoon Old Bay
2 lemons, zested and juiced
1⁄4 cup panko breadcrumbs
salt and pepper to taste
INSTRUCTIONS:
Sauté onions, celery and garlic for 5-10 minutes over medium high heat, deglaze with white wine, let liquid cook down for 3-5 minutes, remove mixture from heat, set aside to chill.
Mix crab, cream cheese, parmesan cheese, parsley, Old Bay, lemon zest and lemon juice. Combine onion, celery and garlic mixture to crab and cheese mix once it is cooled down. Slowly add in panko breadcrumbs to desired texture.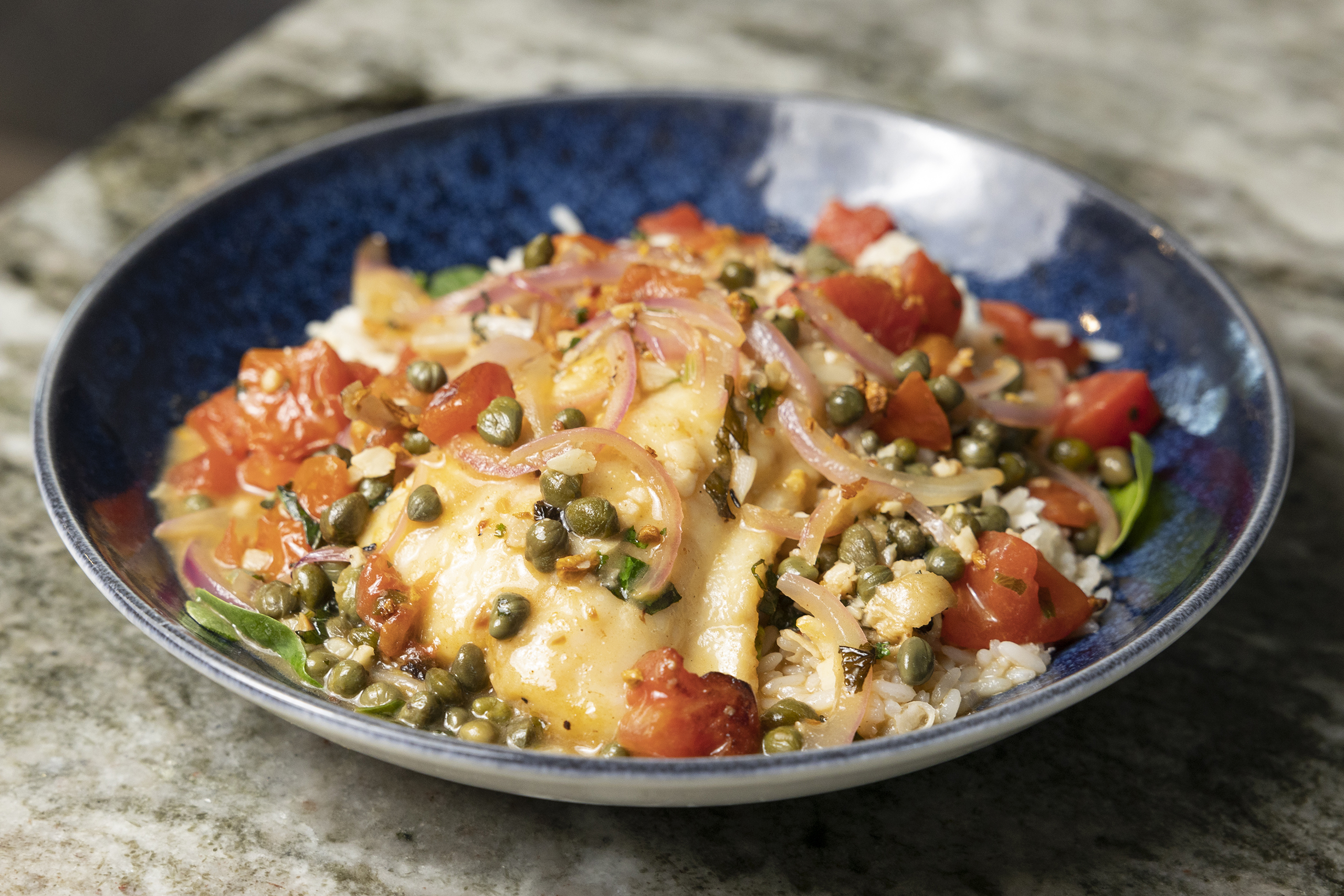 Sautéed Fish
BY: CHEF MIKE MURGIO
1lb of fish
(snapper, tilefish, grouper are all good choices)
flour
4oz butter, divided
2oz tomato, chopped
2-4 cloves of garlic, minced
2oz capers
2oz red onion
1 lemon, juiced
4oz white wine
INSTRUCTIONS:
Coat fish with flour. Add 2oz of butter to a pan on medium high heat, sauté fish on each side approximately 4-6 minutes a side depending on thickness. Add garlic, tomato, capers, and onions; sauté lightly for 1 minute; deglaze pan with white wine and lemon juice. Add remaining butter and finish sautéing until butter is incorporated in sauce. Serve over spinach and rice.