Surfy Birdy: RETRO RIDES AND FLYING HIGH
by Darien Davies
If you're Rachel Dejohn, you're riding the ultimate wave of life. Born to parents who love art, surfing and exploring, it was almost a given that she would spend her life focusing on experiences, enjoyment and, of course, connecting to the environment and people through art. And Surfy Birdy, her alter ego, perfectly
embodies just that.
"I just always liked the word 'surfy.' It's like a feeling of being immersed in the surf but in a fun playful way, and 'birdy' as a feeling of being free, like a free 'surfing' bird," said Dejohn. "I liked the ring to it and it just stuck, sometimes people call me surfy and I like it. It just connects with me more for my art than my normal name."
Her art is reminiscent of the retro and hippie period of the 1960s and 1970s, and is not only a way for her to share love and light, but also for the viewer to soak in peace and love and dream of everything beautiful in life.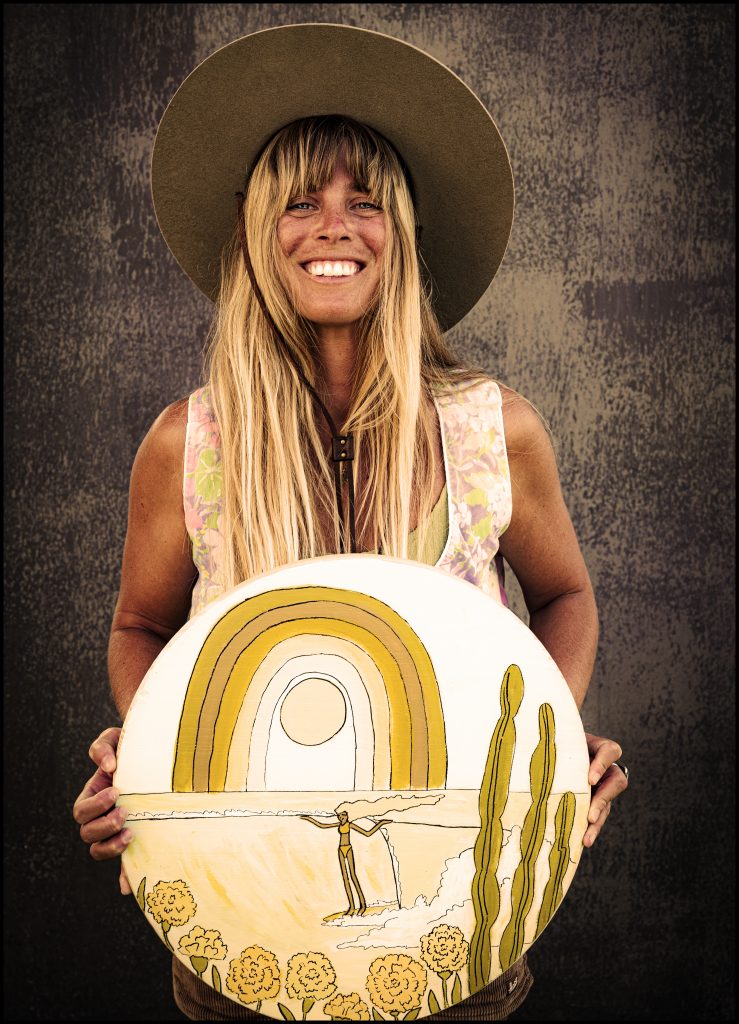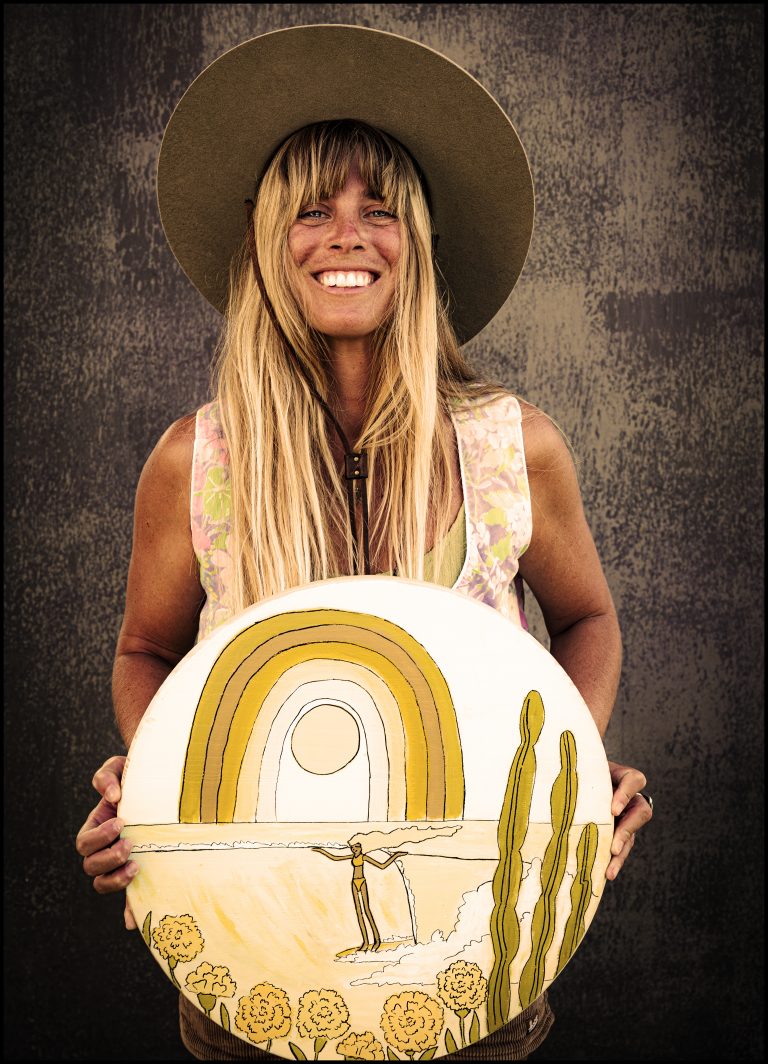 "I've always been fascinated with the '60s/'70s peace and love era. I look up to the peace advocates of that day who stood up for peace, and am inspired by John Lennon, Jimi Hendrix, MLK, Peter Max art, Ram Das, and many others," Dejohn said. "I also got my love of retro from my mom. She handed down some retro flower suitcases that I still like to use. My great grandmother was a quilter using bits of retro flower clothes my mom wore in the '60s, and those always make my heart smile. My dad had a box of retro surf magazines he saved growing up. That all continues to inspire me. I love look- ing back at old surf mags and seeing photos of surfers like Gerry Lopez just shredding on a tiny single fin with such style. I have a bit of a retro color palette, I gravitate to my favorite color mustard yellow and just go from there, using olive green, rusty orange, coral pink. These colors feel warm and positive to me and I hope people look at my art and smile, feel a peaceful feeling, and dream."
At the same early age she and her sister were diving into the ocean, she also dove into art, drawing and painting the landscapes of her family's camping trips by the ocean. Art was just something that always stuck with her, and grew from painting for her family and friends for holidays to a live painting opportunity at a local music festival when she was 18. From there, she just kept immersing herself in more art shows and music festivals until she eventually got more of the surfing bug, transitioning her art path into more pop-ups from her van when she's not chasing waves.
"When I travel different places, I've learned the best way to do it, to really soak up the moments and be as present as I can, is to live there at least a few months. It's not always easy and sometimes you plan to stay two months but end up five months or so, like when I went to New Zealand, but you just have to flow with life, take the moments and live as fully as you can," said Dejohn, who finds beauty in the nomadic lifestyle but says that her family and heart always remain in Florida. "When I travel to new places it fuels my creativity. I love to sit and draw, and take all of it in. I also love exploring new areas and finding local green markets, and at the end of a stay I like to do a pop-up with new art that was inspired from my stay. It feels so nice to connect with other creatives in these different places that feel like part of you as you go on in life."
She allows the inspiration of her surroundings to speak to her, which not only include nature, people and the sea, but also simple living, tiny homes, A-frame houses, retro vehicles, old surfing films, and thrifted retro floral sheets. She pays attention to what speaks to her heart and also indulges in a good ol' fashioned daydream in the natural environment.
"If I look back there's been a lot of just moments of 'I can do this' more so than 'I made it,' but from the first time I sat at a music festival painting in the grass and seeing people come up and appreciate it and bring smiles to faces, it kept me going," Dejohn said. "I did more festivals, worked with IWAN Art gallery, and kept creating. I've done some large craft shows and lately I like to just pop up with my art in front of my '93 Ford Econoline Van. Still spreading my art hoping to spread peace and inspire adventure, just as I am wandering and hoping to find some glassy waves and sunshine. My van's always ready for adventure with my longboard and art. There's been so many special moments on my art path, so many people who have inspired me along the way, I'm just thankful for all of it, and it keeps me creating."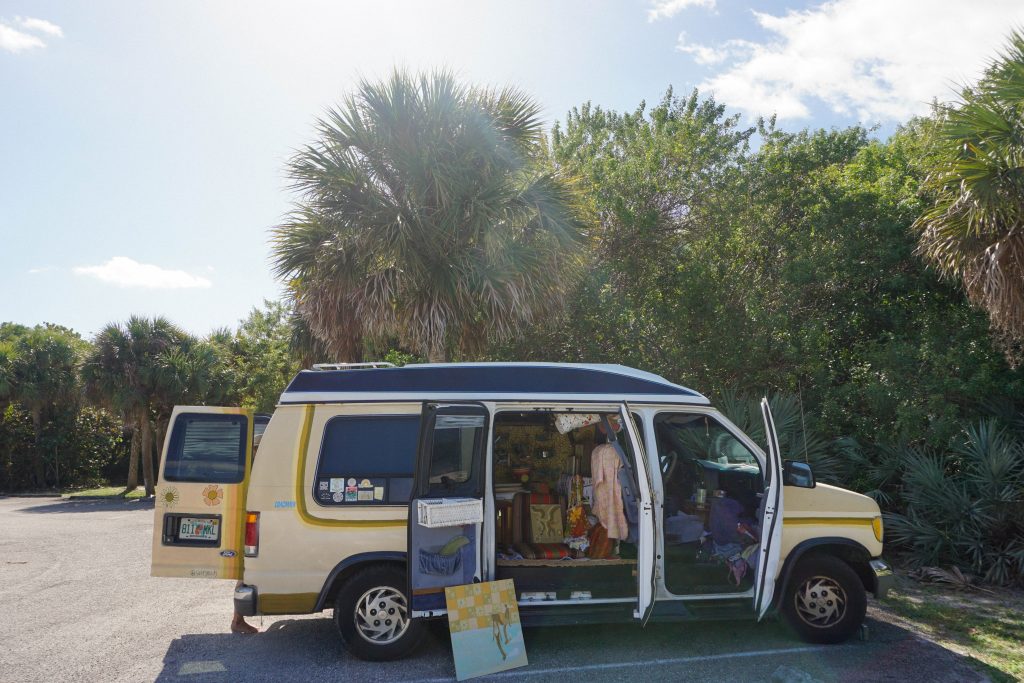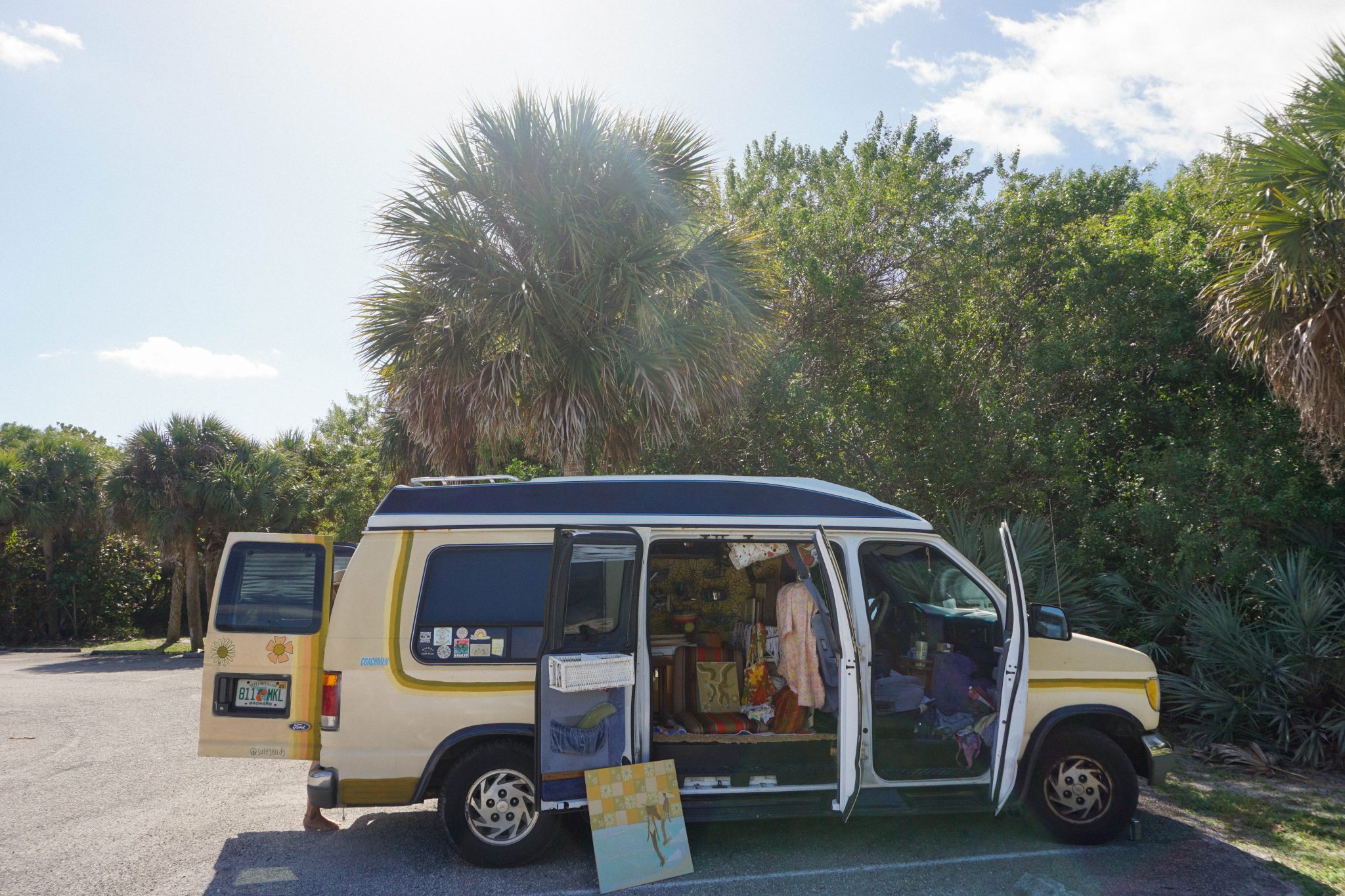 And her continued creations – with the help of Instagram – have landed her some large collaborations, including two designs for Patagonia and a skateboard design for Impala Skateboards (with Globe International) that is now available nationally and internationally. She's also collaborated on custom designs and logos, and loves being able to help someone's vision come to life and share the final stoked feeling together.
"Times are definitely changing and feeling a bit weird. It's made me want to just create more and bring more smiles to any one who needs it," Dejohn said. "I have tough days but I know what the world needs is more love, so I will keep giving that as much as I can."
What's not to love, anyway? Her art is full of peace, love, soul and happiness. It feels good for her to make it, and it feels good for people to appreciate it. And when you look at Surfy Birdy's art, you can't help but feel a little better.
"My biggest hope is to spread peace and love. My art may be of a place I visited like Costa Rica, New Zealand, Hawaii, California, but what I hope someone feels is the peaceful energy I found there, the magic of that place. I try to take it all in and share it the best I can," Dejohn said. "It's my passion so it gives me life."