Let's Get Vegan With It
By Caroline Bell
Veganism, gluten-free and keto diets are taking the country by storm, and many restaurants are encouraged to follow suit. Even the hamburger, a staple of the American diet, isn't safe from this rapidly growing movement. Vegan burgers are seen as more environmentally friendly than traditional hamburgers, which is why animal-rights supporters and environmentalists have chosen to follow a meat-free diet. Vegan burgers are typically made from beans, tofu, nuts, grains or even mushrooms, and are giving meat-lovers a run for their moo-ney. Looking to test them out for yourself? Here are the top five vegan burgers in Palm Beach & Broward County:
Charm City: Charm City Burger Company is known for it's over the top burgers, sides and desserts. Located on East Hillsboro Boulevard in Deerfield Beach, it's a small and casual joint that looks unassuming from the outside, however, don't let that fool you. Inside you'll find wacky burger combinations, decadent sides (mac and cheese bites, anyone?) and a colorful flair. Their veggie burger, nicknamed "The Hippie," is only $6.95 and contains a vegetarian patty and a blend of mushrooms, oats, black beans and herbs.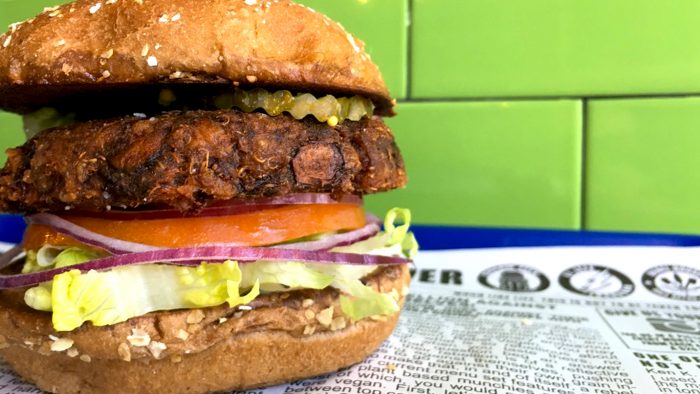 Yard House: This restaurant, located in Mizner Park in Boca Raton, serves plenty of American favorites such as onion rings, mac and cheese and fried chicken. The restaurant is a little more upscale than the previous restaurants mentioned, but equally as delicious. For $16.45, you can enjoy "The Beyond Burger," which is a vegan patty served with pickles, vegan mozzarella, red onions, tomato, arugula and smashed avocado on a bun with a side salad. A gluten-free bun is also available upon request.
Tucker Duke's: This casual burger joint is located right off Federal Highway in Boca, in between N.E. 20th Street and Glades Road. Don't let the casual environment fool you, as Tucker Duke's takes their burger business very seriously. Each burger is piled high with patties and toppings on a crisp bun. Almost all of their burgers can be substituted with a vegan "impossible" patty made with chickpeas. Their vegetarian burger, called "the Sami," contains feta cheese, pickled vegetables, cilantro mayo, spring mix and tomato. For the true vegan experience, ask your server to hold the cheese. The burger is $12 with an extra $4.50 to substitute vegan patty.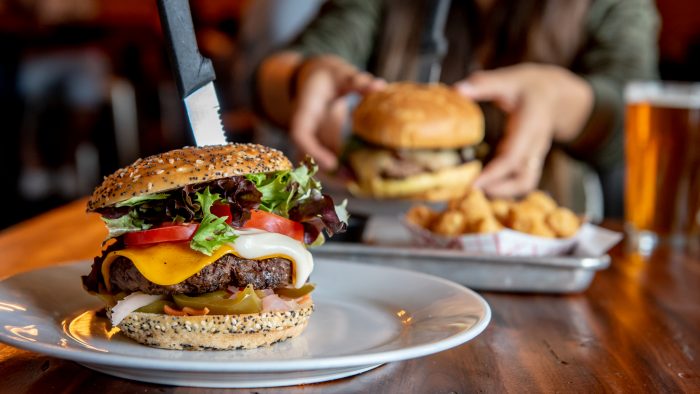 Veg Eats: This new vegan-friendly restaurant is located in Delray Beach on the Northeast side of Linton Boulevard and South Federal Highway. The restaurant team prides themselves on cooking healthy, plant-based comfort foods. This casual eatery is small in size, but lacks nothing in terms of decorations. Guests can sit in cushioned wicker chairs and order off the mostly vegetarian menu. Their vegan burger, called the "I've missed You Burger!" is a vegan patty with lettuce, tomato, red onion, pickles and vegan mayo served on a toasted bun. The entree is $14 and comes with a side of french fries.
Farmer's Table: Located inside the Wyndham Hotel off Military Trail in Boca Raton, this restaurant team prides themselves on serving fresh, seasonal farm-to-table food. This is definitely a higher-end restaurant fit for special occasions. The lunch menu includes a $13 Falafel burger made with – you guessed it! – falafel. The burger comes on a vegan bun with Sesame-Chile aioli and tomato cilantro relish.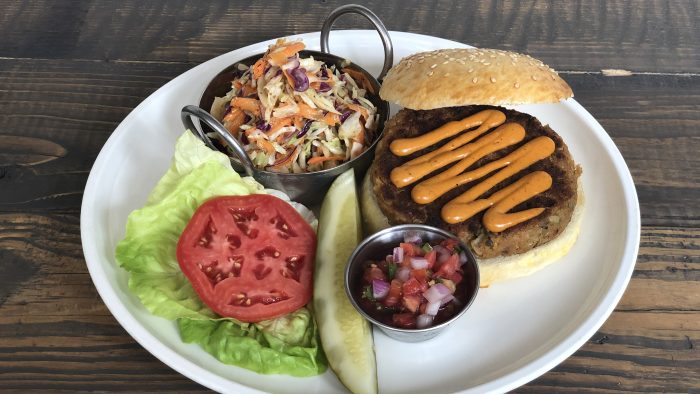 Now that you know where to find the best vegan burgers in Palm Beach County, what are you waiting for? Get out there and expand your meat-free palate!