By David Rolland
The taco has been a favorite finger food since before Europeans settled in America. Anthropologists found evidence that native people in Mexico were eating tacos filled with small fish centuries ago. In South Florida, we're continuing this tradition. Here are 10 places serving unique and tasty tacos.
Located in West Palm Beach on 3715 S. Dixie Highway, Cholo Soy Cocina was started by chef Clayton Carnes. Carnes told The Atlantic Current its origins, stating "I wanted something in the Latin street food vein. I wanted something small and quaint so if stuff went down and for some reason everyone on staff quit, I could do it all myself. I didn't want the headaches of a big restaurant or fine dining." You get two tacos per order with prices ranging from $7-$12 with varieties including a pork belly taco with pickled papaya and peppers, pescadito frito that is tempura fried with pickled pineapple salsa, and a short rib taco with braised beef, spicy mayo, green papaya and queso fresco. Make sure to take advantage of their margaritas on tap, about which Carnes said, "I saw other places doing that and I always wondered, why isn't everybody else? Once I found out how a keg worked and it was no longer a mystery, I got a margarita formula down and started kegging margaritas."
Owners Ricky Perez and Niria Proa started Zipitio's with the goal of sharing a bit of their Mexican and Central American culture and creativity through their food. It is situated in West Palm's Grandview Public Market, which was South Florida's first food hall. Zipitios offers four different tacos including the least expensive Chicken Tinga, made with shredded chicken, queso fresco and cilantro aioli, and a vegetarian option called the Garibaldi, with coconut curry chickpeas, Valentina aioli, and crispy onions, both for $7.50. The $8 El Tunco has pulled pork with pickled slaw, house BBQ molé sauce, and crispy chicharron bits, and for $9 you can get Carne Guisado, which is stewed steak with pickled red onion, and tomatillo salsa verde.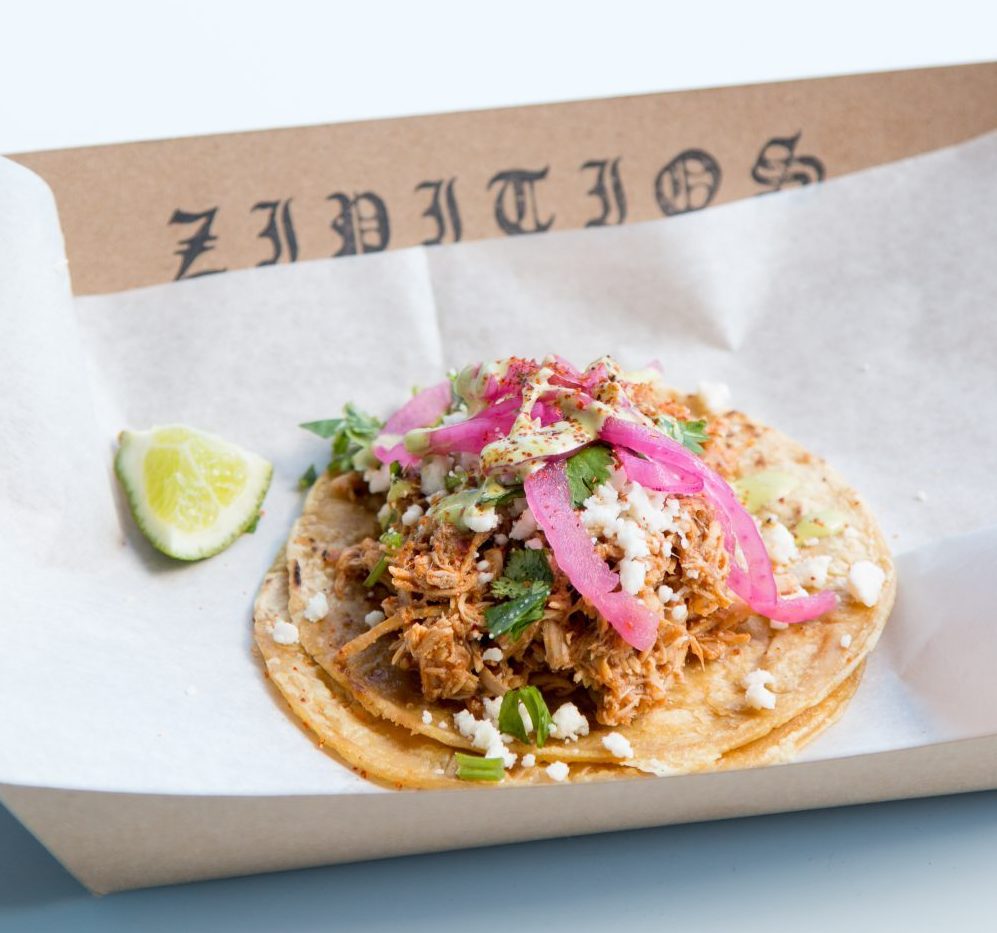 The Palm Beach Gardens taqueria is located on 10800 N. Military Trail. Owned by a Venezuelan family, Co-owner Peter Tapia told the Palm Beach Post when they opened in 2017, "We've been eating Mexican food since we were kids, it's one of the most amazing tasting foods I've ever had in my life." Their tacos are $2.75 a pop but you have the option of getting extra meat for another dollar. The taco options include Al pastor (spicy pork with pineapples), Carnitas (pulled pork), Barbacoa (braised beef), Pollo (shredded chicken), Carne asada (grilled steak), Chorizo (spicy Mexican sausage), and vegetarian.
Avocado Grill has two locations, one in Palm Beach Gardens on 11701 Lake Victoria Gardens Ave., and another in West Palm on 125 Datura St. They advertise themselves as a farm-to-table restaurant with their website proclaiming, "We take pride in our artisanal menu featuring locally sourced, handpicked ingredients. As part of Avocado Grill's mission and vision, serving farm-to-table fare benefits not only our valued patrons and guests, but also our local and global environments." For $13, they offer four choices of craft tacos including grilled steak tacos with roasted corn tomato salsa and chipotle crema, or crispy fish tacos with avocado, lime ginger sauce, tropical fruit salsa, and slaw.
This Deerfield Beach restaurant can be found on 27 S. Federal Highway and advertises itself as "selling the most authentic Mexican street food around." Their individual tacos go for $2.95 and are served in grilled white corn tortillas with cotija cheese, cilantro, onion and your choice of protein. If you're looking for some variety, they also offer seven different chef specialty tacos that range from $3.95 to $4.50 and include a catch of the day, crispy pork belly, lamb barbacoa, Angus skirt steak, Korean fried chicken, el Don Hamburgeso, and a shrimp taco.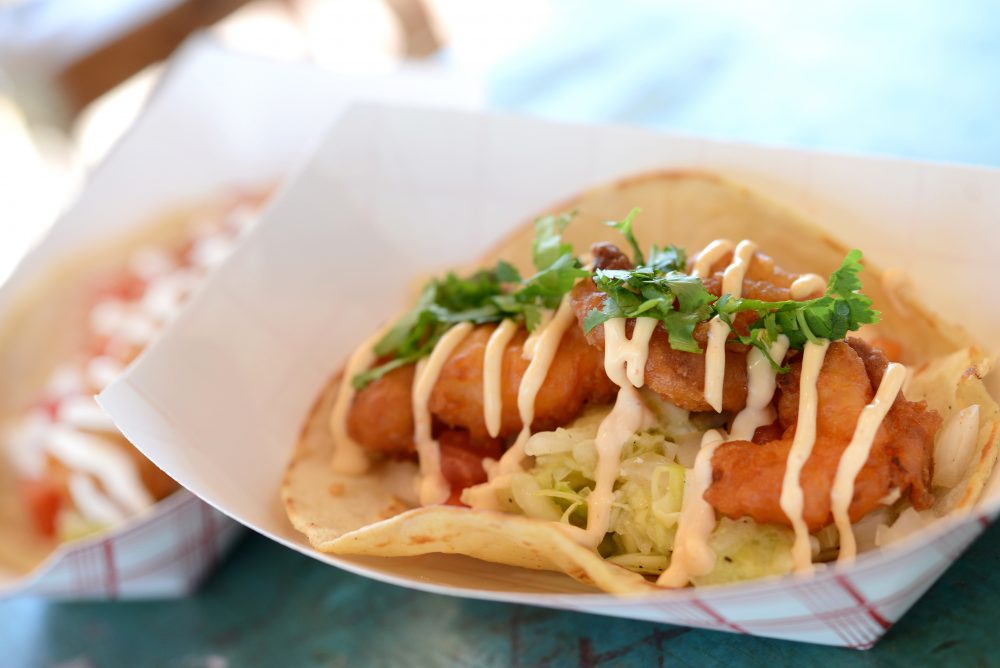 The Fort Lauderdale taqueria and tequila bar is found on 204 S.W. Second St. TacoCraft proclaims on their site that "Every tortilla is hand-crafted by Mexican senoras who have been taught by their mothers and grandmothers. TacoCraft features modern interpretations of street food classics and utilizes the best available local, seasonal and sustainable ingredients." They have 13 different tacos daily, including a pork belly and ahi tuna taco. Vegetarians will be pleased to try their kale & sweet potato taco or their exotic shroom taco. Each day of the week they also have a special daily taco offering a tofu taco on Mondays, lobster tempura on Fridays, and duck confit on Saturdays. Prices range from $3.75 to $5 per taco.
Located on 1556 US Highway 1 in Jupiter, PapiChulo Tacos is open 7 days a week, from 11 a.m. to 10 p.m. Sunday through Thursday, and 11 a.m. to 11 p.m. Friday and Saturday. Scott Frielich, Vice President of the Subculture Group, told us he didn't want PapiChulo Tacos to be your grandfather's taqueria. "We definitely did not want to be authentic, but wanted to be more California street food-style, using unique combinations of fruits, meats and vegetables," Frielich said. "We make everything in house, including our chips and tortillas." He recommends the Gringo Freedom taco, with Kobe beef, pico de gallo, cheddar and jack cheese, sour cream, lettuce and a hard shell taco ($4).
Open at 4 p.m. on weekdays and 12 p.m. on weekends, Papa's Raw Bar at 4610 N. Federal Highway in Lighthouse Point is a seafood restaurant, but also serves interesting tacos. Or, as their menu bills it, "the most interesting tacos." Each taco is served on corn tortillas with shredded cabbage and chipotle mayo. For $5 you can get pork belly, shrimp or today's catch, while $7 nets you lobster or conch tacos. Add an extra dollar to "make it Matt's way" with bacon, avocado, and Yum Yum sauce. All of their tacos are blackened with pico de gallo, or panko or beer battered with Georgia Peach salsa.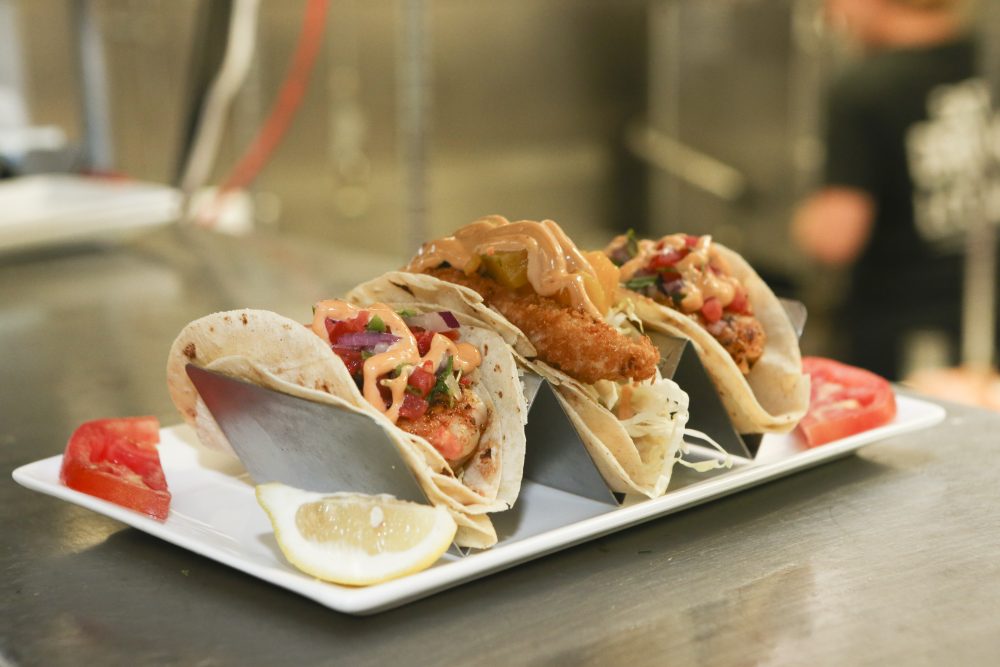 Started in New Jersey in 2001, Surf Taco branched out to 4050 S. US Highway 1 in Jupiter as its one Florida franchise. They're open from 11 a.m. to 9 p.m. weeknights and until 9:30 on Friday and Saturday nights. Their menu features 13 variations on the taco including mahi, salmon, buffalo chicken, garlic shrimp and the veggie taco. Prices range from $3.95 for the beef taco to $5.75 for garlic shrimp or mahi taco.
Kapow! Noodle Bar started in Boca Raton at 431 Plaza Real and in 2017 opened a second location in West Palm at 519 Clematis St. Owner Scott Frielich explained the restaurant's concept in an interview with Yelp as inspired by "reading about the noodle bar craze that was happening across the country, and being a fan of ramen and pho, I decided to check out a few restaurants in NYC." Their Gyoza Tacos are $13 for three tacos and include three varieties: Spicy Skirt Steak includes aji amarillo, serrano, and pickled red onion; the Ahi Tuna Poke has avocado, tosazu, and sesame; and the Salmon Tartare features spicy mayo, avocado, truffle oil, and eel sauce.