FERVOR FOR THE G&T AT KAPOW! NOODLE BAR IS HER LIFE-LONG BARTENDING TONIC
By Darien Davies
If there ever was a mad scientist behind a bar, Angela Dugan is that person. She loves creating, and is so dedicated to the process that she literally starts from the ground up with the end goal always in mind: pushing the cocktail envelope.
The Oklahoma native moved to Las Vegas to work on her masters in holistic nutrition, but also picked up a bartending job to make it through grad school. After a few years in Vegas and needing a change, she found herself working at Disney in Orlando, before being hired as a corporate trainer for a pizza franchise, Pizza Fusion. Little did she know that the person who hired her for that job, Vaughan Dugan, would later become her husband and partner in Kapow! Noodle Bar.
While she didn't create the original opening cocktail menu, she did start getting her hands on the cocktails and began offering limitedtime weekend cocktails, like a smoked cherry lemonade, every weekend. Eventually, she took over the cocktail menu completely (more than likely due to raving fans who couldn't get enough of her weekend concoctions) and started creating seasonal menus as well as picking up shifts behind the bar."When I was creating the limited-time weekend cocktails, I was simply having fun with it and experimenting with different flavors and profiles," said Angela, 38. "When I started putting together menus, I would have 20 to 40 cocktails on a menu, I think trying to literally hit every palate and always paying homage to classics. But, I think my palate, focus and direction have matured over time. I believe I can accomplish the same complexity and story-telling in a 10 to 12 [item] cocktail menu."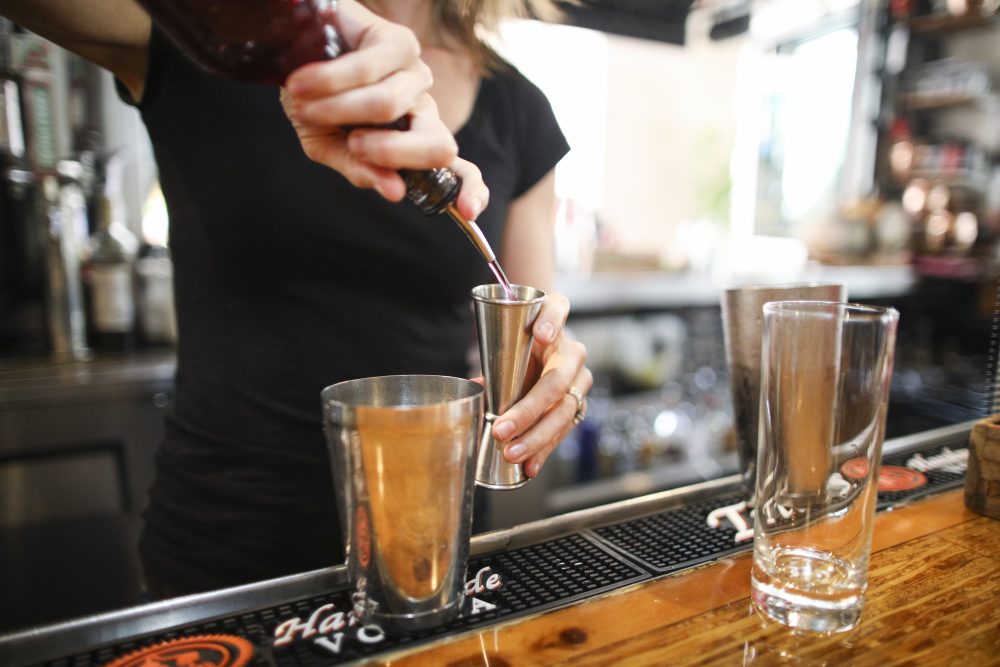 And funky complexity is where it's at. The Easy-Peasy-Japaneasy features Toki whisky, Dolin Rouge vermouth, Luxardo cherry, acid phosphate, Dugan & Dame Morning Wood Bitters, and the Seoul Sunshine has Ty Ku Soju, Espolon Tequila Blanco, Canton ginger, lime and Bonne Maman Fig Jam. They've even created PB&J whiskey cocktails, and used fish sauce and Togarashi because she believes that whatever is allowed in the kitchen can find a way into a drink, as long as you're creative enough. As if that wasn't enough creating, she also made the time to whip up a unique gin and tonic menu that features homemade tonics from her and her husband's Dugan & Dame tonic line, including 5-Spice, Smoke'N Flowers and Classic.
"Gin and Tonics are huge in other countries and this country is slowly following suit," Angela said. "Plus, tonics provide ingredients that are just that – toning. They help balance the body and enhance the individual. Ingredients like juniper, anise, quassia bark and peppercorn actually do so much more than just add flavor." The aspiring herbalist (aka mad scientist) spends her time dedicated to tying Americans back to the plant life that she feels can help heal us. While she's not into putting CBD in drinks (citing lack of information and efficacy of CBD brands), she thinks that this has opened up the door for less traditional herbs to make their way into cocktails.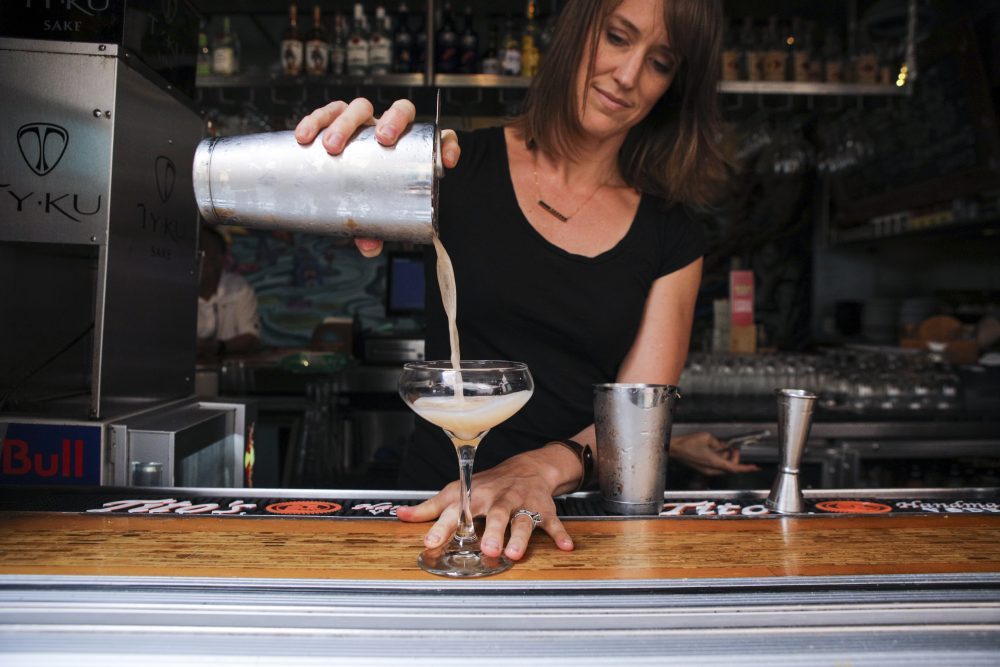 "There is a huge array of herbs that have been used for the nutritive and medicinal qualities that I want to bring into the cocktail world," Angela said. "Currently the closest association to medicinal herbs in this country is bitters. We use bitters to aid in digestion, heat up the stomach as well as settle it, and to better assimilate our food. If people are consuming CBD in cocktails for its effect, then that's enough crack in the door to start introducing things like ashwaghandha, holy basil and schisandra berries." She and her team even have a couple of plots in the Boca Raton Community Garden and are growing medicinal plants for their new cocktail menu. From her bounty, she harvests, dries, extracts and makes decoctions, tinctures, syrups, tonics and mixers, and anything else she can think of.
On the cocktail horizon, she's hopeful to continue crafting cocktails using only the finest and freshest ingredients that translate to a memorable experience for each and every guest. "Each new menu we have pushed the envelope just a little further and our patrons have trusted us on the ride. Each cocktail we present tells a story, from the ingredients, to the preparation, to the flavor," Angela said. "I just want to create. I love creating. I'll never leave the bar, it's home. And as long as I'm continuing to create new products and new ideas, I will feel fulfilled in this role."