Do You Even Brunch, Bro?
by Darien Davies
Let's face it, brunch is always a good idea. The unlimited mimosas are flowing, the outfits are on point, and the food is always delicious. Brunch also helps to make the weekend seem longer. Even more so if you can make it last into the evening. If you do, you are a trooper and deserve some sort of award (I think it's called a hangover). If you're not sure what type of brunch you're in the mood for, have no fear my weekend warrior, there's plenty to choose from. So here's a toast to a fun brunch with your fun bunch, and hope the next five days move fast so we can do it all again.
IF YOU WANT BEATS, BOOZE AND BRUNCH:

Kapow! Noodle Bar
The only thing limited here is the menu, but who's complaining? Their brunch items are packed with some serious flavor, the DJ is blasting some serious beats, and the drinks are seriously delicious, so everything adds up to one seriously good brunch spot. Begin your east-side journey with  their bottomless mimosas, Sapporo, and Aperol spritzes ($15) and let that soak in for a bit. It would be a fun idea to invite enough people so you could order one of everything on the menu, but if you don't feel like organizing seven other people, just frequent often. The Wagyu steak burger is devilishly good and is made with a Kobe-style Wagyu blend, grilled pineapple bacon onion jam, Asian slaw and Togarashi fries ($16). If you want sweet, bite into their Thai donuts, which are warm buttermilk donuts, raspberry-lychee sauce, and leche condensada ($10), or get savory with the duck hash skillet made with roasted duck, two fried eggs, carmelized onion, and cilantro ($16). Whatever your pleasure, your ears, mouth, eyes and belly are guaranteed to relish the ride to Asian flavor town, and you can especially enjoy the fact that it's #notmondayyet.
431 Plaza Real, Boca Raton
(561) 347-7322
kapownoodlebar.com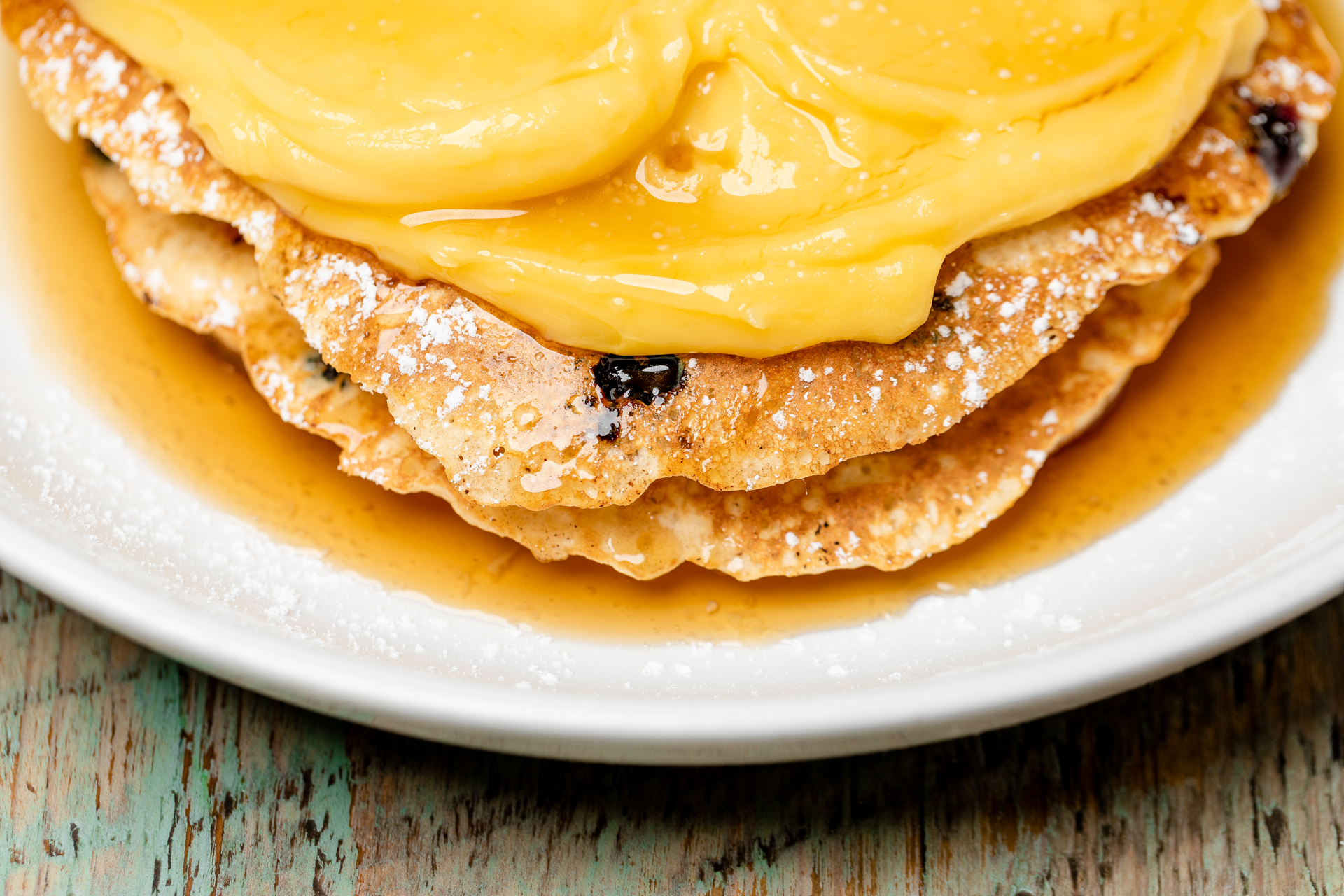 IF YOU WANT TO GET FUNKY: Rebel House
Magic dust in their food or not, this place is funky and exactly what the doctor ordered. The vibe is chill, the furniture mismatched, and there's art covering almost every inch of the walls, so it's a perfect spot to get lost for a few hours as you delve into their intense menu and some rebellious conversation. Their "Wake and Bake" brunch is super popular (can't imagine why) and their menu is the perfect combination of weird and wonderful. A great idea is to start with their tasty libations so you can peruse the menu whilst wetting your palate, so order their sangria by the carafe ($16), "all you can handle" mimosas ($15), or bloody marys with candied bacon ($12). And, to satiate your stomach grumbles, there are plenty of sharable plates such as sweet potato biscuits with ricotta, strawberry and honey ($7), and pork cheek empanadas with manchego cheese, raisins and olives ($12). When it's time for an entree, it's everyone for themself with their "To Indulge" menu. Choose from options like the maize melt with housemade pastrami or corned beef, swiss, and sauerkraut on rye bread ($17) or the stuffed French toast with a different filling every week ($17)!
297 E. Palmetto Park Road, Boca Raton
(561) 353-5888
rebelhouseboca.com

IF YOU WANT SOME GRAPPA WITH THE GIRLS:
Louie Bossi
Sometimes you just want to brunch without yelling, sweating or being crammed. For this, I present you with Louie Bossi. Their environment is comfortable, their dishes large and delicious, and the so-glad-it's-the-weekend drinks are always rolling. You are welcome to take a table inside or on their outside patio area that will make you feel like you're in a small village in Italy. The menu is perfect for sharing, but I would definitely start with the unlimited mimosas, endless bloody marys, bottomless Bossi Bellinis or infnite Aperol spritzes ($13), and keep them to myself. The menu features their regular menu items as well as brunch items, which include Tuscan avocado toast topped with prosciutto, hard boiled egg, burrata, oven dried tomato, and evvo ($17.50) or the eggs al forno on oven roasted polenta with pancetta and san marzano sauce ($14.50). If you feel like starting off exactly how you would in Italy, then you and the pals should order a selection of their salumi and/or formaggio and snack on that for a few. It's Italy, there's no rush. As if the food and drink could get any more lovely, there's a DJ every weekend so you can definitely brunch #likeabossi and really feel like you're in a far away land that has no Mondays. So mangiare, bere, dance, and repeat.
100 E. Palmetto Park Road, Boca Raton
(561) 336-6699
louiebossi.com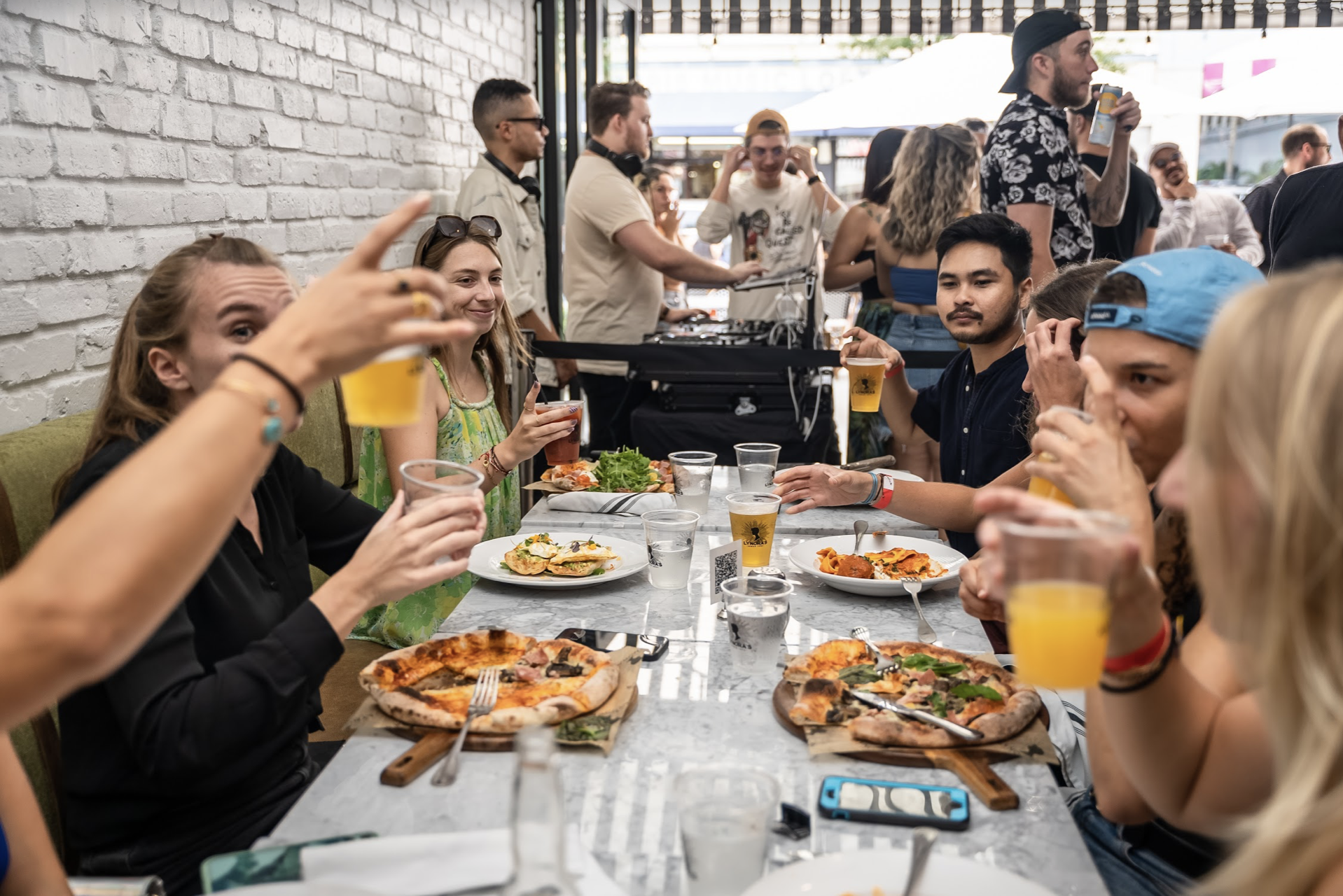 IF YOU WANT TO CARB AND COCKTAIL LOAD: Lynora's
If you want to feel like you're in someone's Italian home where you're invited to eat, drink and stay a while, this is it. Lynora's offers homemade Italian food with a twist, taking traditional recipes and elevating them to a West Palm Beach, Palm Beach Gardens and Jupiter vibe. They bring you brunch Saturday and Sunday from 11 a.m. to 3 p.m. and what better way to start your weekend days than with oodles of noodles and a belly full of bellinis. First course is, naturally, either sangria pitchers ($16.50), or bottomless bellinis, mimosas or Peroni ($19.95). Once you're warmed up, get ready to have a difficult time picking what you'd like to eat. Their menu is extensive and attractive, and definitely includes something for everyone. The Wild Shroom artisan pizza, made with wild mushrooms, fontina, mozzarella, ham and truffle oil ($20.50) is cooked in their wood fire pizza oven and perfect for getting the tastebuds rolling. If you want more breakfast items, try the nutella stuffed French toast ($12.95) or the fritatta pizza topped with egg, ham, spinach, mushrooms and mozzarella ($18.95). However, you cannot leave the table without indulging in the burrata, with arugula, tomatoes and EVOO ($15.50), to which you can even add prosciutto ($5). You can brunch, and then you can Lynora's brunch. Choose wisely.
9560 Glades Rd. Suite 190, Boca Raton
(561) 235-5096
lynoras.com
IF YOU WANT COOL, CALM AND KIND-OF COLLECTED:
Tap 42
Tap 42 offers you indoor and outdoor seating, an extensive menu, bottomless with options, and plenty of encouragement to stay a while and lazily drag out your weekend. This would be a great place to visit and then, let's say, have a crazy rest of your day with errands to Home Depot and maybe Bed, Bath & Beyond if there's time. It's a smart move to start off your dining experience with their $25 libations, including mimosas, bloody marys, Funky Buddha Floridian and 42 Hazy Daze. They conveniently leave a bottle of champagne and a carafe of OJ on your table so you don't have to wait for refills on each individual glass, which is the worst when you're trying to drink your brunch. As far as the menu is concerned, be prepared to not know what you want. Options range from The Drunken Goat, which is a lamb and beef blend, whipped goat cheese, arugula, tomato, onion, purple haze raspberry jam and dijonaisse for $16.50, to The Hangover Sandwich, which is a sunny side up egg, smashed avocado, hash brown, white cheddar, crispy bacon, truffle aioli and a toasted challah bun for $15.50, or The Prohibition might do the trick, with a Tap 42 burger blend, Applewood bacon, white cheddar, lettuce, tomato, onion, secret sauce and dijonaisse for $14.50. They do offer vegan, vegetarian and gluten free items so can accommodate even those on the strictest of diets. So grab a seat, enjoy a drink, take a bite, and cheers to a weekend well done.
5050 Town Center Circle, Boca Raton
(561) 235-5819
tap42.com