There's nothing like the pumpkin spice of pumpkin spice to herald the end of summer. There's no shame if your current to-do list includes putting back as many basic-flavored brews as possible, even if they're the hop-and-barley equivalent of a pumpkin spice latte.
But if you're looking for some great autumn releases that aren't simply gourd-inspired, there are options. This year, plenty of Broward and Palm Beach County craft breweries are taking everyone's favorite fall flavors and weaving them into interesting new seasonal brews.
Throughout September, several will be unveiling their fall-themed beers, and there's no better time than now to check them out. 
LauderAle
Cranberry Maple Wheat Ale
In Fort Lauderdale, head brewer Jimmy DiFrisco is getting into the fall spirit with several seasonal beers that will be all-new to the brewery. This year, he'll be launching his favorite fall brews, including a 5% ABV easy-drinking American Wheat ale that will be fermented on fresh pureed cranberries and treated with a Vermont maple syrup. Medium-bodied, it perfectly marries the sweet-tart kick of cranberry with the rich tang of the maple syrup delivered via a smooth, crisp wheat-based brew.
For pumpkin lovers, a smoked pumpkin stout will also be on tap. A chocolatey, roast-y stout base is infused with flavors of real pie pumpkins that are smoked and roasted with hickory and pecan wood along with classic pumpkin pie spices for layers of fall flavor more complex than your average pumpkin beer. Both will be available for an early October release, but for those who are in the mood now, expect to see his Oktoberfest on tap later this month after it finishes a nearly two-month lagering process just in time to coincide with the annual German celebration.
Royal Palm Brewing
Oktoberfest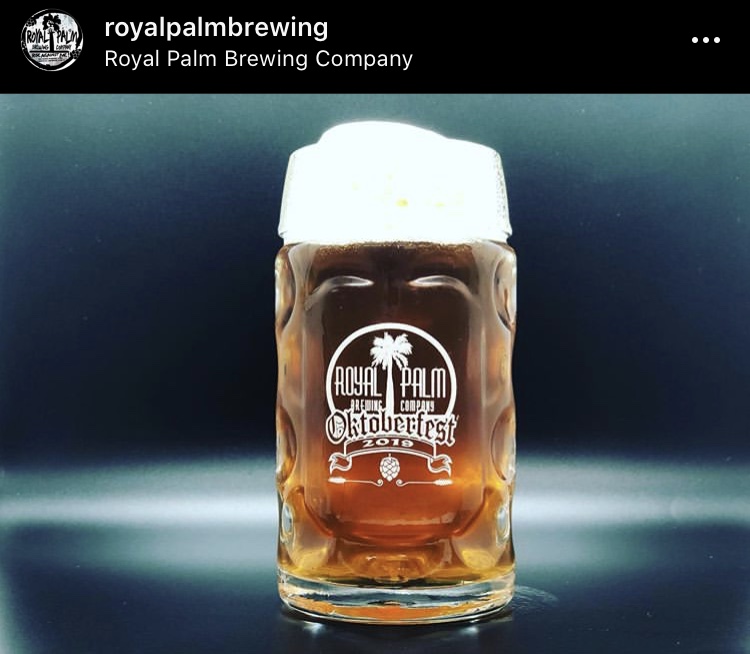 This month, Royal Palm Beach Brewing is diving headfirst into the fall feels with its traditional Oktoberfest-inspired märzen. A 2020 Best Florida Beer medal winner, it's among the closest you'll get to a real deal Oktoberfest-style brew in South Florida thanks to the brewery's strict use of only German-sourced Munich, Vienna, crystal, and Pilsen malts along with German Hallertau hops. It was brewed in 2018 for the brewery's first Oktoberfest celebration. The beer was so popular the taproom went through more than 100 gallons in the first three days of its release, making it one of its most popular draft selections to-date.
This year, expect a similar frenzy with the now-annual release (coming back Sept. 19) that includes a German-themed food offering on the in-house menu and the Oktoberfest brew served up in classic 20-ounce stein-style mug. Served both on draft in the Royal Palm Beach taproom and in four-pack cans to-go, it's the perfect beer to capitalize on the season's festive signature flavors.
Due South Brewing
Isle of MaGourdo
Due South Brewing's annual fall beer, Isle of MaGourdo, is an amber ale brewed with pumpkin and a blend of spices that mimic 'pumpkin pie' for a truly seasonal style. Sitting at a refreshing  5.5% ABV, MaGourdo's aroma hits straight away: flavors of cinnamon, ginger and nutmeg redolent of baked cookies, toasty malty notes, and a balanced sweetness that isn't cloying or overwhelming.
It's fuller of body than one would expect for its 5% ABV, it's brewed to stand on its own. This beer has an extra layer of "interestingness" despite the addition of traditional spice and flavors, with an end product that tastes a bit like a solid American brown ale, dosed judiciously with spices. I think we can all roll with that. 
Accomplice Ciderworks
Pumpkin Pie Spice Cider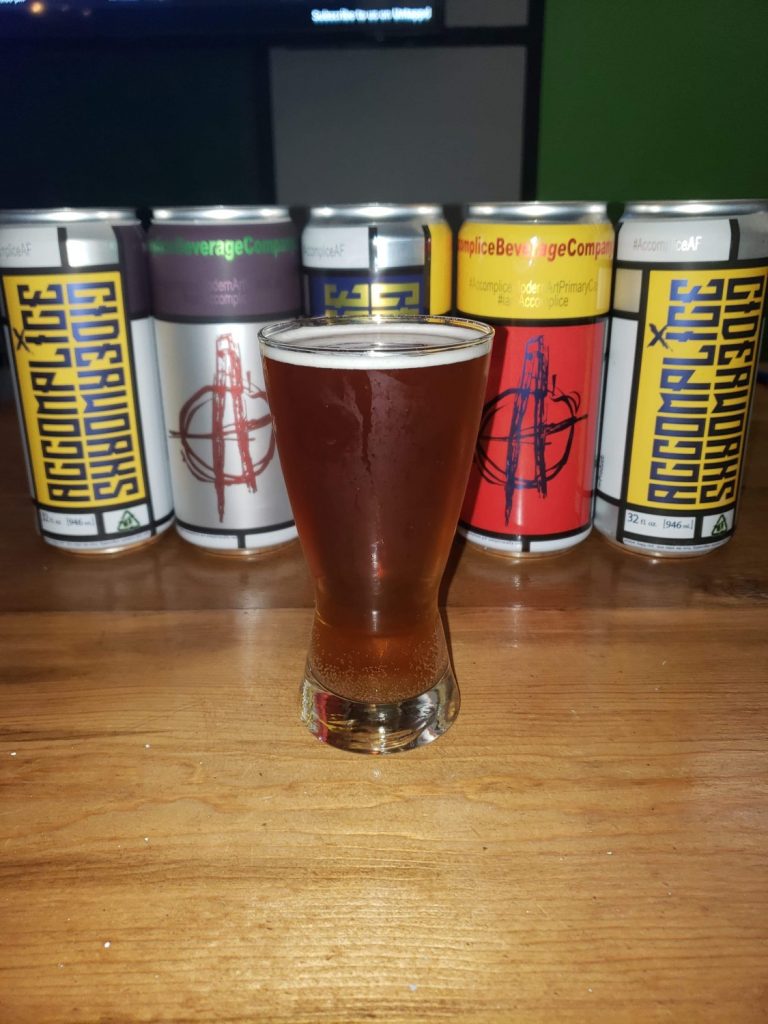 For pumpkin spice lovers who might enjoy a cider rendition, Accomplice's autumn-flavored offerings are on the way. New for 2020, Accomplice is offering a new "cidercult" series that is both seasonal and festive, featuring the return of its Pumpkin Pie Spice cider. With a semi-sweet tone and delicate pie aroma, it's offered alongside two additional fun fall offerings like the Autumn Harvest Roasted Pumpkin cider made from naturally fermented fresh-roasted pumpkin. The other is a cinnamon and a blackberry pumpkin pie-spiced strong cider dubbed Order of the Pumpkin made using spices and sugars head cider-maker Justin Hutton sources from around the world.
This time of year you can also get a head-start on the Halloween spirit with the return of Accomplice's popular candy corn cider, or come Thanksgiving, its Cran-Slam, a taproom-only cider featuring loads of Michigan cranberries. This year, Accomplice fans can find many of its seasonal specialties — like the Pumpkin Pie cider — on tap at various locations statewide, or at the West Palm Beach taproom. The business is also offering delivery across 16 counties from Homestead to Melbourne and the entire Orlando area. Orders can be placed over the phone, through text, and online.
Gulf Stream Brewing Company
Sienna Barrel-Aged Imperial Cream Ale
Gulf Stream Brewing Company head brewer Michael Demetrus has been hard at work brewing up a few specialty beers for the upcoming fall season. Right now, you can find Gulf Stream's Fest Beer, their iteration of a traditional Oktoberfest Marzen, on draft at the taproom. A tribute to Gulf Stream's origins, it is one of the first beers Gulf Stream owners Ty Eriks and Mckay Ferrell brewed together. Later this month will see the return of Demetrus' 8.7% ABV Batonka Tonk, his first seasonal release at Gulf Stream.
Now considered a cult classic, it begins with his caramel-rich strong lager doppelbock which Demetrus rests on tonka beans that offer distinct notes of cinnamon, amaretto, nutmeg and cherry. While they all sound delicious, don't miss the limited release of Sienna, a Willett bourbon barrel-aged imperial cream ale with roasted chestnuts and black walnuts he finished with a hint of maple and house-made chocolate and fig bitters. At 10% ABV, it's a beer that Demetrus said he has been waiting to brew for nearly 10 years — and a perfect brew to toast to the start of the fall season with. The flavors were inspired by the autumn-themed dishes featuring locally-harvested chestnuts and maple syrup from his time in Chicago, while the bitter element is a nod to his cocktail-making days bartending at the city's Waldorf-Astoria.