From the 2023 Photo Issue
Every photo has a story. You know that saying. Well, we didn't have the real estate for 1,000 words so let's say these photos are worth about 300 really, really quality words written by the photographers themselves.
On a more serious note, we so enjoyed hearing about the patience, persistence and adventurous nature of these photographers. They've captured some truly breathtaking images in their careers and have agreed to share the tale behind these three. A lot more goes into it than you might think. Whether it's a multi-mile walk to the shoot destination or sitting and waiting for hours for a pod of dolphins, these photographers got the shot.
Blacktip Migration Mania
JENNYROSE BALL
"I'm thankful to spot even just one shark when flying. And naturally, it's hard not to get so excited every time it happens. This was a morning I could barely wrap my head around. I've shot images of the blacktip migration before but never under conditions like this, and never with such a large amount of sharks. This was one of those once-in-a-lifetime mornings. When I put the drone up to see what I could find, I started out pretty low. Found the first shark, then two together, then three, then eight…. then I decided to ascend a little higher and the biggest school of sharks I had ever seen came into frame. And, this was just ONE of two large schools in the area. Making the morning even that much better was the abundance of life in the water along with these sharks, including tarpon, jacks, sea turtles, and a few other bull sharks. After shooting wide shots and nice close-ups, it was amazing to watch their movement as a whole — just observing and taking in the moment."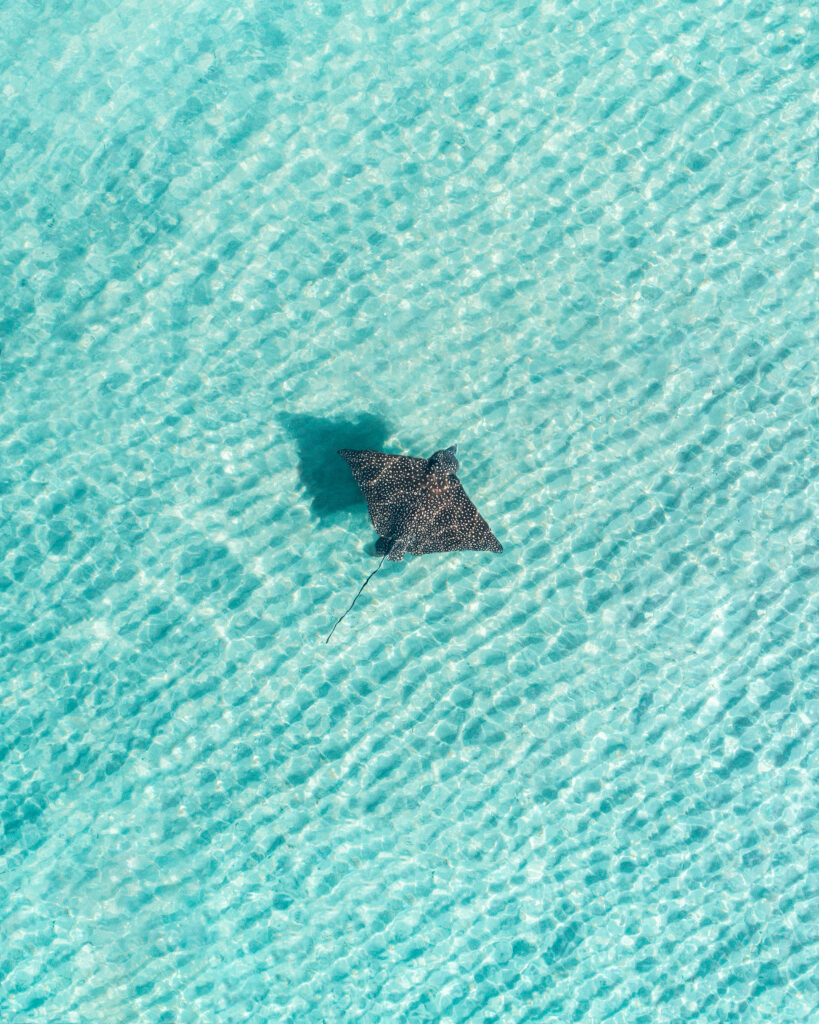 Eagle Ray Clarity
PIERCE GAINEY
"One random morning I decided to drive up to Delray Beach with my drone to see what it's like, as I am always looking for some new perspectives. While flying the drone, I noticed something dark in the distance that was moving in the water. I quickly flew the drone over to see what it was. To my surprise, it was this absolutely gorgeous ray. I was stunned and in awe, and I knew I had to get the photo. So, I hovered and followed the ray for quite a distance, and I was snapping some pictures. I wasn't fond of my current perspective, so I began to lower my altitude from the drone and hovered just above the water, so much so, I thought I was in the water at one point. Once I had the lower altitude with my drone, I began snapping picture after picture and I was utterly shocked at the insanely amazing quality of the ocean and the color. It felt like I was in the water watching this ray pass by me. Finally, the ray came just below the surface of the water and that's where I was able to snap this picture. I knew I was satisfied with these photos and decided to return the drone back to me. The ocean is such a mysterious yet awe-inspiring place and I am forever grateful to call South Florida my home. A beautiful moment that will live on in my memory and is now hanging on my wall!"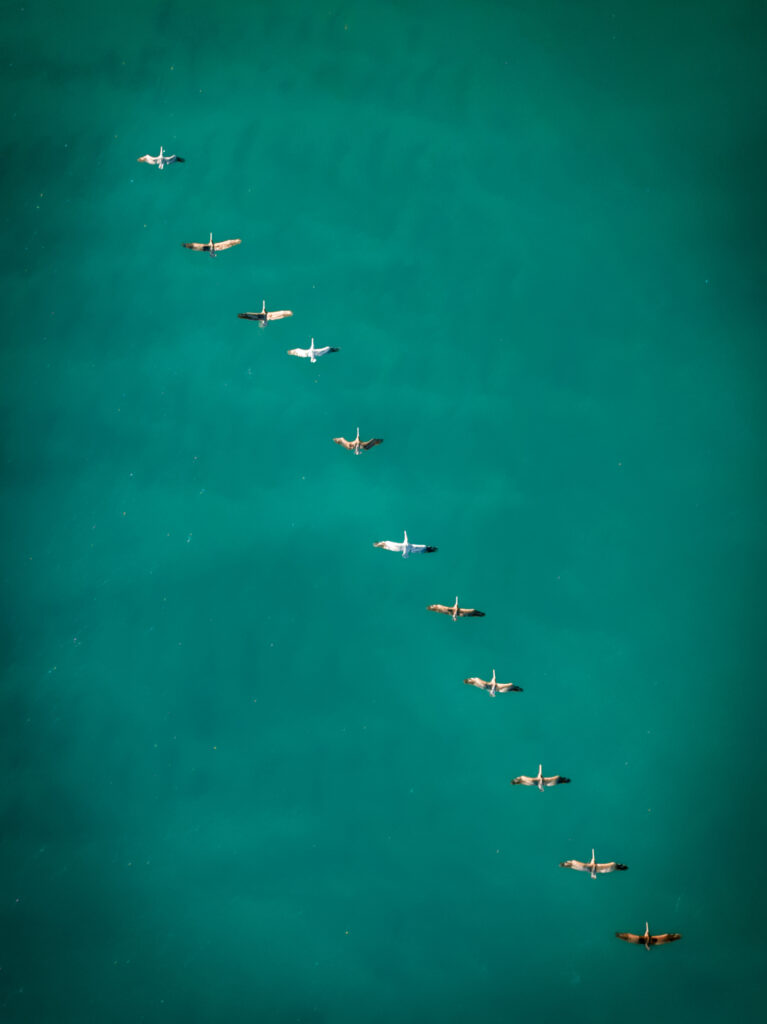 Pelican Patterns
MARISSA WIL
"The hardest part of capturing animals is their movement. A shark doesn't move like a turtle. A turtle doesn't move like a ray. There's a flow to each animal. The more you observe them, the more these patterns become apparent. A drone gives me a bird's eye view of the ocean, but a bird's eye view of a bird is a little different. Pelicans have an elegance to them that is easily observable from above. They don't just follow the coast; they follow the water. A key factor to getting a shot is anticipation of the next move. Once I noticed that pelicans liked to follow the waves of the ocean, their movement became more predictable. They'd follow a swell from several yards off the beach until it would crest just offshore.
Then they'd rise with the wave and follow the developing trough back offshore. The undulation becomes a rhythm and you're no longer struggling to keep up. Instead, you're following the curves of nature in a fluid and seamless pattern."