Featuring FAU Beach Volleyball Player Christine Jarman
By Rachel Levy
If you're looking for a new way to enjoy our gorgeous coastline down here in South Florida, look no further than your local beach volleyball courts. Just because you may not be into open-ocean swimming or long runs on the beach doesn't mean you can't reach your fitness goals while enjoying an afternoon in the sun. Beach volleyball offers a fun, engaging way to get a good workout in for those of us who are a bit more competitive and social with our fitness routines. Plus, why not kill two birds with one stone? A killer workout that comes with a killer tan is nothing to complain about.
For starters, locating a local court is easy. Florida Atlantic University has some sand volleyball courts, however, if you're hoping to be by the water we suggest visiting the courts on the south end of Delray Beach or at Deerfield Beach by the new pavilion. Most courts have regulars that set up games on the weekends and after hours on work days. Deerfield brings in a more talented, intense group while it might be easier to find an open court in Delray if you're just beginning. Whoever you fit in with, this is surely a community that enjoys time together on and off of the sand; something that's important for those looking to make their fitness regimen more a lifestyle and less of a burden.
We spoke with Christine Jarman, a beach volleyball player at Florida Atlantic University, to learn more about what newbies can expect. "Volleyball basics can be somewhat technical," she shares. "I would recommend watching a video online or asking someone you know to teach you the fundamentals." Learning these fundamentals are well worth the benefits. Moving around on the court provides a great cardiovascular alternative to running and you'll find that after just a few weeks your lower-body will feel stronger after all that movement and jumping through the resistance of sand.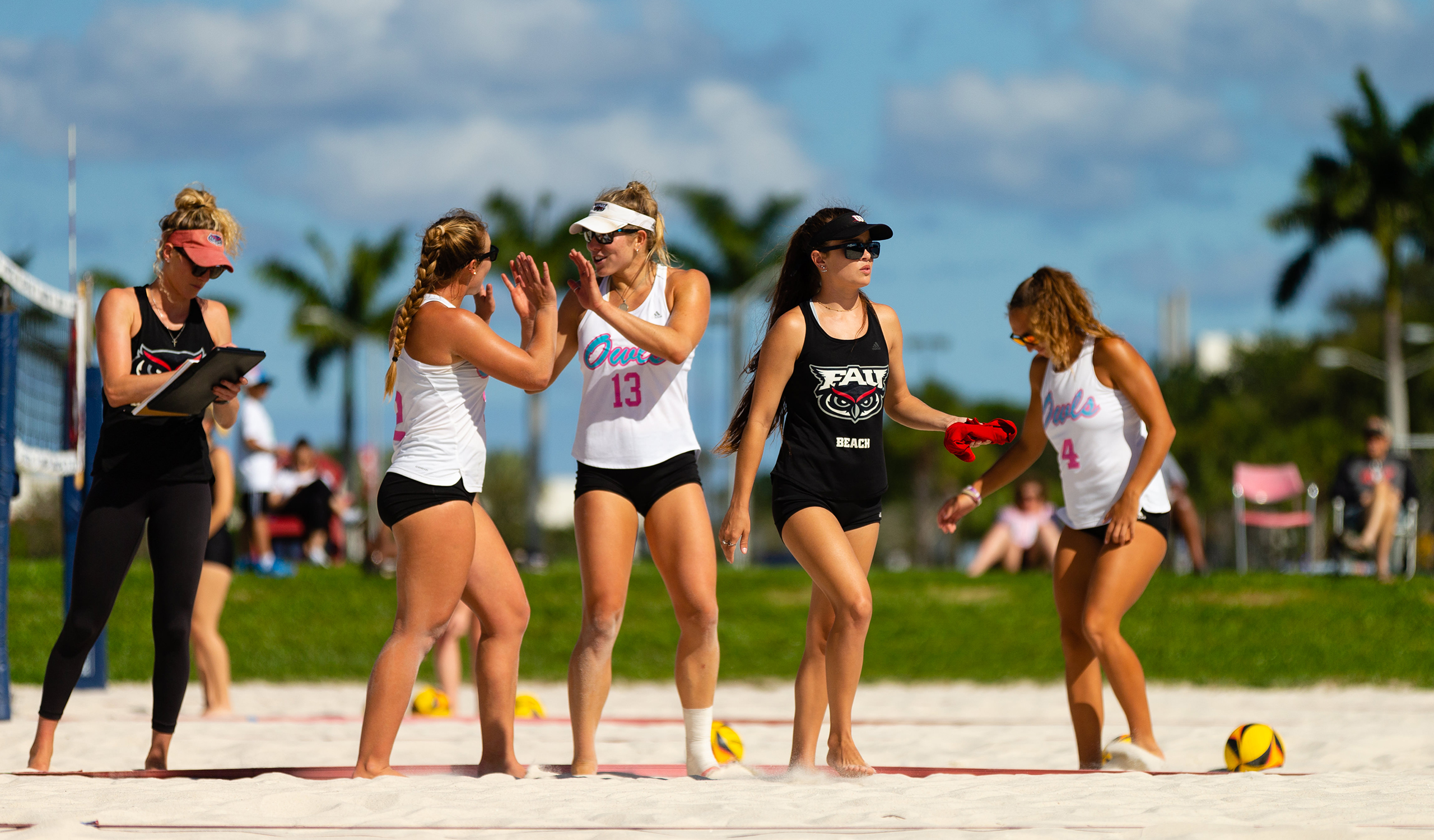 Depending on your body type and level of activity, you can expect to burn around 450 calories per hour. When paired with a healthy diet full of protein, it won't be long before you start to feel your body and mind transforming.
"Aside from the physical exercise involved in playing," Christine shares, "it also encourages more time spent outdoors. More time on the court means less time on our phones being sedentary." Surely, this is a huge benefit for many of us who look toward fitness as a way of disconnecting and clearing our minds from the craziness of our daily lives.
We recommend investing in some strong, reef-friendly sunscreen, a great pair of sunglasses and, of course, a bathing suit that allows for all of the explosive movements inherent to beach volleyball. Additionally, bringing a speaker to the courts never hurt anybody.
So, if you're on the prowl for a high-intensity workout and an inclusive fitness community, beach volleyball is worth trying out. From the physical benefits of the sport to the positive impacts that being outside on the beach has on the mind and body, this is one activity that will reach far and wide in transforming your health and well-being.