Where to Rent Paddleboards in Jupiter
By Rachel Levy
Calling all paddleboarders! Whether you're hoping to get on the inlet or are wanting to enjoy nature and paddle around a state park, there's a little something for everyone within this round-up of paddleboard rental options. Get out there and catch some waves this weekend.
Blueline Surf & Paddle Co.
When it comes to getting creative on the water, there are few places offering more activities than Blueline Surf & Paddle Co. Beginners can hit the ground running by renting their own board or, if they want to take things a little slower, can sign up for an introductory class led by one of Blueline's many experienced instructors. For intermediate paddlers, they offer a Racer's Edition Paddle Practice Class that promises to get you moving more efficiently through the water. For those who like a little challenge, don't miss out on the Friday and Saturday morning Yoga on Water classes. No matter what you choose, each option comes with the opportunity to rent a board (though the price varies depending on the activity) so it's perfect for those who love to paddle but haven't fully committed to purchasing their own board yet.
 Price: $20 per hour for a board rental
Where: 997 Florida A1A, Jupiter
Contact: 561-744-7474
Reserve Your Spot: Blueline
Jupiter Outdoors Center
When you rent from the Jupiter Outdoors Center you get the unforgettable chance to explore and relax within the Jupiter Inlet. If you like where this is going but want a little more adventure, check out their Jupiter Inlet Lighthouse Climb & Paddle Tour. Once a month, a member from the Jupiter Outdoors Center staff brings a group of paddlers to the top of the historic Jupiter Inlet Lighthouse before guiding them on a tour through the water in the surrounding the area.
 Price: $50 for 4 hours
Where: 9060 West Indiantown Road, Jupiter
Contact: 561-747-0063
Reserve Your Spot: Pedal & Paddle on the Lake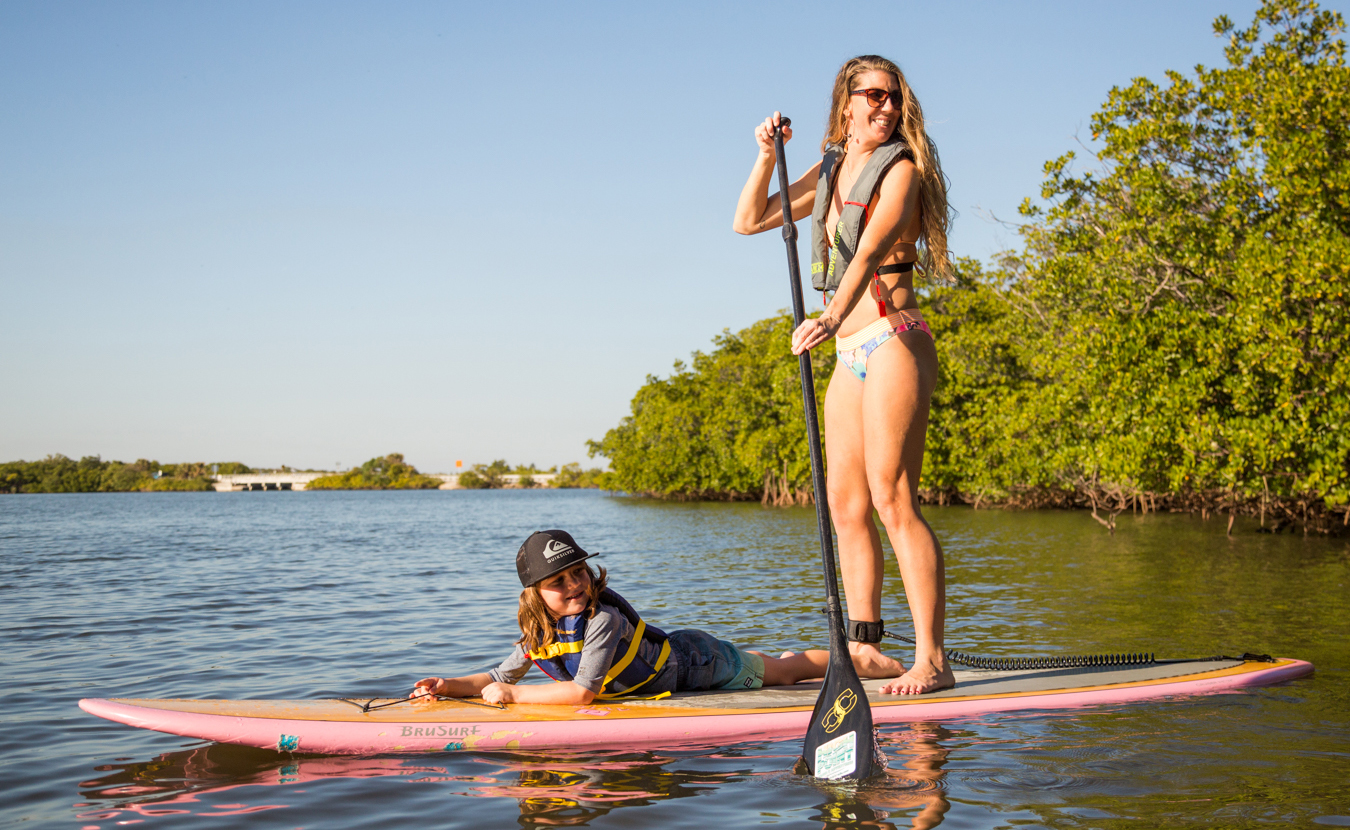 High Point Paddle Adventures
Explore John D. MacArthur Beach State Park from a new angle with a rental from High Point Paddle Adventures. As you make your way down the calm, winding waters, you'll be in the company of South Florida's iconic wildlife. From herons and turtles to a conglomeration of plant species, you'll spend an afternoon among the many endangered and threatened plant and animal species that this park helps to protect. Choose your own adventure by going out with your own rental or by joining a nature tour led by the company. For the more adventurous paddlers, keep an eye out for High Point's Native Paddle Yoga led by long-time instructor Todd Mclaughlin.
Price: Starts at $20 per hour; deals available for additional time
Where: MacArthur Beach State Park, South Paddle Launch
Contact: 561-596-3535
Reserve Your Spot: High Point Paddle
PADL
PADL has brought a new generation of paddleboard rentals to the Jupiter area with their innovative smartphone-rental business plan. After downloading the app, simply walk up to the PADL station in Jupiter, choose and unlock your board, and then return it and end the rental all from your smartphone. As you paddle, the PADL board will track your trip and send your stats to your phone after you finish so you can share it with friends and track your improvements each week.
Price: $25/hour
Where: Burt Reynolds Park
Reserve Your Spot: Download the PADL app to check availability