Featuring Pickleball Pro World No. 1 Anna Leigh Waters
By Darien Davies
Photos by @PPATour
"Don't call it a comeback" – Pickleball.
But seriously, if you have eyes and ears, you must know that pickleball has become all the rage as of late. Not only is it a sport that transcends age limits, physical abilities and sport-focused requirements, it's also broken barriers of what's considered cool and not cool. Shuffleboard, you're not there yet. But pickleball, yeah, we can get into that. Just ask Anna Leigh Waters, who is a professional pickleball player and who loves and knows everything about the sport. Oh, and she's 15.
Not surprisingly, she credits her grandfather for getting her into the game in 2017 when she and her family fled to Pennsylvania to stay with her grandparents to avoid Hurricane Irma.
"At first I wasn't sure, but in the end decided to play, haha. After the first ball I hit I was hooked! From there we played pickleball at least twice a day while we were in Pennsylvania," said Anna Leigh, who was 10 years old at the time. "When we came back to Florida we found a local pickleball club and the rest is history!"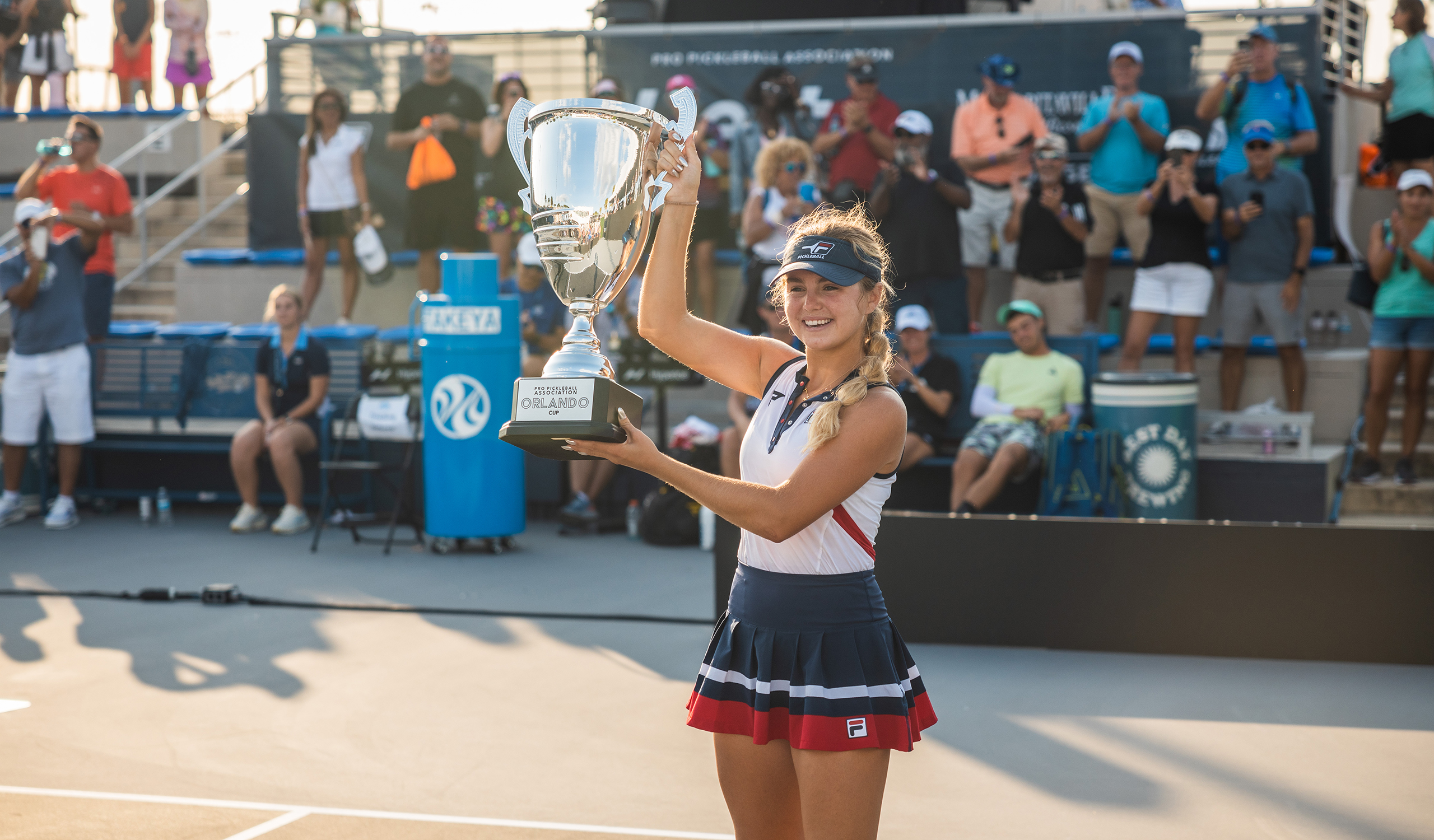 If you're not sure exactly what the heck pickleball is and why almost everyone you know is playing it, it's because it's an easy sport to play and enjoy. The sport combines many elements of tennis, badminton and ping-pong, and can be played both indoors or outdoors with just a paddle and a plastic ball with holes. It was actually invented in 1965 by three fathers whose kids were bored with their usual summertime activities, and now it's the fastest growing sport in the country. So, if that doesn't scream accessibility, I'm not sure what does.
"The great thing about pickleball is that you can make it as mentally and physically challenging as you want! For me pickleball is both a hard and fun mental and physical workout," said Anna Leigh, who aims to keep it fun between tournaments and training. "I see a lot of people who before playing pickleball did little to no exercise and now that they play pickleball they are playing the sport almost everyday. Pickleball is great because you can be having so much fun that you forget you're exercising! So players are getting all the amazing the benefits of exercise while having a great time."
She advises beginners to start by simply buying a paddle and heading to the local pickleball court, saying that the pickleball community is so inviting and helpful that novices should not fear to take the first step.
"Some easy tips I would give to beginners are to No. 1 have fun, watch the ball and move your feet. These things sound simple but actually help a lot," Anna Leigh said. "I would also say to find someone who knows all the rules to teach you how to play the game and the strategy that goes with it. If you are trying to improve your game as a beginner, I advise playing with players who are better than you."
What's amazing about her experience with the sport is that she said they pretty much grew up together. When she first started playing, not a lot of people even knew about the sport or were playing it for that matter. But when COVID hit and families were running out of ideas for ways to stay entertained, pickleball gained popularity because it could be played in driveways or local parks, and the entire family could play. It doesn't hurt, too, that celebrities have jumped on the pickleball train, posting their games on social media, helping the sport to now get some national coverage.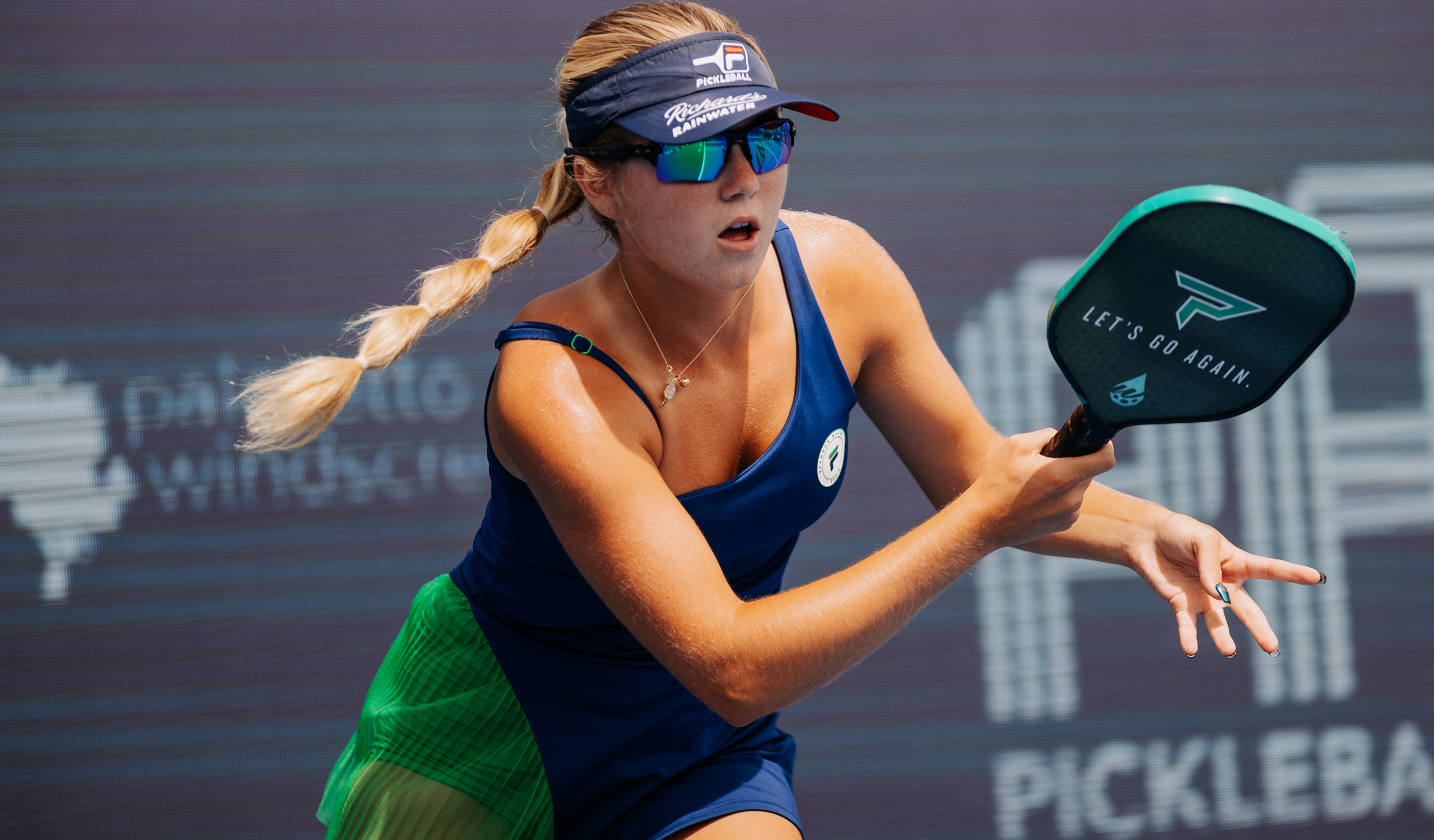 Now, pickleball is kind of a big dill, and isn't afraid to admit it. Spanning a lifetime of more than 50 years—and counting—pickleball is enjoying a major resurgence, all thanks to everyone who decided to pick up a paddle and put some pep in their step. To even have a 15-year-old professional pickleball player is something in and of itself. So if you think it's just about moth ball-smelling plaid outfits and purple hair, think again.
"I would say one of the biggest misconceptions is that pickleball is an old person sport. I mean, look at me I'm a 15-year-old play- ing professional pickleball, haha," said Anna Leigh, who trains in the gym and plays pickleball five days a week. "The great thing about pickleball is that you can make it as athletic as you want. So for older people, yes, it is a good sport, but if you watch professional pickIeball, you will see that it is not JUST an old person sport!"
So grab a paddle and dink, volley and lob your way into the newest non-exercise way to exercise. Not only will it give you a seriously fun 15 minutes of calorie burning, it'll also give you something to talk to your grandma about. (She'll probably even have some tips for you, rookie.)