Fueled by Family
Written by Sean Gordon
Photos by Ben Hicks
Laura Milone is a 20-year-old professional stand up jet ski racer who lives in Delray Beach. Although she didn't start racing until she was 13, the sport has been a part of her life for much longer. Laura's father, who is a skilled mechanic, has been building race cars and jet skis for years. Her mother is a former professional jet ski racer and according to Laura, her mother and father actually met through the sport. With roots so deep into the world of jet ski racing it's no surprise to see Laura's passion for the sport shine so brightly. When asked about her family's involvement in the sport Laura responded "It's great, my little sister races too and my mom and I actually raced at the same time for a while." With the Milone's, racing is definitely a family affair.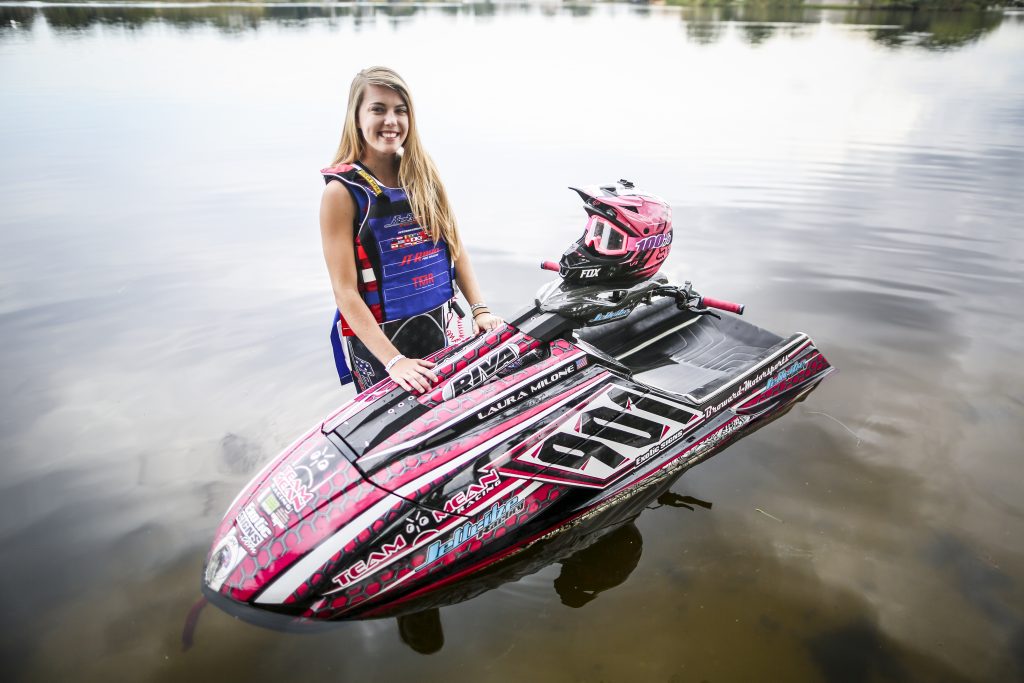 The International Jet Sports Boating Association (IJSBA) Tour just wrapped up with the 2016 Quakysense World Finals in Lake Havasu, Arizona in October of this year. Laura competed in both the Novice Ski Limited Open division and the Novice Women Ski Limited division. Laura isn't afraid to get out there and race against the boys as she normally competes in the open division because she enjoys the bigger, more challenging races. Laura stands out from the rest of the crowd on the water with her statement making pink helmet and jet ski. "There's not a lot of girls in the sport so you got to throw out the hot pink to be like yeah, we do this too". When asked about the feeling she gets during a race Laura said "It's an adrenaline rush, you sit on the starting line, look to your left or right and there's like 10 other people on either side of you. It's crazy".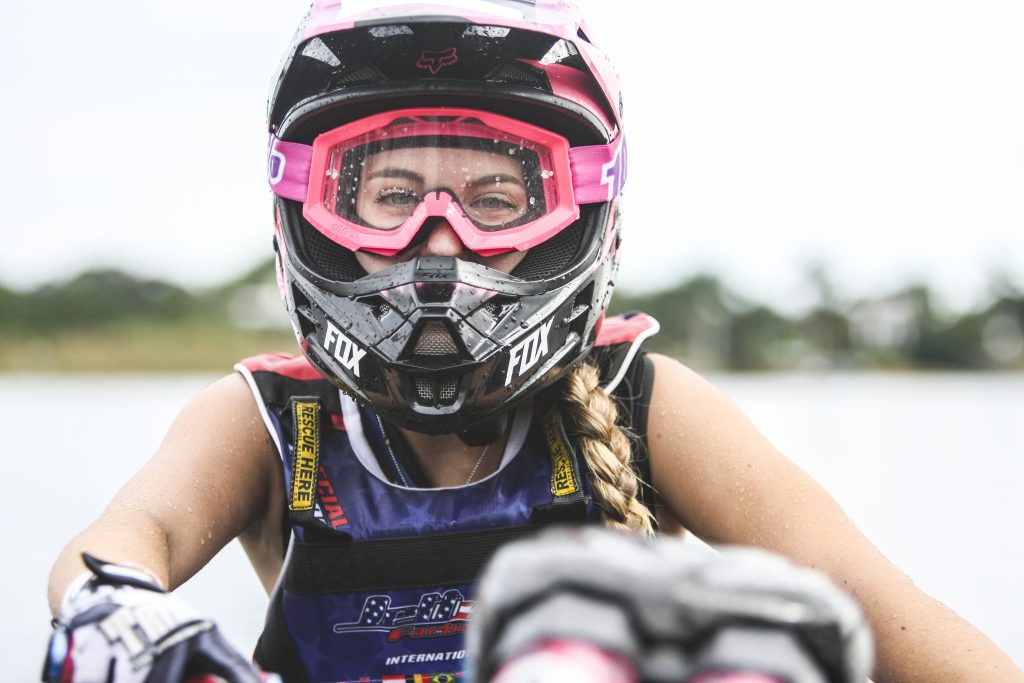 Laura also recently competed in the 2016 Pro Watercross World Championship in Naples, FL in late September where she really put her talents on display. Laura was dominant. She took home 1st place in both the Novice Women's Ski Limited Division and the Novice Ski Limited Open Division where she competed against a field of male and female racers and came out victorious. Laura's little sister Jessica also had an impressive showing in Naples competing in the Sport Stock division.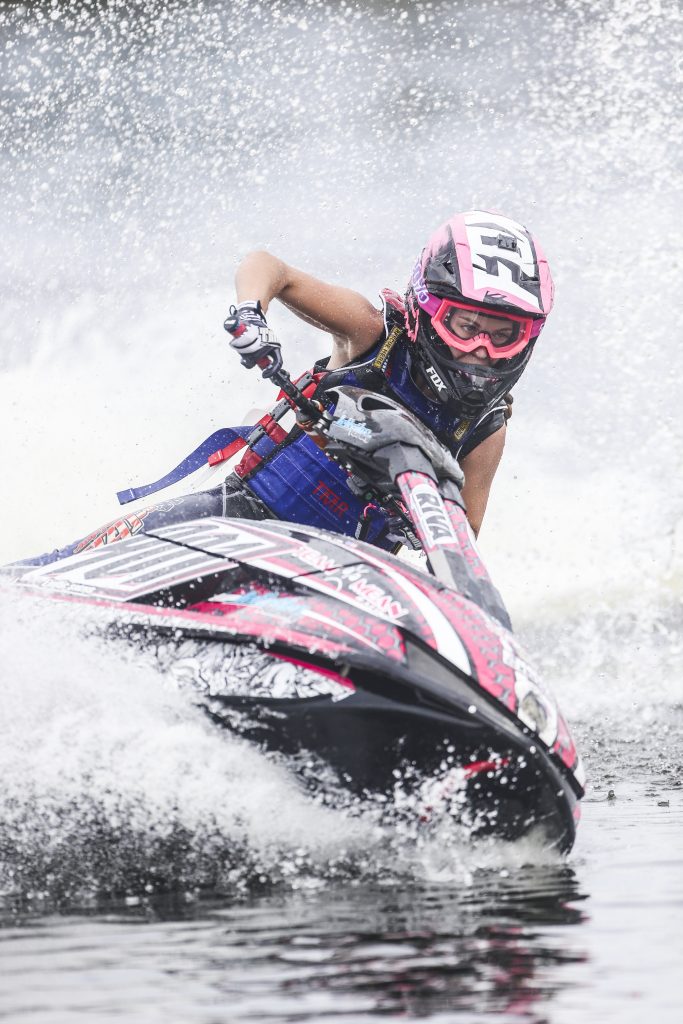 Despite having a number of top finishes over her career including her recent sweep in Naples, Laura has one accolade that she is especially proud of. Earlier this year she became the first woman to ever race a stand-up jet ski in China. Quite the resumé for such a young competitor, as plenty of racers have won tournaments but very few have become pioneers in their sport. Laura has done both.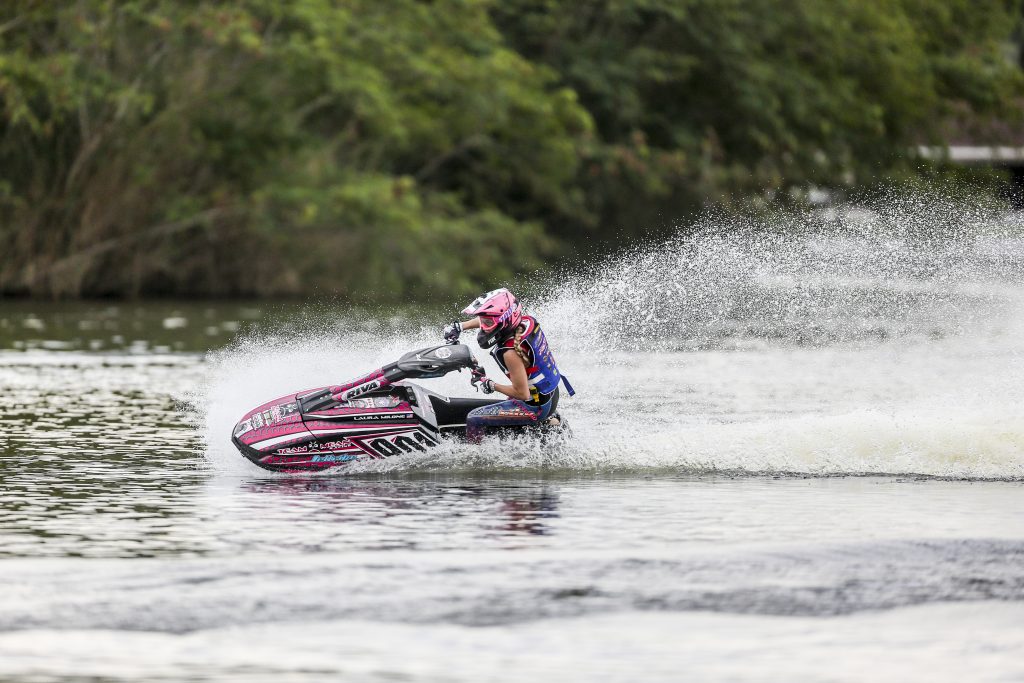 At only 20 years old, Laura has a bright future ahead of her in the racing world. However, gold medals aren't the only goal she's chasing. She's currently studying to become a teacher at Florida Atlantic University. Over the years Laura has also learned to build jet skis under the tutelage of her father. The duo now manufacture pro level skis and have sold them to racers both locally and as far away as Argentina. The talented racer has plenty of opportunities to pursue professionally, but has no intentions of walking away from the sport. When asked about her future in professional racing Laura said "I'm just so addicted to it; I'm going to keep trying to find a way to do it forever."
Keep up with Laura on Instagram @beach_bum901