Words by Cash W. Lambert
Photos by Nathan Hamler
Jupiter's homegrown skateboarder talks progression, the health of the South Florida skate scene, and why he'll stay true to his roots, regardless of the future
Zion Wright is only 15, but with a name that means "monument" and "raised high" in ancient Hebrew, the kid has a lot to live up to. That namesake adds only a fraction of weight he feels on his shoulders, though. The rest? He adds it himself.  He wants to do big things, he says, in and out of the skate arena. Become pro. Invent new tricks. Make a job for himself in the skate industry. Then, give back with the same passion. With his family as guidance, young Zion is well on the road to making such an opportunity for himself. He's competed in contests all over the U.S. since age 8, has been featured in several edits, and has patiently moved his way up the ranks. Even at such a young age, Zion is firm in his desire to come back to South Florida when his career will allow it. And when he does, there's a good chance he'll have a platform to impact hundreds of eager skaters in South Florida's growing skate scene. To him, that will be much more important than any monument.
Let's start with your background. How did your feet find their way to a deck? 
I have a sister and two brothers, and one of them received a skateboard for Christmas. I started using it for fun until I was able to get my own the next year. I was 5 years old when I went to my first skate park.  Every day I went, I'd learn something new. Everyone there would hype me up. The skate park later had a contest, and I decided to compete, but I didn't do so good, so I kept competing, and I won my first contest at age 8.
After that, you jumped into the contest grind? Let's here your resume.
Yeah. I went to King of the Groms 12 and under in Georgia, a really cool indoor progressive skate park, and ended up placing well. Everyone there was so hyped for me. After that contest I wanted to go to all of them.  The next year, I qualified first out of my division and placed 4th overall. I've been to contests in Minnesota, Jacksonville – where I won my first check, $50, which was pretty sweet. I was also voted a finalist in the ESPN Athlete of the Month later in February, and was even invited to the Camp Woodward Show that Fuel TV does. I got a little feature at the end, and the next year they called me and asked if I would be a character on the show. I've competed in Atlanta, Tampa and California too. I've done two edits, called Florida Daze and Florida Daze 2, and now I'm sponsored by Nike SB, Organika, Thunder, Spitfire, Endless Grind Wax, Ramp 48 and Duncan Strength and Conditioning.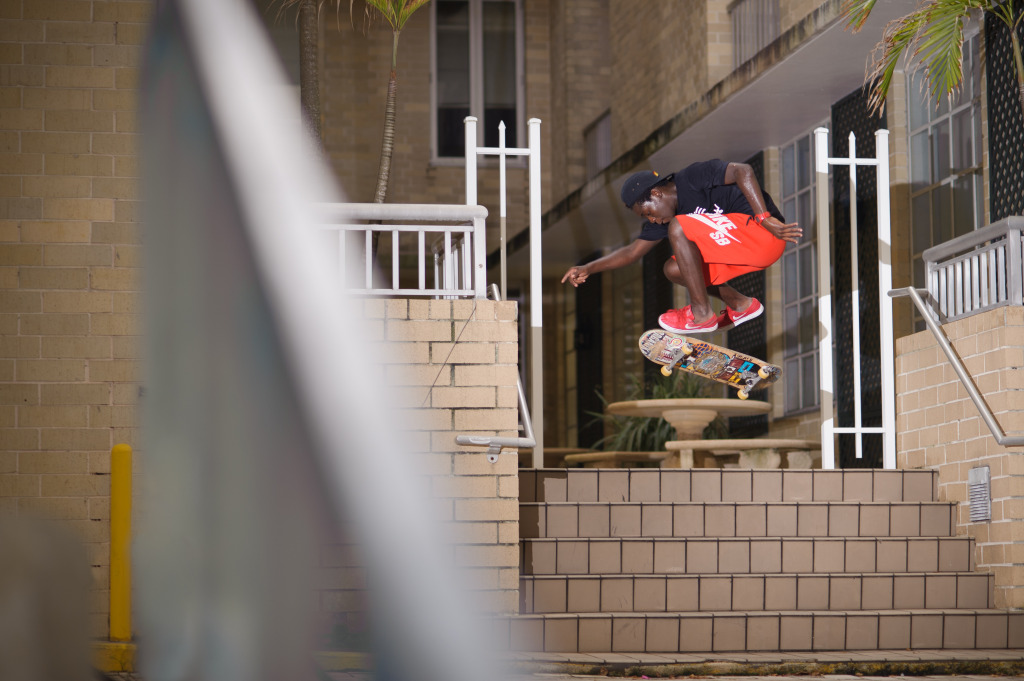 Throughout this entire process, how have you learned to progress?
By watching. I'll go to demos and watch.  I've put in so much time on the computer, watching guys like Manny Santiago and I've observed skating in California a lot.
And what about for tricks?
I'll visualize a trick in my head before I do it. If it's difficult, I'll watch someone do it first, then I'll try and go for it. If I fall, I get back up and keep trying until I land it. If I'm doing something wrong, I'll look at how I'm placing my feet. But it's all about visualizing it.  It gives me a little sneak peak on how to do it. You'll never know how it's going to turn out unless you go for it.
Personally, I've bled more during my skating days than I have my entire life – and I have the scars to prove it. What about you? Any broken bones thus far?
So far, my collarbone, wrist and femur.
Talk about school. Since you have a desire to go pro, does school get in the way of that? How do you see it?
I want to finish school obviously, but if my skating schedule gets too hectic, if I become pro and don't get to finish, I'll definitely go back and get a degree to have a backup. Even if I don't get to skate pro, I still want to be a part of skateboarding. I want skateboarding to bless me with a future job, a job now and later.
Since you've skated in so many places, what are your thoughts on the South Florida skating scene? Up to par? Does it need to grow?
It's growing, because there's a lot more places to skate today than there was in the past. It's just a matter of how you do it. Sometimes you have to take a different approach. There's more money in the skate scene in other cities, but you can do the sport here. If you have parents backing you, you can do it. For sure.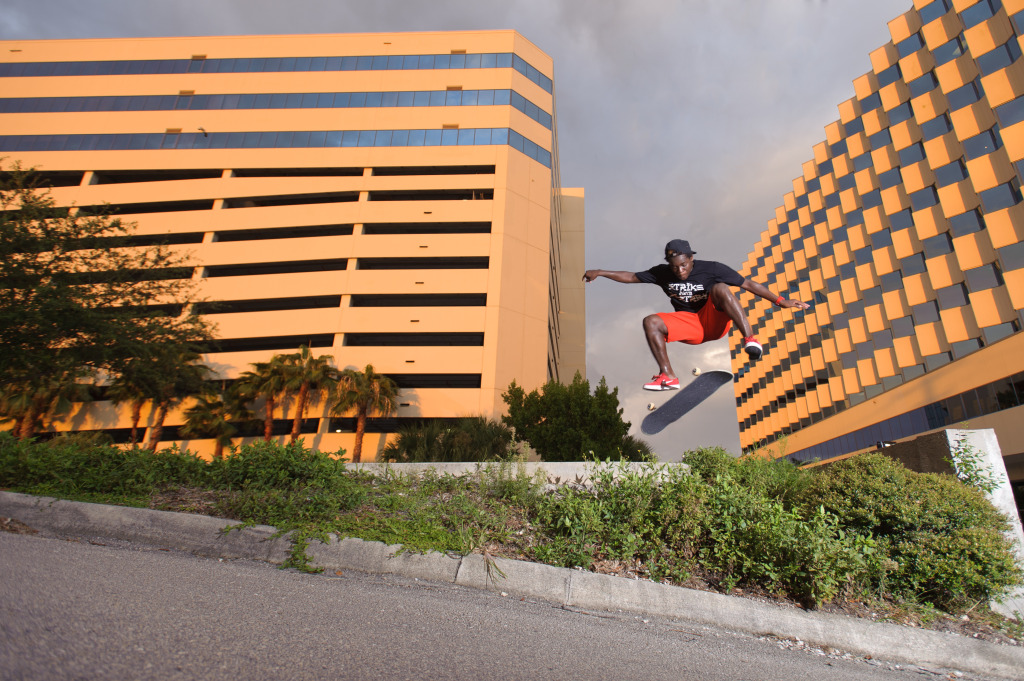 Does Florida present any beneficial challenges in that regard? The best parallel I can think of is Kelly Slater, who grew up surfing in the not so great waves Florida offers, but has been the king of the sport for decades. He attributes his success to working harder in Florida as opposed to other locations because our environment didn't give him everything he needed.
Yeah, you just have to work harder here for what you get. In other places, you don't have to work as hard because there are more options.  Here, you have to push harder to get something – it's just a different vibe. I think it's an advantage. When I'm at contests I feel like I'm ready to skate on a certain level and know I can go all out. Even if I'm not skating here, I surf. I'll take my skating and put it in my surfing, and I'll put my surfing into my skating. Like the way I carve.
Do you prefer free skating or competition?
Free skating prepares me for the street and contest; it's a good to have both. To be the best of the best, you have to have it all.
Let's talk future. You're only 15, but what do you have in mind?
I'm planning to move to California with my parents, where I can be with my trainer. I want to keep reaching bigger and better goals. The tricks that skateboarders are doing now are only going to keep being repeated until someone comes along and does something different, until someone creates new tricks. I want to be in the generation where I'm inventing new tricks. I really think that will happen soon. And I want to give back – where I came from people gave to me and helped me get to where I am today. I want to give back and help others like when I was little. I want to make an impact.