Photos and Words by Phoebe Fitz
Suspended
This image was taken in a pool in Miami Beach on a cloudy day just before sunset. We were running out of light, but the diffused sun that was still peeking out gave a soft, calm feeling to our shoot. Underwater modeling is a challenge — you have to combine breath holding, swimming blindly, and keeping a serene expression despite getting water up your nose. Chandler Bailey has a talent for all of that, which is why I adore working with her. There's a sense of peace once you're under the water, in complete quiet. Chandler and I had discussed what I wanted from her above the surface, which was for her to make slow, dancer-esque movements through the water column. The pool we were shooting in was shallow, so we adapted by having her swim parallel to the surface so that she could fully extend her body. I try to keep a sense of mystery in my images, so that you might not necessarily realize they are taken underwater at first glance. That's why I love this photograph so much — the way her hair is flowing and the position of her body make it seem like she could be upright on land, until the bubbles hint at the flipped underwater perspective. The equipment used was a 16-35mm lens on a Canon 5DMK3, glass dome port, and a Nauticam underwater housing.
Lainey
This image was taken in a crowded rooftop pool in Brickell, Miami for NST Jewelry. The way light dances in the water never ceases to amaze me — the way it refracts and produces all the colors of the rainbow. I usually stay away from full sun on my subject in medium or wide shots as I find it distracting, but because I was going to be in so tight on Lainey's face to capture the earrings, I figured the light refractions would be a fun way to show the viewer we were underwater in a subtle way. I positioned Lainey Floeck in direct sun, with the background in shade behind her for contrast. It took many repetitions to find the intersection of perfect dancing light beams, her hair flowing but still leaving the earrings visible, and a calm expression. Lainey is amazing to work with and handled the repetitions with a smile on her face, despite being flooded with water! The equipment used was a 100mm lens on a Canon 5DMK3, flat port, and a Nauticam underwater housing. Because of the optics of light underwater, it's more challenging than on land to get shallow depth of field. I knew that's what I wanted for this shoot, which is why I used a macro lens, straying from the usual rule of thumb when shooting underwater which is that it's best to shoot wide and as close as possible to your subject.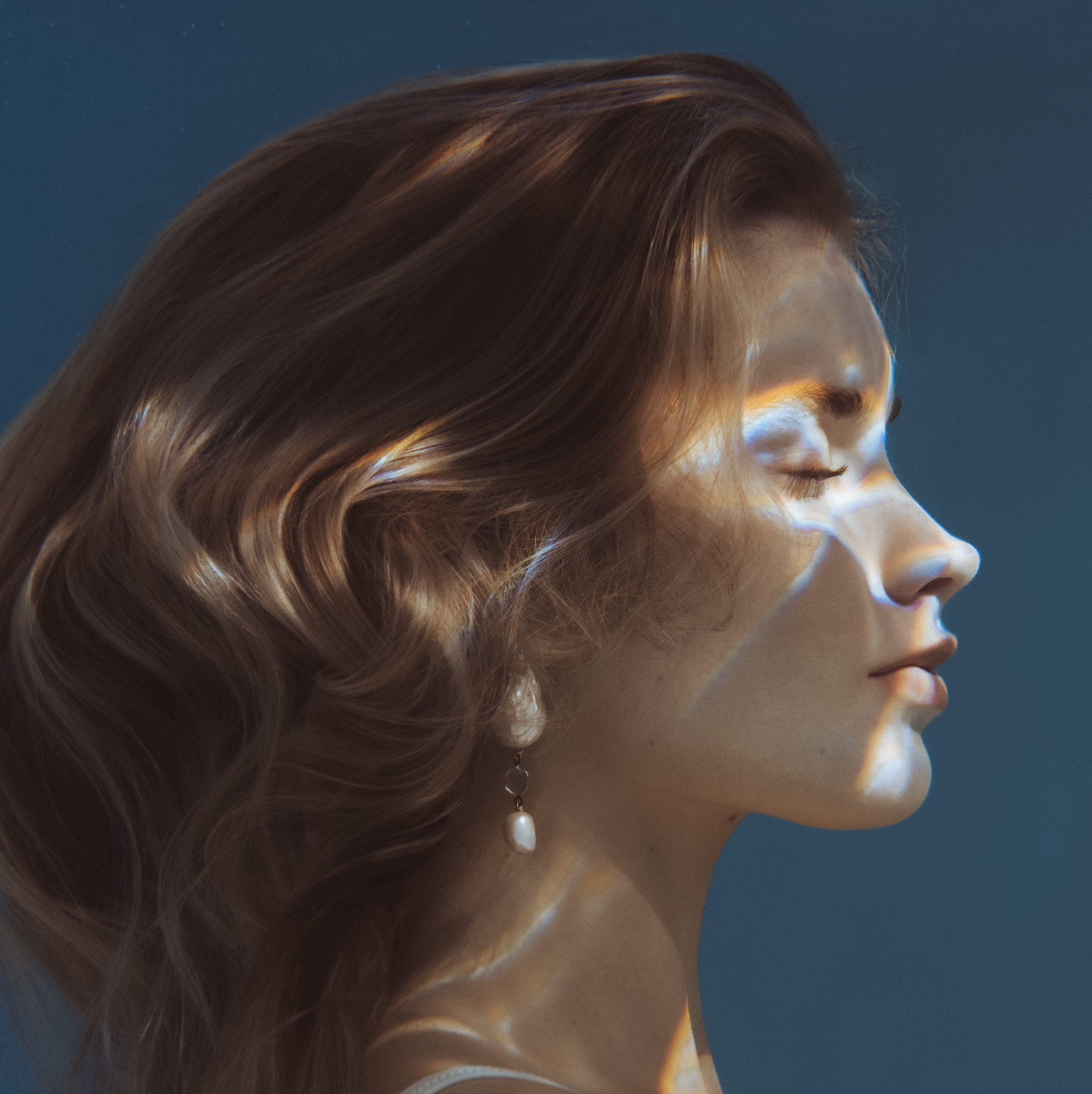 About the Photographer
Phoebe Fitz is an artist specializing in underwater imagery. Growing up in Jupiter, Florida, Phoebe developed a deep appreciation for the marine environment that surrounded her childhood. Her career began in natural history film-making alongside her father Tom, an Emmy-award winning videographer, working on productions for National Geographic, the BBC, Netflix, and PBS, among others. Her current work centers on capturing the human experience underwater, in both surreal natural landscapes as well as pools. Her focus on the female form accentuates the feminine qualities of water, and she utilizes the elements of weightlessness, reflections, and distortion in her scenes to provide a different way of looking at oneself and the world. Phoebe's images explore our collective relationship with water, and speak to how vital this connection is to our survival.