See What's Brewing in PBC
By David Rolland
While you were sleeping Palm Beach County has become a hotbed for breweries. Atlantic Current has not only vetted most of these spots with interviews, we've also drank plenty of beer in the process. And, we don't mess around when it comes to beer. I mean, interviews. Here's a quick rundown for the best spots to sling back some crafties in Palm Beach County.
Tequesta Brewing Company
Started in 2011 by South Florida brewery royalty Fran Andrewlevich and Matt Webster, Tequesta Brewing Company recently celebrated their twelfth year. We give hearty recommendations to Der Chancellor. It's a classic in PBC. It's a bready malt with a hint of floral notes. We also rave about Gnarly Barley, a pale ale that utilizes all whole-cone Cascade, Centennial and Magnum hops.
287 US-1, Tequesta
tequestabrewing.com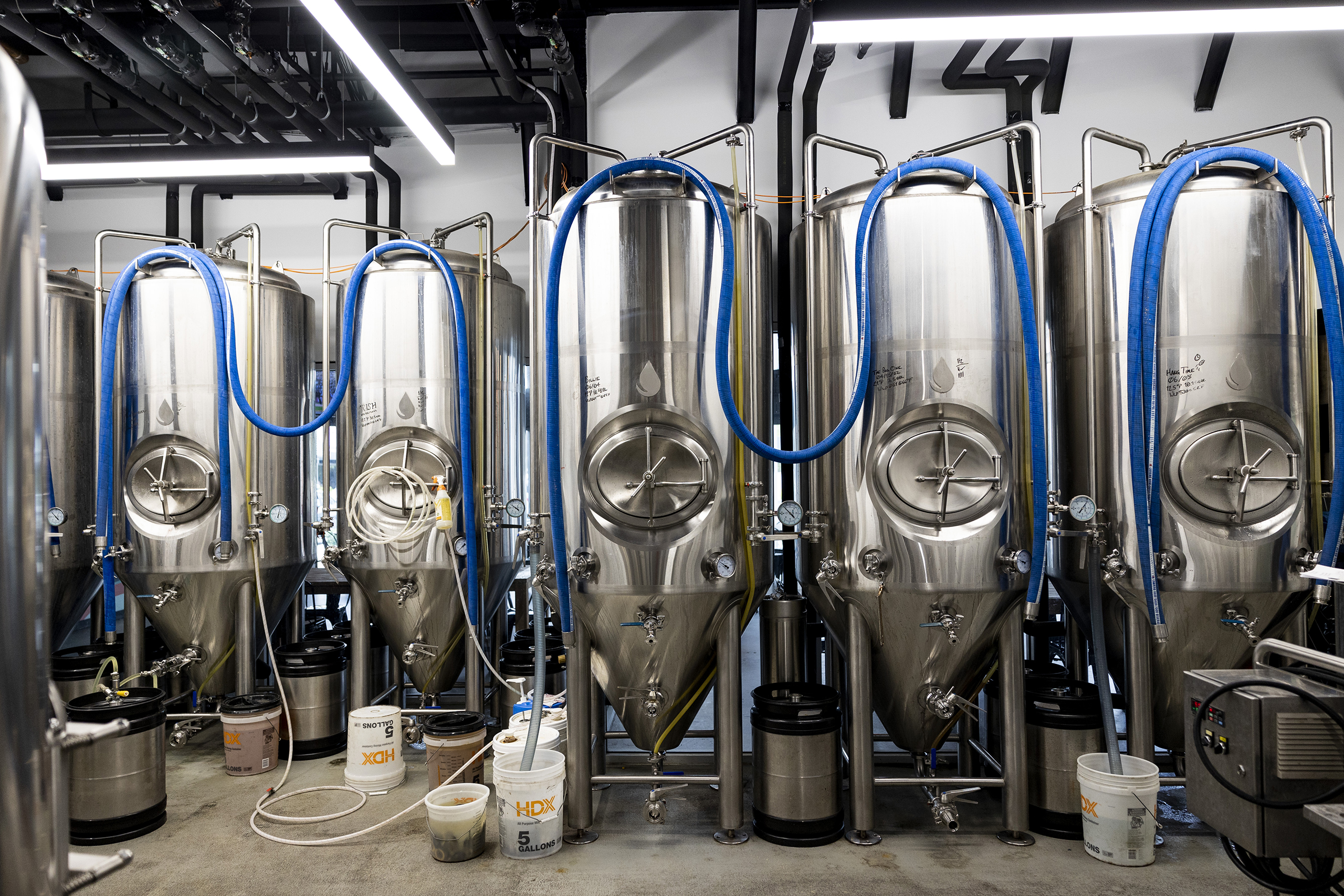 Stormhouse Brewing
Founded in 2019 by brothers Josh and Christian Brinzo with their father Brian, grandfather John, and several other partners, Stormhouse set out to put equal attention on the food they serve as they do the beer they brew. The taproom serves 15 beers on tap. Eight of those are core beers available year-round. The remaining rotate with the seasons or are one-off experiments. The beers follow the nautical theme of the space. A few notables are the "Nor'easter," a New England-style IPA that gives a nod to the region's seasonal storms; the "Daymark," an amber ale named after the navigational markings on the lighthouse that aid both pilots and sailors; and "Pressure Drop," a hazy IPA.
1201 US-1 Unit 15, North Palm Beach
stormhousebrewing.com
Mathews Brewing Company
Started in 2016, this Lake Worth spot has put a sharp focus on live music. "Live music and craft beer is the perfect pair," owner David Mathews, told us. "Live music provides our customers entertainment while enjoying local craft beer in a beer garden setting….I just prefer listening to live music outside, so I made sure that I bought a building that also had an area that I could build a beer garden for live music." They typically have 14 beers on tap along with many cans and bottles to enjoy with the sounds.
130 S H St, Lake Worth
matthewsbrewingcompany.com
Steam Horse Brewing
Started in August of 2018 this 6,000 square foot tap room pays tribute to the vintage steam trains that once chugged through the district. When co-owners Fran Andrewlevich and Matt Webster (remember them?) spoke to Atlantic Current they were especially high on their Steam Horse Lager, a European style pale lager, with a crisp, clean flavor that is geared towards the West Palm Beach area in general. Their eye was on making Steam Horse Lager the beer of the city, be it on draft or in cans. "West Palm doesn't have a packaged beer to call their own and we want Steam Horse Lager to be that."
1500 Elizabeth Ave, West Palm Beach
steamhorsebrewing.com
Twisted Trunk Brewing
Like the above Steam Horse Brewing (and TBC), Twisted Trunk was founded by Fran Andrewlevich and Matt Webster. The extra space of Twisted Trunk allows the brewing team the extra space needed to delve into craftier, more unique brews. We like Garden's Juice, a New England style hazy IPA with Pink, El Dorado, Citra, and Mosaic Hops.
2000 PGA Boulevard #5506, Palm Beach Gardens
twistedtrunkbrewing.com
Copperpoint Brewing Company
Matt Cox has independently owned and operated this Boynton Beach brewery since 2014. In an interview with us he talked about how involved he is with the beer making. "I brew every single batch of beer. We have a good team in the brewery that understands how important the small details are." When asked to choose which of his beers he would drink forever if he could only choose one he said, the Das Pils. Our pick? The Blood Orange Wit. A Belgium classic brewed with native Florida orange peel for a citrus tang.
151 Commerce Rd, Boynton Beach
copperpointbrewingcompany.com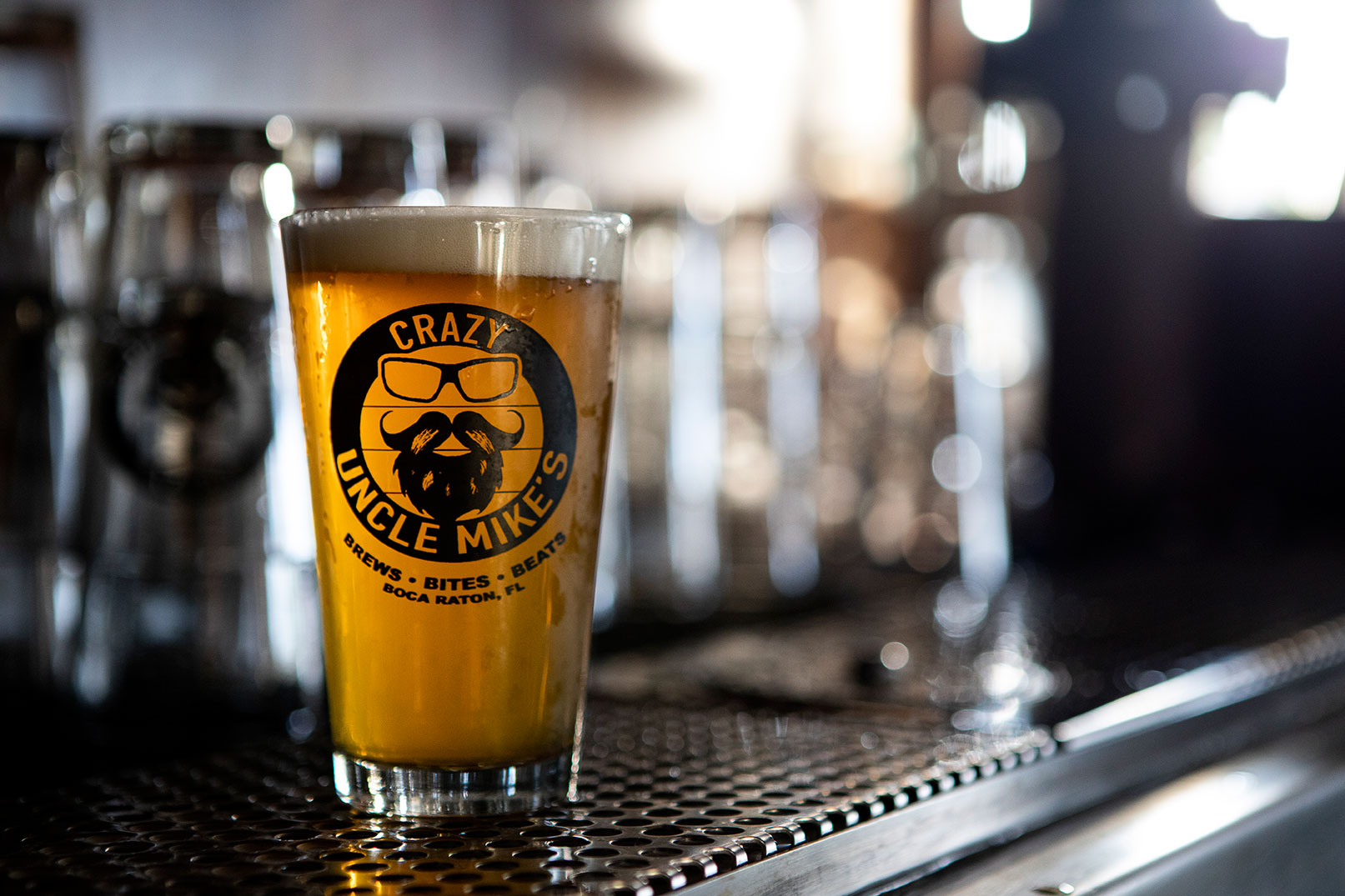 Crazy Uncle Mike's
Music is just as important to Crazy Uncle Mike's identity as its beer and food menu. "Music was not an afterthought, it was a forethought," said owner Mike Goodwin. "We built a stage we thought entertainers would like. It's an isolated stage, the acoustics are incredible, and we soundproofed the walls so the room sounds great." Music lovers: satiated. Now let's talk beer.
6450 N. Federal Highway, Boca Raton
crazyunclemikes.com
Barrel of Monks Brewing
This Boca Raton taproom specializes in Belgian inspired beers which their website states are, "known for complex flavor profiles." They feature nine year-round beers along with a rotating selection of seasonals. Belgian beers are also defined by the long maturation process. These brews can't be rushed. We recommend trying the Waypoint IPA for something refreshing (notes of tangerine, lemon, kiwi and white grape flesh) and Single in Havana (Blonde with guava) for something equally as refreshing. What can we say, slow maturation is refreshing.
1141 S Rogers Cir #5, Boca Raton
barrelofmonks.com
Saltwater Brewery
This Delray Beach microbrew made headlines in 2016 in an environmentally conscious way by packaging their six packs with edible rings. Opened in 2013 they also focus on a wide variety of craft beers with a tasting room and beer garden onsite. Their website boasts that they use, "Only pure and natural ingredients, each style of handcrafted beer and corresponding name is inspired by the ocean to reflect the lifestyle and passion of the founders".
1701 W Atlantic Ave, Delray Beach
saltwaterbrewery.com