By Doug Fairall
Photos by Jack Bates
Some brewers rise meteorically out of the home brewing shadows to become the shining darlings of the craft beer scene. Others work methodically through years of experience to hone and refine their artistry, letting their wisdom accumulate slowly, over time.
Twisted Trunk Brewing was founded by one of those latter brewers, Fran Andrewlevich, along with Tequesta Brewing Company companion Matt Webster. This year, the duo increased their reach to encompass two breweries; building a spacious second facility that has allowed them to stretch their legs a bit after over four years of brewing in the small and narrow brewhouse in Tequesta.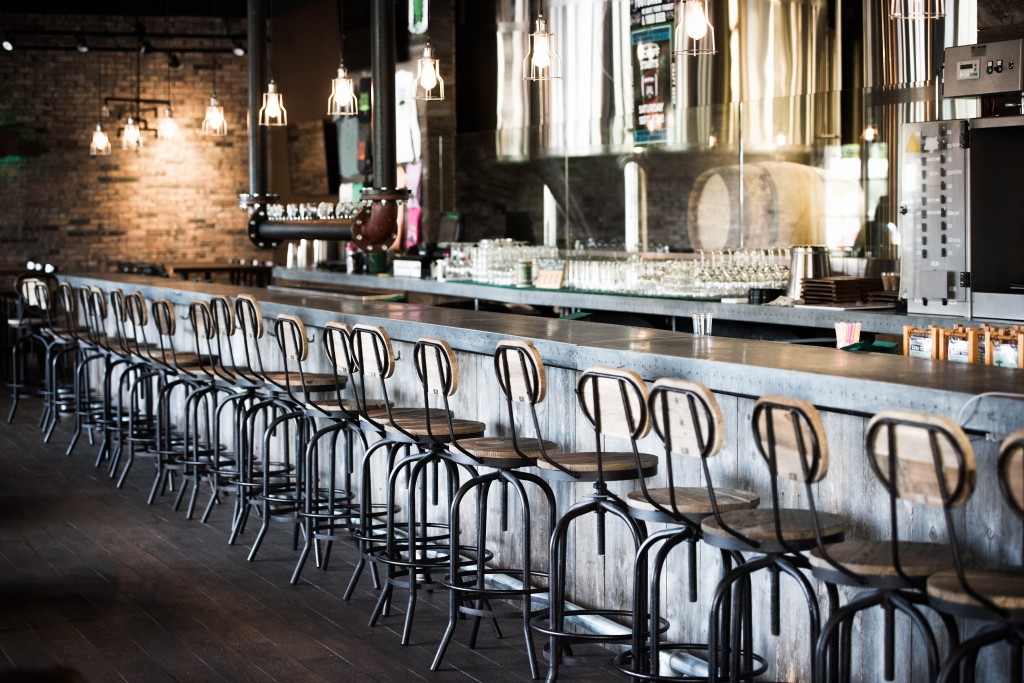 A large and spacious taproom and brewing facility now beckons in eastern Palm Beach Gardens, with over 5,600 square feet of time-tested industrial chic design. A 25 barrel brewhouse complete with two 50 barrel fermenters and four 25 barrel fermenters serve as a backdrop of fresh beer, providing both the means to production and acting as a canvas for an ever-shifting light show to liven the senses behind the bar.
Andrewlevich sees this taproom as a local haunt, with the goal of keeping things in the area for the foreseeable future. "When we're maxed here and get one more tank in, two years from now we'll be doing 4,000 to 4,500 barrels, so we're not trying to be Cigar [City] or Funky Buddha, we're just trying to keep it local, keep it fresh"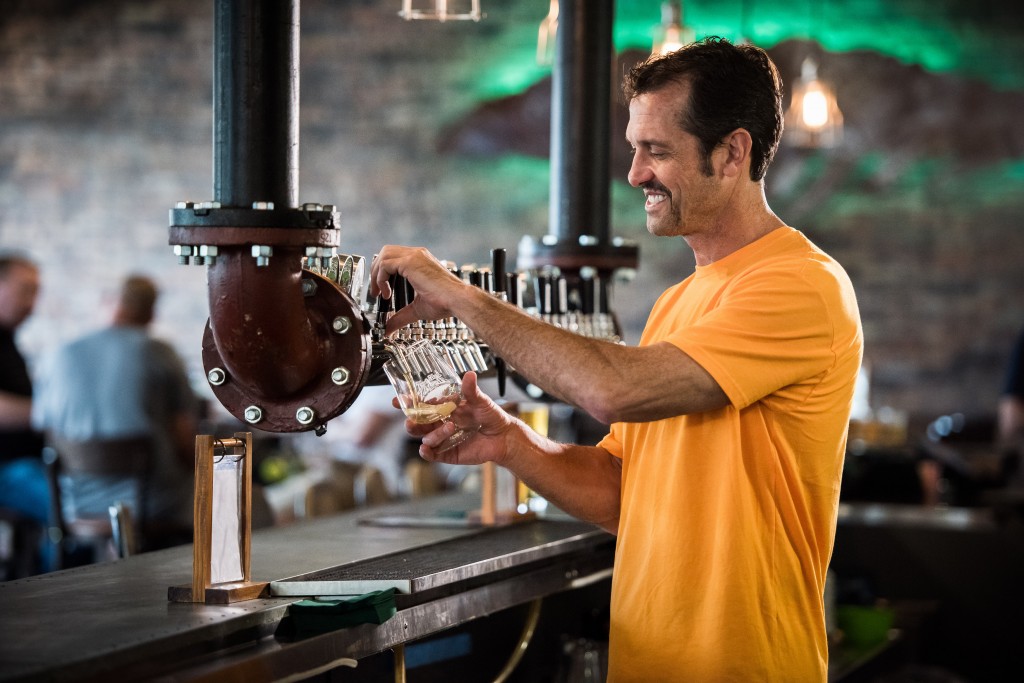 "Our tap room is extremely busy, all by design," he continued. "Our take on it is, let's have a busy tap room, let's keep fresh beer, let's just get 150 accounts, let's not go totally statewide."
The beers coming out of Twisted Trunk cover the gamut of flavors: the 6.2% alcohol by volume IPGA India pale ale teeming with El Dorado hops; the Watermelon Saison, a lower alcohol farmhouse ale brewed up with watermelon; the Lucky Langer Lager, a crisp German styled pilsner that will soon get a name change, "In a month, we're going to change it to Palm Beach Pilz… it's more of a savvy name, if you will. A lot easier on the tongue," Andrewlevich shares; a classically styled English stout called Rasta Stout; and a malty Irish red ale named Finn McCool.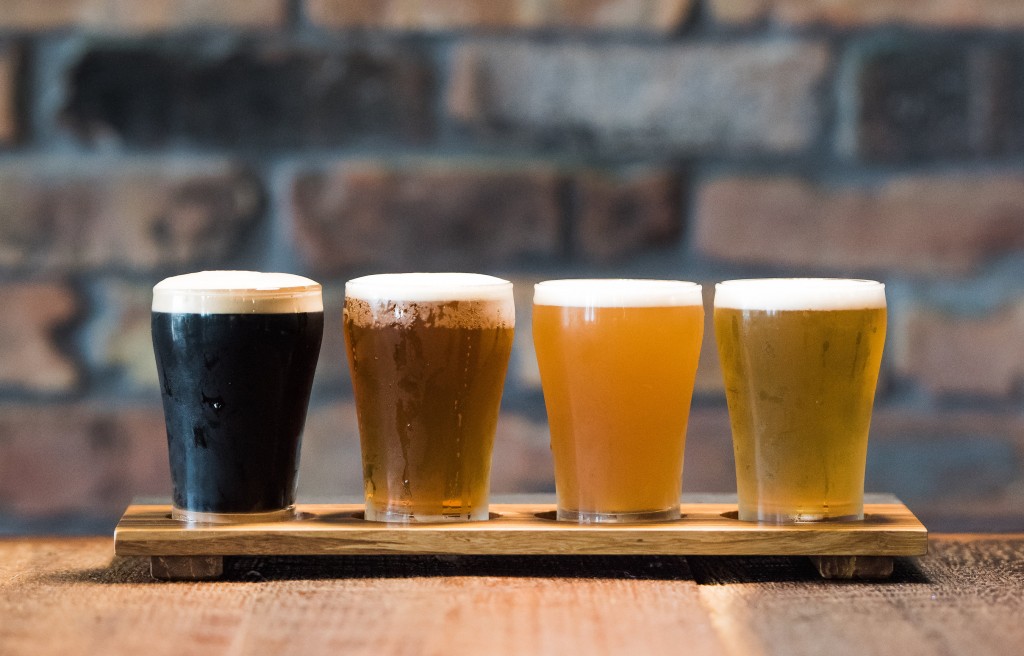 Being able to work with such a variety of ranges is a testament to the knowledge that was picked up through over 20 years of industry experience. First, at the long-shuttered Irish Times in Palm Beach Gardens, then as a brewer at Kelly's Caribbean in Key West in the mid-90's, then starting at Brewzzi in Boca Raton, being promoted to head brewer in 1999, then running two Brewzzi locations when City Place opened, consulting down in Ecuador for seven years, then opening up Tequesta Brewing Company with Matt Webster a little over four years ago, and then Twisted Trunk Brewing at the beginning of 2015.
"Back in the day," he reminisces, "I had to call the brewers on the phone — and there were no cell phones, no internet — and say 'Hey, you want a free set of hands?' and take a pencil and paper, go up there, take notes, and just watch how they were doing the process… I just wanted to learn how to do it for my own knowledge."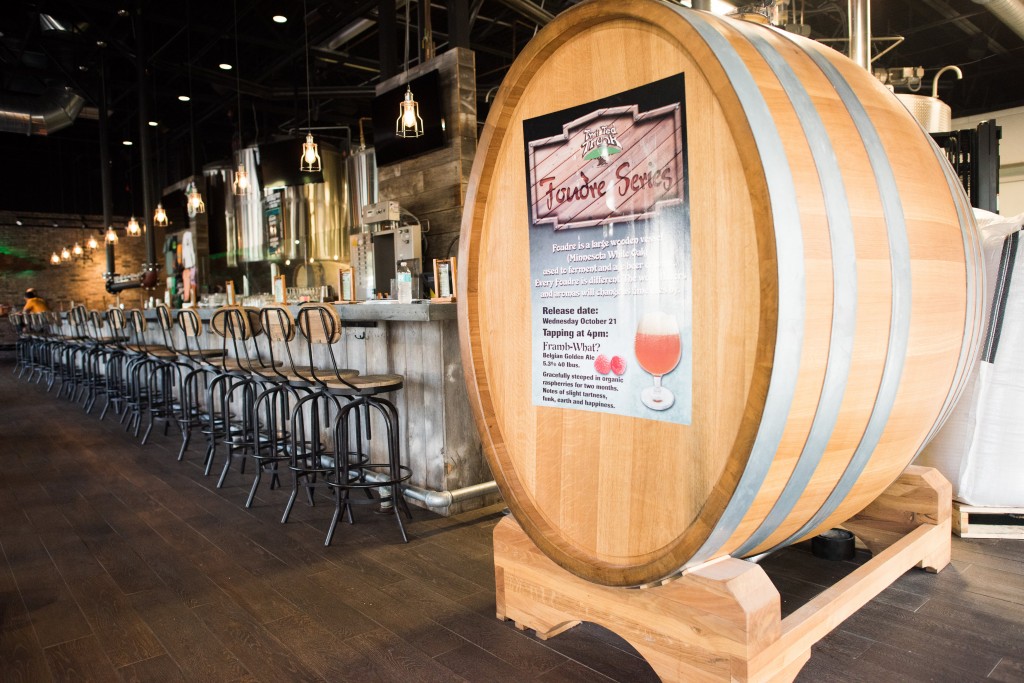 Now with Twisted Trunk, the extra space allows the brewing team to push into craftier beers that might otherwise not have been possible. Off to one side of the taproom is a large human-sized foudre. Pronounced 'FOOD-er', it's basically a large wooden barrel that's used to ferment beers in, as opposed to simply conditioning in a normal barrel. It's a process that allows yeast and helpful bacteria to set up shop inside and lend their sugar-converting hands to a beer, providing all sorts of odd and interesting flavors.
"This [foudre] is all brand new to us," Andrewlevich said, explaining that for their first aged beer, things didn't seem to be moving forward according to plan. After putting in their pilsner, they ended up waiting and waiting… "One month.Two months. It just tastes like a really good pilsner on wood, which is a cool idea down the road though… and then all of a sudden about two and a half months into it, something's going on in there: a little plum, a little apple, a little kind of like Duvel, really gentle which I love."
The beer ended up becoming their Framb-What?, a balanced Belgian blonde ale aged on about 100 pounds of red raspberries. It has fresh berry aromas without any sort of overbearing mouth-puckering sour or tartness, and finishes with a pleasing dryness.
"We're having the most fun with it. If we can keep that flavor forever, and keep putting different beer in it, I'll be elated."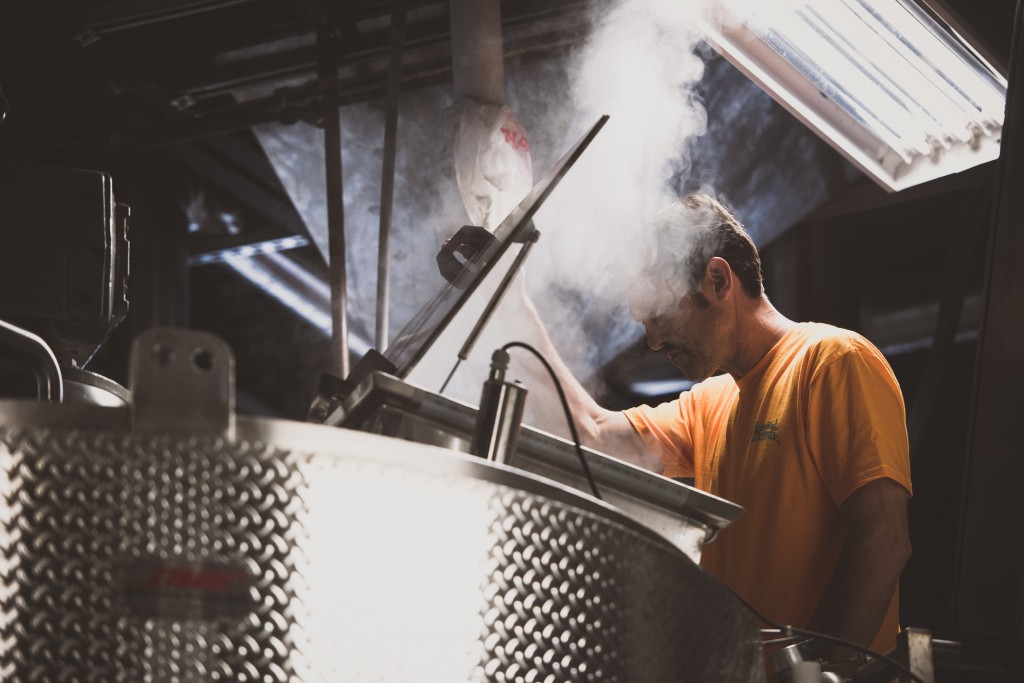 "The whole [brewery] is a work in progress, but we have such a great core, in management, supervisors, sales, we're all good friends."
Reiny Knieriemen, who Fran brought on as a brewer, worked side-by-side with Andrewlevich at Brewzzi for years, and now lends his support in the operation. "He just works like a dog, he's always in a good mood, you never hear him say a bad word."
The beers being produced at Twisted Trunk are a testament to how drastically the craft beer scene has changed in a few short decades. "In 1995, a pale ale that was probably 40 IBUs, and the hop Columbus had just come out, and you'd give it to people and they'd go 'Uhh, God, this is bitter,' and they'd make this face and the whole nine yards. Fast forward 2015, go to 50 IBUs, and they're like 'This really isn't that hoppy'. I think that people are just a lot more aware. The education level is I'd say twenty times what it was, for sure."
Now that education can continue for residents of Palm Beach Gardens and further afield. With the taproom open Tuesday through Sunday, there's no excuse to miss out on furthering a beer-centered education, soaking in knowledge and flavorful experiences one glass at a time.
Visit our friends at Twisted Trunk at 2000 PGA Blvd. #5506 Palm Beach Gardens, FL 33408
Follow them on Instagram at @twistedtrunkbrewing and keep up to date with events and beers on tap at www.twistedtrunkbrewing.com