Civil Society Brewing's Hoppy and Unfiltered Success
by Doug Fairall
The New Urbanist, and masterfully planned, downtown of Abacoa in Jupiter is not quite where you'd expect to find the new "it" brewery. But then again, stranger things have happened.
Civil Society Brewing opened in late 2015, and has racked up interest with its hazy IPAs ever since. They've been the envy of beer traders across Instagram, labelled a "Brewery to Watch" by DRAFT Magazine in 2016, and were ranked number five by RateBeer on its list of "Top 10 Best New Brewers in the World" in 2017.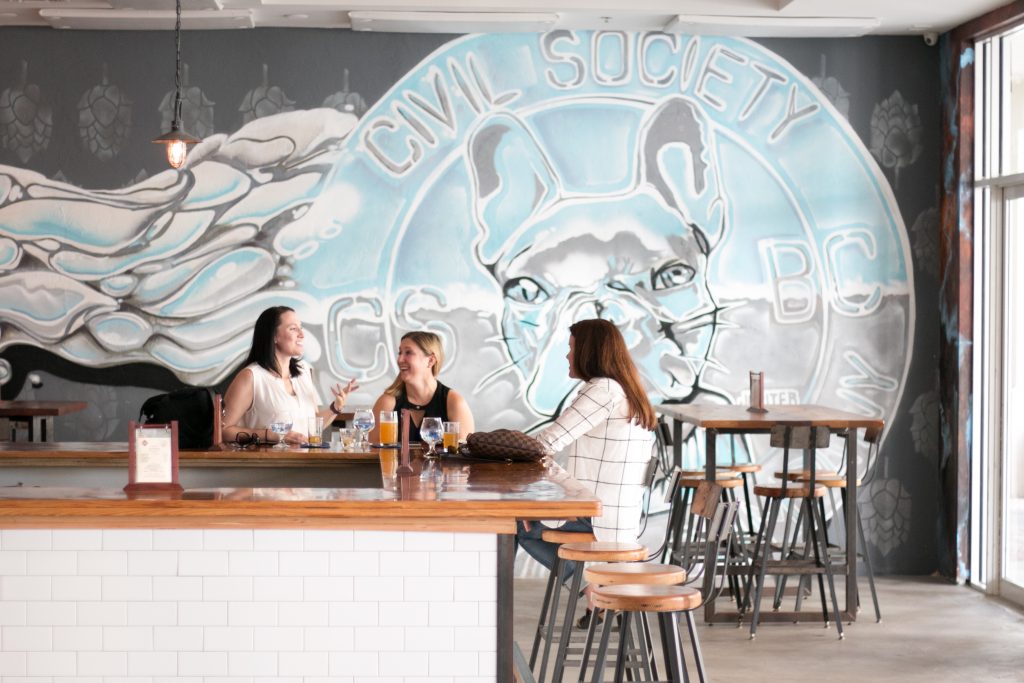 According to Karl Volstad, one of the owners of Civil Society, along with cousin and former Miami Marlins pitcher Chris Volstad and longtime friend Evan Miller, these are all accolades that they never anticipated, and never really sought out to garner.
"It's flattering," Volstad says, "but it's business as usual. We do the best that we can do. All this other stuff we had no foresight that it would happen… but it's been great for the brewery."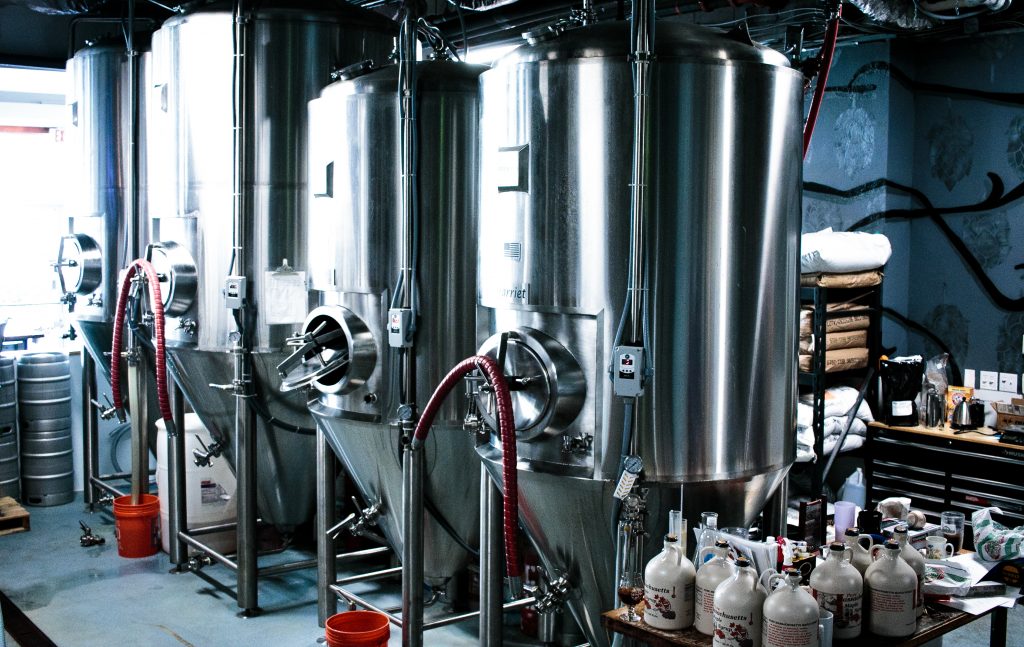 Set up in a retail bay across from Jumby Bay, the 5,600 square foot brewery has been cranking out unfiltered IPAs, saisons, and porters since its doors opened. Experience from over eight years of homebrewing, as well as a disdain for their previous day jobs, brought the Palm Beach Gardens natives to opening up their own slice of paradise.
"We didn't like our jobs as much and thought brewing would be a lot more fun. It's infinitely better than doing anything else that I've done in the past. Given the alternative, I'd much rather be doing this. [The old job] was quite a bit easier in hindsight."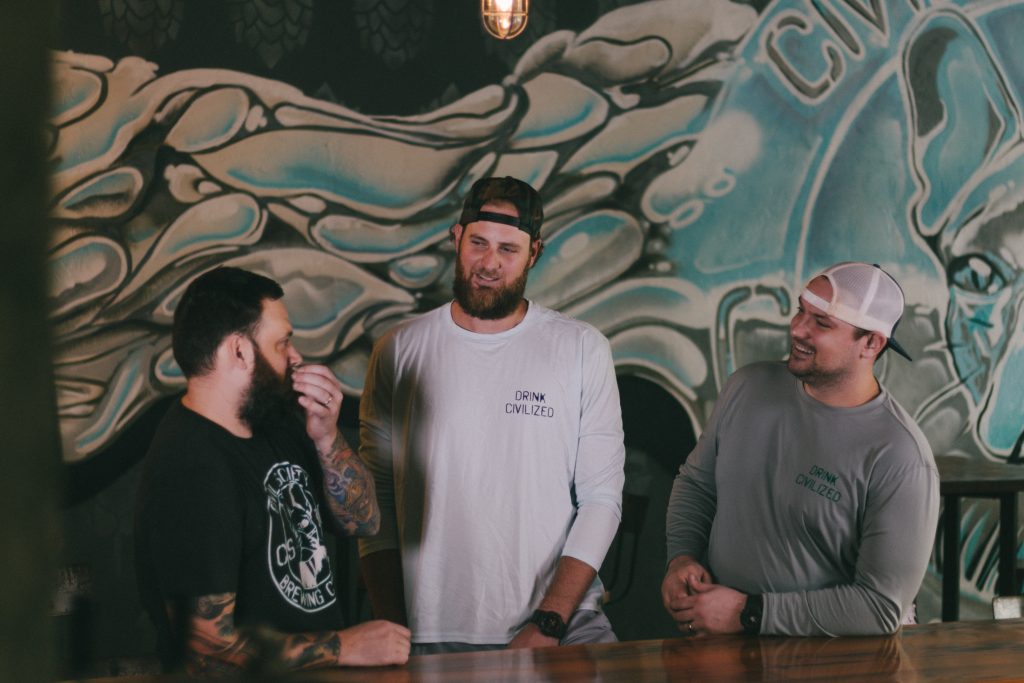 But it's the beer that gets people through the door and have gotten them national attention – hazy and unfiltered tropical hop-forward India pale ales have brought them to the forefront of the brewing world, joining breweries like Trillium, The Alchemist, and Tree House Brewing in the minds of hopheads.
These, dare I say, "juicy" beers are one of the chapters in the hop-lovers Bible. Sometimes brewed with oats or wheat, and almost always generously dry hopped (hops are added while the beer is resting in the tanks), produces incredible aromas and a noticeable haze. Because many of the breweries that produce this style are located up north, they've been referred to as New England-style IPAs.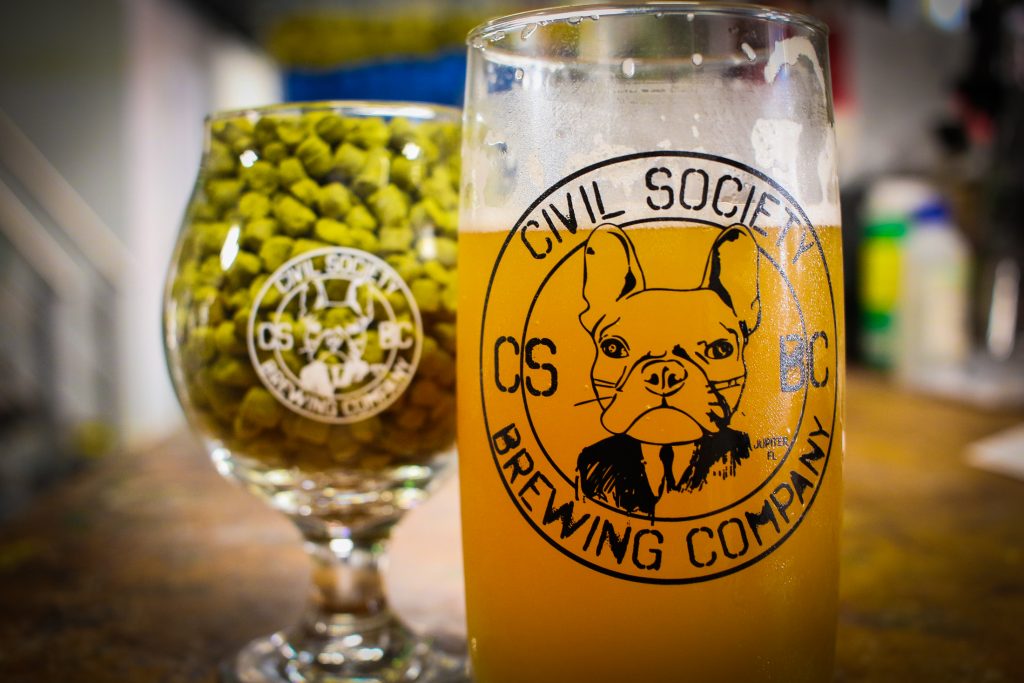 Though seemingly intentional, Civil Society came to fruition with a focus on beers that they just happened to be brewing at home — making great beers in a style that also just happened to be one of the hottest in craft beer in the last couple of years.
"We were home brewing unfiltered…experimenting with these same types of hops on the homebrew scale. I can count on one hand how many times I had clear beer…Clarity is the furthest thing from your mind. When we got to starting brewing [commercially], we scaled the recipes and it continued that way. We aren't doing anything different."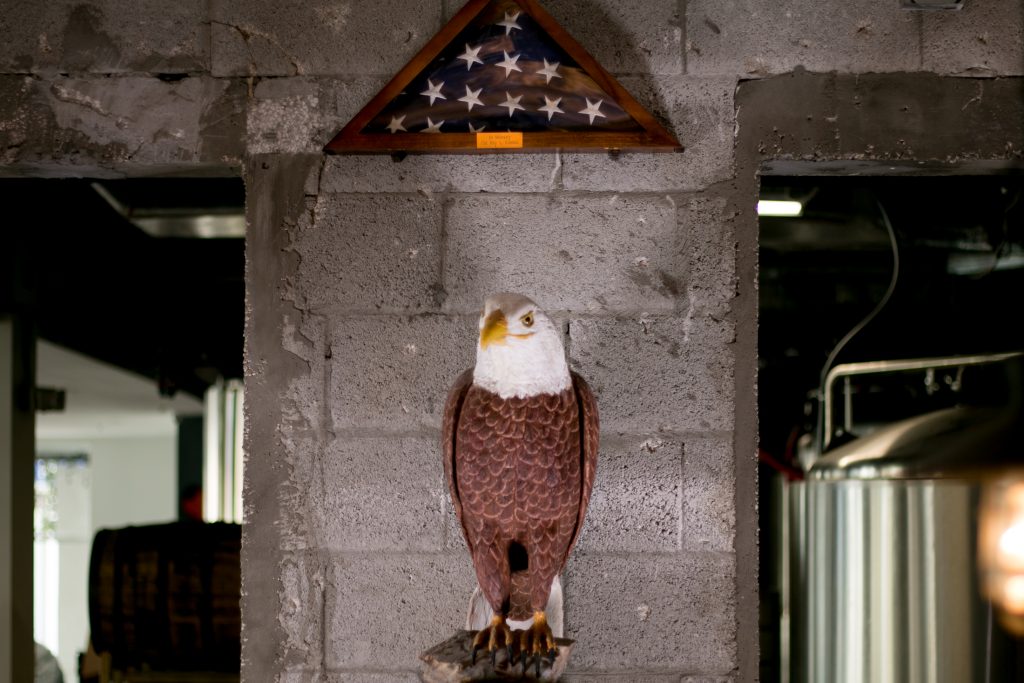 The good news for South Floridians is that they don't have to travel to Massachusetts or Vermont to experience fresh hoppy beer that's "en vogue." Civil Society's taproom allows anyone the chance to feel like they're up north – from the street art styled murals, to the cooler feel of the tasting room space, which is full of blues and greys.
So when you grab a beer, whether it's Pulp, a hoppy wheat ale, or Juice, a hoppy double IPA, or even their blonde ale, Blondes Make Me Hoppy, raise it up to the hop.
"IPA is our thing," Volstad said. "Everything we do is hopped up."
Visit the brewery at 1200 Town Center Dr, Unit 101, Jupiter, FL